For affiliate links and as an Amazon Associate I earn from qualifying purchases.
Today's gluten-free Angel Food Cupcakes come from my good friend Linda Etherton, who many of you know from her former site Gluten-Free Homemaker. Many of you were thrilled when I shared Linda's beloved gluten-free Angel Food Cake recipe here on gfe—with her permission of course. Understandably so! It's an amazing cake!
Well, I've come back to share her gluten-free Angel Food Cupcakes with you today (again with her permission). Because you don't always want a full-sized cake, you may not have an angel food cake pan, and/or you don't have a dozen eggs on hand (or perhaps don't want to use a dozen eggs in one fell swoop).
This cupcake recipe requires only six eggs and as Linda shared there are no worries about having to turn your Angel Food Cake pan upside down. Plus, who can resist cupcakes? I know I can't!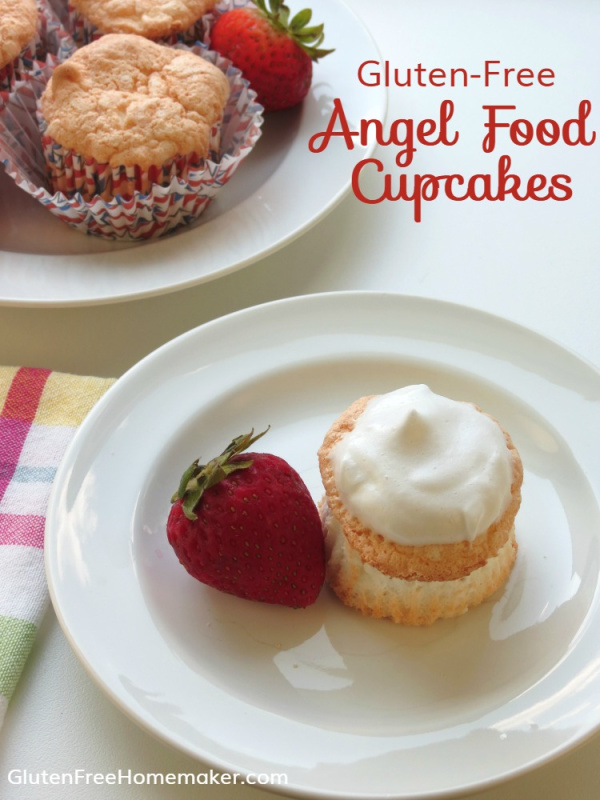 Just like Linda's original cake, these cupcakes are better than any gluten-full version of Angel Food Cupcakes. I promise. As Linda said you don't even need to tell folks that these cupcakes are gluten free unless you know that they require a gluten-free version.
While Angel Food Cake is usually served with fresh fruit and sometimes a dollop of whipped cream, Linda created an optional meringue frosting (recipe below as well) to deliver the frosted cupcakes that so many expect.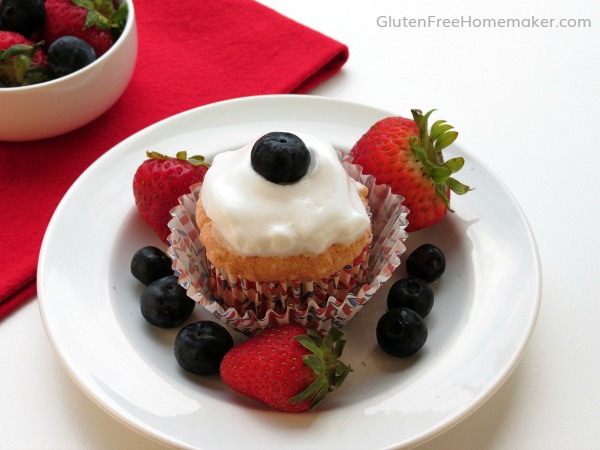 Meringue is best served right away. Although Linda did report that she has made meringue in the past and then refrigerated it for several hours or even overnight, and then beat it again. She said the results were fine for something like topping these cupcakes right before serving.
If you can eat dairy, whipped cream is also a great option. Whipped coconut cream works as well. And for all our patriotic holidays (e.g., Memorial Day, Flag Day, 4th of July, Labor Day, Election Day, and Veteran's Day), adding a white topping (either whipped cream or meringue) along with added red and blue berries creates the perfect patriotic dessert!
Gluten-Free Angel Food Recipes and More
~ 25 Strawberry Shortcake Recipes
~ The Best Angel Food Cake and More Angel Food Dessert Recipes
~ How To Recover After Being "Glutened"
~ Meyer Lemon Raspberry Cupcakes
Gluten-Free Angel Food Cupcakes Recipe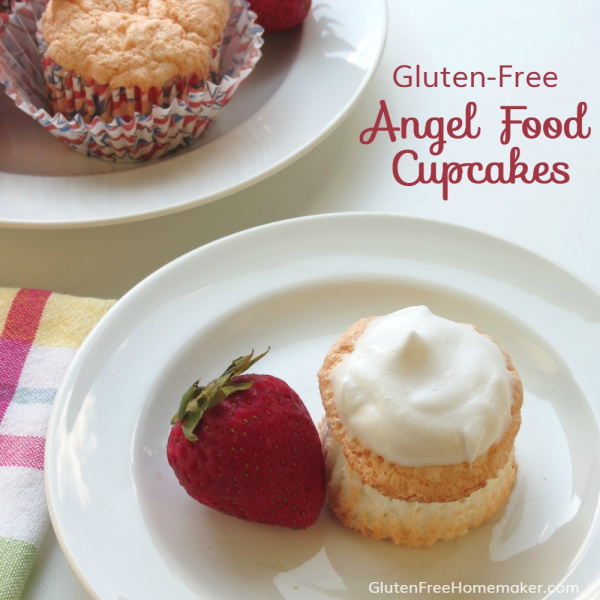 Yield: 16 cupcakes
Gluten-Free Angel Food Cupcakes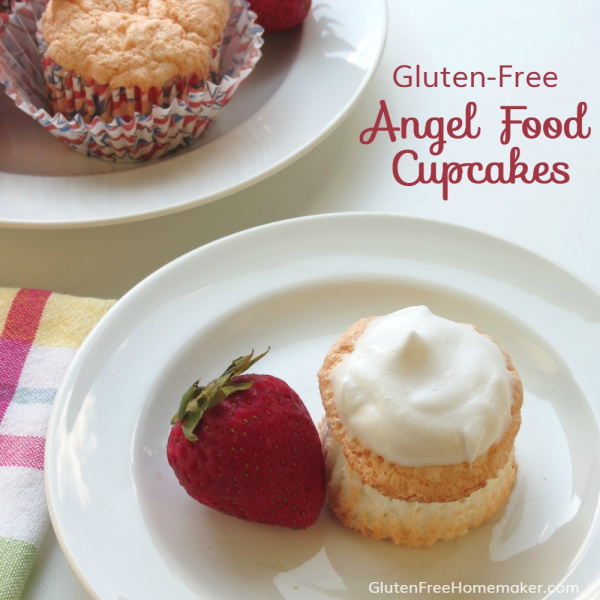 These gluten-free Angel Food Cupcakes are an easier way to enjoy this amazing angel food cake recipe. No angel food cake pan is needed, fewer eggs are required, and your cake is portable! Make your cupcakes really special by adding some meringue topping and fresh fruit.

Prep Time 30 minutes

Cook Time 20 minutes

Additional Time 20 minutes

Total Time 1 hour 10 minutes
Ingredients
Cupcake Ingredients
6 large egg whites (3/4 cup), room temperature
1/2 cup + 2 Tablespoons powdered sugar
1/4 cup potato starch
2 Tablespoons tapioca flour/tapioca starch (the two are actually the same)
2 Tablespoons millet flour (very finely ground rice flour should also work)
1 teaspoon xanthan gum or psyllium husk (see notes)
1/8 teaspoon salt
3/4 teaspoon cream of tartar
1 teaspoon vanilla extract
1/2 cup granulated sugar
Meringue Topping Ingredients
2 egg whites
pinch of cream of tartar
1/2 cup honey or 1/3 cup sugar and 1/4 cup water
Instructions
Cupcake Instructions
Separate the eggs and let the whites sit in your mixing bowl (glass or metal, not plastic) for about 30 minutes so they come to room temperature. Be sure your bowl is very clean and there is absolutely no yolk in the whites. It is best to separate each egg into a small bowl, then add it to the rest of the whites. That way if a bit of yolk gets in with the white, you can save the egg for another purpose and not ruin the whole batch.
Preheat oven to 350F.
In a medium bowl, whisk together the powdered sugar, potato starch, tapioca starch, millet flour, xanthan gum, and salt.
In a large mixing bowl, beat together the egg whites, cream of tartar, and vanilla extract until foamy. I used my KitchenAid whisk attachment.
Slowly add the granulated sugar, beating until stiff peaks form. Do not overbeat.
Fold in the flour mixture about one-fourth at a time, making sure you scrape the bottom of the bowl when you fold. Do not mix, just gently fold until all the flour mixture is moistened.
Spoon the mixture into paper-lined muffin cups, filled about 3/4 full.
Bake for 15 - 20 minutes until a toothpick inserted comes out dry. The top of the cupcakes should be golden brown and the cracks should be dry.
Cool completely and top with whipped cream or meringue frosting if desired. Serve with fruit.
Meringue Topping Instructions
Heat honey (or water and sugar) on medium-high heat until it comes to a boil; reduce heat and simmer for 4 minutes.
Whip egg whites and cream of tartar to stiff peaks, then slowly add honey or sugar mixture while continuing to beat until glossy stiff peaks form.
Notes
While tapioca flour and tapioca starch are the same exact products, potato starch and potato flour are two very different products. Ensure that you use potato starch in this recipe.

Linda reported that she has made her Angel Food Cake successfully without the xanthan gum. She said the egg whites provide enough binding power for the cake so that may be true for these cupcakes as well. If you try it, please leave a comment and let us know how it works out.

Originally published September 4, 2022.