For affiliate links and as an Amazon Associate I earn from qualifying purchases.
Today I'm sharing this new recipe for Perfect Gluten-Free Crab Cakes. With Old Bay Seasoning.
I am very excited about them and if you enjoy a good crab cake, you should be as well!
If you've been following gfe for a while, you know that I don't call many recipes perfect. In fact, while I like to think that I have a lot of great recipes here on gfe (and many of you are generous enough to tell me that), there are only two other recipes here that have "perfect" in the title.
Perfect Gluten-Free Pound Cake and Perfect Fried Chicken.
If you haven't tried those recipes yet, you definitely should! But back to these Perfect Gluten-Free Crab Cakes.
How These Perfect Gluten-Free Crab Cakes Came To Be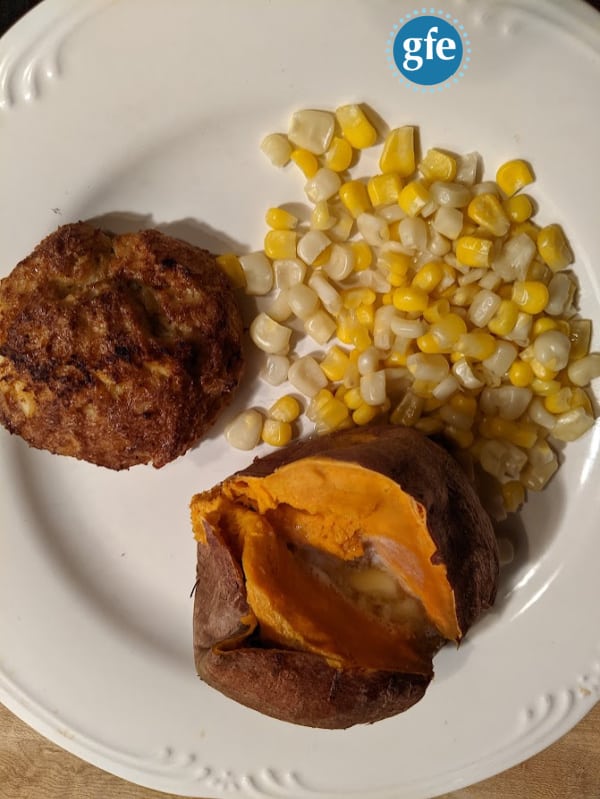 I've been trying to come up with an excellent crab cake recipe for a long time. Even before going gluten free.
Many years ago, I used the recipe on the back of the Old Bay Seasoning can. It got the job done but it was not our favorite.
The results were a little too bready for our taste.
We wanted a crab cake that focused a little more on the crab meat and the creamy texture provided by the other ingredients—egg, Dijon, mayo, and Worcestershire.
All of which are nicely punctuated by some Old Bay seasoning of course.
This recipe, which is adapted from Food, Fun & Faraway Places, achieves all of that nicely.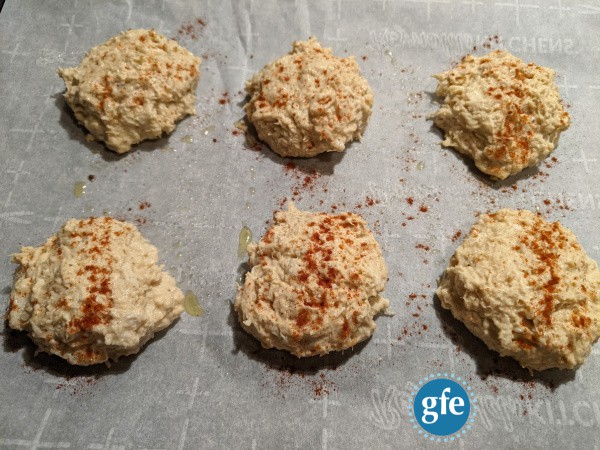 These Perfect Gluten-Free Crab Cakes are baked (plus, broiled a couple of minutes at the end) but they still deliver on all that plus, the satisfying rich flavor and crispy-on-the-outside texture that one normally gets with fried crab cakes.
More Gluten-Free Seafood Recipes That You May Like
~ Special Sauce for Dipping Stone Crab Claws
Perfect Gluten-Free Crab Cakes (with Old Bay Seasoning) Recipe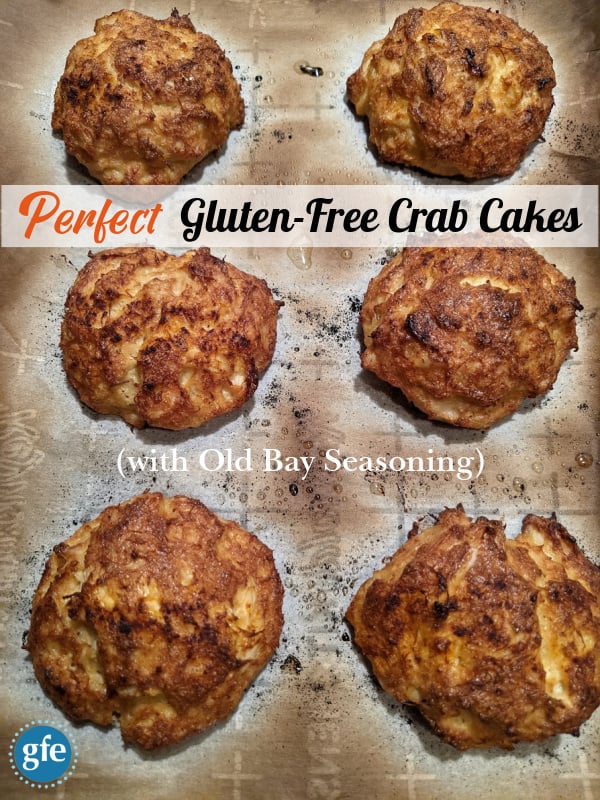 Yield: 6 crab cakes
Perfect Gluten-Free Crab Cakes (with Old Bay Seasoning)
If you've been looking for a Perfect Gluten-Free Crab Cake, your wait is over! These Crab Cakes with Old Bay Seasoning have the ideal mix of crab meat, seasoning, and other ingredients. They also have the perfect crispy outside with a creamy inside. Trust me; you'll love these and want more than one for sure!

Prep Time 10 minutes

Cook Time 15 minutes

Additional Time 30 minutes

Total Time 55 minutes
Ingredients
1 egg
2 tsp gluten-free Worcestershire sauce
1 heaping tsp Old Bay seasoning
¾ tsp Dijon mustard
1/3 cup mayonnaise (I use Duke's)
¼ cup finely ground blanched almond flour (NOT Bob's Red Mill please, I use Wellbee's brand)
1 tsp coconut flour, sifted (I like Nutiva brand)
8 ounces crab meat
Paprika for sprinkling, optional
Instructions
Mix first six ingredients well. Sift in coconut flour and stir.
Fold in crab meat.
Chill mixture in refrigerator about 30 minutes. (You can chill longer if you do not have time to make the crab cakes right away.)
Preheat oven to 425F degrees. Spray baking sheet well with a gluten-free cooking spray (such as Pam) or line with parchment paper.
Form crab cakes about three to four inches in diameter and place on a baking sheet.
Sprinkle with paprika for a little color and additional flavor if you like. (I used smoked paprika.)
Bake crab cakes 12 minutes.
Broil additional 2 to 3 minutes until golden brown.


Originally published September 30, 2023.