For affiliate links and as an Amazon Associate I earn from qualifying purchases.
When Bean over at Without Adornment announced her theme for this month's Go Ahead Honey, It's Gluten Free! carnival, I was completely on board—with my homemade Gluten-Free Fried Calamari plus Pina Coladas. Tropical Vacation meal … oh, yeah. We had plenty of snow at the time and our Key West vacation seemed so long ago.
Fried Calamari is one of our very favorite foods. We've eaten calamari all over in our travels from our favorite waterside restaurant "down the road"—Dockside—to much more exotic, tropical spots.
Going gluten free meant giving that pleasure up. Oh, sure, I've heard of some restaurants that serve gluten-free calamari, but we just haven't had the good fortune to find and visit one. So making calamari has been in the back of my mind for some time.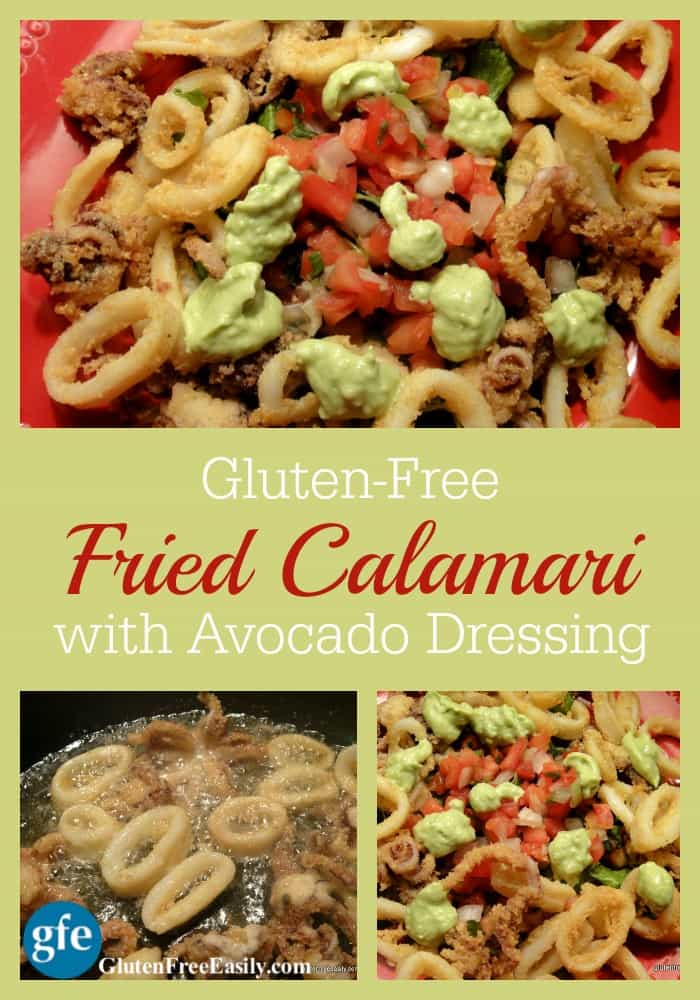 My goal has been to make calamari as good as what is served as that favorite local restaurant. And, it's not just calamari.
It's delicious calamari served on a bed of shredded lettuce topped with a sweet pico de gallo and a special dressing. Here's a photo of Dockside's calamari.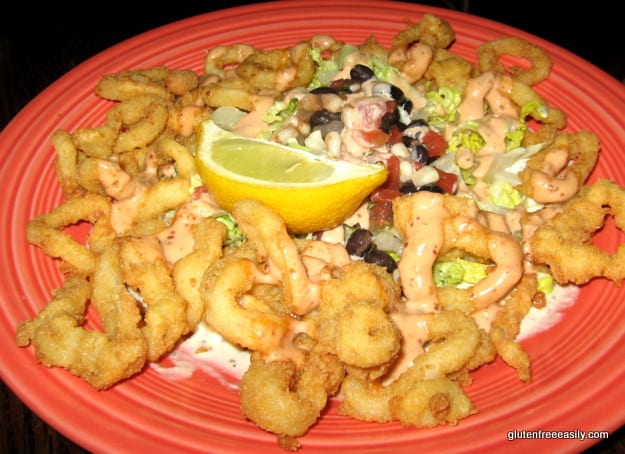 I've mentioned that our grocery store is pretty basic. While I was happily surprised to find squid in the freezer case recently, I was less pleased to find out that it was a package of whole squid.
Opening the package, the squid didn't look too intimidating, but once I thawed them out, many soulful eyes stared back at me. Maybe I was having flashbacks to images of the giant squid in The Beast, starring William Petersen (before his rise to fame as Gil Grissom on C.S.I.). (Mr. GFE and Son had watched and recorded that movie and we'd watched it more than once.)
In the end, I just couldn't deal with those squid. They plain "weirded" me out. However, I still wanted to make calamari.
So we made a trip into town to the upscale Wegmans and headed to their seafood counter. And, there they were … beautiful, headless squid bodies and tentacles. Not an eye in sight—thank goodness.
The folks at the seafood counter were happy to slice the squid into rings for me while we chatted. The staff member who assisted me shared that her mom had been recently diagnosed with gluten intolerance. She added that she was also trying to eat gluten free, but she expressed frustration over the high cost of gluten free products.
Of course, I shared my gfe approach. Seems like I was meant to go to that seafood counter.
Once home, it was easy to prepare the squid. I used the breading mix that I used recently for the chicken tenders and fried oysters.
Sometimes if you find something that works with one application, it makes sense to try it with others. There is no need to reinvent the wheel all the time.
I breaded the squid exactly the same way I had done the chicken tenders … with no egg wash. The result was very lightly breaded, melt-in-your-mouth calamari.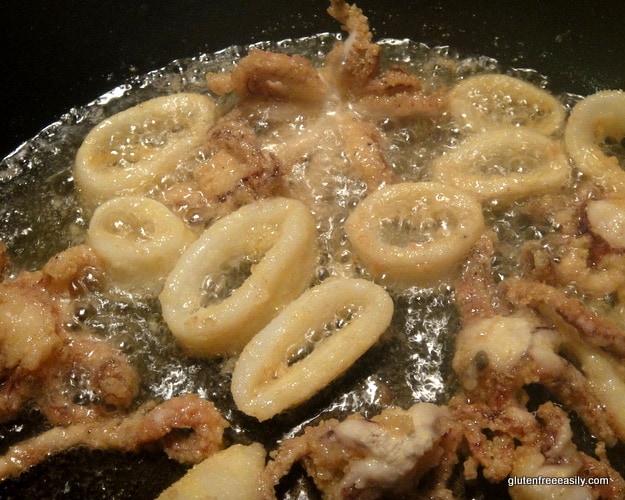 I served them over romaine leaves cut into smaller pieces topped with pico de gallo (pico is easy to make; here's one recipe I use) and a thick, creamy, and slightly tangy avocado dressing.
It's a great dish. But, truthfully, it's different than our favorite calamari from Dockside.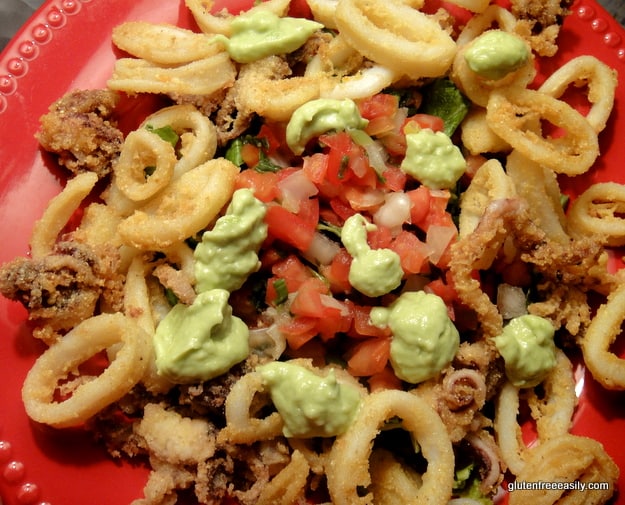 Not bad different—this calamari dish is really very good—but it is different.
I will make the remaining calamari in two batches. For one I'll use this breading, but also do the egg wash as I did for the fried oysters. I'll also do a batch to test some gluten-free breading that I purchased a while ago. I'll keep you updated on both.
Recipe for Homemade Gluten-Free Fried Calamari (Plus Pina Coladas)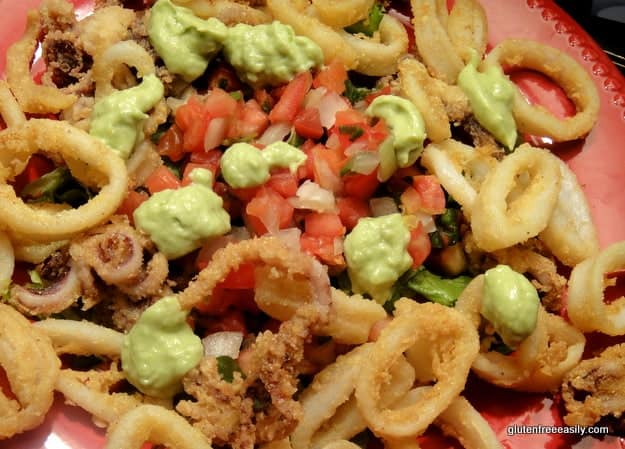 Yield:
Gluten-Free Fried Calamari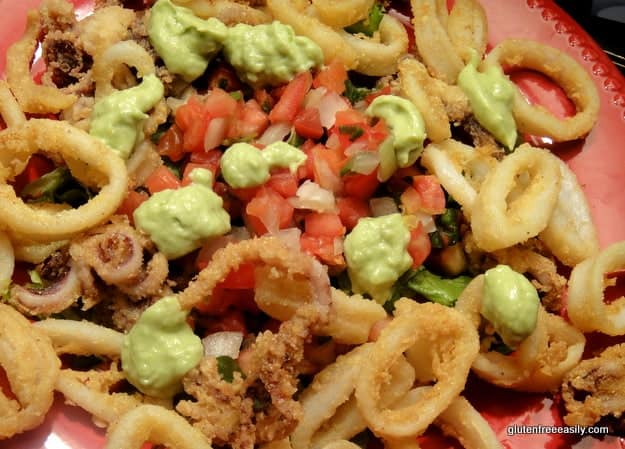 While it's difficult to get safe gluten-free calamari while eating out, you can make this easy and equally delicious calamari any time you like!
Ingredients
Calamari
1 cup gluten-free cornmeal
1 cup gluten-free flour*
2 tsp baking powder
1 tsp salt
cooking oil (I used a mixture of grapeseed and olive oil)
2 lbs fresh, raw squid---rings and tentacles
Avocado Dressing (optional)
one half of an avocado, mashed
2 – 3 tbsp of Greek yogurt (to taste)
one garlic clove (I used ½ tsp minced garlic)
2 – 3 tbsp olive oil (to taste and/or consistency)
1 tsp honey
Instructions
Calamari
Mix cornmeal, gluten-free flour, baking powder, and salt in bowl (or paper/ziploc bag for shaking).
Dredge squid through cornmeal breading (or shake in bag). Fry in hot oil (about an inch deep on medium-high, about 375 degrees if using an electric skillet). The calamari will only take a minute or two, at most. Flip pieces when brown on one side. Remove once browned on both sides. To prevent tough calamari, do not overcook.
Serve with Avocado Dressing or any dressing/dipping sauce you like.
Avocado Dressing (Optional)
Add all ingredients to blender and blend on high for a minute or two until well blended. Dollop over salad mixture and calamari as desired.
Notes
Flour: I can't tolerate many of the healthier, gluten-free flours; e.g., sorghum, buckwheat. Therefore, I rely on my Two-Ingredient Gluten-Free Flour Mix.
Dressing: This dressing has more of the thickness of mayonnaise or a spread versus a true dressing. If you want a true dressing consistency, you'll want to add more liquid: olive oil, milk, lemon juice, water, etc.—your preference.
As Bean shared on her Tropical Pork Pineapple Kabobs post, a tropical vacation meal requires a tropical drink. My faves are margaritas and pina coladas.
This time I went with a pina colada. This one is gluten free and dairy free, and uses no processed mixes either.
I basically took the idea of a Southern Living recipe that I'd enjoyed years ago and just revised it to use whole food ingredients, including coconut milk. Easy and luscious!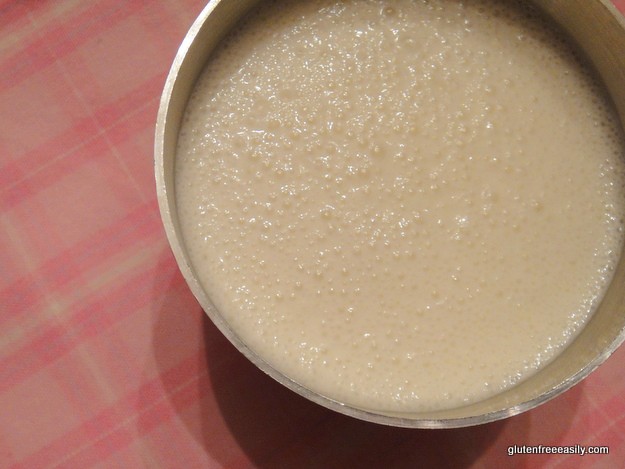 Yield:
Luscious Pina Coladas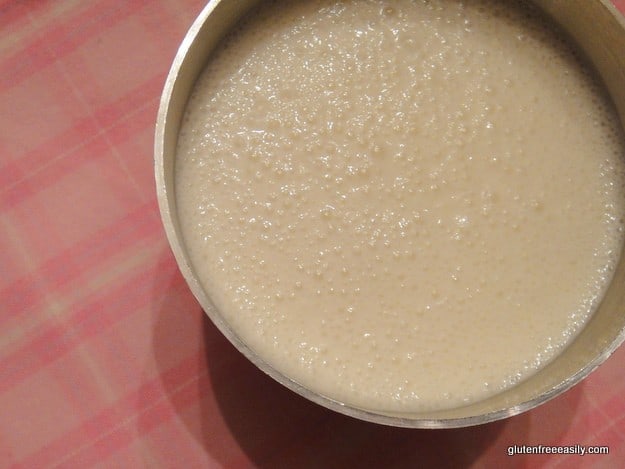 Inspired by Southern Living
Ingredients
1 cup coconut milk (canned full-fat, not lite)
1 cup pineapple juice
½ cup rum
4 tbsp sugar (or other sweetener)
1 banana
1/4 cup shredded coconut
8 or more ice cubes
additional shredded coconut, if desired
Instructions
Blend coconut milk, pineapple juice, rum, sugar, banana, 1/4 cup shredded coconut, and ice cubes to desired consistency. Top with additional shredded coconut, if desired.
Notes
I like to use a frozen banana (I always have frozen baking bananas on hand), which provides a nice, thick consistency---the luscious factor in this pina colada.

If you want to stay in the tropical vacation mindset a little longer, be sure to check back at Without Adornment for the complete roundup of recipes. Thinking sunshine, turquoise blue water, warm breezes, bare legs, and wonderful tropical fare … so nice.
Special thanks to Bean for hosting this month as well as ongoing thanks to Naomi (Straight Into Bed Cakefree and Dried) for originating the always fun and helpful Go Ahead Honey, It's Gluten Free! carnival.
Last, we're now into the final week before the Academy Awards presentation, more fondly known as the Oscars. Be sure to check out the complete roundup–either recipes inspired by Oscar nominees or others just right for throwing your own viewing celebration. They are definitely all award-winning caliber!
My own contributions were Veronica's Pumpkin Soup and the already mentioned Southern Fried Oysters. You can the listing of all the Gluten-Free Progressive Dinner Party recipes at our gracious hostess, Diane's, blog events page at The. W.H.O.L.E. Gang.
Enjoy!
Originally published February 28, 2010; updated May 16, 2022.