This post may contain affiliate links. If you purchase through them, your cost will stay the same, but gfe will receive a few cents for every dollar spent. Thanks for supporting gfe!
If you are looking for a super easy and wonderfully flavorful main dish, this Green Chile Chicken Casserole recipe is for you. If you'd like to make something new that will work for Cinco de Mayo, this recipe is for you. If you like a recipe that you can easily double, triple, quadruple (or more) to feed a crowd, this recipe is for you. If you're looking for a recipe that will please both adults and kids (most of them anyway), this recipe is for you.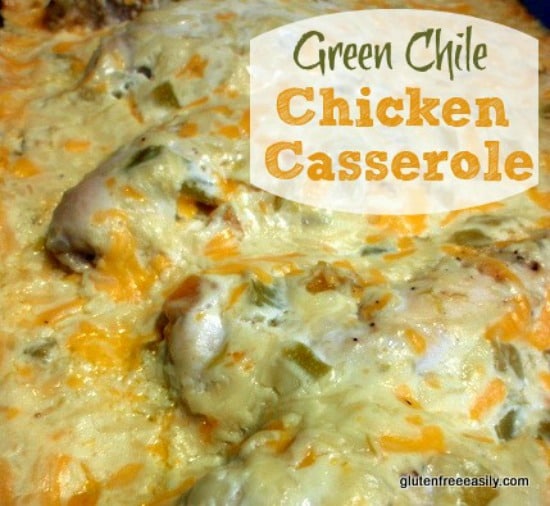 Now if you don't come from the land of Mexico, New Mexico, or thereabouts, and are not a die-hard green chile fan, and you are balking because of the green chile factor, please don't. I used to have the same reservations, but green chiles add so much flavor and canned green chiles are actually very mild. One can of green chiles added to this recipe was perfect for our preferences, but those die-hard green chile fans will want fresh or frozen green chiles and probably the greater amount that's shown in the recipe, too.
And, incidentally, do you say green chili? or green chiles? or green chilies? I've read so many different "opinions" on this subject!
I served this dish with a small green salad and Tender Corny Almond Muffins (a new recipe, which was based on my Honey-Sweetened Corn Muffins). This Green Chile Chicken Casserole is also great served over rice, and doing so will "stretch" the meal for hungrier folks and allow you to serve more folks.
Let's go ahead and get to this Green Chile Chicken Casserole recipe, shall we? And be sure to look for a few more terrific green chile recipes below this one.
Green Chile Chicken Casserole Recipe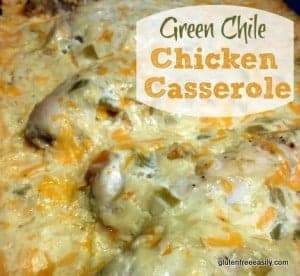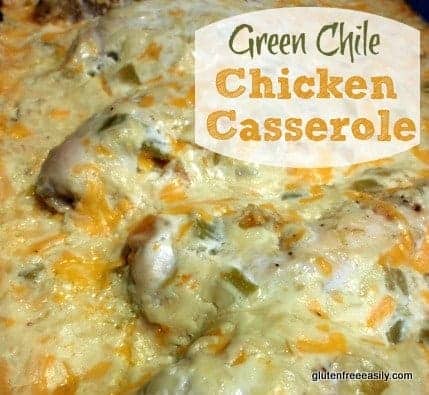 Print
Green Chile Chicken Casserole
Ingredients
3 boneless chicken breasts, cut in half lengthwise
garlic powder (or garlic salt), to taste
onion powder, to taste
black pepper, to taste
1 small container (8 ounces) sour cream (either dairy or dairy free will work; Daisy brand is a good choice for a dairy sour cream as it is only cultured cream)
8 ounces (2 cups) shredded cheddar cheese or shredded cheese blend of choice (or dairy-free cheese)
1 – 2 cans green chiles (4 to 4.5 ounces) , drained (or 1 – 2 packages fresh green chiles, chopped; see notes)
Instructions
Preheat oven to 350 degrees Fahrenheit.
Grease 9 x 13 baking dish.
Place halved chicken breasts side by side in the baking dish.
Sprinkle halved chicken breasts with garlic powder (or garlic salt), onion powder, and black pepper, all to taste.
In large bowl, mix sour cream, cheese, and chiles. Mixture will be thick; mix well. Spread mixture over halved chicken breasts. I used a spatula for this task, ensuring proper coverage and that I got every bit of the mixture out of the bowl. You should have just enough of the mixture to cover the chicken. (Once baked, there will ample sauce as you can see in the photos of the finished dish.)
Bake for about 30 minutes or until chicken is done. Let sit a few minutes before serving.
Notes
Makes 6 servings. Slightly adapted from my former co-worker/friend Tavie Glassmire If using a larger amount of fresh green chiles, you might want to increase the amount of sour cream and cheese to ensure that you have a spreadable mixture of sour cream, cheese, and green chiles.
Courses Main
Here are some more gluten-free recipes that use Green Chiles. (Always verify gluten-free status of individual ingredients.)
~ Elana's Green Chile Turkey Burgers over at Elana's Pantry
~ Green Chile Hummus from 28 Cooks (NOTE:  The Wonton Crisps recipe that is included in this post is NOT gluten free.)
~ Heidi's Slow Cooker Green Chile Stew over at Adventures of a Gluten-Free Mom
and Heidi's Green Chile Chicken Posole
~ Lydia's Slow Cooker Green Chile Chicken over at The Perfect Pantry