For affiliate links and as an Amazon Associate I earn from qualifying purchases.
Can you ever have too many gluten-free chicken noodle soup recipes? I think not. That's why I added more wonderful gluten-free chicken noodle soup recipes to this post that I originally shared on National Chicken Noodle Soup Day (March 13) a while back.
The result is a pretty extensive collection of gluten-free chicken noodle soup recipes and a few more chicken soup recipes—including some Instant Pot recipes and even a gluten-free vegetarian noodle soup recipe with egg noodles that is reminiscent of the classic and beloved chicken soup recipe.
Admittedly, not all national food days make sense as far as seasonal timing or coincide with what "sounds good to me." Soup is perfect to take the chill off in March and pretty ideal for the rest of the year as well in my opinion.
Even in the heat of summer, if I'm under the weather I want soup. Especially chicken soup. So basically Chicken Noodle Soup almost always sounds good to me. Really good!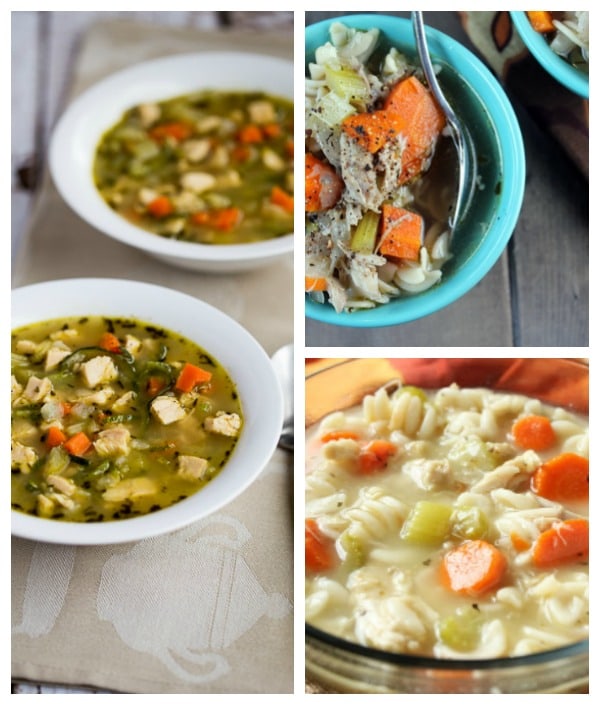 "Sounds good to me" (either uttered by myself or Mr. GFE) is key to the cooking that goes on in the gfe household When it comes to food, it's all about what I'm in the mood for, what sounds good at the moment, if I'm hot, if I'm cold, etc.
That's why I'm not a meal planner, unless you consider meal planning to be deciding what sounds good for dinner tomorrow night while washing dishes after dinner tonight or thinking ahead to dinner when eating lunch that very same day. Admittedly inspiration doesn't hit until right before dinner sometimes. Yes, that is me!
I know you're thinking, "hello, have you heard of meal planning?" I've tried the meal planning thing in the past and we usually end up wasting food because when dinner time approaches, we look at what's on the meal plan and we're like, "no, we really don't want that today."
So I'm more likely to meal plan the same day versus a week ahead. I suppose it helps that there are just two of us at home now, but it's really always been that way for us. The fact that I'm a self-professed queen of throwing together meals from the contents of my pantry definitely helps with my non-meal planning ways. Hehe.
I'm kind of like that with blogging, too, if I'm being honest. There are some blog posts I write and plan ahead, but I really enjoy the posts that come together at the last minute—like this one—much more than the well-planned ones. Again, I have to be in the mood!
I called on blogger friends to help me with these recipes because I've made chicken noodle soup quite a few times since going gluten free, but I've never used a recipe. I'm so happy that these talented friends could help us all out. (Note that all images are copyrighted to their individual owners.)
Gluten-Free Chicken Noodle Soup Recipes and More Healing Gluten-Free Soup Recipes
But let's get to these gluten-free chicken noodle soup recipes, shall we? Because cold weather is back with snow in the forecast for many of us and chicken noodle soup sounds really wonderful right now! If you happen to be under the weather, gluten-free chicken soup is practically a requirement as medical studies have actually proven its benefits.
Noodles are optional in the chicken soup cited in these studies, it seems, but they sure make for a tastier soup. These recipes include traditional noodles—albeit gluten-free ones—as well as the darlings of the low-carb and paleo worlds of eating, zoodles.
Zoodles are spiralized zucchini noodles and they are a delightful way to skip pasta and get in another veggie. I bet spiralized sweet potato noodles ("swoodles"?) would also be very tasty in these soups. There's also a recipe that uses "doodles." Do you know about those? Note that vegetable noodles are usually added at the very end of cooking so that they don't get too soft. (By the way, this spiralizer is my favorite and the price on Amazon is terrific!)
Sometimes other vegetables, like shiitake mushrooms supply the bulk and texture needed for a noodle-free chicken soup. If you decide you want to add noodles to a soup recipe that doesn't call for them, I recommend cooking your noodles separately before adding. Otherwise, they'll suck up most—and perhaps all—of your delicious broth in the cooking. You don't want that.
I've also included some non-chicken noodle soup recipes for my vegetarian and vegan readers.
Finally, whenever you're using ready-made ingredients (such as stock, broth, and sauces) in your recipe, be sure to check their gluten-free status. If reader reviews of these gluten-free chicken noodle soup recipes and the other chicken soup recipes here were available, I've added them.
~ Best Instant Pot Chicken Noodle Soup from Oatmeal with a Fork
Reader review: "My elderly mother has been very ill with this terrible virus going around and just won't eat. I made your soup and she devoured it and asked for more! This soup is delicious, healthy, easy to make and is helping my mother recover. Thank you so much!"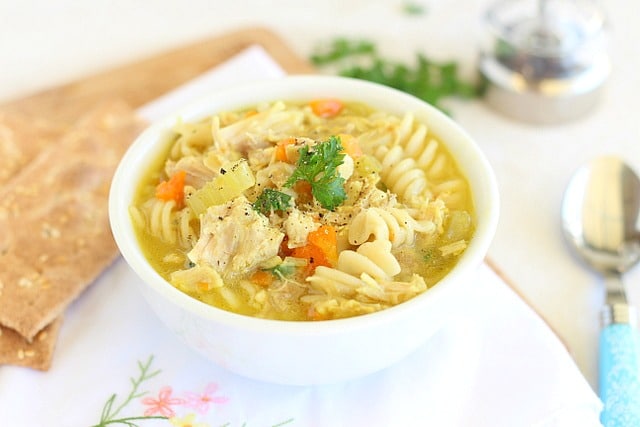 ~ Busy Mom's Slow Cooker Gluten-Free Chicken Noodle Soup from My Gluten-Free Kitchen
Reader review: "I made this tasty bowl of goodness just now & it was superb; delicious!"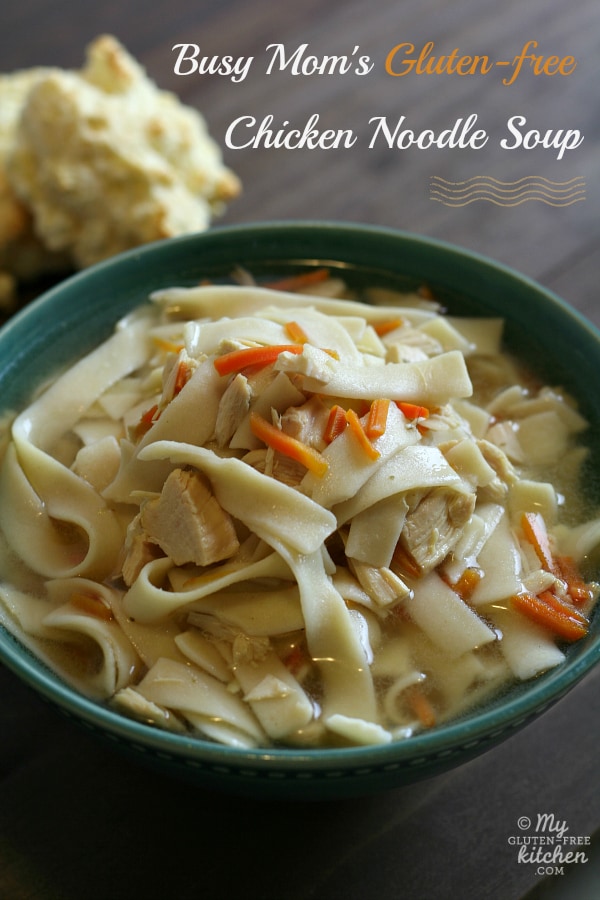 ~ Chicken, Noodle, and Vegetable Soup from Gluten-Free Homemaker
Description: "I usually put chunks of chicken meat in soup, and I wasn't sure how I would like shredded meat. It worked well though. Also, I usually make chicken and vegetable soup or chicken and noodle soup, but this time I decided to include all three. It turned out great. As usual, I made the soup in my pressure cooker, but you can use a regular stove top method."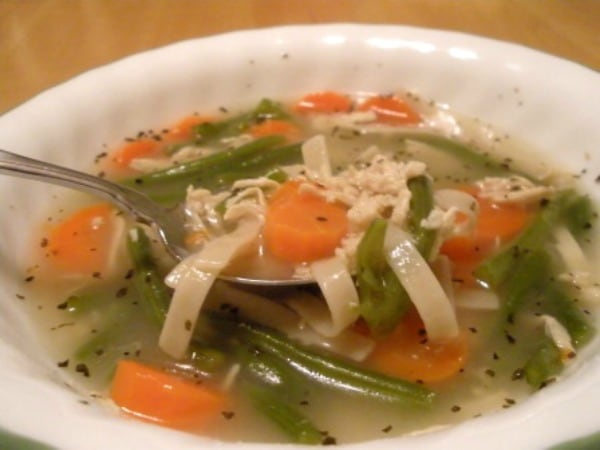 ~ Chicken Pho (Vietnamese Chicken Noodle Soup) from Tasty Yummies
Reader review: "I made this the other night and it was sooooooo good. Everyone loved it!"
~ Chicken Soup for Body and Soul from Gluten-Free Goddess
Description: "This is a simple healing soup with the goodness of cabbage (so beneficial to a celiac's tummy) and lots of garlic (an all-purpose fighter of evil … not to mention, a natural immune booster and cold-fighter). And green chiles."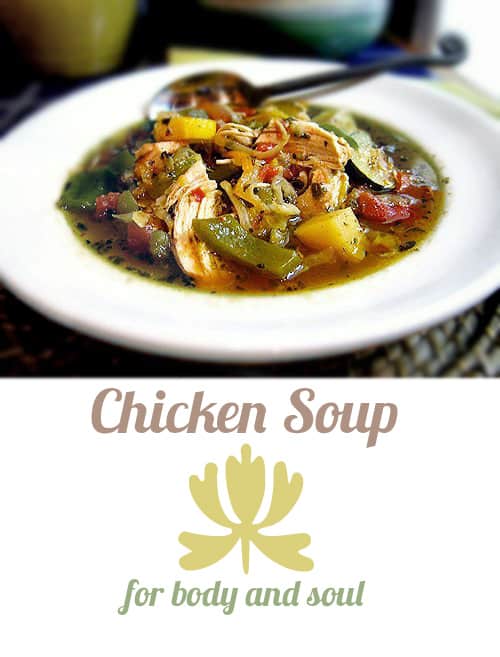 ~ Coconut Chicken Soup from Elana's Pantry
Reader review: "This soup was terrific. I was counting on my kids not liking it so there would be leftovers but no such luck! MY daughter says it reminded her of a creamy clam chowder soup. It is amazing that the little bit of fish sauce can add so much flavor. The soup also would be great with shrimp of fish if you do not feel like using chicken."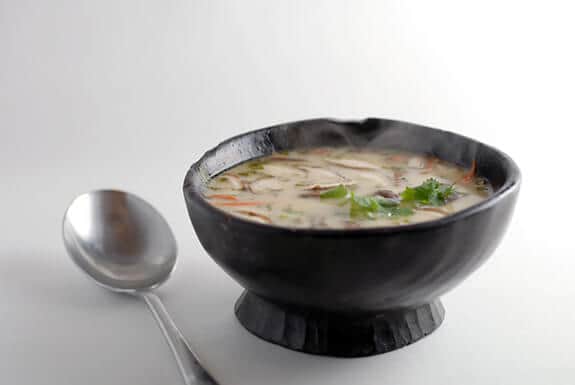 ~ Creamy Chicken and Mushroom Soup from Allergy Free Alaska
Reader review: "I made this soup over the weekend and it's great!" and "This turned out absolutely delicious! Boyfriend went for seconds and thirds. I will definitely make this again!" and " I made this yesterday in my crockpot and it was AMAAAAZING! Cooked on high about 6 hours….lifted out the chicken onto a sheet pan….deboned and put the chicken right back in."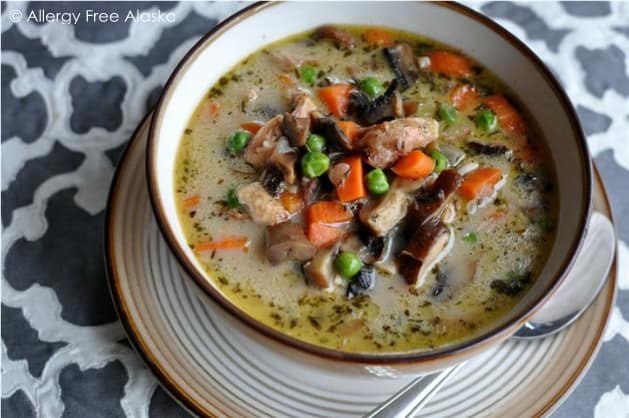 ~ Easy Chicken Noodle Soup from Simply Quinoa
Description: Alyssa shares two stories to prove the magical healing powers of this soup!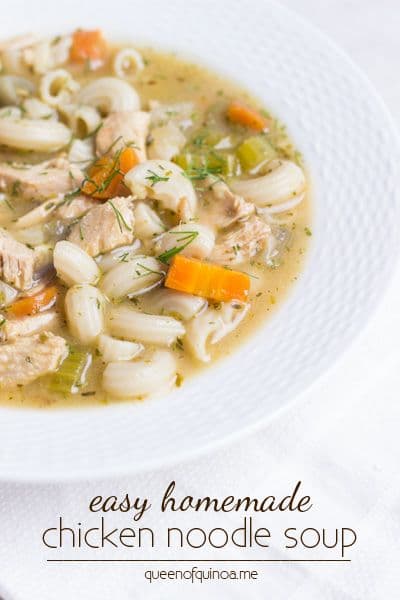 ~ Grandma's Homemade Chicken Soup from Fearless Dining
Reader review: "Best flavor of any chicken soup I've ever made! My husband loved it too! A definite keeper and go-to for cold winter days in Wisconsin!"
~ Green Chicken Soup from Elana's Pantry
Reader review: "I made this for dinner tonight and it was delish! My hubby, who is very picky even liked it and he is not a soup person."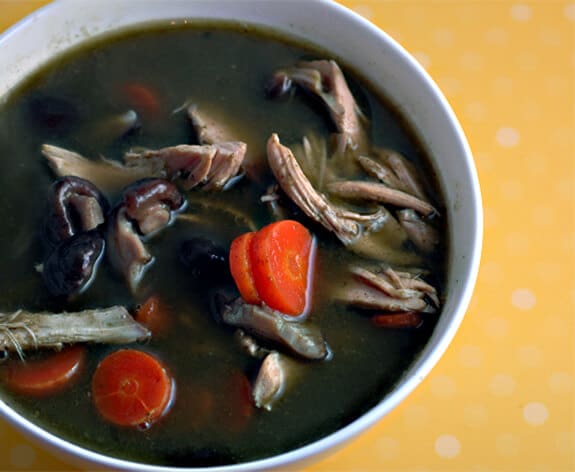 ~ Healing Chicken Ginger Soup from Nourishing Meals
Reader review: "Made this today – another delicious, warm, and comforting soup. Thank you!"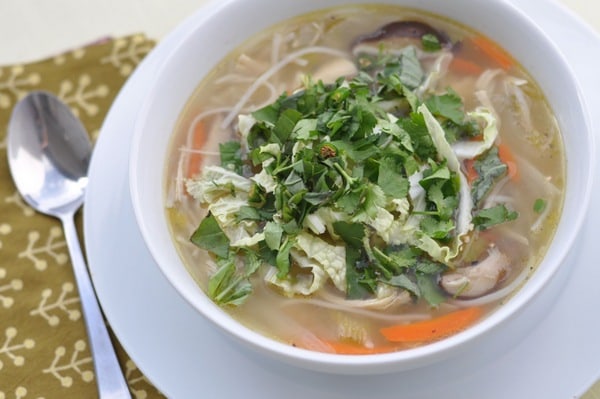 ~ Homemade Paleo Chicken Noodle Soup from Cassidy's Craveable Creations
Description: "This yummy chicken noodle soup is not only very flavorful, but it's chock full of nutrients and very healing – perfect for these cold winter months when so much sickness is going around! I made the soup Paleo by using spiralized zucchini noodles instead of traditional noodles. However, if you prefer traditional noodles, just replace the zucchini with gluten free noodles."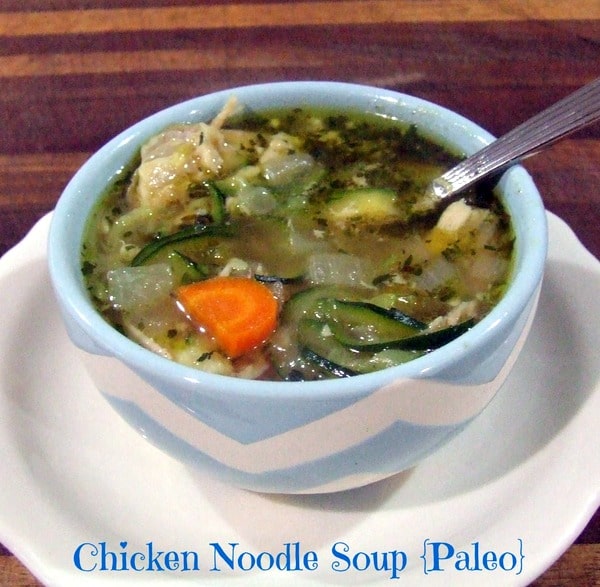 ~ Instant Pot Chicken and Vegetable Soup from Against All Grain
Description: "I throw this soup together so often when we're feeling under the weather or I feel any ulcerative colitis symptoms creeping up. The bone broth is healing to the gut and anti-inflammatory and it's a great way to get protein and vegetables into the kids' and my diet."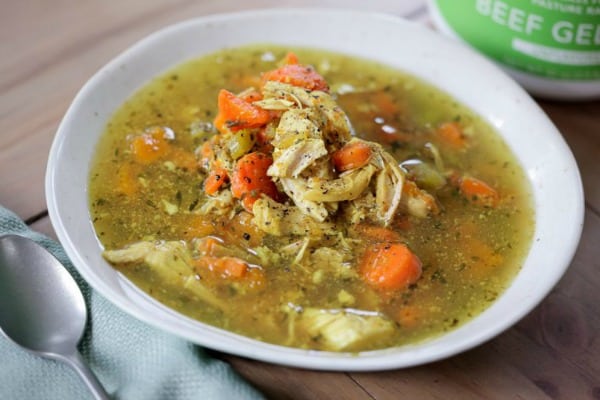 ~ Instant Pot Chicken Soup from Fearless Dining
Description: "Plump juicy chicken, seasoned with thyme, basil, parsley, garlic, salt and pepper with lots of carrots, celery, and onion. This soup is hearty, filling, and makes a fantastic lunch or dinner."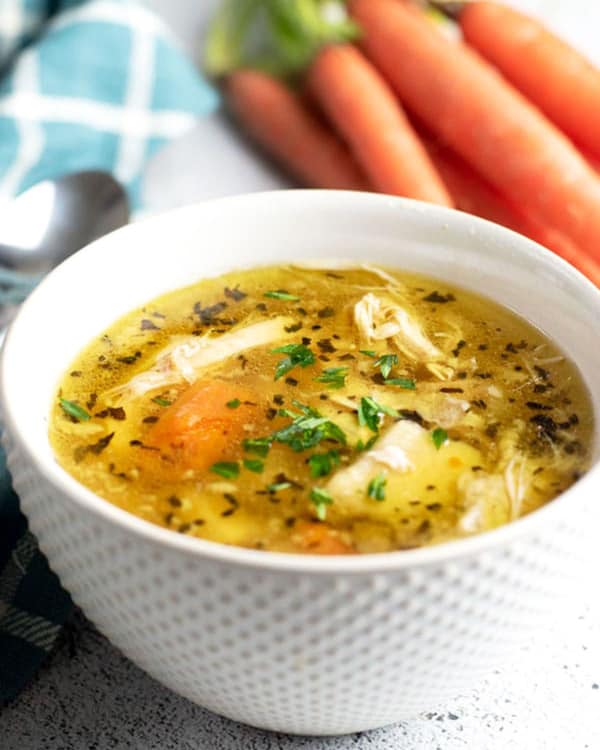 ~ Instant Pot Creamy Chicken Vegetable Soup from Tasty Yummies
Description: "Reminiscent of a pot-pie filling, with a bit more broth, it's creamy and rich, without dairy or grains."
~ Instant Pot Hearty Chicken Soup from Cassidy's Craveable Creations
Description: "Here's my hearty chicken soup recipe. It's a recipe I frequently make in the winter, but now that I have an instant pot I have a new love for it because it's so fast and easy to make. It's warm, comforting, flavorful, healthy, and is loaded with veggies."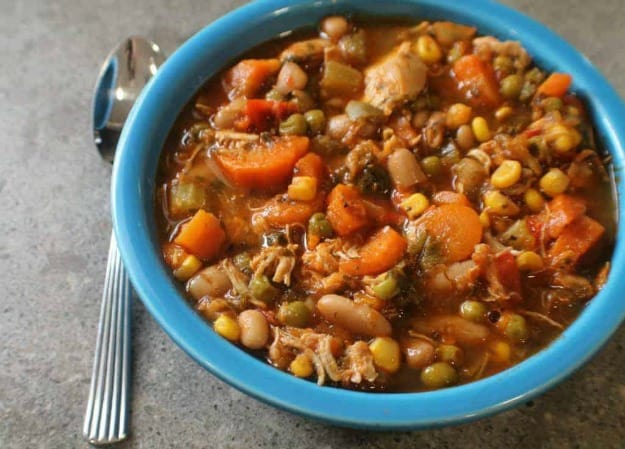 ~ Instant Pot Shredded Chicken and Vegetable Soup from Fearless Dining
Description: "This homemade chicken vegetable soup recipe is special. It is hearty enough for a meal, yet it is comforting too. I remember my grandmother telling me this is a great soup for using up vegetables that may go bad."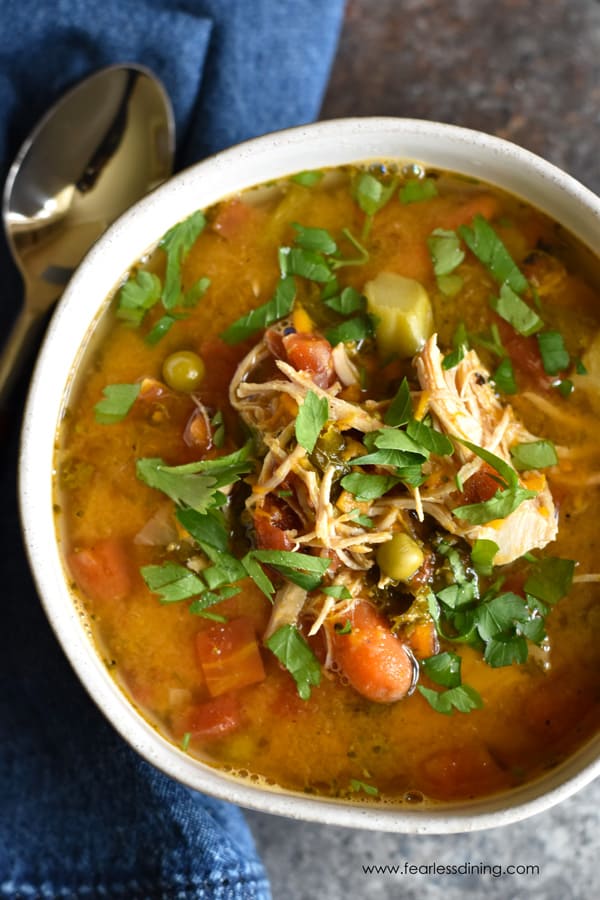 ~ Leftover Roast Chicken Soup with Roasted Vegetables from Against All Grain
Reader review: "I just made this and it is—beyond a doubt—the best chicken soup I have ever had! I know I will be making it over and over again!"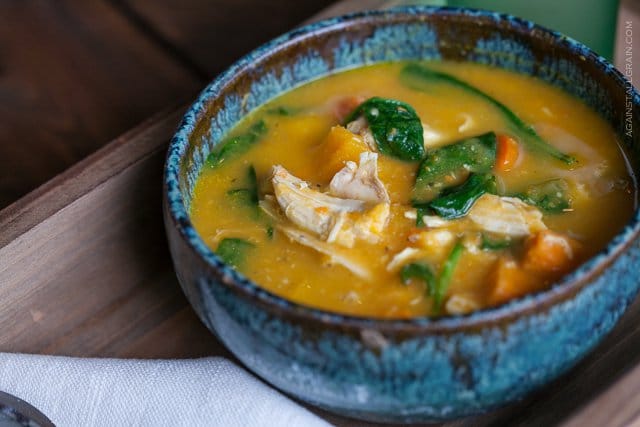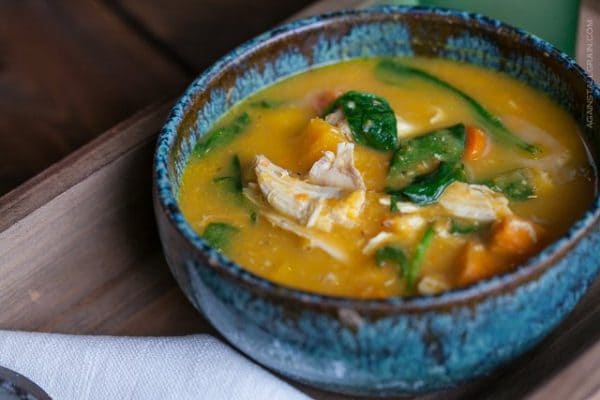 ~ Low-Carb Chicken Soup with Zucchini Noodles from Kalyn's Kitchen
(Kalyn used turkey in her original recipe, but chicken is easily subbed in.)
Reader review: "I made this to use up some of my Thanksgiving leftover turkey. The soup was absolutely wonderful."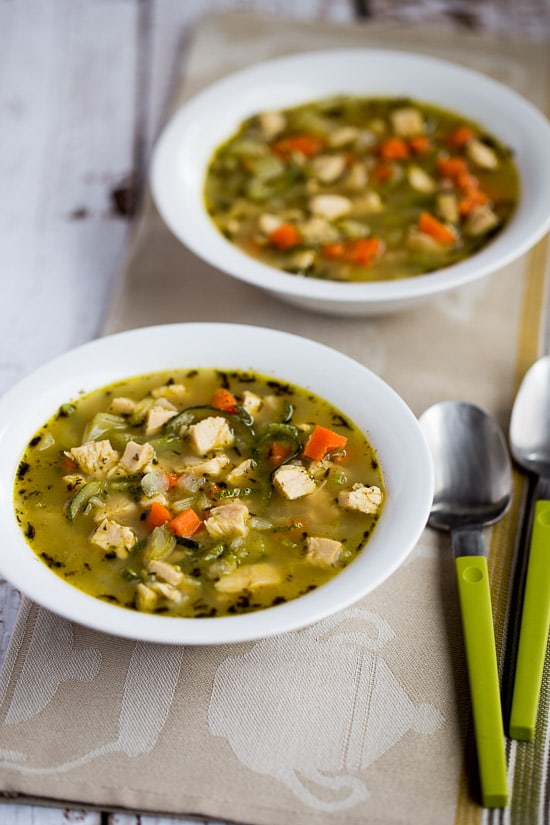 ~ Low-Carb Keto Chicken Noodle Soup from Healthful Pursuit
Description: "Low-carb, keto chicken noodle soup made with keto spiralized daikon—aka "doodles"—a long white radish, for authentic keto noodles even your kids can get behind. Chopped carrots, celery and chicken thighs simmered in a rich keto chicken stock and seasoned with basil and oregano. Ready in just 30 minutes."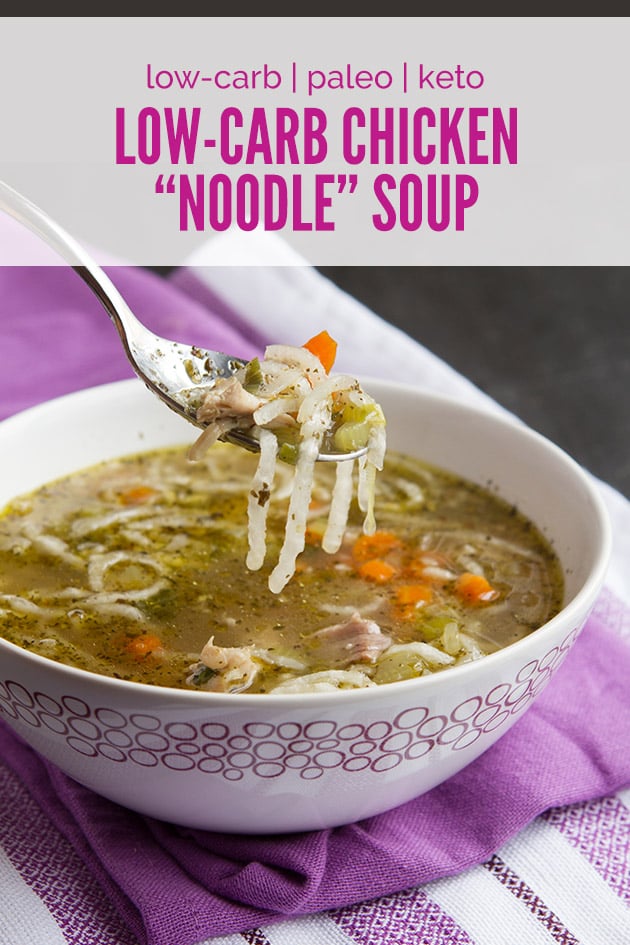 ~ Low-FODMAP Chicken Noodle Soup from Scratch from Delicious As It Looks
Reader review: "Wonderful! Made a huge pot of this soup today and between my two teenaged sons and my husband it is gone. Declared it the best I have ever made. Love your recipes – thanks for sharing!!"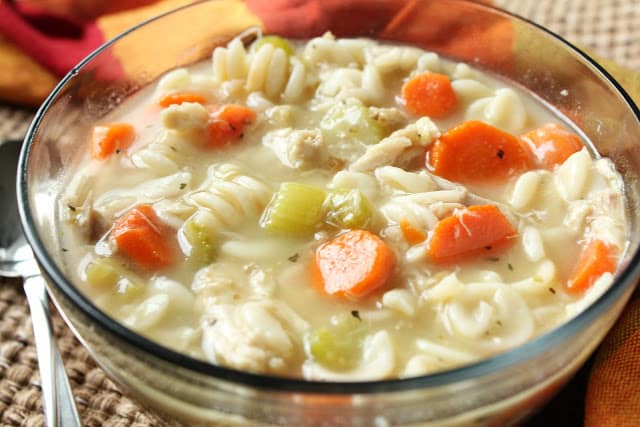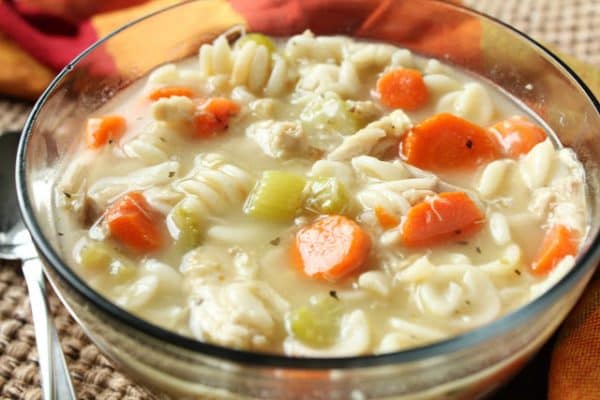 ~ Old-Fashioned Chicken Noodle Slow Cooker Soup from Stephanie O'Dea (use gluten-free option)
Reader review: "I just tasted a small bowl even without the noodles and it was quite delicious. Never thought to add the balsamic and it adds a really nice flavor."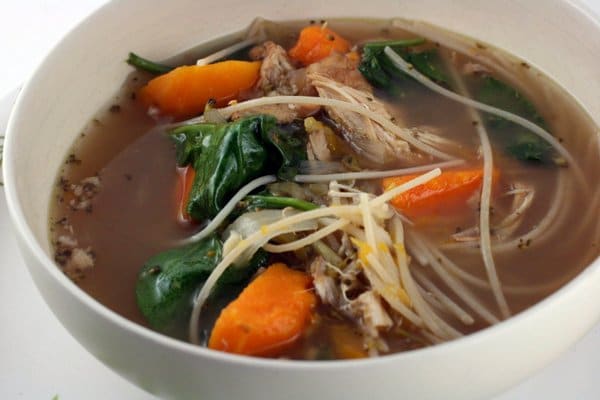 ~ Paleo Crockpot Chicken Soup from Cook Eat Well
Reader review: "I made this today and it's awesome! So simple and so good! Love, love, love it!"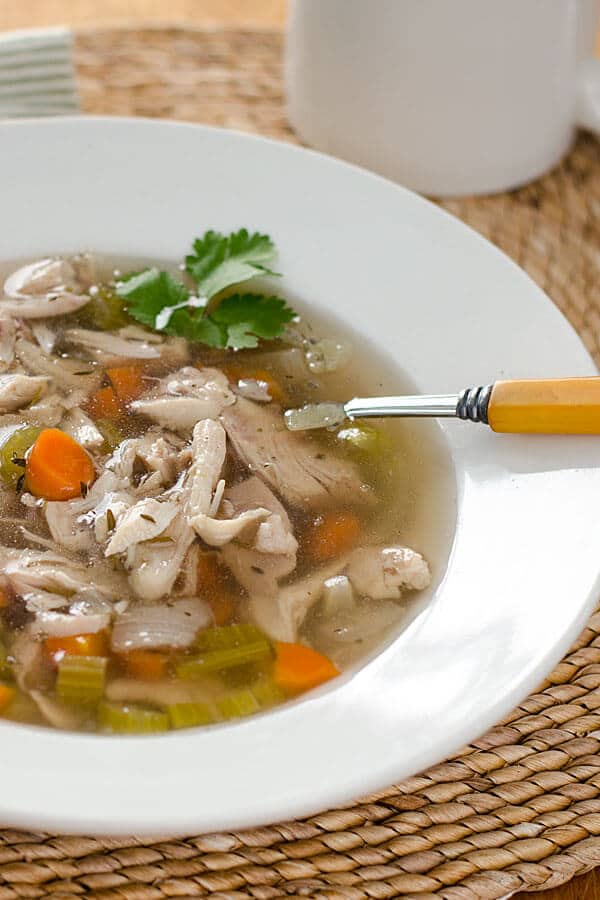 ~ Paleo Chicken Noodle Soup from Elana's Pantry
Reader review: "This is the most delicious chicken noodle soup! I used chicken broth and shredded chicken breast in it. Soup was wiped out clean from the pot by my boys."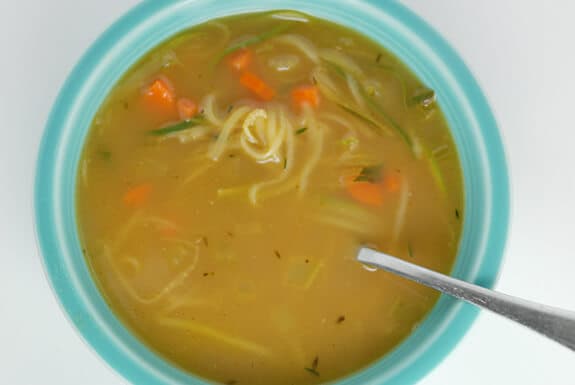 ~ Quick and Easy Homemade Chicken Noodle Soup from Tessa the Domestic Diva
Description: "Nothing beats a warming bowl of chicken soup come cool weather. As a kid, I loved the soup that came in a can, especially when I was sick. But now, I prefer the homemade variety, and with this recipe, I can have all the homemade flavor without hours of cooking."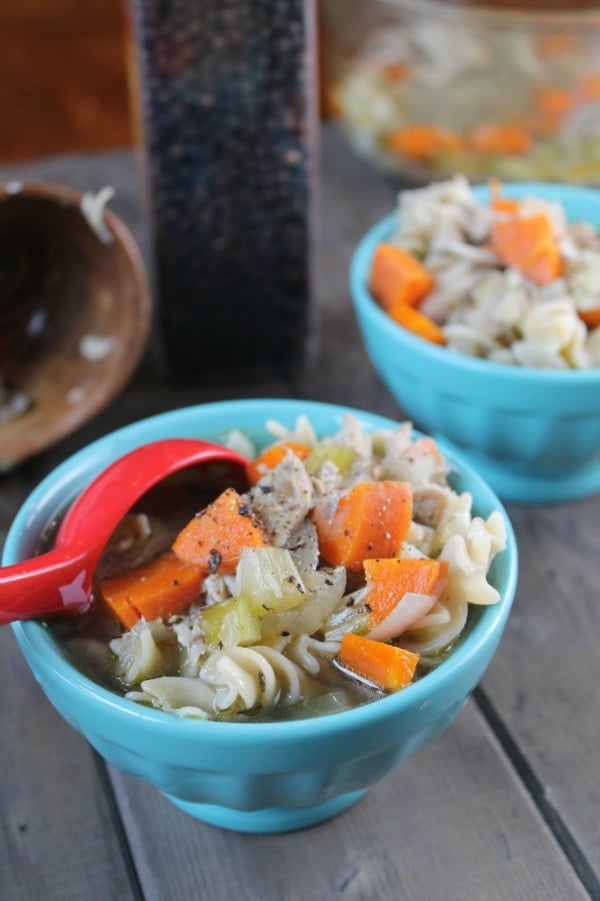 ~ Red Curry Chicken Noodle Bowl from Gluten-Free Spinner
Description: "One of the best things about noodle bowls are the ingredients that can be altered to everyone's liking. First, the prepared noodles are added to each bowl. Next, everyone chooses their favorite ingredients placing them with the noodles. Then you ladle the broth over each bowl of goodies and offer a squeeze of lime and fresh black pepper. The broth enhances all the veggies and coats the noodles, which is why it's so important to have a flavorful broth. These bowls are fun and festive….and so very good."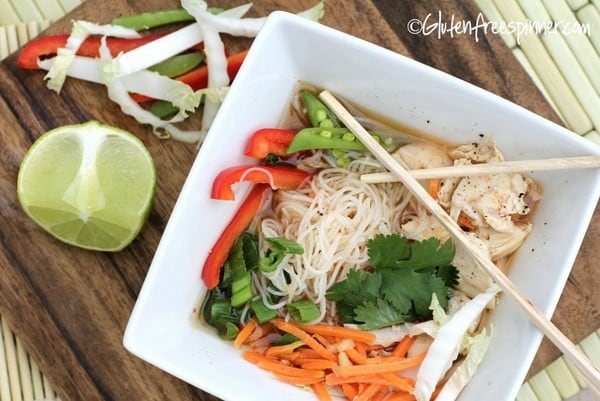 ~ The Soup That Saved My Life from Gluten-Free Fix
Reader review: "I made it last night and it tastes delicious after sitting in the fridge overnight. My stomach feels great when I have it."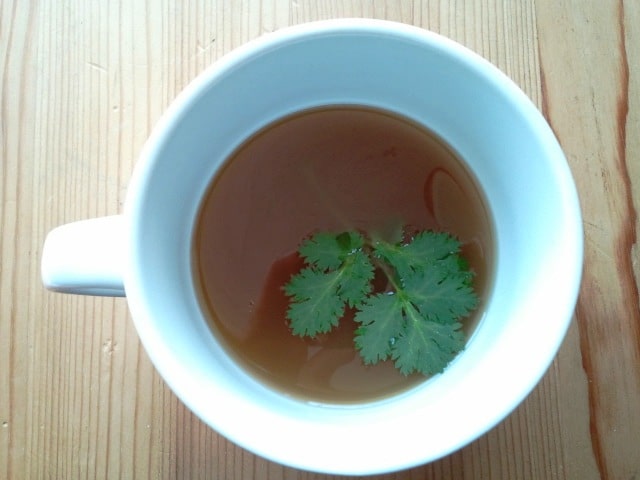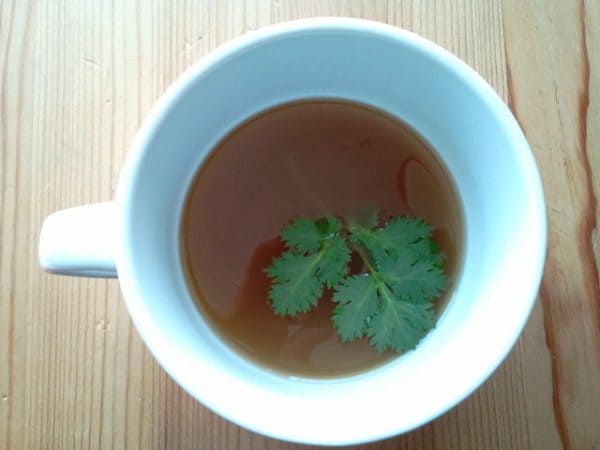 ~ Super Immune Boosting Chicken Soup from Nourishing Meals
Reader review: "This soup is AMAZING. We liked it so much last week, I made another batch tonight. I think the ginger and lemongrass in the broth really add an extra dimension to this. It is my new go-to chicken soup recipe. Thank you."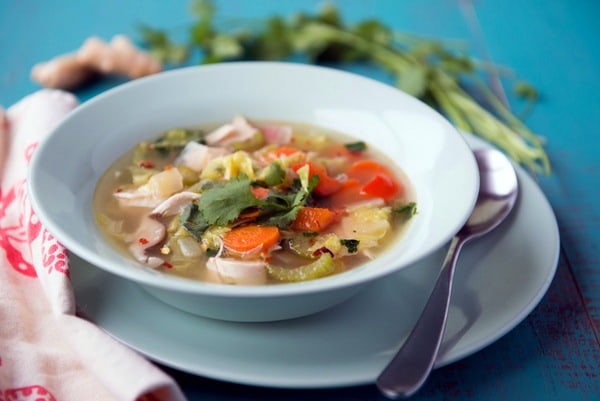 ~ Thai-Inspired Coconut Chicken Noodle Soup from Healthy Green Kitchen
Reader review: I just saw this recipe today and knew I just had to make it tonight for dinner because it sounded so awesome. I had to substitute a few items only because I didn't have time to go to the store today. Here's what I substituted: 2 tbsp of date sugar and 1 tsp of my red chile paste for the 'dates and tamarind cooking sauce'; 2 tsp of lime juice for the kaffir lime leaves (since lime juice and lime zest are good substitutes for the leaves if you are unable to find them at an Asian store or online); 1 small sweet onion in place of the green onions. Well, let me tell ya, it came out….FANTASTIC!!! My husband, 2 foster boys and I all loved it. The 2 boys were begging me for seconds. The only bummer is that we didn't have any leftovers. Thank you so much for posting this recipe. It is definitely one that I will keep."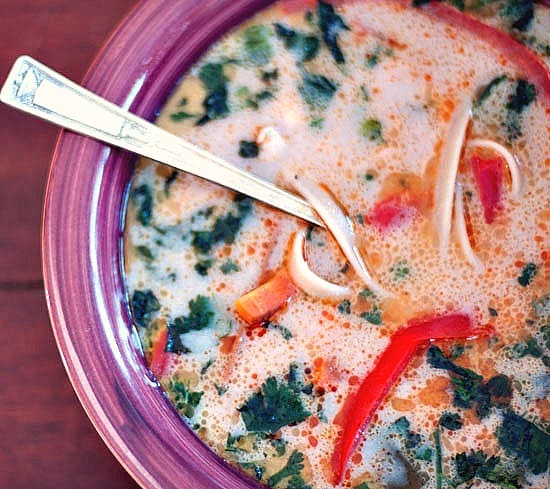 Vegetarian "Chicken" Noodle Soup
If you're vegetable or vegan, you can still enjoy a delicious version of this soup.
~ Vegetable Noodle Soup with Gluten-Free Egg Noodles from In Johnna's Kitchen
Description: "Vegetable Noodle Soup is a perennial favorite in my kitchen, whether it be to ward off the chill outside, to stave off the flu or a cold or just to have a bowl of comfort food. It reminds me of a homemade chicken noodle soup–just without the chicken and gluten."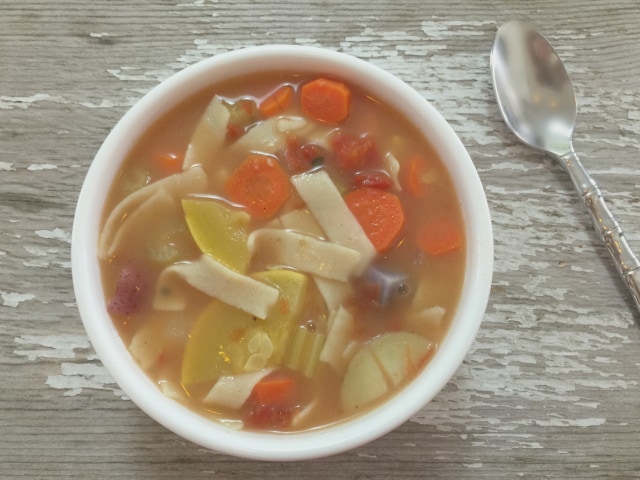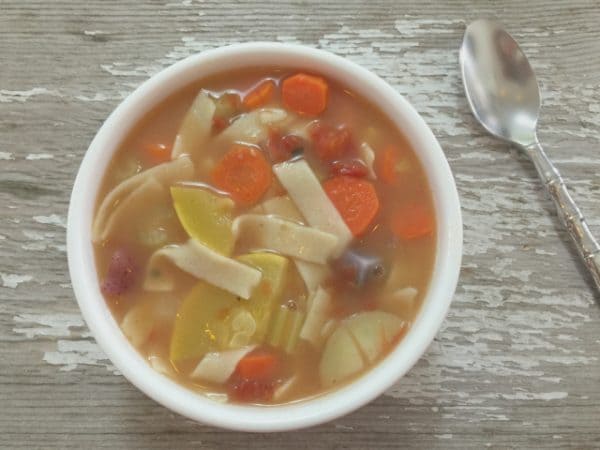 While crackers are often eaten with soup, I highly recommend a terrific gluten-free bread to really round out your meal. Be sure to check out gfe's gluten-free bread recipes to see if you can find the perfect bread option. Note that you can always access the gluten-free bread recipes on gfe by clicking on the following bread collage on my sidebar.
Gluten-free chicken soup and fresh bread? I'm in! Enjoy!
Originally published March 13, 2017; updated August 22, 2021.