For affiliate links and as an Amazon Associate I earn from qualifying purchases.
After I shared my Popover Pizza recipe, I promised that I'd be sharing my recipe for Flourless Gluten-Free Low-Carb Pizza recipe soon. Your wait is over because here it is!
The original recipe came from my good friend, Katie. She has relied on it whenever she's "low-carbing."
Since then, I've discovered there are lots of such low-carb pizza recipes online. Many of them use this same flourless concept with eggs and cheese as the major ingredients but with greatly different ingredient amounts.
Low-carb diets are often a great source of naturally gluten-free recipes. Incidentally, sometimes it's being on a low-carb diet that actually helps folks realize they have gluten issues.
These individuals often feel so much better when on a low-carb diet and then not so much when they reintroduce the carbs into their diet. In the Standard American Diet (SAD), lots of carbs usually equate to lots of gluten.
Despite Katie's enthusiastic endorsement, I was very skeptical the first time I made this Flourless Gluten-Free Low-Carb Pizza recipe. Then I took my first bite and I wanted to do backflips!
Each time I've made this recipe for our family and for my support group, we are all surprised anew at how great this Flourless Gluten-Free Low-Carb Pizza is!
It's naturally gluten free—and, of course, I love that as it fits my gfe approach. The crust is made from eggs and cheese, which when combined and baked yield very gluten-like, airy, doughy results.
This recipe even has a super easy keto option.
The last time I made it, Son took a bite and said:
"This is the best pizza. It tastes like real pizza. It tastes like the pizza we used to eat."
That's high praise coming from a 21-year old college student! He said the edges of the crust tasted like his Aunt Susie's sausage balls. LOL
But, again, that's a terrific compliment. Son will be home in a few days and I'll be making this Flourless Gluten-Free Low-Carb Pizza again for him to enjoy!
I did tweak Katie's recipe just a tiny bit. You can see the step-by-step photos below.
I included the last photo to show how the pizza can be picked up with a spatula (or your hands). How can pizza taste this good without a "bread" crust?
You have to try it to believe it! Update: In fact, my friend Lynn of Lynn's Kitchen Adventures just tried it for the first time and shared this photo and review on her Facebook page.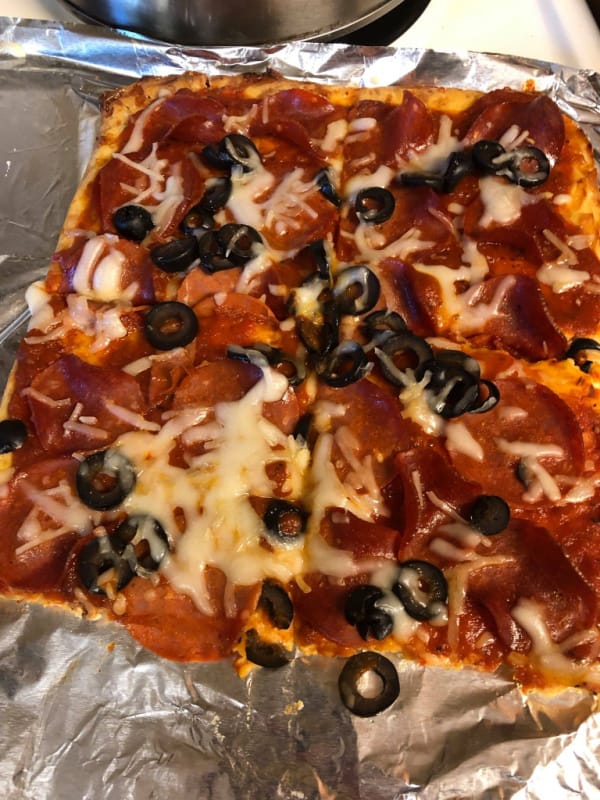 "My sister made gfe–gluten free easily pizza crust recipe when I was visiting family in Oregon and it was so good! I wish I had gotten a better picture of it. I can't believe that I have never made this recipe. It is great for those that eat low carb. Since the crust is full of cheese you don't need to put that much cheese on top. It is a great option for an easy homemade gf pizza."
When I thanked her for her review, she replied:
"I cannot believe I hadn't tried it [before]! It was so good. Thank you for such a great gluten-free recipe. I will be making this when I need an easy gf crust."
Woohoo! I love feedback like that, especially from folks whose opinions I respect! Here's another review from sweet gfe reader and friend Ginny (some of you may remember her as Irish Heart from gluten-free forums back in the day): "This is a crustless pizzaaah. Yup! It's low carb. And Yup…. it's DELICIOUS!!! Try this. I like it and I'm a pizzaaah snob." If you aren't convinced by her words, look at her photo above!
And, of course, you don't have to be gluten free to enjoy this flourless pizza.
Who doesn't want a great homemade pizza without the need to make a traditional crust? Low-Carb Pizza. Flourless. Doughless. Gluten free. Amazing.
One more thing you should know about this recipe … it's super filling! I don't recommend overindulging in it. One small piece is more than enough for me.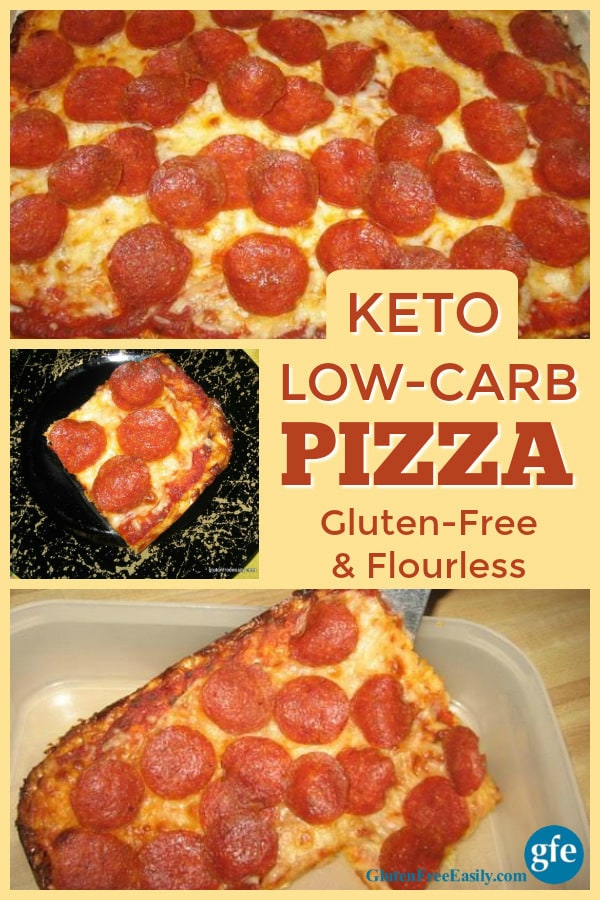 When I serve this pizza at parties. I make two pizzas and cut them into small squares. Even then the pizza goes very quickly.
People—almost none of them who are gluten-free folks—rave over this recipe and get very upset if I don't make it for parties, even their parties at their homes! No kidding! I try not to take offense when they ask, "Did you bring your pizza?" before they say "Hi, Shirley, how are you?"
Recently, I halved the recipe and made a more traditional, round version using a 9-inch cake pan. That worked wonderfully well and was a better size for me.
I couldn't eat all of it in one sitting of course—nor did I want to—but I did eat it over 2 and a half days. I'm sure if you have anyone to share a 9-inch pie with, it won't last that long but you will enjoy it!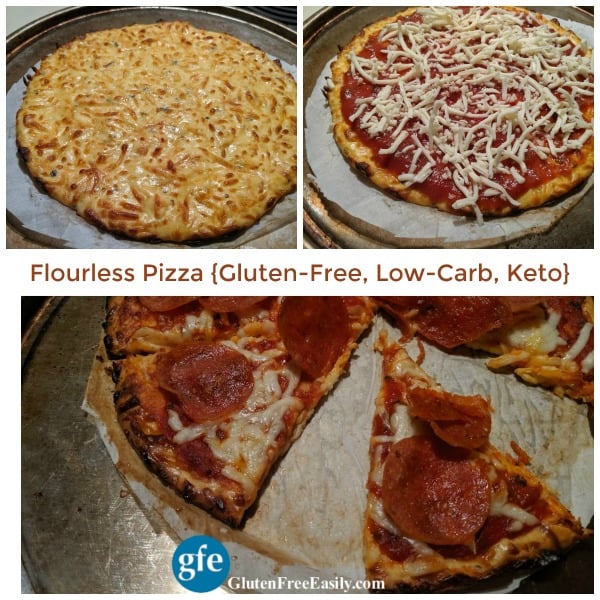 Need a grain-free pizza just for you? Try this 6-Inch Individual Pizza!
Flourless Gluten-Free Low-Carb (Keto) Pizza Recipe
Here are step-by-step photos with the recipe at the end.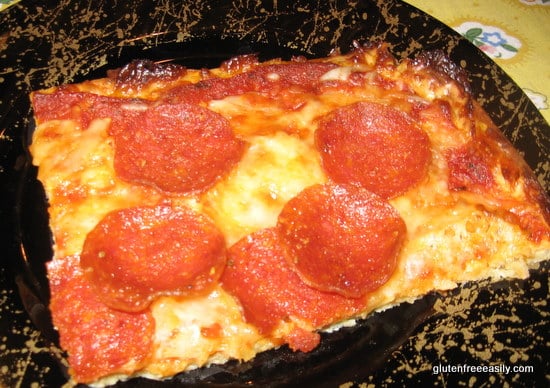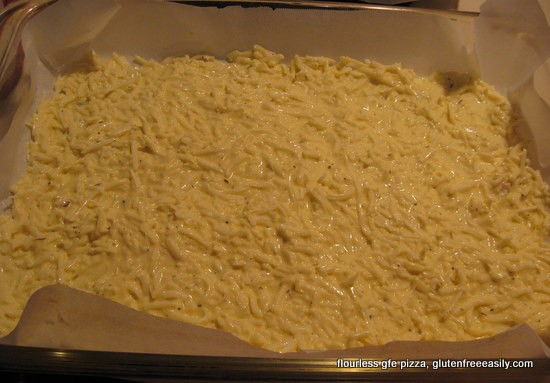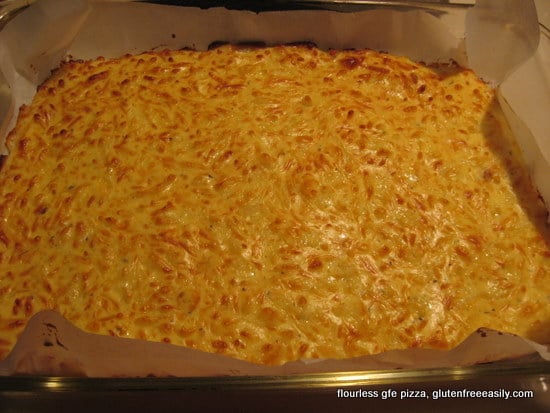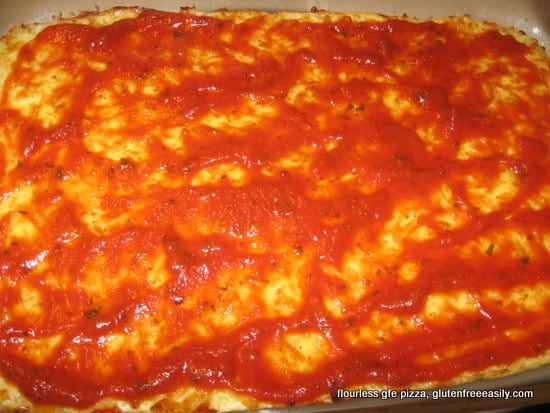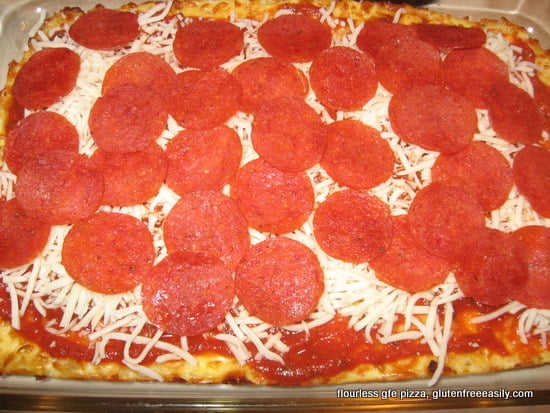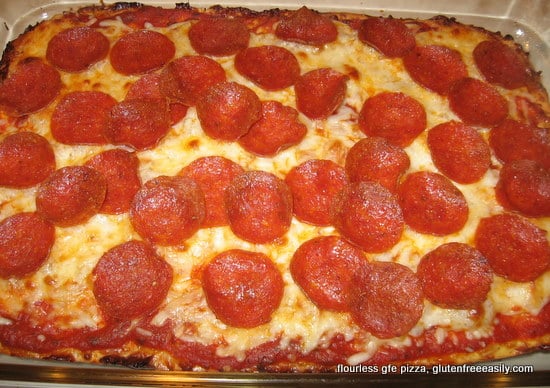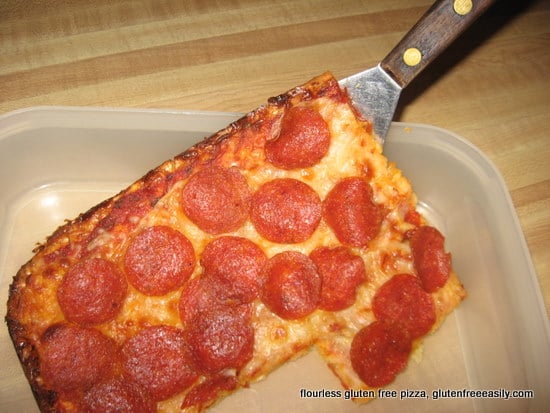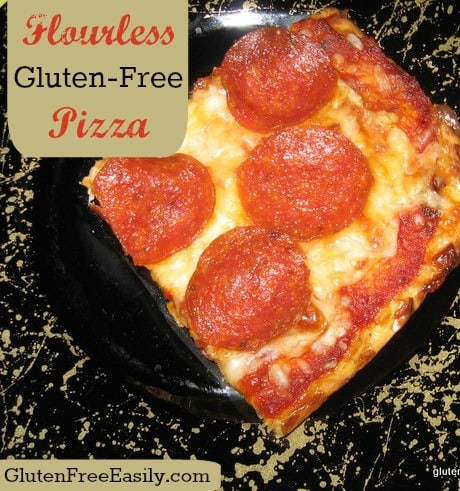 Yield: 12 slices
Flourless Gluten-Free Low-Carb Pizza (Keto)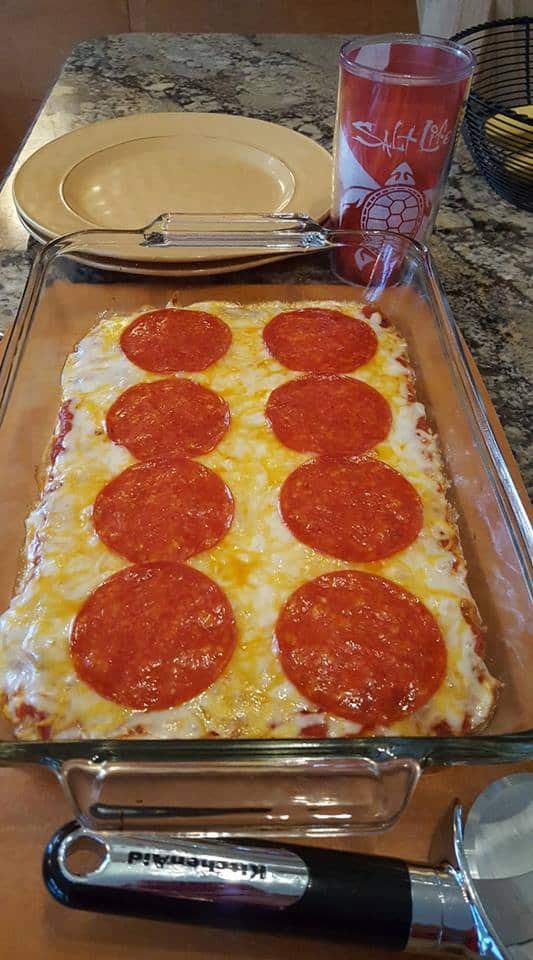 This flourless gluten-free low-carb pizza is loved by MANY--even the gluten-full folks! It's naturally gluten free. No special ingredients needed. The crust is made from eggs and cheese. You have to try it to believe it. You will never miss pizza again! It's super filling, too, so a little goes a long way.

Prep Time 20 minutes

Cook Time 40 minutes

Inactive Time 1 hour

Total Time 2 hours
Ingredients
Crust Ingredients
4 ounces cream cheese, softened
2 eggs
¼ cup Parmesan cheese
1/2 tsp pizza seasoning
8 ounces (2 cups) mozzarella cheese, shredded
Topping Ingredients
1/3 cup (or slightly more, per preference) pizza sauce (I use Ragu traditional pizza sauce), or tomato sauce or tomato paste for a keto version
4 ounces (1 cup) mozzarella cheese, shredded
Assorted toppings of preference: pepperoni, ham, sausage, bacon, ground beef, mushrooms, green peppers, etc. (I recommend precooking any toppings slightly to ensure much less fat/"liquid" to prevent a soggy crust.)
Instructions
Preheat oven to 375F degrees. Grease 9 x 13 glass baking dish (metal does not work well; crust will stick) and line with parchment paper.
For crust, in medium bowl, whisk cream cheese until smooth and creamy. Whisk in eggs until mixture is well-blended and smooth. Add the Parmesan cheese and seasonings. Stir in mozzarella until completely moistened. Spread mixture evenly over parchment paper.
Bake for about 20 minutes, until evenly browned, but not too dark.
Let cool for a few minutes on a wire rack. When slightly cool, I "cheat" and lift the crust using the parchment paper and place all in the freezer for about 30 minutes until completely cooled. If you have plenty of time, you can cool the crust on the counter and then leave in the refrigerator for several hours uncovered. The goal is for the crust to dry out enough that it will be crispy/chewy and you can pick up with your hands.
Once cooled, remove parchment paper and place crust back in same pan (which is adequately greased from before—I even wipe it out a bit with a paper towel). Spread crust with pizza sauce, then add cheese (even if you love cheese, do not add more than one cup as the crust is almost entirely made of cheese), and then toppings of your choice.
Bake for about 15 - 20 minutes or until toppings are bubbly and look right. Let stand a few minutes before cutting. Makes about 8 servings and can be frozen for later eating.
Originally published July 12, 2009; updated April 24, 2023.