For affiliate links and as an Amazon Associate I earn from qualifying purchases.
Today's gluten-free Individual Pizza is not only a wonderful six-inch personal gluten-free pizza. It's also made without grains. It's my version of another personal pizza recipe, one which has long been buried in my archives.
I love pizza. However, being home alone most of the time, I don't want to make a full-sized pizza. When I do, I either end up overeating or I'm eating pizza for several days (because I'm not really into freezing pizza to eat later).
So, when I was reminded of the personal pizza already on my site, I thought" hmm, time to update that recipe to include ingredients that I like to use all the time." So, I did.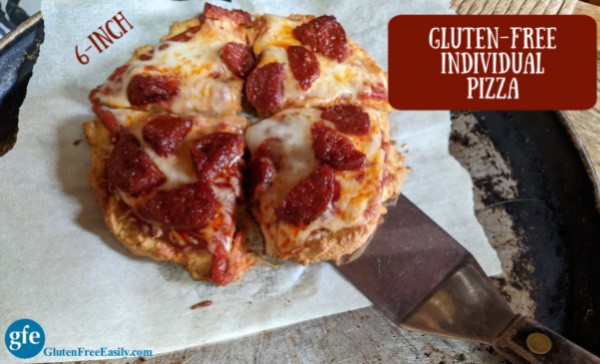 I used a large egg, extra virgin olive oil, almond flour, tapioca flour, and coconut flour plus, a little salt and baking powder for a bit more flavor and some lift. (No yeast or xanthan gum.) The results were wonderful!
When I shared my photo on Facebook, so many of you got excited! Hey, I get it! Individual pizzas made just for you or your gluten-free loved one are exciting! Plus, this recipe can be made on the spur of the moment and you can be enjoying your own homemade pizza in about 20 minutes. Oh, how I love that!
I know that not all of you use coconut flour or like even a smidge of coconut flavor so I tested another version where I replaced the coconut flour with a little more tapioca flour. The crust rose more and the resulting gluten-free individual pizza was just as wonderful—with no coconut taste of course.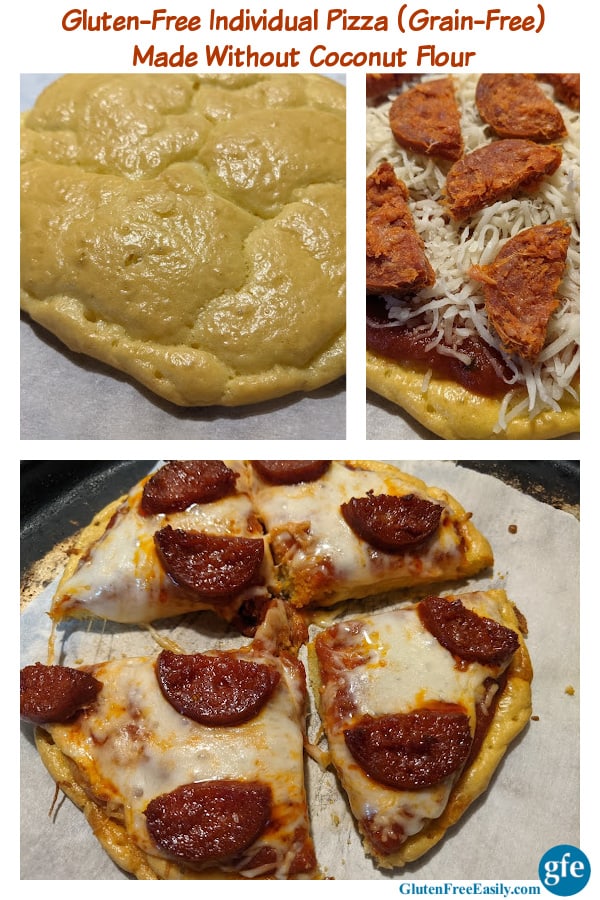 If you don't mind a little coconut flavor, I'd recommend trying both versions. If you don't eat coconut in any form or prefer a "plainer" taste, you'll want to go with the version that's made with only almond flour and tapioca flour.
I have not tried an egg-free version of this pizza but I suspect that a flax gel egg, chia gel egg, or commercial egg replacer would work. If you try any of these options, please let us know your results. Fingers crossed!
More of the Most Popular Gluten-Free Pizza Recipes
~ Gluten-Free Pizza Recipes That Are a Little Bit Different (there are quite a few recipes in this collection that make perfect personal pizzas—such as portobello mushroom pizzas, zucchini slice pizzas, pizza muffins, and mini egg pizzas)
Six-Inch Gluten-Free Individual Pizza (Grain-Free) Recipe
Yield: One six-inch pizza; one serving
Six-Inch Gluten-Free Individual Pizza (Grain-Free)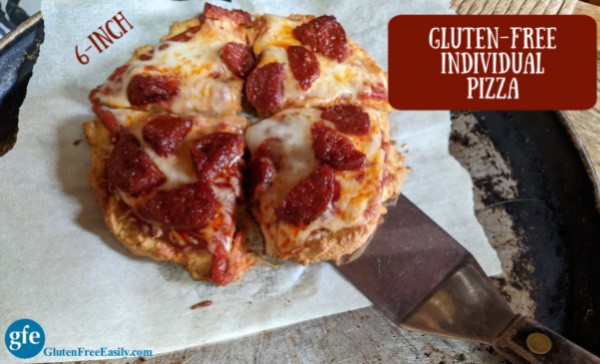 When you need a gluten-free pizza just for you, this delicious six-inch individual pizza is the answer! Ready in about 20 minutes.

Prep Time 3 minutes

Cook Time 16 minutes

Additional Time 1 minute

Total Time 20 minutes
Ingredients
1 large egg
2 teaspoons extra virgin olive oil (see notes)
1/16 teaspoon salt
4 teaspoons tapioca flour
2 teaspoons coconut flour, sifted OR 2 more teaspoons tapioca flour
½ teaspoon baking powder
Instructions
Preheat oven to 400F.
Place a parchment paper square or circle that is slightly larger than 6 inches on a baking sheet.
In a small bowl, briefly beat egg until it is mostly beaten (i.e., almost the same color throughout).
Add remaining ingredients and mix well to combine. If making the version with coconut flour, let the mixture sit for about 30 seconds to thicken.
Using a spatula, evenly spread batter into a six-inch circle on parchment paper.
Bake for 8 minutes.
Remove from oven and top with shredded cheese (dairy or non-dairy) and others toppings of choice (but do not overload your pizza).
Bake for about 8 more minutes until cheese is melted and other toppings are cooked enough.
Cool slightly. Cut into four equal pieces. Enjoy!

Notes
You may substitute coconut oil or a neutral oil for the extra virgin olive oil. Please know that coconut oil will add more coconut flavor unless you use refined coconut oil, which is mostly flavorless.

Originally published March 31, 2022.