For affiliate links and as an Amazon Associate I earn from qualifying purchases.
Today's recipe for gluten-free Quinoa-Crusted Salmon Cakes is another gfe recipe that came about because I had ingredients that I needed to use. I never want to waste food and I love making a single recipe that can work as a complete meal.
In this case, a meal in a salmon cake, if you will. I love that! And this meal is absolutely delicious!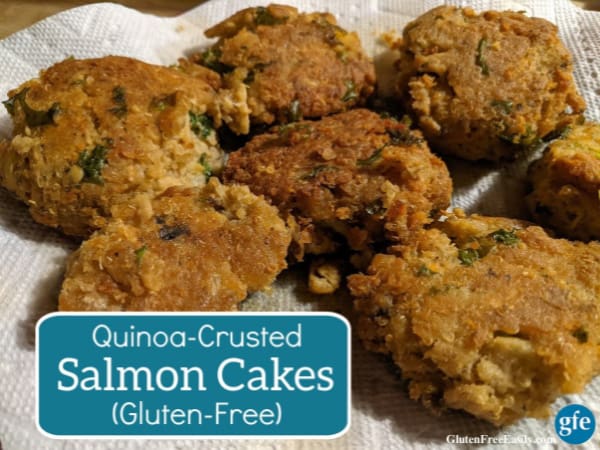 My original version included canned salmon, leftover cooked quinoa, leftover cooked sweet potato, salad greens (whatever is in my fridge—baby spinach, arugula, spring greens, etc.), eggs, and seasonings.
We always have leftover quinoa when Son's girlfriend makes Southwestern Quinoa-Stuffed Peppers, an absolutely wonderful recipe that was adapted from a Hello Fresh meal. (No, I have not shared it on gfe yet but I need to—and soon!)
I initially was going to call these salmon cakes Sweet Potato Salmon Quinoa Cakes but when I was out of sweet potatoes one day, I made them using Russet potatoes that I had on hand. Another time I used Yukon Gold potatoes.
The resulting salmon cakes were every bit as delicious as they were when made using sweet potatoes. So, simply Quinoa-Crusted Salmon Cakes they are!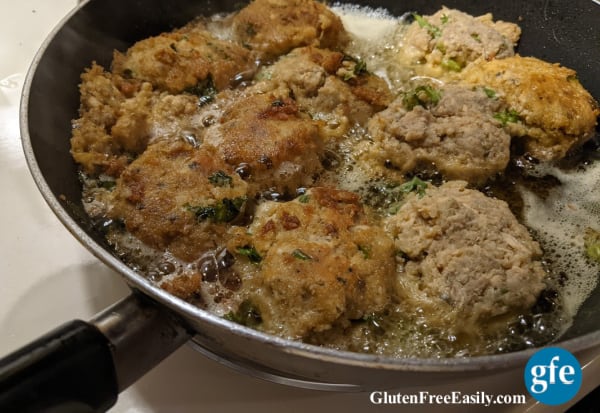 I will confess that I have even subbed in cooked mashed cauliflower or cooked cauliflower rice in place of the potatoes with pretty much equal success. So if you're eating low carb or keto, this recipe will still work for you.
Using sweet potatoes does make these salmon cakes a little more golden in color and I love that little bit of sweetness when combined with the other ingredients, especially to complement the chopped salad greens in the cakes.
The remaining ingredients other than the eggs—i.e., the salad greens and seasonings—depend on what you prefer to use or have on hand but I assure you that every possible way you can make these Quinoa-Crusted Salmon Cakes, they are absolutely delicious!
I've mentioned before that I crave salmon frequently and would almost always choose it over dessert even—when given the choice. Salmon feeds my brain and my body well with its high-quality protein, Omega-3 fatty acids, B vitamins, potassium, selenium, and astaxanthin and I have always loved the distinctive taste and texture of salmon as well.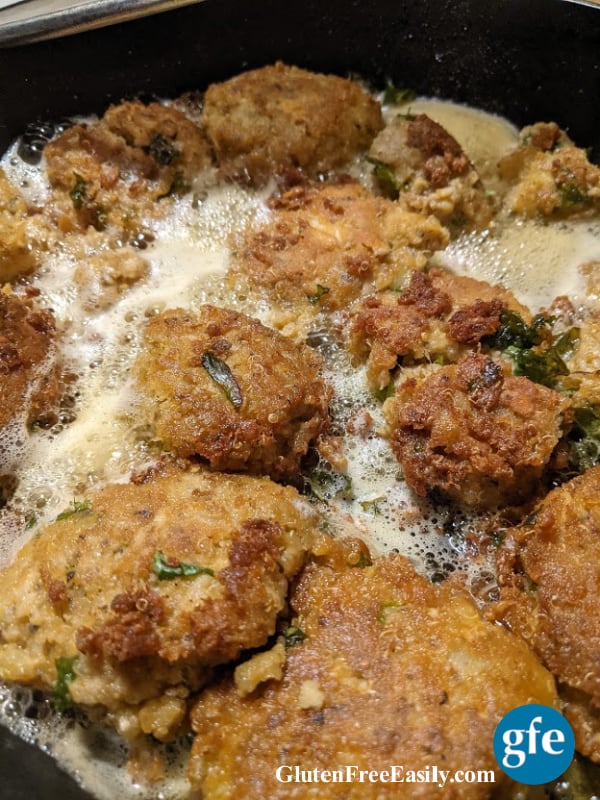 Making these Quinoa-Crusted Salmon Cakes once a week easily and happily satisfies my cravings. We all love this recipe so much that I double or triple it when making it for the three of us so that we have leftovers for lunch the following day. It's always nice to be able to grab something out of the fridge that we can quickly reheat and enjoy.
When I feel the need for more salad greens than what's included in this recipe, I will make a big salad and break one of these salmon cakes into pieces as my protein topping. Wonderful!
If we have our special dipping sauce leftover from stone crabs, we like to add a dollop of that to our gluten-free Quinoa-Crusted Salmon Cakes.
Some of you may remember that I previously proclaimed the salmon cakes from another recipe on gfe—one created by my dear friend Jennifer—as The Best Ever Gluten-Free Salmon Cakes. I still love those particular cakes but the family prefers these new gluten-free Quinoa-Crusted Salmon Cakes and I can understand why.
They pop with flavor and the texture is just wonderful—crusty outside and delectable inside. Plus, as I said earlier, you know you're getting a meal in your Quinoa-Crusted Salmon Cake. Or perhaps it will take two of these cakes to make a meal for some of you. It does for Son.
If you're a salmon fan, I really hope you like them! (But for the record, I will still make the other salmon cakes as well because I love the special ingredient that they feature and their unique nutty taste—without nuts!)
Some More Favorite Gluten-Free Salmon Recipes and Savory Burger/Cake/Fritter Recipes
~ Grain-Free Zucchini Fritters
~ Southwestern Zucchini Fritters
Gluten-Free Quinoa-Crusted Salmon Cakes Recipe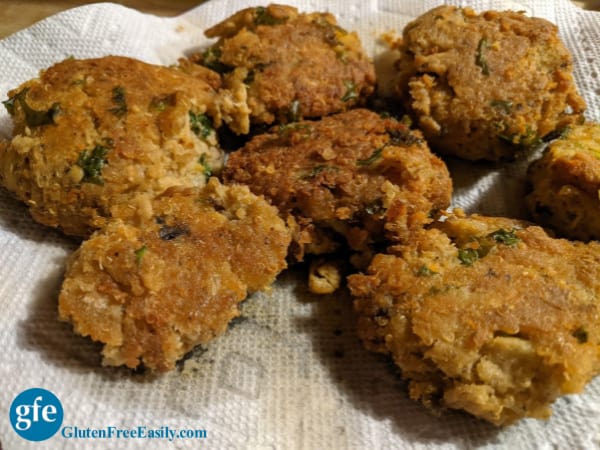 Yield: About 6 to 8 cakes
Gluten-Free Quinoa-Crusted Salmon Cakes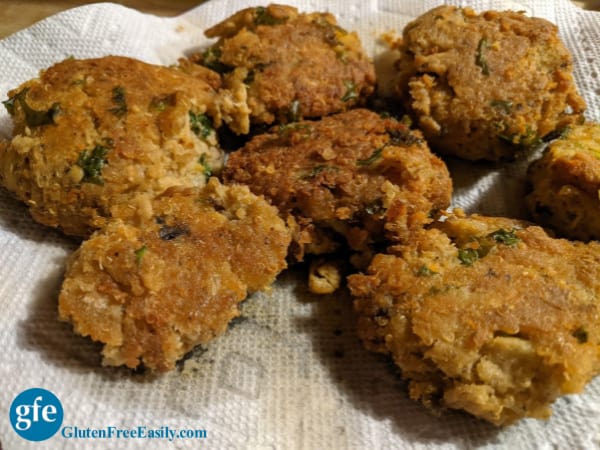 These gluten-free Quinoa-Crusted Salmon Cakes are a meal in a cake! They're a great--and absolutely delicious--way to clean out your fridge!

Prep Time 5 minutes

Cook Time 15 minutes

Total Time 20 minutes
Ingredients
1 cup packed cooked quinoa (I use chilled leftover cooked quinoa)
1 large can wild-caught salmon, about 14.5 ounces
1 cup sweet potato, cooked and mashed (see notes for substitution options)
1 cup salad greens (like spinach, arugula, etc.), chopped fine
2 large eggs
1 tsp smoked paprika (or regular paprika, more or less to taste)
1 tsp sea salt
½ tsp black pepper
Cooking oil of choice (I like to use coconut oil or corn oil
Instructions
Add cooking oil to large skillet to about half inch deep. Heat on medium to medium-high temperature.
As oil is heating, mix ingredients in large bowl. Once oil is hot, form mixture into 3-inch patties.
As soon as you form each patty, add them to the skillet one by one.
Do not flip patties until they are firm on the bottom, about 7 minutes.
Cook an additional 7 or 8 minutes. For additional crispiness, flip carefully once or twice more during that cooking time until the patties are golden brown on both sides.
Drain on a paper towel-lined plate or platter. Serve immediately.
Notes
Potatoes other than sweet potatoes—for example, Russet and Yukon gold--work as well.

I use leftover cooked quinoa and cooked mashed sweet potatoes that have been refrigerated when making these salmon cakes. I think the fact that both of these ingredients are chilled makes them work better for binding all of the ingredients. I think these cakes would be more likely to fall apart if you attempt to use just cooked, still warm quinoa and/or just cooked, still warm sweet potatoes.

If your can or packet of wild-caught salmon is slightly smaller or larger (products vary just a bit), the results will still be fine.

Originally published March 24, 2022; updated March 26; 2022.