For affiliate links and as an Amazon Associate I earn from qualifying purchases.
These gluten-free Mini Pecan Pies are a bite-sized version of pecan pie. And oh, yes, they are every bit as irresistible and as delicious as you can imagine!
These mini Pecan Pies are technically mini muffins and I'm celebrating them today because it's National Muffin Day, February 20. For future reference, Pecan Pie Day is celebrated on July 12. But there's absolutely no bad time for pecan pie, am I right? Of course, I am!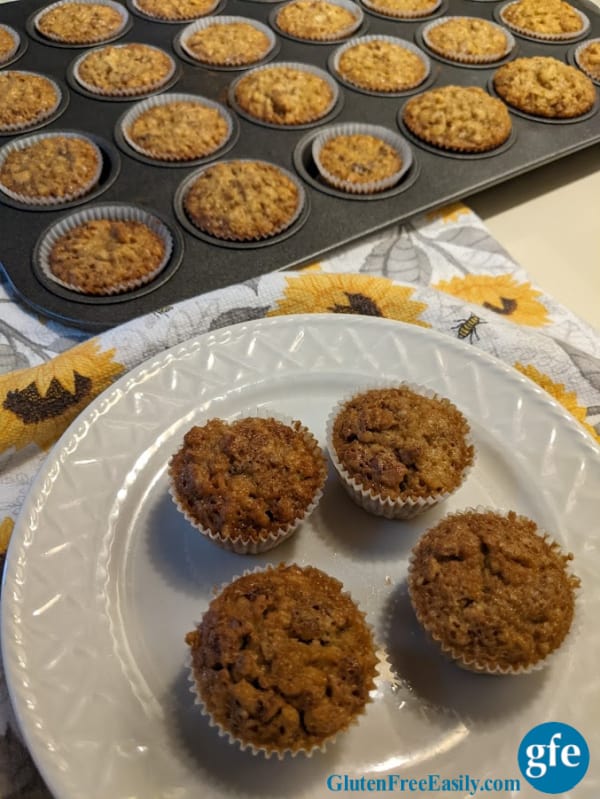 In addition to the bite-sized factor—because bite-sized is always nice in my opinion—why minis instead of regular-sized individual pecan pies? With the mini version you not only get the flat top that makes them look just like pecan pie but you also get a higher ratio of the perfectly caramelized outside to the delightful yummy inside than you would if you made the larger-size muffins.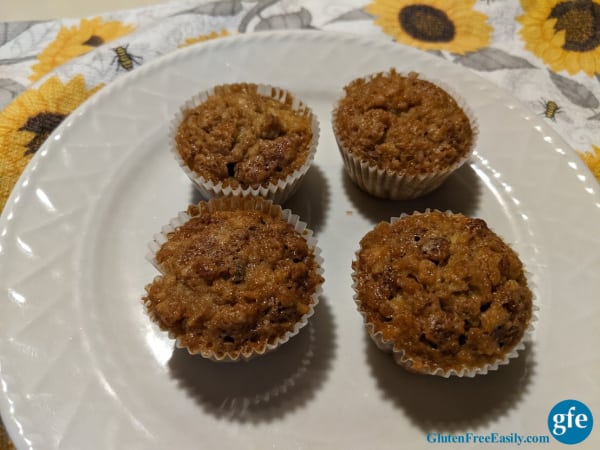 While I and so many gfe readers love my Crustless Pecan Pie, as you all know I also love muffins. Every day. Not just on Muffin Day. As evidenced by the multitude of delicious muffin recipes on gfe, including all those shared in March Muffin Madness events over the years. So, Mini Pecan Pies, aka Pecan Pie Mini Muffins, seem like an obvious gfe creation, right?
Honestly, I first made these Mini Pecan Pies eons ago—before I went gluten free in 2003. That gluten-full recipe (and lots of slight variations) is all over the interwebs.
The version I'm sharing today is simply a gluten-free version created by subbing in my Two-Ingredient Gluten-Free Flour Mix for the gluten-full all-purpose flour.
That's the only ingredient change but my version also comes with a shorter baking time because oddly, the baking time for most gluten-full versions shared online is way too long. When I initially made these muffins, I did not question the baking time and the mini muffins turned out both hard as a rock and next to impossible to remove from the muffin tin.
I had not thought of these Mini Pecan Pies again until recently when I came across the recipe when going through one of my recipe boxes. (Side note: Don't throw away those gluten-full recipes! Most can be converted to gluten-free versions.) I instantly wanted gluten-free Mini Pecan Pies so, as soon as I had pecans on hand, I made a batch.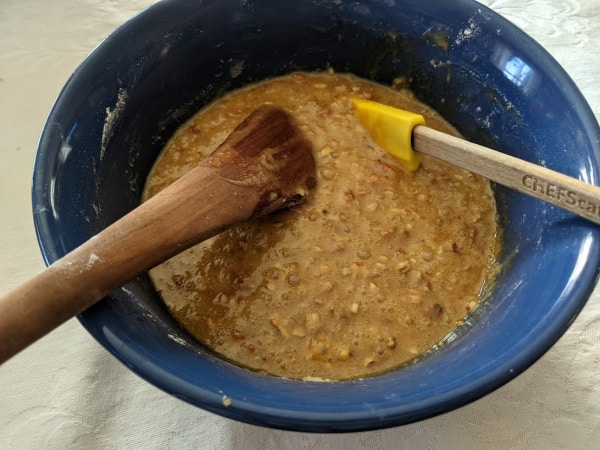 Oh, how I loved them! I shared them with my mom who also loved them.
When I spoke to her a day later, I asked if she had any Mini Pecan Pie Muffins left. She blurted out "No." as if she was surprised that I was asking such a ridiculous question. Haha. She's not wrong. These Mini Pecan Pies are irresistible. One almost immediately leads to another.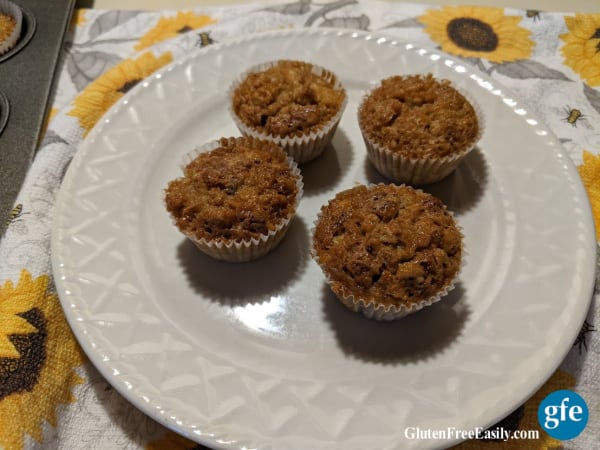 A few days after the first batch, I made another batch. Because I wanted more of these delicious gluten-free Mini Pecan Pies and also because I wanted to ensure that I could make them without them sticking to the muffin liners.
The first time they had stuck more than I liked. Once they were completely cooled, the liners could be removed fairly easily but in doing so the Mini Pecan Pies crumbled some.
I wanted to avoid any crumbling. So, the second time around, I sprayed some of the liners with olive oil spray (you could also use coconut oil spray or Pam) and for the remainder, I used If You Care Mini Unbleached Baking Cups.
Spraying the muffin liners with olive oil spray and using the If You Care muffin liners both worked fine but I prefer using the liners to having to spray over 24 muffin liners.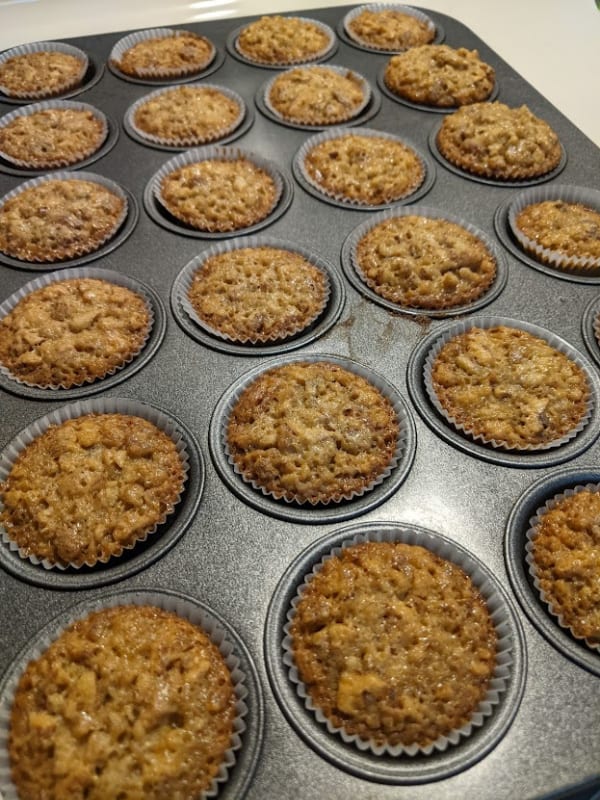 I had heard about If You Care muffin/cupcake liners over the years and always read that they worked very well but the liners I'd used worked well enough. Until now.
The description of the If You Care Unbleached Baking Cups says "No greasing needed." That description is spot on. The liners peel away from the muffins easily. They were perfect for these Mini Pecan Pies. Honestly, I'm amazed at how easily they come out of these muffin/cupcake liners.
If You Care makes non-stick unbleached baking cups for regular-sized muffins and jumbo muffins, as well as parchment paper and many more products.
I ordered mine from Amazon but I understand you can get them at a much lower price at local stores, including discount stores. You can also order them at a reasonable price from If You Care's own website. I am not affiliated with If You Care but I will probably order directly from them the next time I wish to stock up.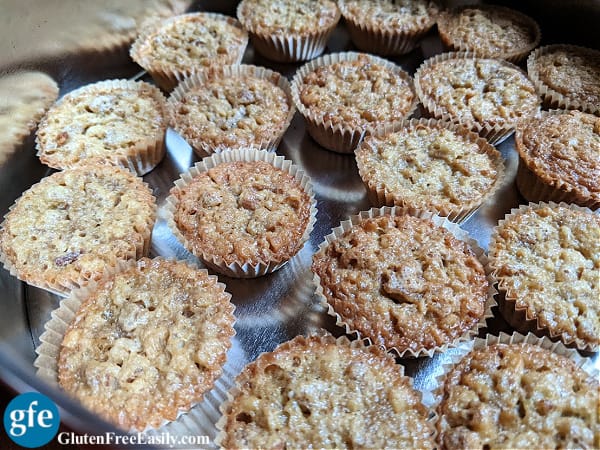 Finally, no xanthan gum is needed for this recipe. However, if your gluten-free flour mix includes it, your results should still be fine. Now go bake some gluten-free Mini Pecan Pies because everyone deserves a little pecan pie. Pun intended!
More Gluten-Free Mini Muffin and Tassie Recipes
~ Chocolate Chip Pumpkin and Ginger Muffins
~ Muffins That Taste Like Donuts
~ Powdered Sugar Donut Muffins
Gluten-Free Pecan Pie Mini Muffins Recipe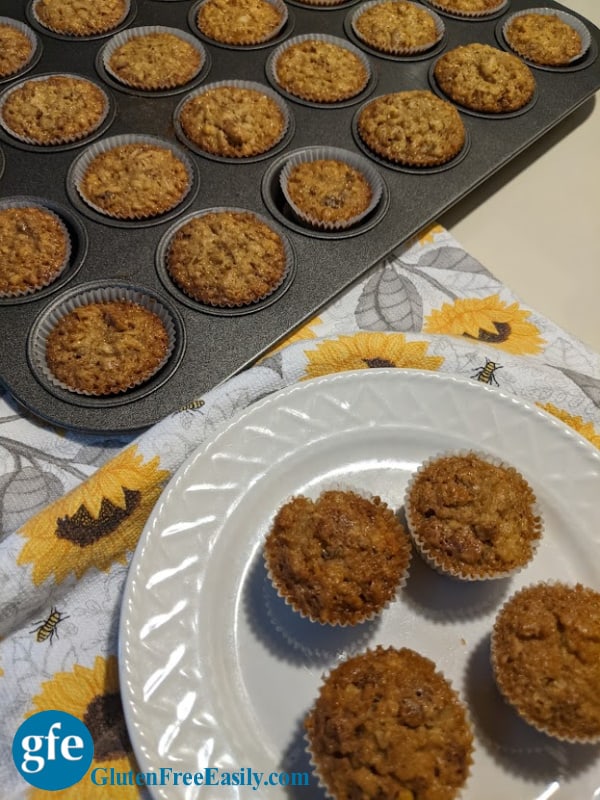 Yield: 24 to 30 mini muffins
Gluten-Free Pecan Pie Mini Muffins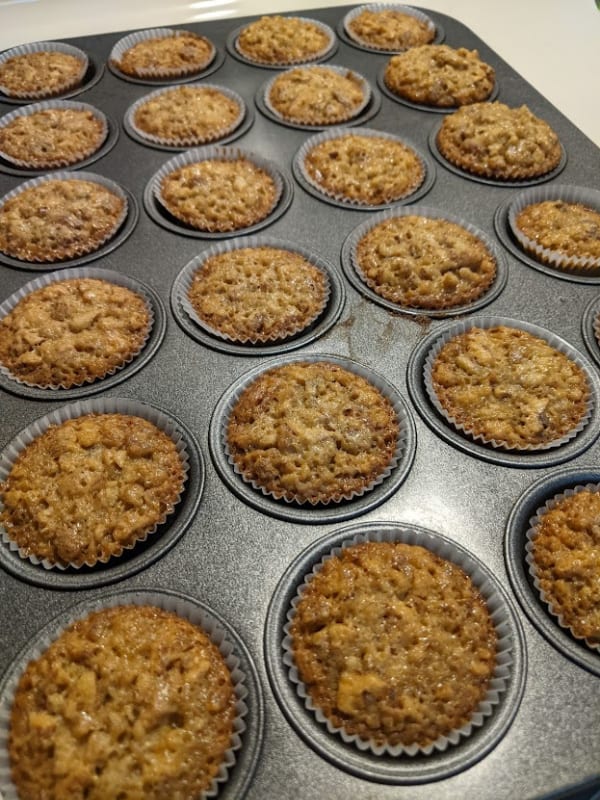 These irresistible bite-sized treats are a cross between a pecan pie and a muffin. As you would expect, they disappear quickly!

Prep Time 5 minutes

Cook Time 15 minutes

Additional Time 20 minutes

Total Time 40 minutes
Ingredients
11 tbsp butter, melted (equals 2/3 cup after melting)
1 cup light brown sugar, packed
2 large eggs, beaten
½ cup gluten-free flour mix (I use my Two-Ingredient Gluten-Free Flour Mix)
1 cup pecans, chopped
Instructions
Preheat oven to 350F degrees. Line muffin tins with liners and spray liners with olive oil spray or similar if you are not using non-stick liners such as If You Care brand.
In a large mixing bowl, add melted butter. (I actually add the butter to my large microwave-proof bowl and then place it in the microwave about 30 seconds or so to melt the butter.)
Stir in brown sugar. Stir in eggs.
Add gluten-free flour mix and pecans, mixing until ingredients are just incorporated.
Spoon batter into liners until almost full.
Bake about 15 to 17 minutes, testing for doneness using a toothpick.
Cool completely.
Originally published February 19, 2022; updated February 14, 2023.