For affiliate links and as an Amazon Associate I earn from qualifying purchases.
Have you been wishing for a wonderful gluten-free bread? Maybe one that fits into the grain-free, gluten-free, dairy-free, sugar free, soy-free, and yeast-free categories? I have one for you today. Gluten-Free Golden Flax Bread.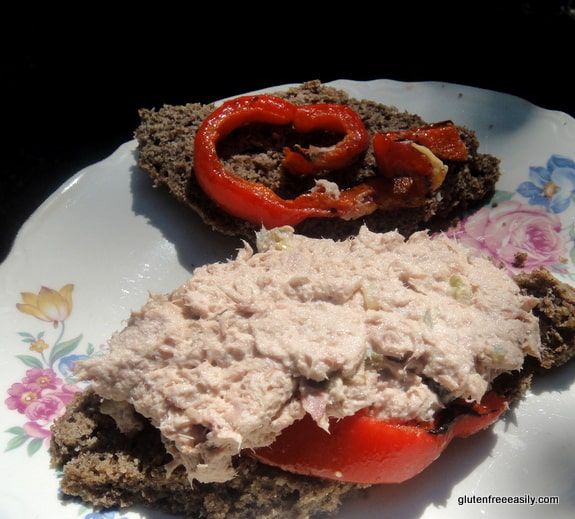 This lovely bread recipe comes from Kiva Rose (Mountain Rose Herbs). This recipe sat in my towering "to make" pile for a good while. Finally I made it, and I'm so glad I did!
The Origin of This Gluten-Free Golden Flax Bread
A little over a year ago, my friend, Elana (Elana's Pantry), had recommended Mark's Daily Apple—a site that focuses on primal/paleo living. I started reading Mark's Daily Apple and enjoyed it very much. Mark shared his grain-free, gluten-free Pesto Spinach Bread in a post focesed on Handy Primal Sandwich Alternatives.
He asked his readers to submit their recipes and ideas in comments. One comment praised Kiva Rose's Golden Flax Bread.
I was very intrigued, clicked over to Kiva's site, and immediately printed out the recipe. It eventually made its way to the bottom of my "to make" pile, but it remained in the back of my mind.
Suddenly the other day with 90-degree temperatures and with much left to do before leaving for a trip, inexplicably, I just had to make this bread.
I have no idea why I waited so long; this bread is delicious. It's very surprising that so few ingredients can yield such a tasty and nutritious loaf of bread.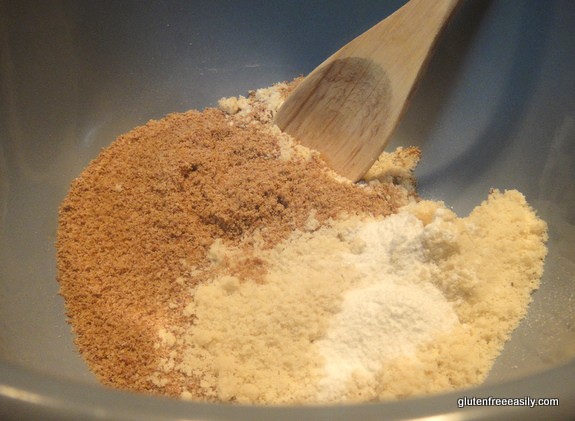 Admittedly my loaf wasn't as photogenic as Kiva's (I've included both our photos), but my lack of a golden outside didn't affect the inner taste. The taste was indeed golden.
We first enjoyed a slice with our meat loaf and steamed artichokes (a "clean-out-the-fridge" meal before vacation). Mr. GFE thought the bread tasted really great. He had no idea what the ingredients were, so that was high praise.
The next day I cut the round loaf into two lengthwise slices and used them for a tuna salad sandwich. Oh my gosh. One bite sealed the deal.
I will now be making this flax bread fairly often, just to enjoy these amazing sandwiches. The bread when used in a sandwich is reminiscent of the taste of whole wheat bread, but with a more pleasant taste in my opinion.
Being gluten free, it feels almost wrong to say that and mean it in a positive way, but the taste and texture make for one fabulous tuna salad sandwich! Because it's so nutritionally dense and filling, a small loaf of this bread will go a long way. I only managed to eat half of the sandwich in the photo above (which is shown open face just for photo appeal).
If you're grain free and have been missing pancakes, Kiva says you can even use this recipe to make pancakes! See her notes in the recipe below.
I am excited about that possibility because as much as I love pancakes, they don't always love me back. I can't wait to see what my body thinks of grain-free pancakes.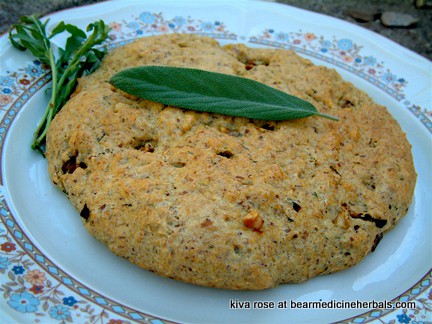 Kiva has very graciously allowed me to share her recipe and photos with my gfe readers here. Enjoy!
Her pictures are of bread with walnuts added for extra texture and arugula and sage added for delightful greenness. Her loaf was made in a metal pie tin.
Here's my "plain" bread, which was also made in a pie tin.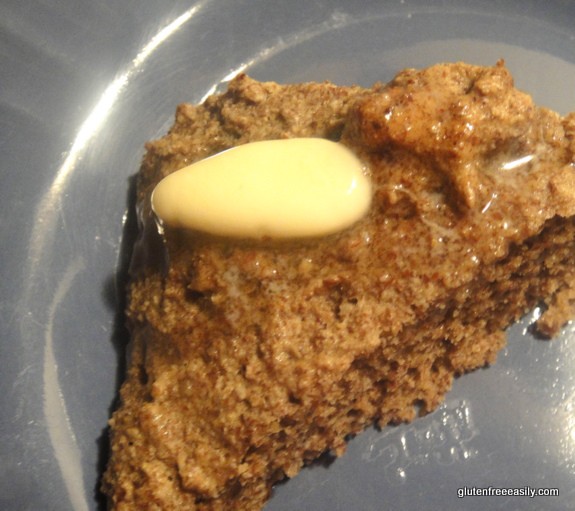 If you've been looking for a nutritious bread you can make in just a few minutes and this recipe meets your personal "free" requirements, I hope you'll give it a try.
Don't wait as long as I did. Seriously. Time's a-wastin'.
Gluten-Free Golden Flax Bread Recipe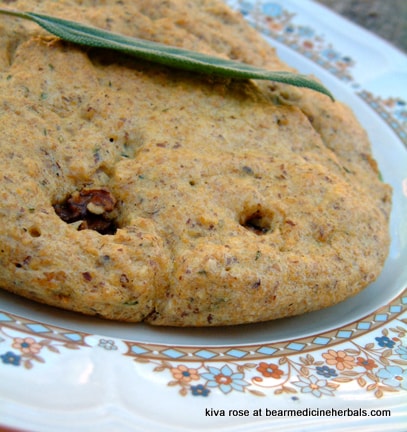 Yield: 4 to 6 servings
Kiva's Golden Flax Bread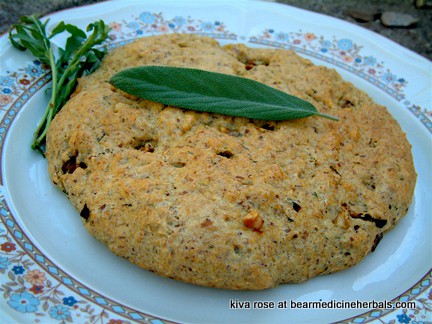 This bread is delicious and it just happens to be gluten free, grain free, dairy free, and refined sugar free. It's very surprising that so few ingredients can yield such a tasty and nutritious loaf of bread!

Prep Time 5 minutes

Cook Time 20 minutes

Total Time 25 minutes
Ingredients
2/3 cup flax meal
1/3 cup finely ground almond flour (other nut flours/meals can be substituted)
1 1/2 tsp baking powder*
Salt to taste (I like more salt in my flax bread than I would in other bread)
about 3 tsp olive oil or unrefined coconut oil (or butter, depending on what kind of flavor you want and your specific dietary needs)
2 eggs (1 egg will suffice, but 2 eggs holds together just a bit better)
water to texture desired (it makes a big difference, and the wetter it is, the harder it is to get it to cook all the way through, I go for minimal water needed to get things fluid enough to pour the batter)
Instructions
Preheat oven to 350 degrees Fahrenheit.
Mix dry ingredients together well.
Gently beat eggs together before adding to dry ingredients.
The recipe will work for a regular-sized pie tin or small loaf pan. Double the recipe for a more normal-sized bread loaf pan and adjust baking time as needed.
Grease the pan well and pour in batter.
Cook for approximately 20 – 25 minutes or until golden brown on top. Toothpick or butter knife should could out clean if you insert it into the center of the bread.
Notes
Recipe courtesy of Kiva Rose.

Enjoy this bread fresh out of the oven or at room temperature for a nice sandwich.

Variations: For an herbed bread: add small chunks of sharp cheddar cheese, a tablespoon of crushed thyme, a tablespoon of crushed sage, a teaspoon of oregano or bee balm, a small handful of fresh chopped rosemary, fresh ground black pepper to taste, and maybe some coarse salt on top. You can even add some green onion, broccoli, or nettles for extra panache if you like.

For a sweet bread: add cinnamon, honey, cardamom, vanilla, and even some fresh fruit like sliced strawberries.

For pancakes: just make the batter thin enough to spread on a hot cast iron pan or griddle. Unsweetened applesauce is nice in the pancakes instead of water.

Shirley's Notes: Be sure to use a grain-free baking powder or grain-free baking powder substitution to make this bread completely grain free. I use Hain Pure Foods Featherweight Baking Powder or I make my own as needed.

For every teaspoon of baking powder needed in any recipe, add ¼ teaspoon of baking soda and ½ teaspoon of cream of tartar. (That info is not in error, only 3/4 tsp of this substitute is needed to equal 1 tsp of ready-made baking powder.)

My loaf made from Kiva's recipe was only 6 inches in diameter and maybe an inch and a half high. I used one tablespoon plus one teaspoon of water. I'll use a little more water next time to see if I can get a slightly larger loaf as is shown in Kiva's photos.

I used Honeyville almond flour, olive oil, aluminum-free baking powder, dash of sea salt, and two eggs. For a baking receptacle, I used a stoneware pie plate that I had simply lined with parchment paper. Next time I plan to use a loaf pan. I'll either use a small one or double the recipe and use a regular-sized loaf pan as Kiva advises.

UPDATE: See my new version of this bread here.

Originally published June 4, 2010; updated September 23, 2023.