For affiliate links and as an Amazon Associate I earn from qualifying purchases.
As Mr. GFE and I head off for a tropical vacation for our anniversary (yippee on both!!), I thought I'd share one of my girlfriend getaways, which included these Big and Rich Gluten-Free Brownies that took place right before Easter.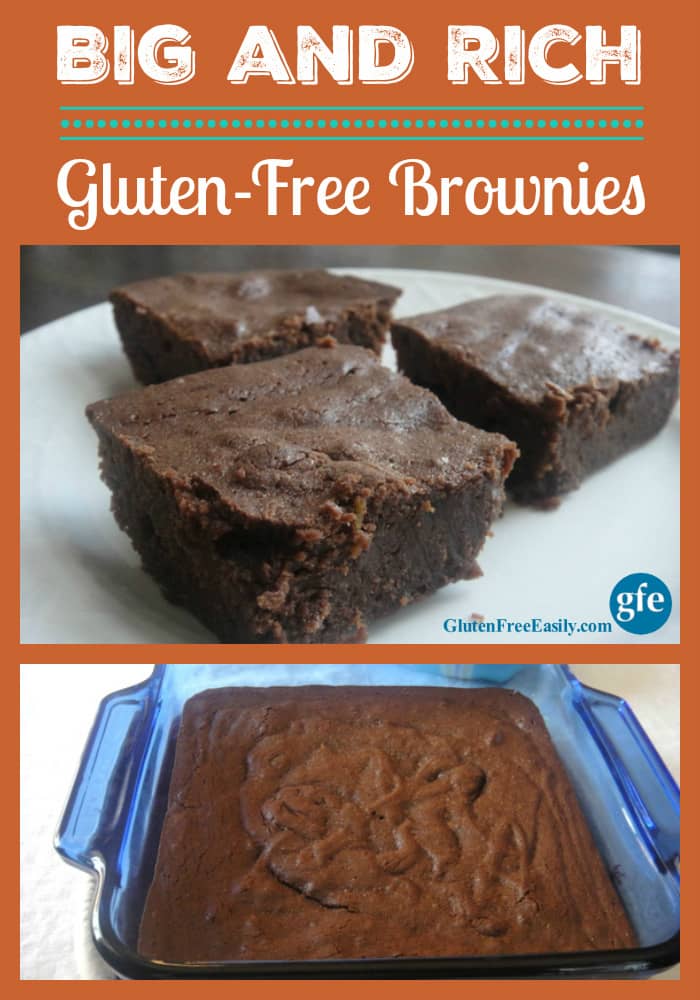 The getaway also involved Lentil Dal Mini Burgers, avocado grapefruit salad, homemade gluten-free pasta with Shrimp Marinara Sauce, corn muffins, and more delicious gluten-free eats; beach time; yoga time; music time; so very much shared laughter; and the kind of easy relaxed moments that only come when spent with dear friends.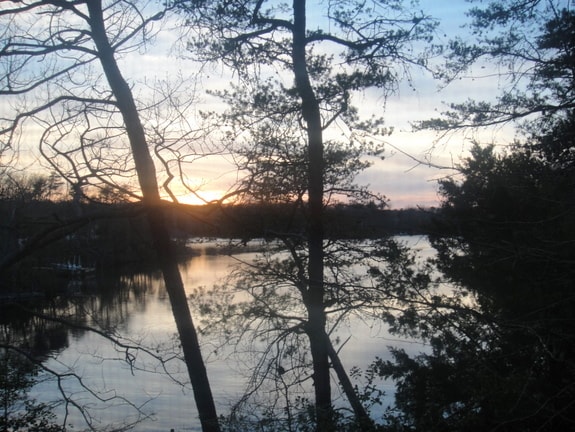 One of my gluten-free girlfriends, Jennifer, has a river house about 70 miles away—pretty much equidistant from three of us who love to get together. So it doesn't take much time to drive there, and it's open country most of the way—which makes for a very scenic and relaxing trip.
The hardest part is always finding a time we can all get together. We've learned to just seize the moment when that window of time seems to magically open for all three of us and only plan on an overnight, 24-hour get together. We arrive one afternoon and depart late the following afternoon.
While our time together is definitely short, it's very relaxed and we pack a lot in. For one thing, we literally only stop talking when we are asleep. Because we're all gluten free and have known each other for years now, that sense of comfort and safety adds to the relaxation and fun, too.
There's no need to quiz each other in regard to ingredients, possible cross contamination, etc. And, the meals we share are always superb.
There is no pre-planning. We each bring what we want to share and go from there. Usually those circumstances result in some of the very best meals.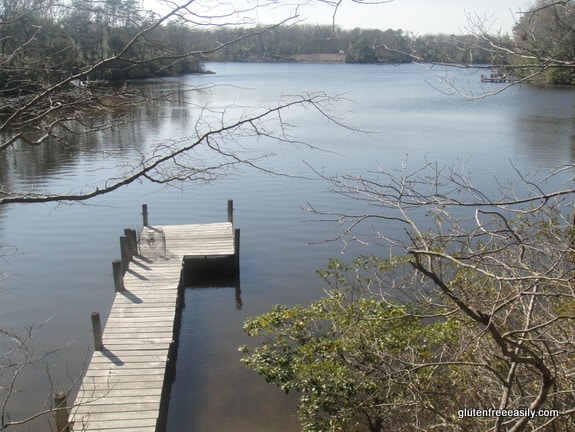 As Jennifer and I waited for our other friend, DeLaura, to arrive, she offered an appetizer. She had stopped at Whole Foods (she'll admit that she's addicted to Whole Foods!) and picked up some items, including a package of three lentil dal mini burgers.
Oh, my goodness, how delicious those burgers were. They were beautifully browned and had many textures and flavors, including just the right amount of spiciness.
They were so good, in fact, that while we could have immediately split the third one, we decided to save it for DeLaura to sample. We wanted her to experience the goodness of that lentil dal mini burger. Besides, we knew that the three of us would be sharing dinner shortly.
If you're curious, the ingredients in the lentil dal mini burgers were: lentils, potato, onions, chickpea flour, eggplant, peas, canola oil, cilantro, lemon juice, jalapeno peppers, ginger, garlic, curry powder, salt, cumin, black pepper, chutney (onion, sugar, raisins, apple cider vinegar, canola oil, cilantro, tamarind, ginger, garlic, salt, cornstarch, paprika, cumin seed, cayenne pepper). That's a lot of ingredients, right?
It was but they were mostly flavorings and seasonings added to a handful of basic ingredients. And they all worked beautifully together. (Incidentally, the price for the three mini-burgers was $7.19, if you're interested.)
Now if any of you want to go ahead and re-create these burgers using the ingredient listing, please feel free. I'd love to do some taste testing for you! But, I digress … a bit.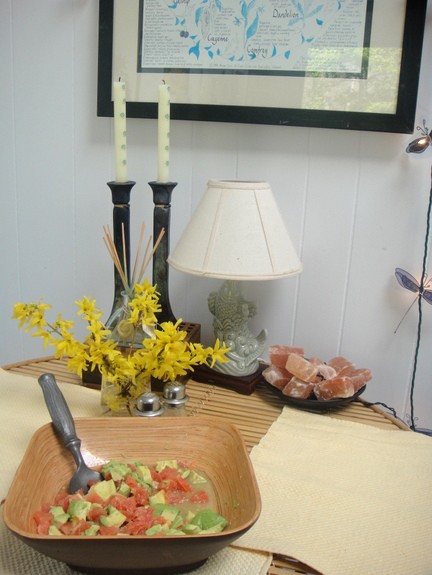 As I shared in my first Adopt a Gluten-Free Blogger post, I had successfully made pasta using a variation of Pete and Kelli Bronski's (No Gluten, No Problem) recipe. I'd topped my noodles in some sautéed mushrooms, but had also brought along shrimp to make the shrimp marinara sauce.
I'd also brought the gluten-free, dairy-free brownies I'd baked. They were an adaptation from Pete and Kelli's brownie recipe in their first cookbook, Artisanal Gluten-Free Cooking.
In addition to the lentil dal burgers, Jennifer had brought eggs from her free-range chickens, avocados, butter lettuce, purple cabbage slaw (another Whole Foods selection), tuna salad (yep, Whole Foods), and a loaf of Udi's sandwich bread (not from Whole Foods, but from another grocery store local to her, Ellwood Thompson, that caters to organic and special diets).
She had also stopped at a seafood dealer as she got closer to the water and purchased some rock fish (also known as striped bass). DeLaura showed up with grapefruit, goat's milk (from her own goats), and almond milk.
Are you starting to envision all this scrumptious food coming together now? If not, perhaps my photos will help!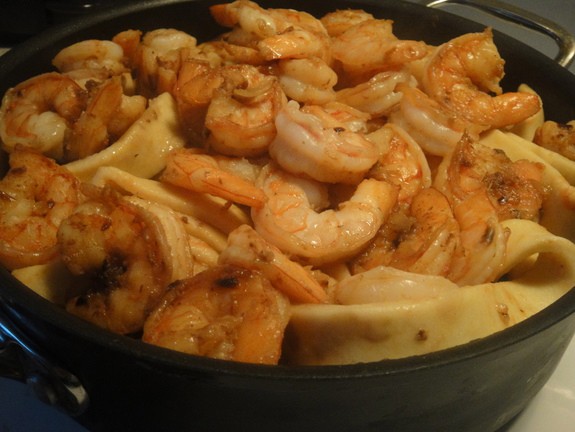 For dinner, Jennifer suggested making a salad of the avocado chunks and grapefruit chunks. DeLaura obliged.
This preppy-colored mix was actually pretty tasty. I admit I'm not always a huge fan of grapefruit because it is so tart, but I'm thinking that a salad using Amy's broiled grapefruit  (Simply Sugar & Gluten-Free) would win me over completely.
Jennifer made the green salad by cutting romaine into smallish pieces and drizzling it with a simple dressing that she made on the spot. (Per Jennifer her salad dressing recipe is some high quality cold-pressed olive oil, the juice of one lemon, and a teaspoon of Dijon mustard, which is all shaken together in a jar.)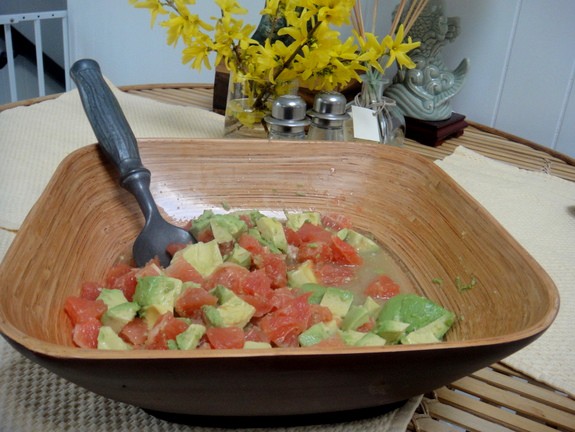 I'd brought a large can of diced tomatoes to use for the Shrimp Marinara Sauce, but only a small can was needed, so Jennifer used part of those to top the pan-cooked rockfish. For our bread, Jennifer had also picked up some of Whole Foods' gluten-free cheese biscuits, which are very good indeed. We had the purple slaw on the side. Quite a bit later, we enjoyed my Big and Rich Gluten-Free Brownies for dessert.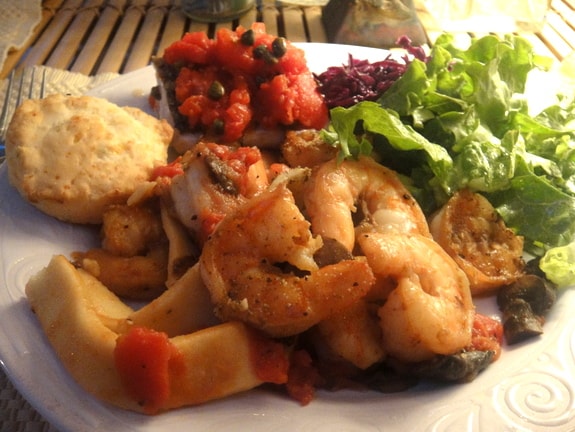 Our evening nightcap was hot chocolate made with almond milk and a drinking chocolate mix by Dagoba. The one we enjoyed that evening included hot chilies and spices. I add a little bit of raw sugar to mine, and the resulting taste was perfect.
We slept in a bit (think 7:30 am versus 5:30 am LOL), and chatted some before DeLaura asked Jennifer to lead us in some awakening yoga. Jennifer happens to be a phenomenal yoga teacher.
We quickly moved the living room furniture so we could slowly go through a session. Limber once again and ready to face the gorgeous day, we were also ready for breakfast.
The eggs from Jennifer's chickens with their golden yellow yolks quickly became extra tasty scrambled eggs. Udi's bread became marvelous toast.
I had just hosted my March Muffin Madness event this past week, so I shared Honey-Sweetened Corn Muffins and "Sweet Milk" Nut Muffins. Jennifer had some homemade jam to go with them. Perfect.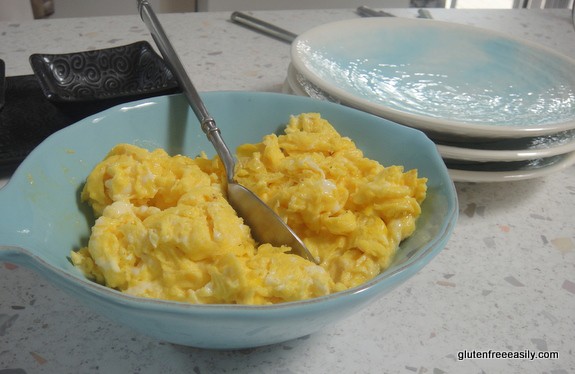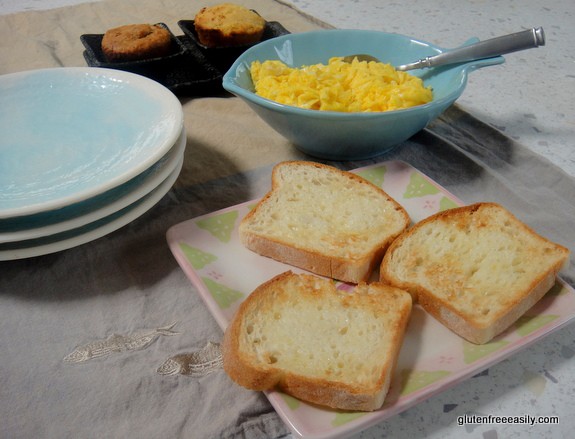 Next up was a walk to the beach. It was a bright sunny day, but the temperatures remained cool enough to wear a jacket. At a mile each way, our walk was just right for continuing our stretching and body awakening.
We were really surprised to see the toll that the harsh winter had taken on the beach. And, we were even more surprised to see hundreds of jellyfish in the water in early April.
They came in pinks and oranges, and all sizes. Therefore, we weren't upset that the river remained icy cold with swimming not an option.
Jennifer's sweet white German Shepard waded in as we walked and chatted, and Jennifer and DeLaura followed him while I snapped photos. Finally, we picked up a few interesting pieces of driftwood and headed back to Jennifer's cottage.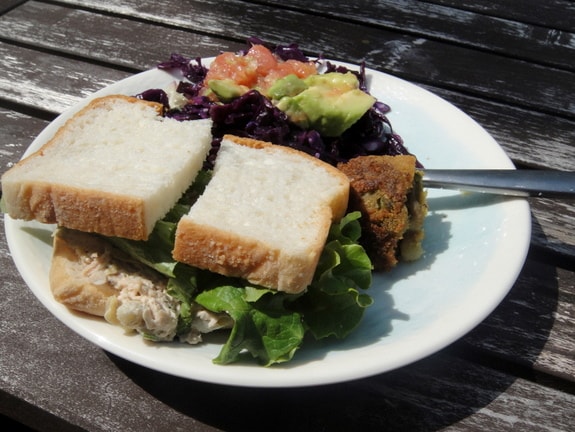 Big and Rich Gluten-Free Brownies
We packed up and cleaned up for our departure before we enjoyed our lunch out on the deck overlooking the water. Jennifer used the last of the Udi's bread to make tuna salad sandwiches. She split the remaining lentil dal min-burger, so we all could share, and she and DeLaura enjoyed the last of the avocado-grapefruit salad.
As we made our final preparations to leave, we even snacked on a delectable Big and Rich Brownie (or two—ha!).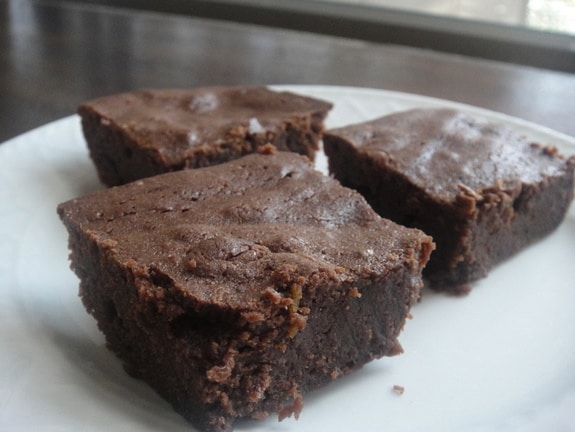 The ride home was nice and leisurely as I stopped at some of the interesting shops along the way and listened to an audio book. I picked up some beautiful old linen pieces that have already made their way into some photos here at gfe.
It truly felt like I'd been gone for a few days. That's how great time with friends can be. It was a gfe time, too, did you notice?
Our meals and snacks consisted of mostly food that was naturally gluten free, some recipes that were easily made gluten free, some mainstream processed/prepared foods that were gluten free, and a few gluten-free specialty products.
Do you have gluten-free friends? If not, consider joining a local support group to make some friends who are gluten free. The support and camaraderie are invaluable.
If you don't have a local support group, consider starting one. That's what a friend and I did over 6 years ago. My friend moved on to other responsibilities with her son, but my support group continues to grow and thrive.
But don't think that a support group has to be a large, complicated matter. It can be as simple as having a get together once a month (or once a quarter) at a restaurant that has a gluten-free menu. Of course, I value all my friends, gluten free or not.
As you know, I often eat dinner or take little getaways with my girlfriends who eat gluten, too. We have a wonderful time and I still manage to eat gluten free just fine, but there is definitely something special about getting together with folks who know how to eat gluten free and do it the gfe way. It's incredibly relaxing—much like eating at Posana Café was because of its gluten-free status. Alta (Tasty Eats At Home) shared a food blogger potluck and another Dallas food bloggers meet-up where she, Amy (who started the group), and a few others met for lunch. Not everyone was gluten free, but just having another buddy who eats gluten free can be a plus. And, Kim (Gluten Free is Life) has shared several gluten-free pizza outings in the past, including this Gluten-Free Tweet-up. (Amy was there, too!) In the name of celiac/gluten intolerance/gluten sensitivity awareness, go out and make a gluten-free friend and get together to eat gluten free!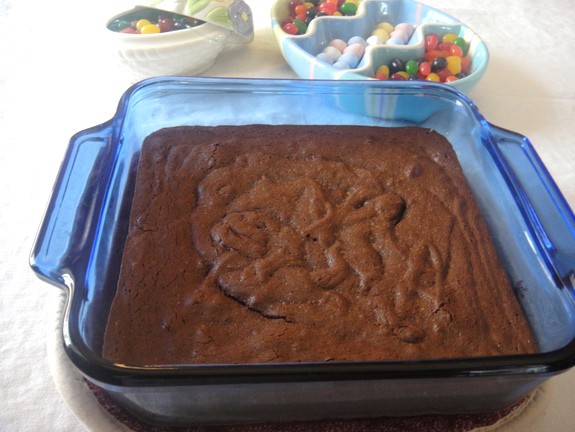 Oh, and when you get together with your gluten-free friends (or any friends) make these Big and Rich Gluten-Free Brownies to enjoy together!
Yield: 9 to 12 brownies
Big and Rich Gluten-Free Brownies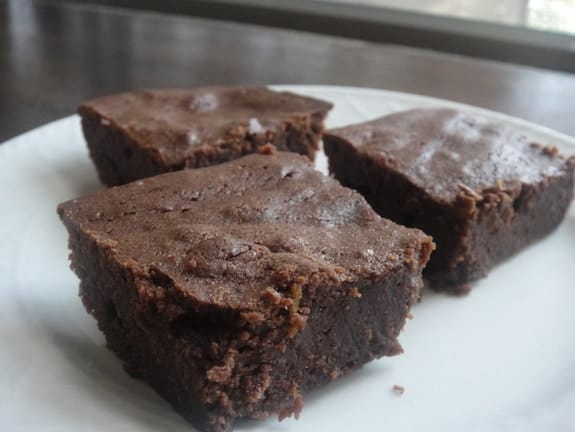 The only thing better than brownies in general is Big and Rich Gluten-Free Brownies! These gluten-free brownies deliver and then some.
Instructions
Preheat oven to 350 degrees Fahrenheit. Grease and 8 x 8 baking pan.
Mix all ingredients, mixing well.
Spread the batter in the greased pan. Bake for about 25 to 30 minutes or until brownies test done enough, but are not overcooked. (Toothpick test may still show some chocolate, but not much.)
Cool (don't skip this step!) and cut into squares.
Notes
Adapted from Pete and Kelli Bronski of No Gluten, No Problem and their cookbook, Artisanal Gluten-Free Cooking.
No xanthan gum is required.
These brownies have a very slight coconut flavor. (If you don't like coconut flavor, use expeller-pressed coconut oil.) They are somewhat dense, rich in flavor, and big in size (when cut into large squares like I did LOL, although small squares are good, too), but they are not heavy in any way.
They are really very nice gluten-free (and dairy-free brownies) that all will enjoy. I just made these brownies again for mom and dad and they loved them!
FYI:  One reader reported that she decided to add another 1/3 cup of cocoa and her brownies were done in 18 minutes.
Originally published July 11, 2010; updated December 19, 2018.