For affiliate links and as an Amazon Associate I earn from qualifying purchases.
When our family celebrates Thanksgiving, Christmas—and any holiday really—we like to have an assortment of desserts, including these gluten-free Honey Bear Brownies. There's no doubt that pies take center stage, but there's also a need for chocolate in some form.
Yes, there are sometimes chocolate pies. My Crustless Fudge Pie sometimes makes an appearance. And this year my latest pie success—Chocolate Silk Pie—will definitely be on the dessert sideboard. But chocolate typically is presented in non-pie form for our holiday events.
It's always available in chocolate chips (or chunks) in my Brown Sugar Chocolate Chip Cookies—by far the most requested dessert of mine by my family … no matter what the occasion. But occasionally, the standby chocolate classic—the brownie—shows up. The appearance of a plate of these gluten-free Honey Bear Brownies—perhaps on an elegant cake plate-–just adds to the special event/celebration effect.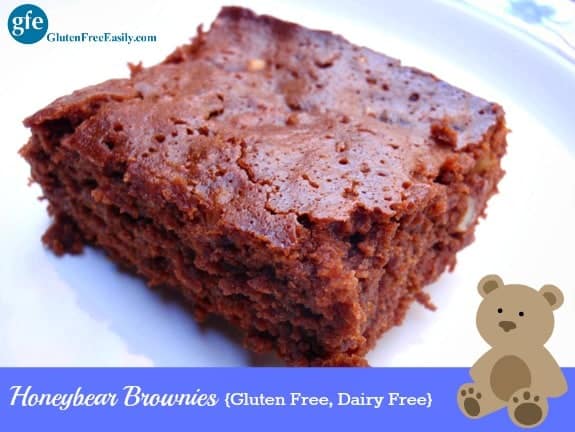 I pulled out the gluten-full Honey Bear Brownies recipe, a family favorite from long ago, the other day. I re-created it to be gluten free and made it a bit healthier at the same time. The results were far better than the original brownie!
In keeping with my longstanding gfe focus on no flour/less flour to make the other ingredients stand out and allow gluten-free recipes to be made more easily and even economically, this recipe calls for only 1/2 cup of flour.
Another bonus … this recipe calls for ingredients one always has in the pantry, so it can be made any time. You get a craving for brownies and about 25 minutes later you have these gluten-free Honey Bear Brownies. Life is good!
Now you may be wondering … are they cake brownies? chewy brownies? or fudgy brownies? Well, you know me and semantics and struggling on making such a tough decision …
I think they fit all three categories!
Last, this recipe is my entry for this month's Go Ahead Honey, It's Gluten Free!. This monthly event was created by our sweet friend across the pond, Naomi of Straight Into Bed Cakefree and Dried.
Each month a different blogger hosts by choosing a theme and sharing the roundup. This month's host appropriately chose Thanksgiving dishes. But I won't tell anyone if you decide you need to make these gluten-free Honeybear Brownies before Thanksgiving. One has to ensure that desserts are worthy enough for one's guests after all!
Gluten-Free Honey Bear Brownies Recipe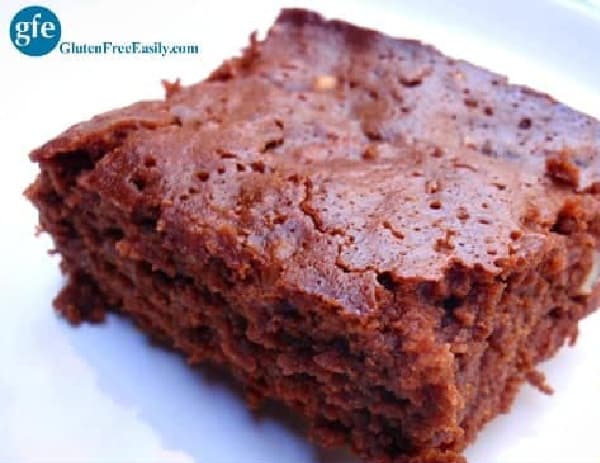 Yield: 16 brownies
Gluten-Free Honey Bear Brownies (Gluten Free, Dairy Free)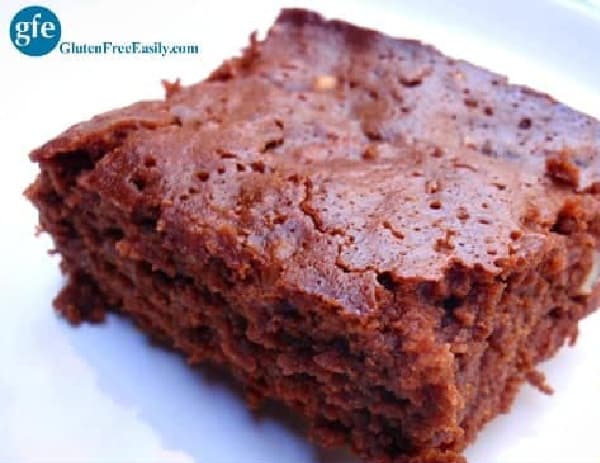 Gluten-free Honey Bear Brownies. Ready in 20 minutes. Go ahead ... satisfy your chocolate craving!

Prep Time 5 minutes

Cook Time 20 minutes

Inactive Time 5 minutes

Total Time 30 minutes
Ingredients
¼ cup coconut oil, liquefied
½ cup granulated sugar or healthier granulated sugar alternative (one reader used Stevia in the Raw and I've subbed in coconut sugar and Demerara sugar in the past)
1/3 cup honey (or slightly less agave nectar for vegan option; I used our bees' honey)
2 tsp vanilla extract
2 eggs (flax eggs can be substituted for vegan option per reader's review/test)
½ cup gluten-free all-purpose flour mix (I used my Two-Ingredient Flour Mix)
1/3 cup cocoa powder or raw cacao powder
½ tsp sea salt
1 cup chopped nuts (I use walnuts most of the time), optional
Instructions
Preheat oven to 350 degrees Fahrenheit and grease 8 x 8 baking pan.
Add ingredients in order shown, stirring well after each egg is added, and again after all the ingredients have been added.
Spread batter into baking pan.
Bake for about 20 minutes. Test doneness with a toothpick, but you can also tell the brownies are done when they pull away from the sides of the pan. Cool in pan for several minutes before cutting.
Notes
I have not made this recipe using egg substitutes such as flax eggs or chia eggs, but I suspect they'll work. Please report back if you make this recipe egg free.

Finally, I'm so often asked by those who eat gluten if a recipe can be made with "regular flour" is one is not gluten free. The answer is, of course! In this case, you'd just substitute "regular" all-purpose flour for the gluten-free all-purpose flour.

Originally published November 20, 2011; updated September 18, 2021.