For affiliate links and as an Amazon Associate I earn from qualifying purchases.
In my recent How to Recover From Being "Glutened" post, I promised to share Dr. Christine Doherty's antioxidant Super Juice recipe—a juice that is very high in antioxidants. One can either drink some daily as a boost of super foods or sip on it when recovering from being "glutened" or experiencing an illness.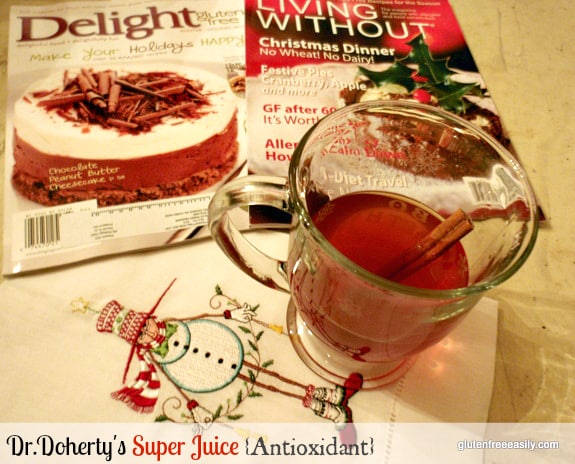 This Super Juice is super simple, super tasty, and, of course, super good for you!
A few words about Dr. Doherty first … I met Dr. Doherty in 2005 when she presented at the Gluten Intolerance Group conference in Chicago. She gave a presentation on the Top 10 Celiac Superfoods and shared her Super Juice recipe.
I've been enjoying this beverage from time to time ever since. I contacted her office this past week to see if she'd allow me to post it on my blog as one of the ways to recover from being "glutened" and she graciously agreed.
Dr. Doherty is a naturopathic physician who practices at Balance Point Natural Medicine in New Hampshire. Without further ado, here are some more healthy beverage recipes and Dr. Doherty's Super Juice recipe. Drink up!
Other Healthy Beverage Recipes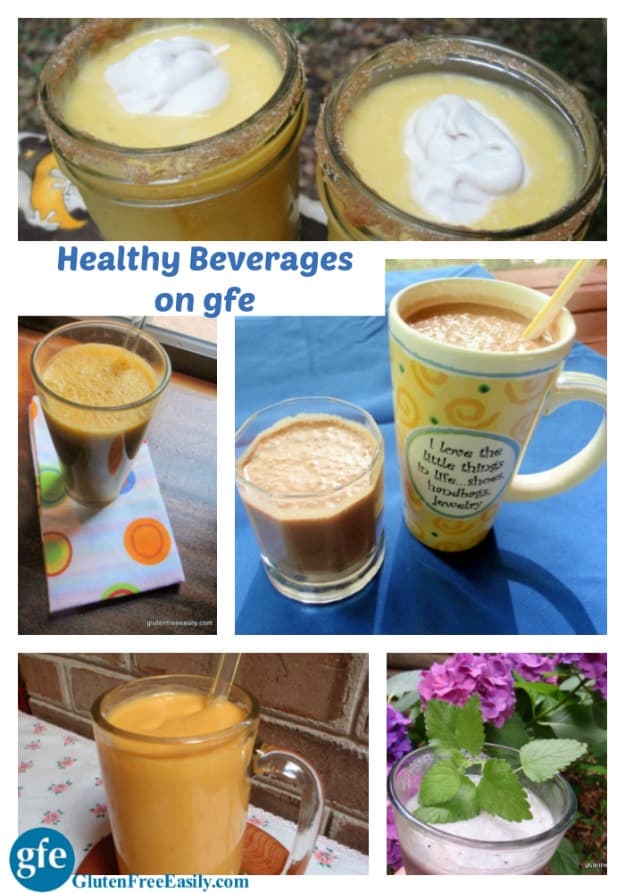 ~ Blueberry Banana Foamie (Dairy Free, Refined Sugar Free)
~ Carrot Colada (Dairy Free, Sugar Free)
~ Chocolate Milkshake (Dairy Free, Refined Sugar Free)
~ Pumpkin Pie Smoothie (Dairy Free, Refined Sugar Free)
~ Super Orange Smoothie (Dairy Free, Sugar Free)
Antioxidant Super Juice Recipe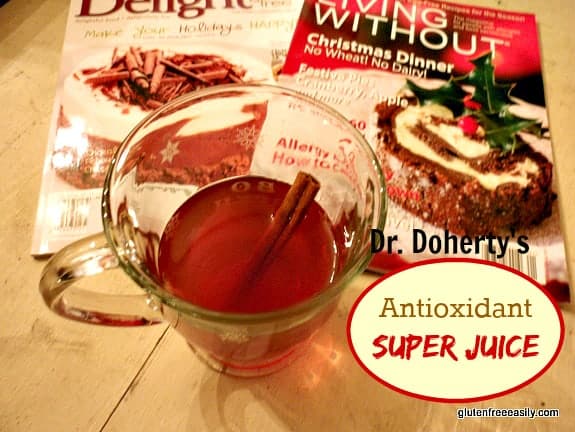 Yield:
Antioxidant "Super Juice"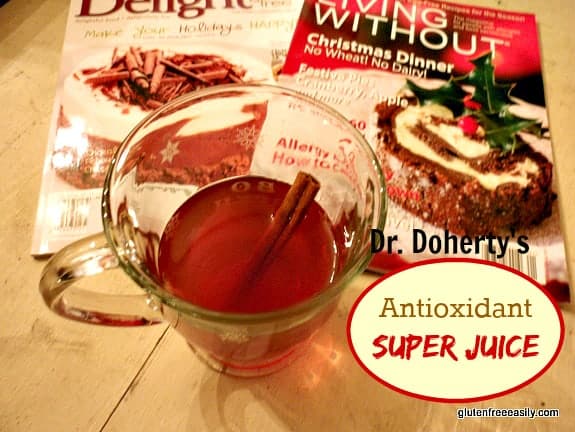 Served hot or cold, this Antioxidant Super Juice from naturopathic doctor Christine Doherty will give your system a boost and it tastes delicious!
Ingredients
2 bags of organic green tea (decaffeinated or regular) or white tea (see notes)
1 ounce Knudsen cranberry juice concentrate (see notes)
1 ounce Knudsen pomegranate juice concentrate (see notes)
Thumb-sized piece of fresh ginger, peeled and sliced
½ tsp ground cinnamon (or one cinnamon stick)
Stevia (or other natural, healthy sweetener), to taste
Instructions
Add all together in a heatproof container that will hold about 2 quarts. (I use a large soup pot.)
Pour one large kettle of boiling water over ingredients.
Let steep 3 to 5 minutes (or longer).
Remove ginger and tea bags.
Serve hot or cold. Refrigerate super juice for up to 4 days.
Notes
According to Knudsen's website, each ounce of its cranberry juice concentrate equals about 144 berries and each ounce of its pomegranate juice concentrate equals 2 pomegranates---impressive!
For the cinnamon factor, I actually prefer adding a cinnamon stick versus including ground cinnamon because ground cinnamon seems to settle to the bottom and get wasted.
I still use an old CorningWare tea pot that belonged to my grandmother on a daily basis. It holds 3 cups of water, so I use 1 ½ pots of boiling water to make my super juice. I can't get Knudsen concentrates at my local stores, so sometimes I "cheat" and use a cup each of cranberry juice and pomegranate juice instead. Of course, one has to be sure to get juices that are completely juice with little or no added sugar, and even then, the resulting super juice is not as super as the original recipe made with the Knudsen juice concentrates. (FYI--The photos shown are of the Super Juice made using the latter recipe. The original Super Juice is usually paler in color.)
I usually add a little of our bees' raw honey after the mixture has cooled.
One final note ... Dr. Doherty states that some folks do experience a detox reaction from green tea. She suggests that weaker green tea be used (i.e., steep bags less time) or that white tea be substituted.
Originally published November 16, 2011; updated September 5, 2018.