For affiliate links and as an Amazon Associate I earn from qualifying purchases.
Some of you are familiar with the wonderful gluten-free Lemon Ricotta Cake Muffins recipe here on gfe but today I'm sharing gluten-free Italian Lemon Ricotta Cake. The directions for making the actual cake version were in the Notes section of the recipe from Linda Daniels of Free Range Cookies.
Linda graciously shared her Lemon Ricotta Cake Muffins recipe for one of my Muffin Madness events. Because the focus was on muffins, there was no photo of the cake to accompany the recipe.
I couldn't supply a photo as I had never made the cake. Until this past week.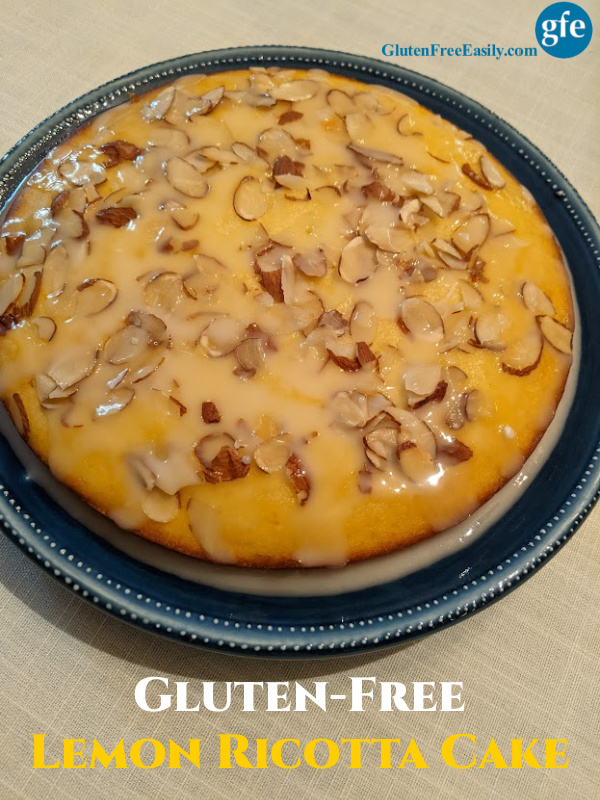 And oh, my goodness, I'm so glad I've righted that wrong!
You will be as well because the cake version deserves its own post and with that spotlight, you will be less likely to miss it in the future.
One bite of this Gluten-Free Italian Lemon Ricotta Cake and I proclaimed it "heaven on a plate"! I stand by that assessment.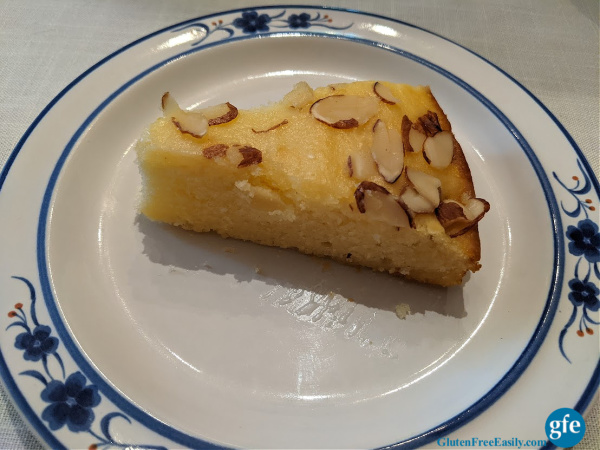 Ricotta cheese adds such incredibly delicious loveliness to baked goods. It's light and creamy with a bit of sweetness as well as a tad of salt. I honestly love any recipe that's made with ricotta cheese—savory or sweet.
I've heard others in the gluten-free community promote both ricotta cheese and cream cheese as game changers in gluten-free baking. One of the reasons often cited is that the cream cheese makes gluten-free baked goods "less gritty."
Folks, if your gluten-free baked goods—and the gluten-free flours and starches that you use to make them—are gritty, you're using substandard products. The manufacturer making them is not grinding those flours and starches enough times and/or finely enough to remove any grittiness.
You can most certainly use cream cheese, ricotta cheese, or any cheese that's suitable for the specific baked good to add something special (namely lovely flavor and that nice moisture factor) to your gluten-free baked goods. But it shouldn't be because you have to cover up grittiness.
Back to this splendid gluten-free Italian Lemon Ricotta Cake. I served it as one of my two dessert offerings for a special lunch last week. Both of my guests—including a gluten-free friend who is a highly respected baker and author and most of you "know"—loved them, especially this cake!
How good is this cake? After Day One, I set aside the remaining fourth of the cake to take to my mom. But I honestly couldn't stop thinking about it. As I didn't get to my mom's for a few days, it slowly, uh, disappeared.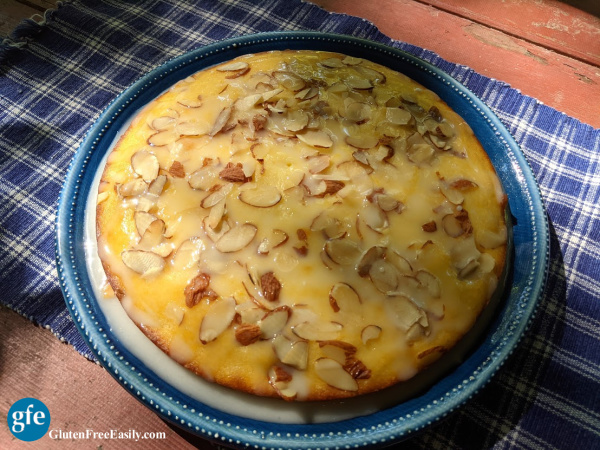 I am not sorry. I can always make another cake to take to her.
Wouldn't presenting a whole cake be better than part of a cake? That makes sense, right?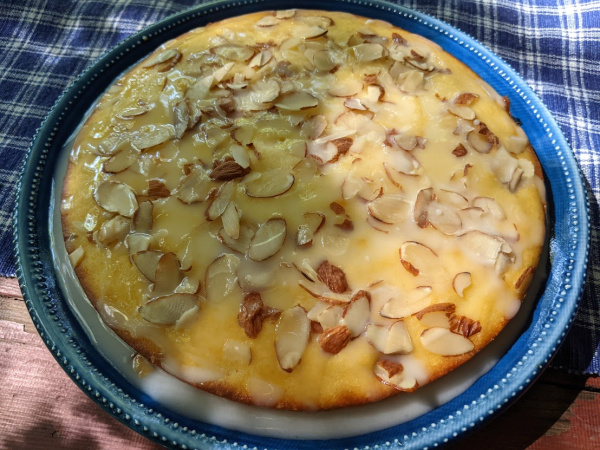 Logic after the fact. I mean, could you resist the calling of this glorious Italian Lemon Ricotta Cake?
Update: This cake also makes an outstanding birthday cake! At least my dearest friend "Fred" thought so when we celebrated her birthday a few months ago!
Other Gluten-Free Recipes with Cheese Adding to the Deliciousness
~ Cream Cheese Cut-Out Cookies
~ Cream Cheese Pound Cake with Streusel Filling
~ Homemade "Red Lobster" Garlic Cheese Biscuits
~ Over 50 Gluten-Free Pumpkin Cheesecake Recipes
~ Pumpkin Chocolate Chip Donuts
Gluten-Free Italian Lemon Ricotta Cake Recipe
Yield: 8 slices
Gluten-Free Italian Lemon Ricotta Cake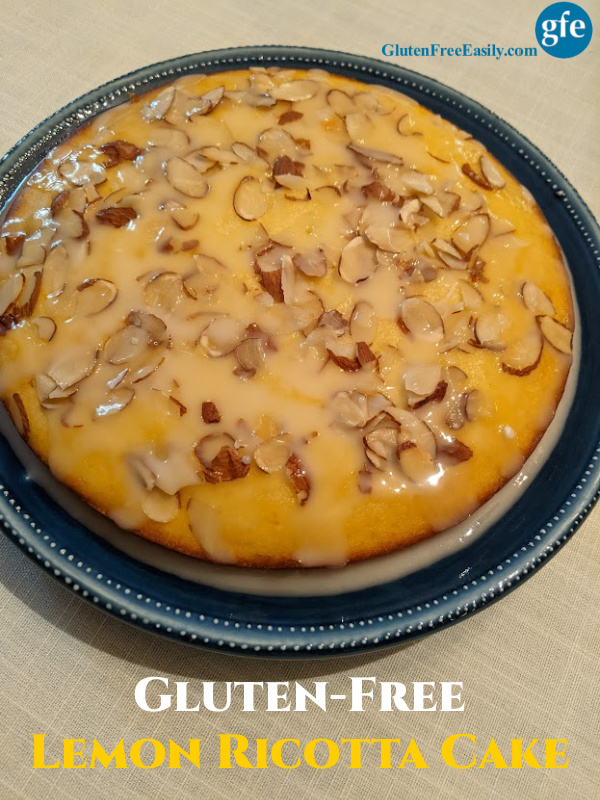 Linda says: "Moist, tender, and so tasty. Serve with fruit and whipped cream for dessert. The turmeric is optional; just a pinch will give a cheery yellow color without affecting the taste." Shirley says: "Oh my, this is one luscious cake! Perfect crumb."

Prep Time 5 minutes

Cook Time 30 minutes

Additional Time 20 minutes

Total Time 55 minutes
Ingredients
Cake Ingredients
2 eggs
1 cup ricotta (whole milk ricotta)
1/3 cup olive oil or melted butter
1 tsp vanilla extract
1/2 tsp almond extract
2 tsp lemon zest, grated
1 cup gluten-free flour mix
2/3 cup white granulated sugar
1 1/2 teaspoons baking powder
1/4 tsp salt
pinch of turmeric, optional
sliced almonds for garnish (optional)
Lemon Glaze Ingredients
¼ cup powdered sugar
½ tsp cornstarch (or potato starch or arrowroot flour/starch)
1 ½ tsp fresh lemon juice
water (to desired consistency)
Instructions
Cake Instructions
Preheat oven to 350F degrees.
Grease 9-inch cake pan.
In a medium-sized bowl, add eggs and lightly beat. Add
ricotta, oil, vanilla extract, almond extract, and lemon zest. Stir until
blended.
Add in gluten-free flour mix, sugar, baking powder, salt, and turmeric. Stir thoroughly.
Pour batter into 9-inch cake pan. Sprinkle with sliced almonds before baking if you like.
Bake for 30 minutes, until tester inserted remains mostly clean.
Cool cake 10 minutes before removing from pan. Cool cake completely before adding lemon glaze, if desired.
Lemon Glaze Instructions
If adding the glaze, I recommend adding it immediately before serving the cake as the glaze will dissolve into the cake after a very short time. The cake will still be delicious if this happens; you simply won't see the pretty glaze. That's where the almonds or---if you don't do nuts---some berries for topping come in handy.
Mix together powdered sugar with lemon juice and cornstarch in a small bowl until you get a good consistency, adding water if needed. Drizzle over the cake.
Notes
The glaze in the recipe will yield half the amount shown in the photos as I halved the measurements after making it. As you can see, a lot of the glaze ended up on the plate so I felt halving the recipe made sense. You may feel differently; adjust accordingly.

To make this recipe dairy free, use olive oil instead of butter and either ready-made dairy-free ricotta cheese or homemade dairy-free ricotta cheese (such as this one).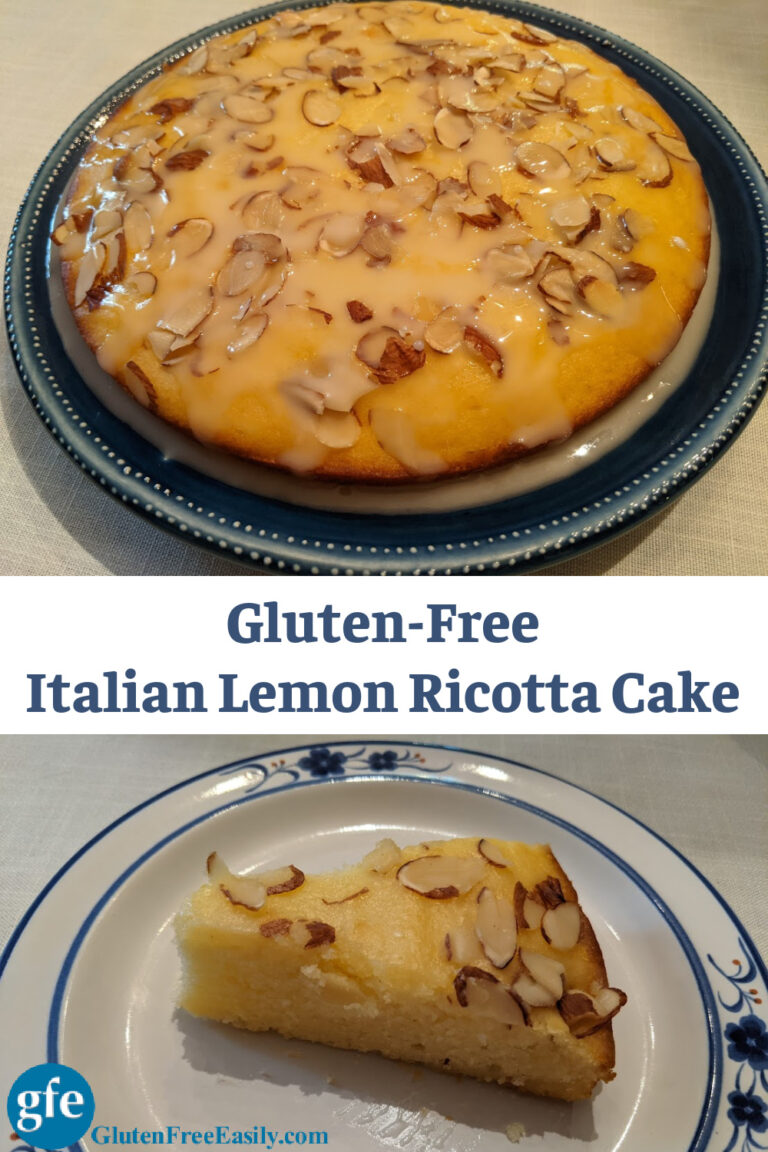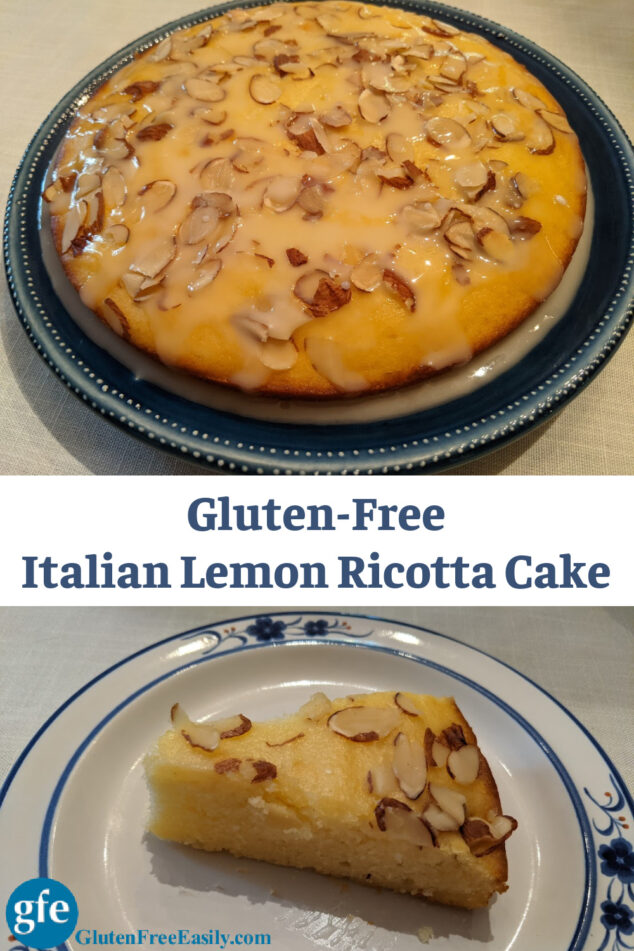 Originally published September 25, 2022; updated December 3, 2022.