For affiliate links and as an Amazon Associate I earn from qualifying purchases.
Today's Crustless Gluten-Free Raspberry Pie is the raspberry version of my popular gluten-free Crustless Apple Pie. These recipes are crustless in the sense that you don't make a pastry crust before you add the filling.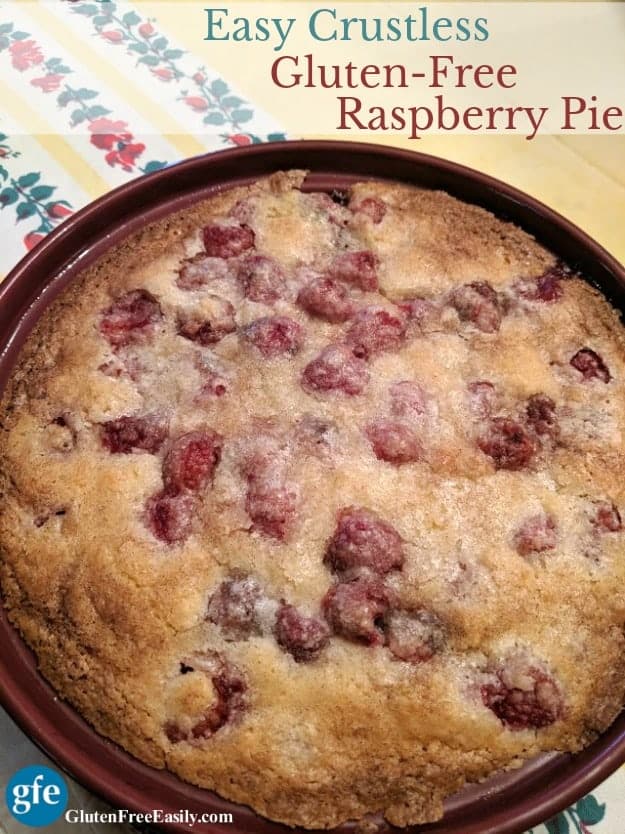 Instead you place the fruit filling in the pie plate and add a sprinkle of sugar and cinnamon and then mix up a batter, which you pour over the fruit.
The batter turns into both the bottom and top crust as it bakes. It doesn't get any easier than that!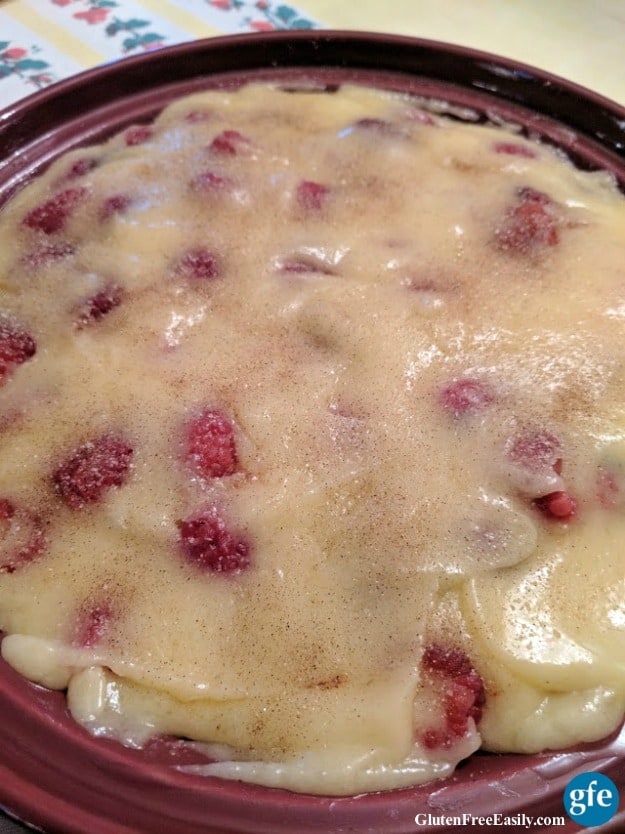 The Back Story on This Easy Crustless Gluten-Free Raspberry Pie
I really love it when one wonderful recipe leads to another wonderful recipe. Today's variation comes from gfe reader and friend Carolyn.
Carolyn recently shared a photo of the gfe Easy Crustless Gluten-Free Peach Pie that she had made on her Facebook page. She mentioned that she had used this recipe to make other fruit pies. I knew she had made the apple version but inquired on what other fruit versions she'd made.
She told me that she had also made a raspberry version. When I asked if she'd made any changes to the recipe beside substituting fresh raspberries for the apple slices, she told me that she'd increased the amount of cinnamon just a bit and added a dash of lemon juice.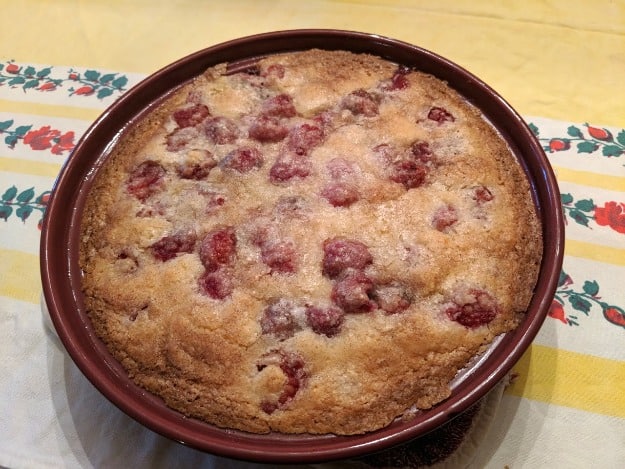 So today's recipe for Crustless Gluten-Free Raspberry Pie follows Carolyn's instructions. I made this pie for our family birthday celebration the other night and it was a huge hit!
So much so that I didn't get any photos of a single slice of this pie. I only got photos of it whole and later—under the lights on the screened porch—with a slice missing. I hope you don't mind.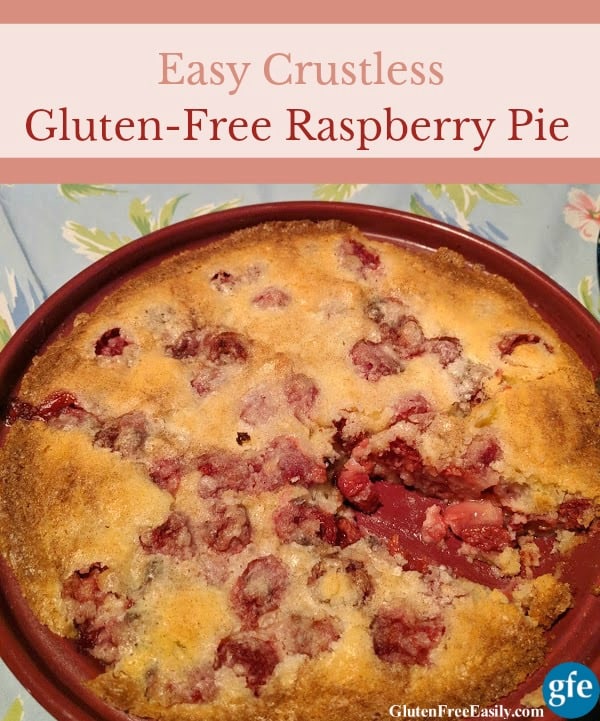 I have to say that making the raspberry version is even easier than making the apple or peach version because there's no peeling and slicing of the fruit required! Just rinse your raspberries, drain them, and pat them dry with a towel.
By the way, a reader just told me that she makes a blueberry version. I hope to share that recipe with you soon! By the way, I also plan to try a grain-free and "more-free" version of this raspberry pie similar to this version of my apple pie.
Last, I'm sorry for the lag in posts of late but I'm dealing with some eye issues—a vitreous detachment in one eye (I had a previous one in my other eye 2 years ago and it's common to have the same condition occur in the second eye) and a flare of blepharitis in both eyes. Both conditions make typing and screen time much more difficult. Blech on both but "this, too, shall pass."
I hope to share Holy Cow Pizza—Gluten-Free Pizza You Want To Eat Every Day, our anniversary outing to the Little Castle (a new Airbnb listing in the Fredericksburg Virginia area), Three-Ingredient Orange Sherbet, and much more soon. I haven't forgotten you! I post much more frequently on the gfe Facebook page if you like a constant stream of recipe ideas and discussions on living gluten free easily (gfe)! (Those quick Facebook posts are much easier on my eyes.)
Other Scrumptious Gluten-Free Raspberry Dessert Recipes
~ Raspberry-Banana-Pineapple-Coconut Smoothie
~ Raspberry Cream Cheese Crumble Bars
Easy Crustless Gluten-Free Raspberry Pie Recipe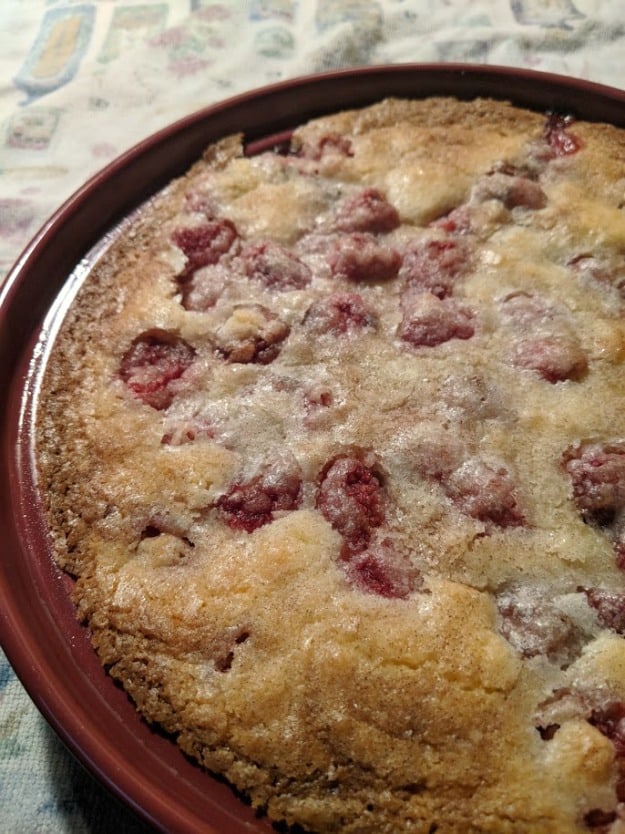 Yield: 8 slices
Easy Crustless Gluten-Free Raspberry Pie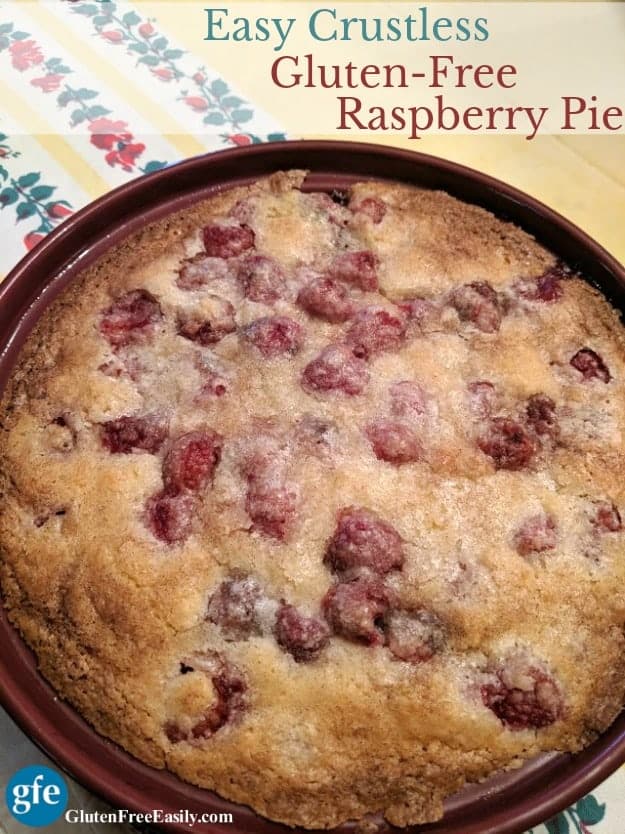 Easy Crustless Gluten-Free Raspberry Pie. You won't believe how easy this very delicious pie is!

Prep Time 10 minutes

Cook Time 45 minutes

Total Time 55 minutes
Ingredients
4 to 4 ½ cups fresh raspberries (see notes)
1 ½ tsp ground cinnamon
1 tbsp granulated sugar
¾ cup butter, melted (dairy or non-dairy substitute, like soy-free Earth Balance)
1 cup granulated sugar
1 cup gluten-free flour mix (I use my Two-Ingredient Flour Mix)
½ tsp xanthan gum (optional but preferred; omit if using a gluten-free flour mix that already contains xanthan gum)
1 large egg
Dash of lemon juice
Pinch of salt
Instructions
Put raspberries in greased, deep-dish pie plate and sprinkle with cinnamon and one tablespoon of granulated sugar.
In a large mixing bowl, mix melted butter, one cup of granulated sugar, gluten-free flour mix, and xanthan gum (if used).
Blend in unbeaten egg, lemon juice, and salt. Mix well and pour over raspberries. (This mixture will be thick, so you will have to spread it with a spatula to cover all the raspberries.)
Sprinkle a little more cinnamon (or cinnamon-sugar mix) over the top.
Bake at 350F degrees for about 45 minutes. Check for doneness with toothpick.
Notes
I used three 6-ounce containers of raspberries, which I rinsed, drained, and blotted dry with a paper towel. That was the equivalent of about 4 ½ cups of raspberries but then I picked out a few raspberries that were too mushy so the amount I actually used was somewhere between 4 and 4 1/2 cups.

I like the way the raspberries peek out through the batter but using less raspberries---only 4 cups---should keep the raspberries hiding under the crust if you prefer the look of a solid crust on top. 

I'm sure you could make this recipe in an 8-inch square casserole dish or something similar if you don't have a deep-dish pie plate. However, you may have to adjust baking time.

Originally published July 22, 2018; updated November 28, 2021.