For affiliate links and as an Amazon Associate I earn from qualifying purchases.
Raspberry Smoothie. Well, Raspberry-Banana-Pineapple-Coconut Smoothie to be exact. That's what I'm sharing with you all today. Can you see how good it is?
I've been thinking about making a raspberry smoothie ever since Diane (The W.H.O.L.E. Gang) mentioned that raspberries would be the "secret" ingredients for this week's Friday Foodie Fix. I knew I could make a raspberry smoothie that would also work as my submission for this month's Cream of the Crop, Dairy-Free Delights for Go Ahead Honey, It's Gluten Free! So after work yesterday, I made a quick stop at the grocery store to pick up some raspberries and bananas.
When I walked in the front door a short time later, the house felt surprisingly cool considering the fact that it was well over 90 degrees outside and our air conditioning had not been on. Well, that feeling of coolness lasted about 2 seconds. In reality, the house was 82 degrees. (We don't leave the AC running when we're not at home.) It just felt much cooler in contrast to the outside temperature. Clearly, a cool refreshing beverage was in order while the house cooled down a bit.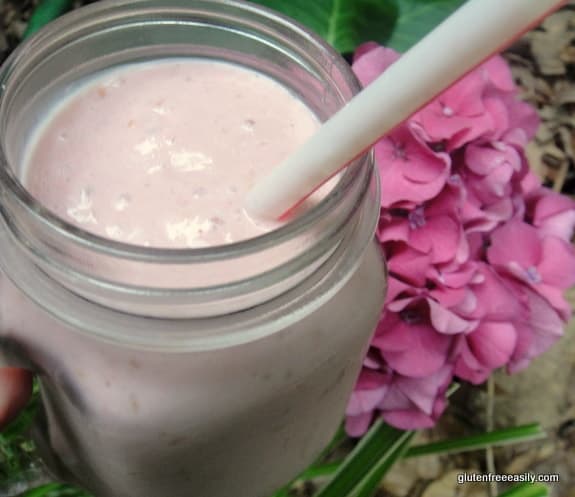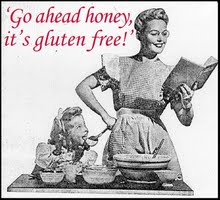 I had seen a raspberry banana smoothie recipe while perusing magazines on our recent vacation. It was in a full-page ad for an artificial sweetener, and the recipe used the artificial sweetener and 1% milk. I didn't plan to use either of those, but I liked the idea of a raspberry smoothie. My favorite way to use berries, by far, is in beverages.
So I started with a container of pretty raspberries (just over a cup), a banana I'd thrown in the freezer for 10 minutes or so (my usual stash of frozen bananas has been depleted due to my green smoothie addiction), some chilled coconut milk, a little vanilla extract, and a few drops of liquid vanilla stevia. The smoothie was more of a pudding consistency, so I had to add water. The result was the pretty, pale pink concoction above. It was definitely photogenic and thick like a decadent shake, but after a few more sips, I decided the smoothie was still too thick and lacked flavor. It just wasn't quite doing it for me.
Incidentally, if you take a look at the top photo, those green stick-ish leaves in the forefront are what remains of our hosta there. The "sweeties," aka deer, have had some delicious snacking on that one. Interestingly enough, they don't touch the hostas outside our screened porch. Are the variegated hostas tastier to deer? Inquiring minds want to know.
Our local critters have been awfully busy of late. A carpenter bee has decided our front deck is a great home site. I think it's the same one from last summer. He did major tunnel work that time. Although this time he decided he wanted a home on the second floor versus the third. Not wanting to use any type of bug spray, I decided to fill the hole he'd "drilled" to deter him. I used sticks from the yard. Duh. He's a carpenter bee. Carpenter bees chew/eat wood. He had no problem chewing on and removing those. Finally, yesterday I came up with a solution; a skinny piece of bluestone fit in the hole perfectly. So far, so good. Okay, I feel a little guilty, but not much.
One of our resident Carolina wrens already raised a brood on our screened porch after nesting in a basket from a plant arrangement I'd thrown to the side. How did she get in you ask? Well, she hopped in through the holes that the squirrels chewed in our screen trying to get to our garbage when it was waiting to be carried away. (Ultimately, Mr. GFE had to build an outdoor garbage bin that would meet Fort Knox's standards. The only remedy for the numerous squirrel holes will be the installation of all new screen on our porch.) Now Mrs. Carolina Wren, or one of her relatives, has built another beautiful nest in our newspaper box. She flies out to greet me when I go to remove the paper each day. Even though I know she's going to do this every time, she still startles me. Which means no caffeine is needed to jump-start my day. Haha. One just doesn't expect a bird to fly at one's face first thing in the morning, or ever, actually.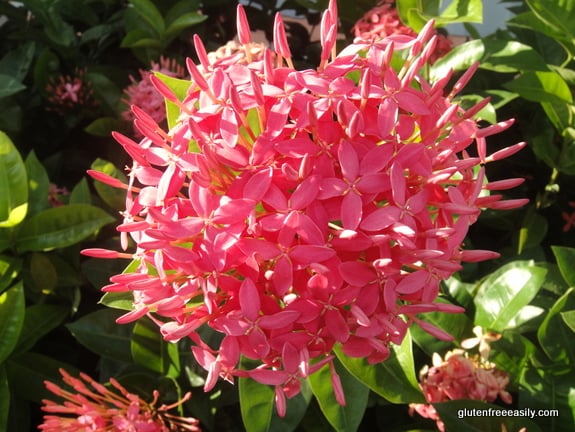 Did I mention the raccoon tracks on the patio? Mr. GFE says that I'm a true country girl and that most folks would not recognize raccoon tracks. I don't know about that, but I do know that life in the country is never boring. Oh, and I almost forgot to mention that I was greeted by a mud dauber a couple of mornings in a row. Finally, I realized that while we were on vacation, our storm door apparently had not been closing all the way and a mud dauber had built its showy mud nest on the door frame, between the storm door and our front door. That was definitely a first! But, I've digressed.
Back inside from my yard exploring and photography session, I poured the smoothie back in the blender. I had some pineapple chunks (in their own juice, unsweetened) in the refrigerator, so I added some … and then some more.
As the daylight was fading and the house was becoming cool enough to be comfortable, I finally came up with a smoothie blend that I liked. Flavorful enough, just the right amount of sweetness, and still thick like a shake, but not too thick. It was also very filling and satisfying; a juice glass full would be plenty. So one batch of these smoothies could serve several people, or be savored by one (moi!) over a few days.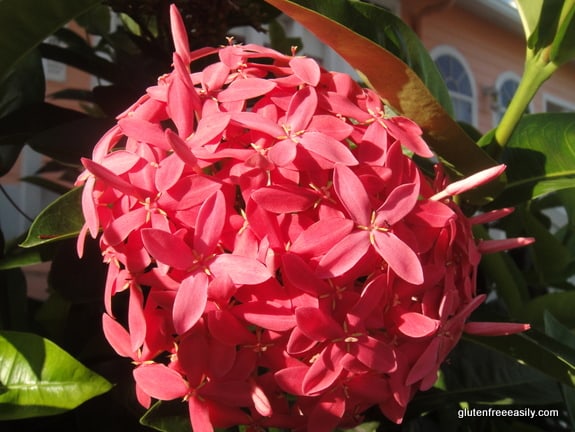 Now grab a smoothie, put your feet up, and pretend you're back in the islands with amazingly beautiful flowers to gaze at (like the ones in the two photos above) and the only nearby, above-water critters being skittish iguanas and curly-tailed lizards, the latter who also happen to be very cute … for reptiles. Oh, wait, maybe that reference applies only to me! LOL Seriously here's hoping you have had some great summer trips already or have some future ones planned. And, here are some reflections on a few of my "findings" worth noting this week:
Alta (Tasty Eats At Home) just celebrated one year of being gluten free—congratulations, Alta! Read her outstanding lessons learned post here.
I didn't plan to talk about this today, but Alta's post and an email from a gfe reader with celiac who has been gluten-free for 9 years, but still has no support through friends (or doctors), have both caused me to reflect more than usual this morning. You see … this month is actually my own anniversary for being gluten free—June 2003—7-years ago as I write this.
First, I'll tell you that living gluten free can get easier and easier, especially if you take the gfe approach. The keywords there are "can" and "gfe." That's not a shameless plug … I sincerely believe that. But, that initial transition can be a jolt, to say the least. It can leave you feeling like a visitor in a foreign land, and one who can't even begin to speak the native language.
I was scheduled to go on an 8-day, 4-state (Virginia, Kentucky, Tennessee, and North Carolina), 1800-mile motorcycle trip with my husband a week after I was told to go gluten free by my new celiac doctor . When I shared that fact with her, she looked at me with an expression that read, that is not a good idea. But, I was not about to cancel the trip (which we nicknamed our "caves and waterfalls trip") that we'd been planning and looking forward to for months.
The classic advice for gluten-free folks when traveling is to take a number of gluten-free standby products with you. Some even suggest carrying an extra suitcase just for safe food. Do you know how much room there is to pack anything on a motorcycle? We have a "tail" bag (bag that fits behind me and the sissy bar) and two saddle bags, which are fairly skinny. A girl is lucky to be able to take an extra pair of shoes, some jewelry, and a few changes of clothes after packing her requisite leather jacket, leather riding chaps, and rain gear. In the end, the only food I took with me were a dozen high-quality protein bars—very flat, space-saving protein bars, I might add–which I purchased from the chiropractic business where I still buy my supplements.
Looking back, the coincidental timing of my diagnosis and the long-planned trip was a true blessing. Because I had no other choice than to learn to eat gluten free via the gfe approach. I had to do my own self-guided, combination mini-training session/crash course on living gluten free before we left our driveaway. I had to focus on foods that were both naturally gluten free and readily available everywhere—which meant convenience stores, gas stations, and restaurants.
I learned that apples, bananas, nuts, and even the occasional bag of potato chips and protein-packed candy bar could all be satisfying and, sometimes, "lifesavers." I homed in on naturally gluten-free menu items like a heat-seeking missile.
We stayed at bed and breakfasts throughout the trip, and I did call to ensure that I would be served gluten-free food free of cross-contamination. All our hosts were knowledgeable and the breakfasts I was served were delicious and safe. Overall, the trip went amazingly well, and it gave me confidence that I could stay gluten free and live in the real world, so to speak.
The most difficult moment came when we stopped by to see some friends of Mr. GFE's from college. He hadn't seen them in years, and I had never met them, but we were going to be traveling right by their home so Mr. GFE called and set up a brief visit. However, they had made their own plans to have us eat dinner with them and then convince us to spend the night. The freshly made, and homemade, lasagna had just come out of the oven when we arrived. When we had to decline dinner, I didn't feel bad for myself, I felt bad that they'd gone to such efforts for us and we couldn't eat with them. Our schedule would not have allowed us to spend the night anyway, but I still felt a bit bad.
However, I've long since stopped worrying about such things. The truth is that friends learn to understand or they are not truly friends. There are lots of people who will love and appreciate you even if you can't eat their prized lasagna. The really good friends will start making their lasagna with gluten-free noodles (and learn about preventing cross-contamination) so you can enjoy their lasagna, too. Those friends are the gems in all of our gluten-free lives.
As I shared in my gluten-free girlfriends' post recently, you should seek those friends out or be open to the possibilities of such friendships through participation in support groups, chance meetings at health food stores, introductions through mutual friends, meeting folks through online gluten-free forums and blogs, etc. Educate your gluten-eating friends, but if they are not supportive of your new lifestyle, don't feel bad about limiting your interactions with them to non-food events. None of that advice is earth-shattering in its wisdom, but it's worked well for me since I went gluten free and I think it will still hold true for the future.
The reader who sent me the email stated: "My once friends do not understand this disease and some think it is all in my head. Do I ever wish that was true, for I can fix that. I had almost died from this disease." Sadly, I know exactly what she's saying. I've experienced the same reaction with others myself, even with some family members.
Celiac, food intolerances, and food allergies are, of course, all too real. One only has to feel, see, or even read about the effects the "poisonous" ingredient has on a person to know this is true. My good friend, Alison, of Sure Foods Living (who also co-founded and co-leads the Gluten Intolerance Group of Marin, California) has shared two personal stories recently that, clearly and powerfully, demonstrate the seriousness of intolerances/allergies.
First, she shared her own recent experience in Diary of a Gluten Poisoning. Then in her latest post, Adventures in Food Allergy Testing (Part 2: The Results), she details her daughter's experience in the allergist's office while undergoing a challenge to see if eggs could be reintroduced safely into her diet. It's a fairly brief post, but one that will have you on the edge of your chair. And, both posts emphatically drive home the point that (as my one, dear friend, Jennifer, always says) eating a little bit of the food you are intolerant to is like eating "a little bit of rat poison."
Raspberry Smoothie Recipe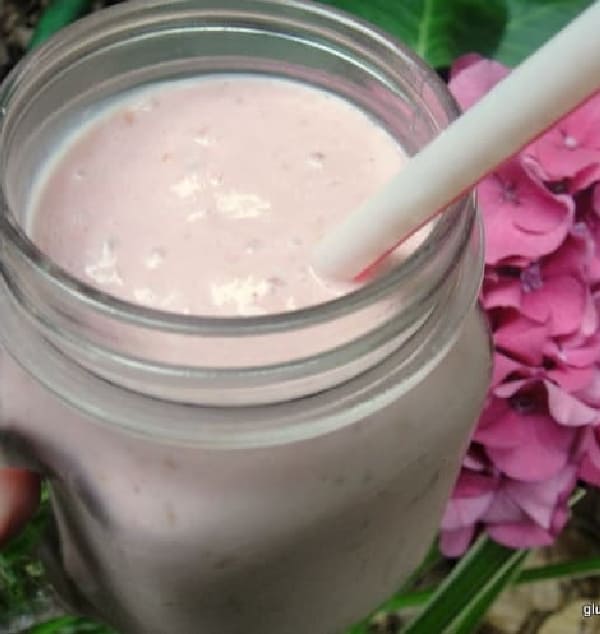 Yield: 4 servings
Raspberry-Banana-Pineapple-Coconut Smoothie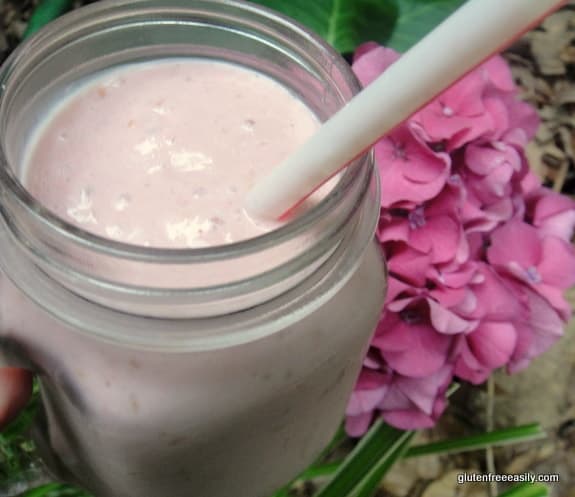 Put your raspberries and other fruity ingredients to good use in this cooling and luscious Raspberry Smoothie!
Ingredients
I banana; semi-frozen (at least), peeled, and sliced
1 cup of raspberries (fresh or frozen)
3/4 cup pineapple chunks, in their own juice
3/4 cup of full-fat coconut milk plus 1/2 cup of water OR 1 1/4 cups lite coconut milk (adjust amount as needed for desired smoothie thickness)
1 tsp vanilla extract
3 drops liquid vanilla stevia
about 4 ice cubes, or more as needed
Instructions
In preparation for making your smoothie, if you don't have a frozen banana, place banana slices in the freezer for about 10 minutes or until at least slightly firm.
Process all ingredients in blender on high until smooth. Serve immediately.
Shirley
Not just gf, but gfe!
Originally published June 25, 2010; updated August 1, 2022.