For affiliate links and as an Amazon Associate I earn from qualifying purchases.
Cucumber Chickpea Bruschetta. Does that recipe title intrigue you? It's my latest attempt at a healthier snack option. It's even appetizer-worthy!
I suspect we all know how to serve up healthier snacks but let's face it, we get bored with the seemingly mundane apples, bananas, baby carrots, celery sticks, and the like. We want something more inventive.
We want a snack that appeals to all our senses and excites us just a little bit. How about Cucumber Chickpea Bruschetta? Wasn't your interest piqued by "bruschetta" in the title? Consider the chickpea and cucumber factors and you may be even more intrigued.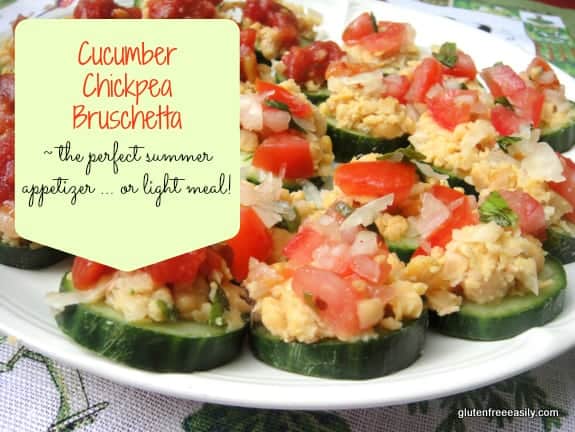 Let's talk more about what we're looking for in our snacks. Often with healthier snacks, it's the presentation alone that makes the snack appealing.
Take an apple, cut it into slices, arrange the slices into a pinwheel design on a plate, leave it on the kitchen counter, and I guarantee that the apple slices will magically disappear. And, that's without the benefit of any dips or special topping.
However, if I didn't cut the apple and place it out for public snacking, it would stay in the basket on our kitchen counter until it literally shriveled up (unless I repurposed it in my Crustless Apple Pie). I'm usually the only one who eats apples in their natural state at our house.
However, even I enjoy apple slices more than eating a whole apple. Attractive and bite-sized, with no work involved–that's what we consumers really want in our healthy snacks.
A recent mention in Better Homes and Gardens magazine shared some ideas for chickpeas. The first was a roasted version, which used olive oil, salt, and black pepper.
As you know, I love roasted chickpeas, but I think I'll stick with my version of Roasted Chickpeas. Two of the other chickpea ideas that were shared appealed to me though: cucumber bruschetta and spiced chickpea couscous (but remember that traditional couscous is not gluten free; be sure to get gluten-free couscous).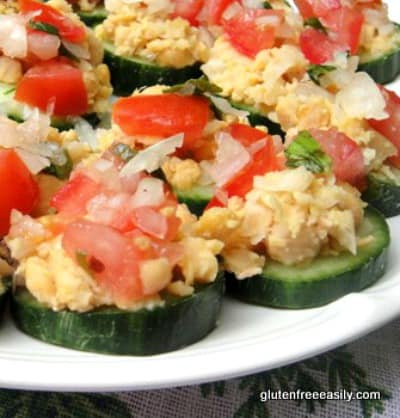 I decided to pull some of the ideas presented in each suggestion to come up with a healthy, yet appealing new snack, Cucumber Chickpea Bruschetta. And this recipe can be a snack or an appetizer.
Or even a meal. It's been a perfect lighter meal during the hot summer days for us.
This Cucumber Chickpea Bruschetta is perfect for simple family snacking or elegant enough to serve as an appetizer at a dinner party. I'd even go so far as to say that one could have this bruschetta as a meal.
Plus, this recipe is naturally gluten free and also free of so many other allergens. For folks with intolerances and/or allergies, that puts tasty "bruschetta" on their table—with no baking.
And, yes, this bruschetta is even vegan. No matter what our particular eating needs are, for all of us, this Cucumber Chickpea Bruschetta, is a nice way to get in one's veggies, fruit, and protein.
I also like the fact that it's a cold snack. That's very much appreciated at the moment with this heat wave we've been having.
In fact, Mr. GFE gave this recipe two thumbs up and said that he liked the cucumber slice as the base better than traditional bread or even crackers. He explained that the cucumber slices are so cold and juicy, one doesn't have to keep sipping on a beverage every few seconds.
He also suggested that shrimp would be perfect on these little bruschettas. As I've said before, in our family, we really do think that adding shrimp makes just about any appetizer or entree better.
No shrimp was needed though as we sampled this bruschetta before eating some steamed crabs. However, this Cucumber Chickpea Bruschetta is amazingly filling.
We had to stop after only a few. I'm taking the rest to work today, and I know they'll be well received. I hope you will give them a try and that you will enjoy them!
Cucumber Chickpea Bruschetta Recipe
Yield: At least 15 servings (depends on size of cucumber(s)
Cucumber Chickpea "Bruschetta"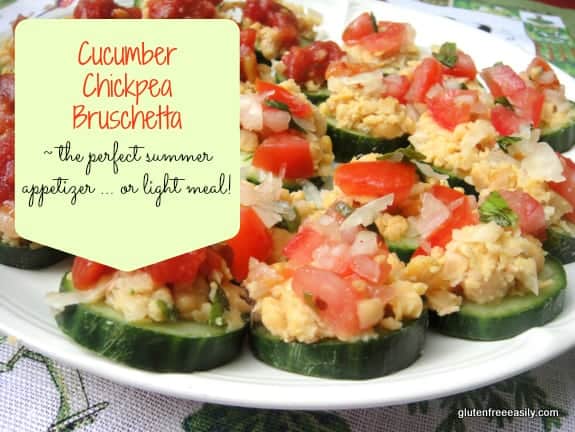 This recipe is naturally gluten free and vegan (plant based) and loved by all. Really. It will surprise you how much folks love this refreshing combo of ingredients and the surprising presentation. Makes a great appetizer or filling but "light" meal.

Prep Time 10 minutes

Total Time 10 minutes
Ingredients
cucumber slices
can of drained and rinsed chickpeas, mashed
juice of about one-fourth of a lemon
chopped tomatoes
chopped onions
chopped basil or other herbs and seasonings (e.g., dill, cumin, garlic, crushed red pepper flakes)
OR fresh salsa (aka pico de gallo) in place of tomatoes and onions
Instructions
Slice cucumbers thick enough that they can hold some weight. (See photo.)
In a large bowl, add chickpeas and lemon juice. Mix well. Mash chickpeas with a potato masher or back of a spoon. They do not have to be fully mashed, just spreadable (or "spoonable").
Spread chickpea mixture onto cucumber slices using a spoon.
Mix tomatoes, onions, herbs, and seasonings. Spoon onto chickpea-topped slices OR top chickpea-topped cucumber slices with a small spoonful of fresh salsa (aka pico de gallo).
Serve.
Notes
I used a seedless cucumber as I think they are a bit sturdier and I like the lack of seeds.

Chickpeas are much more difficult to mash by hand than black beans; I was surprised. Just mash enough to be able to place on the cucumber slice. With the remaining chunkiness and their coloring, the mashed chickpeas almost look like shredded cheddar cheese, which is not a bad thing when one is eating dairy free.

We had some peach-mango salsa leftover from our weekend camping trip with Son and his friends, which I used as topping for half of these bruschettas that are shown in the photo. But fresh salsa, aka pico de gallo is the better choice.

Just a dab of salsa from a spoon on top of the chickpea mixture was all that was needed. The resulting bruschetta was really lovely, with so many flavors and textures ... all working well together. These are very addictive for a healthy snack!

Incidentally, this would be a great recipe to get the kids involved in, too.

Adapted from Better Homes and Gardens magazine

Originally published June 29, 2010; updated December 14, 2021.