For affiliate links and as an Amazon Associate I earn from qualifying purchases.
It's been several years since I saw a post on the celiac listserv on Simple Roasted Chickpeas. At that time, I'd only enjoyed chickpeas (also known as garbanzo beans) occasionally in a salad or in the form of hummus. I was curious.
I immediately thought that roasted chickpeas would be an easy way to get in a good amount of protein, not to mention fiber. (One serving of chickpeas—1/2 cup—yields 6 grams of protein and 5 grams of fiber, with no fat or sugar.) I was less certain about how good the roasted chickpeas would taste.
The instructions were pretty simple: rinse and drain chickpeas, drizzle with olive oil, sprinkle with seasoning of choice, and roast. The person who posted also mentioned sea salt and a tiny bit of cayenne pepper. That certainly sounded like a combination I would like: olive oil, sea salt, and cayenne pepper. I made the roasted chickpeas and loved them.
Of course, I only had to mention the olive oil component in my raves to one friend to enlighten her on the goodness of these chickpeas. Her "duh"-type response was, "Well, of course, they're good. Olive oil makes everything taste good."
I had to admit she had a point, but it's also the crispy outside of the "oiled" chickpeas (contrasted with a giving middle) plus the salty bite that makes these roasted chickpeas taste so darned good.
If I'm looking for a healthy snack or feel like I need an energy boost, these roasted chickpeas call my name. Loudly.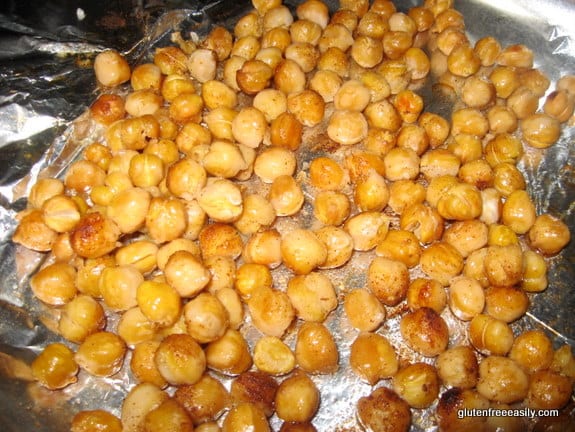 After several days of somewhat indulgent eating in Asheville, roasted chickpeas were the perfect snack after work today. I love eating these for breakfast, or as part of my lunch or dinner for that matter.
I like them best right out of the oven—barely cooled enough to eat. But, I will eat them cold or at room temperature, too.
There is no bad way or time to eat them in my opinion. Feel free to experiment with seasonings.
I will tell you that I've tried fresh, minced garlic on these and didn't care for that ingredient. Don't get me wrong … I love garlic, but the fresh minced garlic took away a bit of the crispness and too much of the bite in my opinion.
I may try garlic salt or some garlic olive oil eventually, but this simple recipe is pretty hard to beat "as is."
Of course, it's a naturally gluten-free recipe … so gfe.
Shortly after I began enjoying roasted chickpeas, recipes seemingly popped up everywhere. Here are some links to other recipes for roasted chickpeas from some of my favorite blogs and some more chickpea goodness from gfe!
~ Cucumber Chickpea "Bruschetta"
~ Garlicky Roasted Chickpeas with Feta, Mint, and Lemon
Simple Roasted Chickpeas Recipe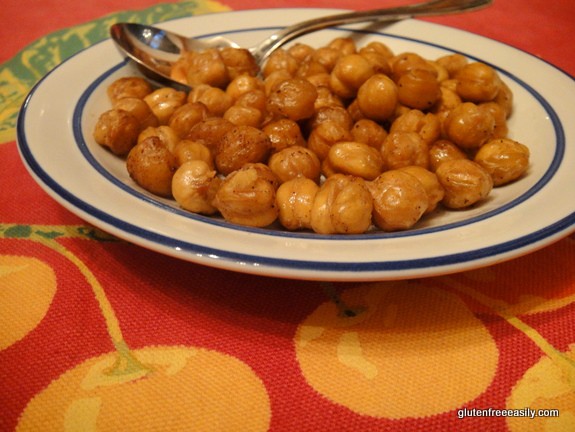 Yield: Up to 3 servings
Simple Roasted Chickpeas (Garbanzo Beans)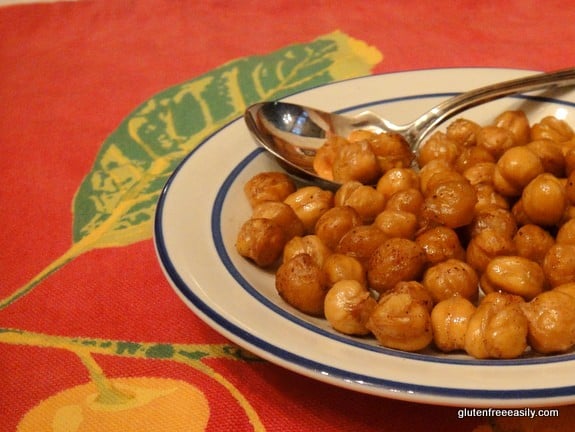 This recipe for Simple Roasted Chickpeas is not only simple (only four ingredients and one of them is the chickpeas!) but it's also highly addictive. A wonderfully crunchy, protein-packed, and highly addictive recipe for sure!

Prep Time 5 minutes

Cook Time 20 minutes

Total Time 20 minutes
Ingredients
One can of chickpeas (about 16 ounces)
1 tbsp olive oil (or more to taste)
½ tsp sea salt (to taste)
½ tsp cayenne pepper (to taste)
Instructions
Preheat oven to 450 degrees Fahrenheit. Line baking sheet with foil.
Drain chickpeas. Rinse chickpeas thoroughly. Drain.
Spread chickpeas on baking sheet. Drizzle with olive oil. Sprinkle with sea salt.
Sprinkle with cayenne pepper (or chipotle, Old Bay, etc.). Stir with spoon until evenly coated with oil and spices.
Bake 15 to 20 minutes to desired crunchiness.
Notes
Rinsing the chickpeas eliminates the sodium from the water in the can before you add healthy sea salt. Some folks roast chickpeas at a slightly lower temperature (like 425F or 400F), but I like mine super crunchy. Be sure to check on them frequently close to the end as I do though. (I haven't developed a fondness for burned chickpeas yet.) I usually check them at 15 minutes and then give them one more quick stir. Some of the chickpeas may even pop and split open towards the end. That makes the chickpeas even better in my opinion as you end up with more crunchy surfaces.

I'm not usually a fan of very spicy foods, but I love these cayenne-spiced chickpeas. They can be quite addictive actually.

Originally published August 12, 2010; updated December 8, 2022.