For affiliate links and as an Amazon Associate I earn from qualifying purchases.
The surprise with these gluten-free Brazilian Un-Cheese Rolls, which are also grain-free and vegan and would also be called biscuits here in the South is threefold. Or is it fourfold? Hmmm. We'll have to see.
First, I didn't plan on making these biscuits today, so it's a surprise that they're showing up on gfe today, even though I've been formulating this recipe in my mind for a week now.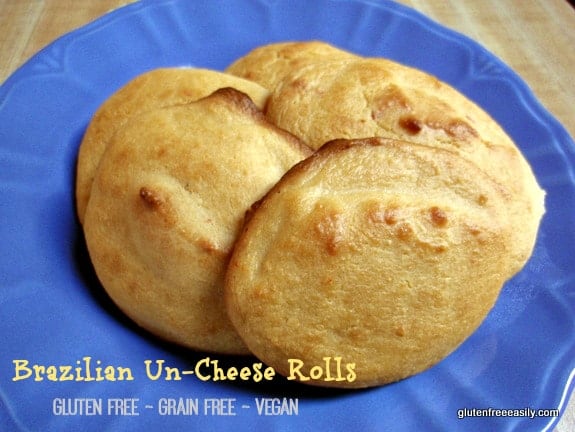 It's been "percolating" ever since I saw Deanna's Gun Powder Biscuits. I really liked the look and sound of Deanna's biscuits, but here's the thing … Deanna's recipe called for garbanzo bean flour.
As much as I love chickpeas … roasted … mashed for a scrumptious, healthy appetizer … added to my vegetarian chili, in Mary's (Gluten-Free Spinner) awesome salad, and so on and so forth … I do not like chickpeas in the form of flour.
In fact, chickpea is an affectionate term to me that calls to mind sweet nothings like "my dear little sweet pea" (just insert "chickpea" for "sweet pea"). However, the name garbanzo bean—especially in the form of flour—is rather obnoxious, like the kid who's always too loud in the classroom and is never quite as funny as he thinks he is.
That is how I think of garbanzo bean or garbanzo bean flour. Don't bother telling me that garbanzo flour is made from my beloved chickpeas and the two are synonymous. That's some sort of Frankenstein story to me.
Do you know the real story of Frankenstein by Mary Shelley? The monster started out as a curious, gentle, kind being, but he became mean after he was treated so badly by his creator, Victor Frankenstein, and others.
Chickpeas are tender and "sweet" … when processed into garbanzo bean flour, my feeling is that they go to the dark side. But I digress a bit.
The important thing to know is that Deanna's recipe called for garbanzo bean flour and no way was I using that. I knew I had some Red Pepper Hummus in the fridge, made from chickpeas, of course (not garbanzo beans … take that!). It was left over from our support group meeting.
I don't keep crackers in the house and Mr. GFE does not like hummus. I like being able to use up leftover ingredients, and using them in new and creative ways.
I thought to myself, "If I add some of the leftover hummus to the recipe, will it take the place of both the garbanzo bean flour and the shortening?" And, furthermore, will the consistency of the hummus act as a binder so that psyllium powder (or Deanna's alternative suggestion of flax seed) will not be needed?
While I'm interested in trying psyllium powder, I haven't found it in my area yet and I far prefer keeping my ingredients list simple when I can. My last consideration was the red pepper flavor component of the hummus. You see some of my friends have used red peppers to achieve a cheesy flavor in recipes (e.g., Raw Nacho Cheese Sauce).
Deanna's recipe called for arrowroot. I prefer to use tapioca flour, which I can purchase very inexpensively at out local Asian market.
So looking at Deanna's recipe and also one that I've been using for many years (from the church cookbook of my youth since before my marriage), I came up with a slightly different roll/biscuit recipe than either.
When I mixed it all together, the batter looked pretty good, but still seemed too thin. So I used my grain-free secret weapon (another surprise?) … coconut flour.
I added one teaspoon of coconut flour and let the batter stand a moment. It still seemed too thin. So I added another teaspoon of coconut flour and let the batter "sit" a bit more. That additional amount yielded a suitable thickness for drop biscuits.
So the second and third surprise factors are: hummus as the "secret ingredient" and the fact that the red pepper factor for the hummus makes these biscuits have a "cheesy" taste.
The fourth surprise? Coconut flour as the thickener.
I am in love with these biscuits (or rolls, if you prefer). They come out fairly flat. If you didn't know better, looking at them, you might think they were a cookie. They have that cookie sort of appearance.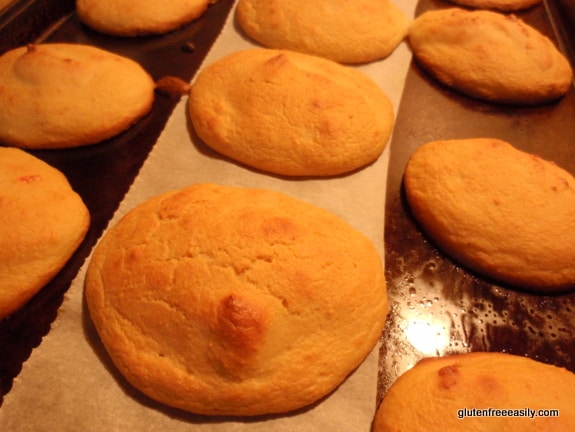 And while these biscuits come out flat, they don't come out so flat that you can still cut into the top and make a flap. Under that flap you can slide in some butter (vegan, if you like), or any other ingredient that you enjoy with biscuits/rolls. I inserted a piece of salami in ours for a nice simple lunch today. I also tucked in a small piece of cheese for Mr. GFE and spread a small amount of Majestic Garlic Spread, basil flavor, on mine.
For my second "taste," I used two biscuits and simply more of the basil spread to create my "sandwich." All methods yielded some very scrumptious bites!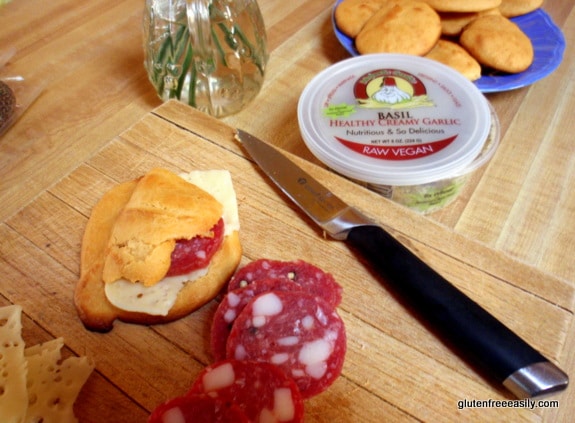 As I said, Mr. GFE is not a hummus fan but he loved these biscuits. He also agreed that these biscuits did have a flavor of cheese like that in Kate's Brazilian Cheese Rolls (which we love as rolls or pizza dough). Even better, these biscuits also had that moist, chewy center very similar to that of a Brazilian Cheese Roll.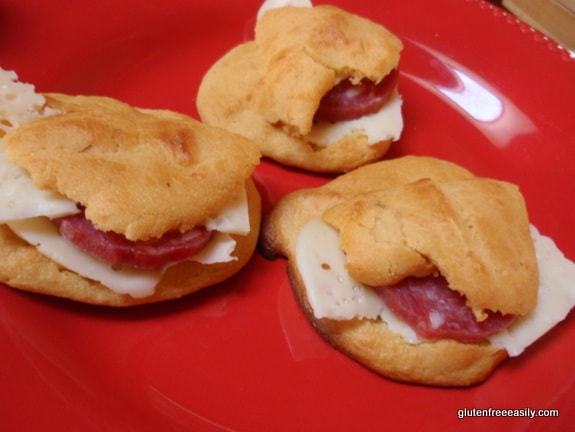 When warm or at room temperature a little while after coming out of the oven, these rolls have no chickpea/hummus taste at all. But you can detect a bit of a chickpea/hummus flavor after they've sat for a while and the flavors have melded.
It's not objectionable in any way, and they stay moist and seem to get a bit chewier with sitting, but in the interest of full disclosure I did want to mention that. Hummus fan or not, I think you'll love these and now if you have leftover hummus, you have a great reason to make some tasty biscuits!
Gluten-Free Brazilian Un-Cheese Rolls Recipe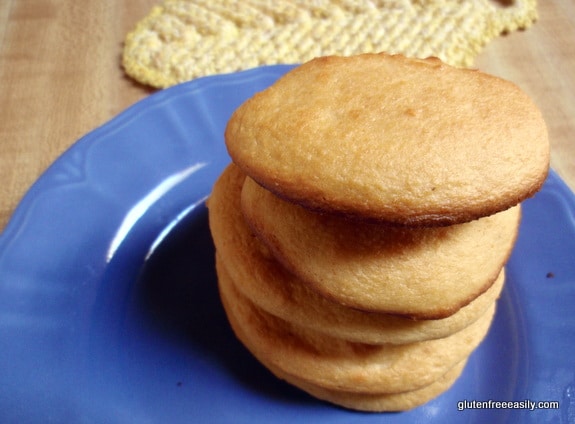 Yield:
Gluten-Free Brazilian Un-Cheese Rolls (Grain Free and Vegan)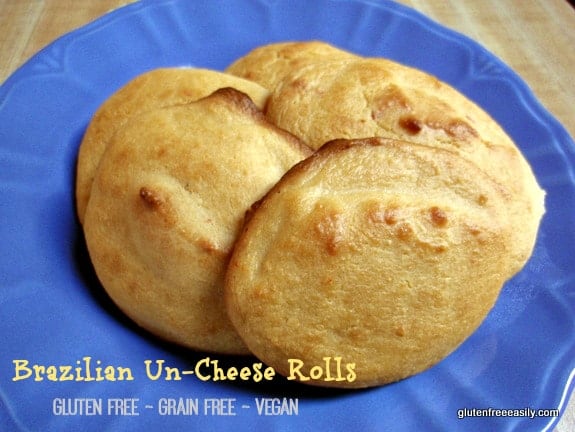 You will be surprised at these yummy gluten-free rolls that have a cheesy flavor and nice soft middle. Make them larger for sandwich rolls/hamburger rolls if you like. Great way to use leftover hummus.
Ingredients
¾ cup dairy-free milk (I use almond milk or coconut milk)
½ cup red pepper hummus (homemade or healthy, purchased brand; garlic hummus is nice in this recipe, too)
1 cup almond flour, packed
2/3 cup tapioca flour
2 tsp baking powder
¼ tsp salt
2 tsp coconut flour, sifted
Instructions
Preheat oven to 450 degrees Fahrenheit. Grease or line one large baking sheet with parchment paper.
In a large bowl, add milk and then hummus, stirring until fairly well mixed.
Add almond flour, tapioca flour, baking powder, and salt. Mix well.
Add coconut flour. Mix and let sit for about 3 to 5 minutes, until batter is visibly thicker---like biscuit dough---when stirred.
Drop a heaping teaspoon of batter onto the baking sheet and then drop a little more on top of that. That second dollop of batter on top the first is important. Without it, your biscuits will be too thin and cook too quickly. (Using a larger serving utensil like an ice cream scoop might be a workable solution that would allow one "dollop" only, but I didn't try that.) When dropped, batter will not spread past a 3-inch radius, and will not spread further when baked. So batter for the biscuits may be dropped fairly close together.
Bake for about 10 to 12 minutes. Tops will take on a light golden appearance and look done, and bottoms of biscuits will be a nice even brown.
Makes about one dozen 3-inch biscuits. (See notes for making larger biscuits.)
Notes
If you want to make large sandwich/hamburger rolls, add another dollop or so of batter and spread the batter to the diameter you'd like for your biscuits/rolls.

Inspired by Deanna's (The Mommy Bowl) Gun Powder Biscuits.

Originally published March 10, 2012; updated May 13, 2021.