For affiliate links and as an Amazon Associate I earn from qualifying purchases.
Welcome to the The GFE Virtual Gluten-Free Support Group (VGFSG)—for our very first meeting! This meeting addressed obstetric/gynecologic issues related to celiac and non-celiac gluten sensitivity. But let's take a moment to talk about the gfe VGFSG. To get the true support group "vibe," you'll have to imagine me in my kitchen donned in my full apron and busily multi-tasking (or trying to anyway) … setting the table, chopping vegetables perhaps while something else is already cooking in the oven, adding ice to the ice bucket, etc.
In fact, I'll be so busy that I'll probably just yell "come in!" when you arrive for our meeting and knock on our front door. Yes, most of our meetings are held at my home. That works well for sharing our group meal and offers a comfortable, personal setting that allows the face-to-face, one-to-one support that we all need and appreciate.
Once you've come in, you'll grab your name tag from the sideboard and then because you're a gracious, mannerly person, you'll probably ask what you can do to help. Be forewarned … I will put you to work. So be ready for that! But don't worry, I don't "assign" any tasks that are too challenging.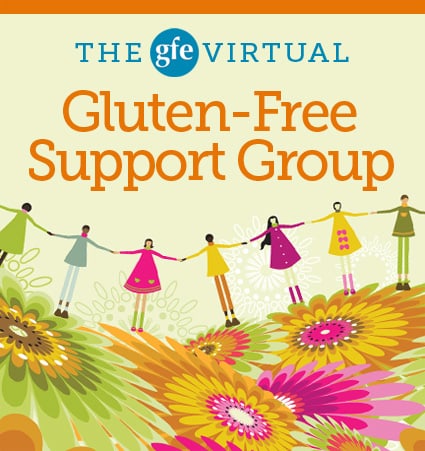 If you don't want to pitch in or something else requires your attention—perhaps even grabbing a few minutes with the guest speaker beforehand or checking out our group's extensive library—feel free to do so. But be sure to grab some liquid refreshment first. Oh, and as you can see from the photos below men are most welcome at our meetings!
I mention that because I don't want my male blogger friends and other male readers to look at The GFE Virtual Gluten-Free Support Group logo and think all the cute figures are female. There are both females and males represented in the logo/badge. It's a unisex type illustration. You guys are the ones with shorter tunics and pants in the drawing. Just sayin'.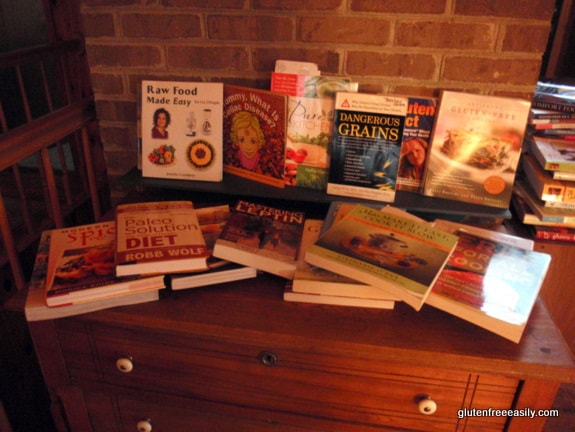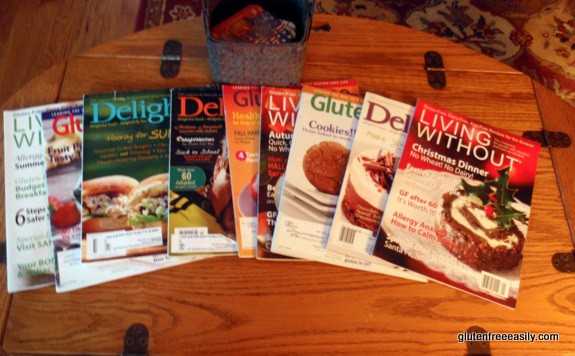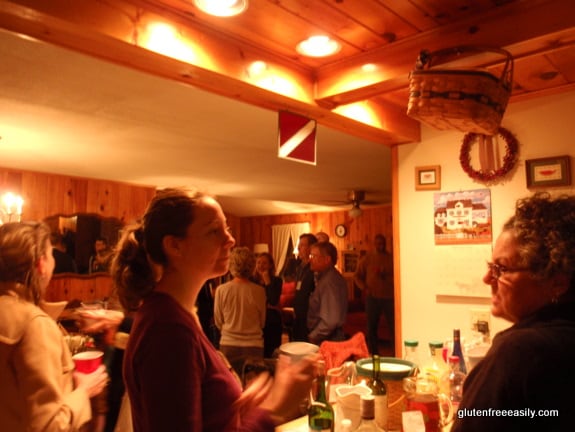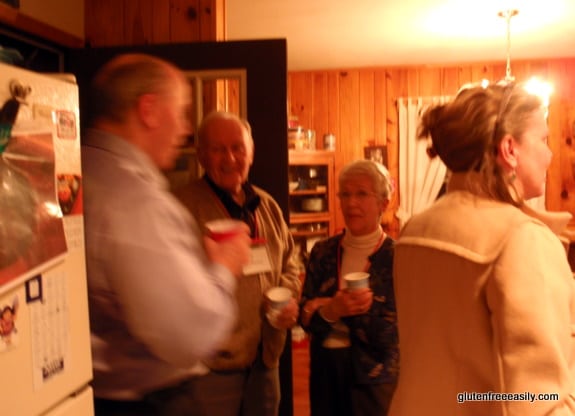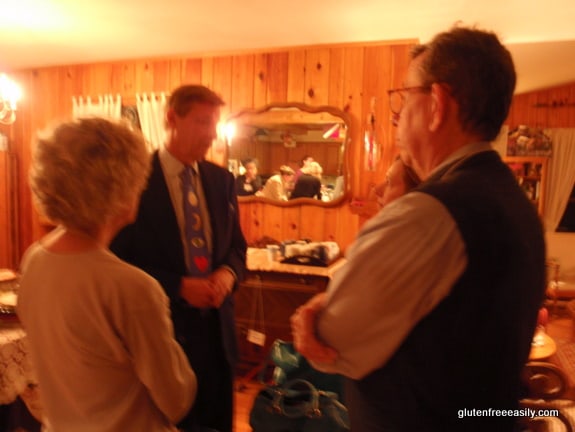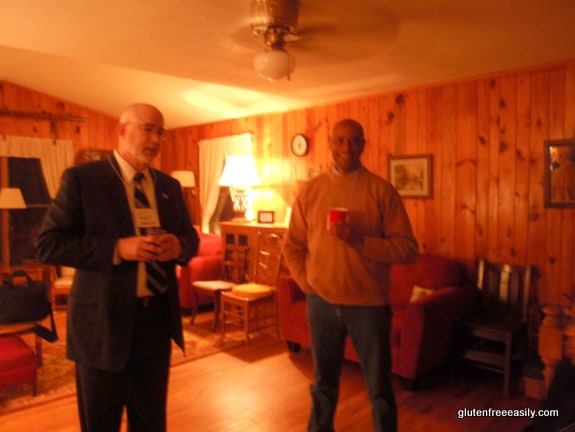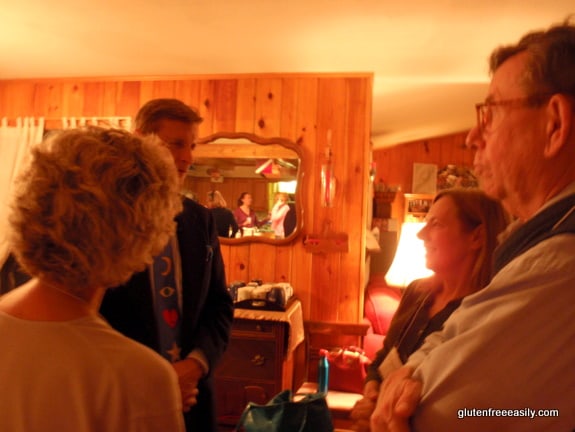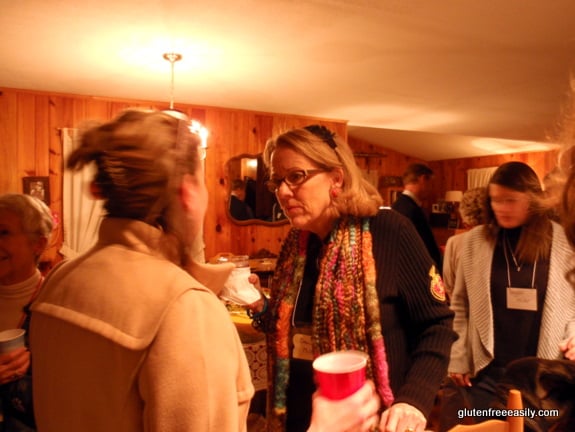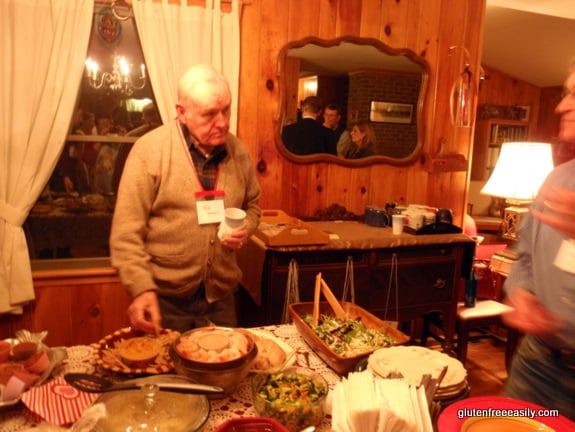 Let's back up a moment though and talk about what The GFE Virtual Gluten-Free Support Group is all about. Many of you will recall that I mentioned my idea for this event at the beginning of the year and asked for your feedback. All the feedback was very positive and the specific suggestions were helpful!
So many of you do not have a local support group you can take part in and you and I both are hoping that this virtual support group can help fill some of that void. A few folks asked for some sort of interactive environment for our virtual support group, perhaps an online chat session, and I do love the idea of that. While something like that may come down the road, initially The GFE Virtual Gluten-Free Support Group will be a "low-tech" monthly blog event.
The goal of the GFE VSG is to share information from my actual support group meetings with all of you. That includes information on the presentations, the food shared, tips from my members … anything that comes out of the meeting that I think you will find helpful.
In return, I'd like you to interact with all of us participating virtually by commenting on the presentations, gluten-free recipes, and all info and sharing your own input. There will be a linky, as you can see at the very bottom of this post, so if you are a blogger, please link up your recipe that fits the monthly theme. You must leave a comment to participate in the linky and you must link back to this event in your post to participate. See all the participation rules further down right before the linky.
Finally, there will also be a giveaway each month! Giveaways will tie into the topic of the meeting and/or the food theme. You do not have to participate in the linky to enter the giveaway. Anyone who leaves a comment will be entered for the giveaway. Only one comment is required. Folks are welcome to have discussions in comments, but only one comment per person will constitute an entry into the giveaway. (Yes, I do have a program that excludes all other comments from the giveaway drawing.)
This first virtual support group meeting will be a little different than most because I am sharing information from not just our last meeting, but a mix of information from our last two meetings. Of course, that means this particular post will be much longer. Don't worry … not all meetings will "last" as long as this one!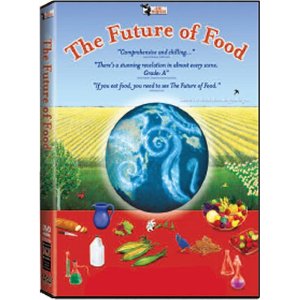 Presentations: In January, we watched the movie, The Future of Food. My good friend Elana (Elana's Pantry) had given me two copies of the two-disc special edition of this documentary—one for my support group and one for a giveaway (thanks again, Elana!).
All of us who watched the movie felt that is was quite an eye opener. There were a lot of groans, sighs, and exclamations uttered when my group was watching this movie and an overall sense of frustration from us all with the state of our food. In short, this movie with its painful to watch, but very important to see.
I don't feel I can summarize this movie adequately, so I'll defer to the Internet Movie Database (IMDB) for their overview, which I'm sharing in part here. "The Future of Food offers an in-depth investigation into the disturbing truth behind the unlabeled, patented, genetically engineered foods that have quietly filled U.S. grocery store shelves for the past decade. … this film gives a voice to farmers whose lives and livelihoods have been negatively impacted by this new technology.
The health implications, government policies and push towards globalization are all part of the reason why many people are alarmed about the introduction of genetically altered crops into our food supply. Shot on location in the U.S., Canada and Mexico, The Future of Food examines the complex web of market and political forces that are changing what we eat as huge multinational corporations seek to control the world's food system. The film also explores alternatives to large-scale industrial agriculture, placing organic and sustainable agriculture as real solutions to the farm crisis today. The Future of Food reveals that there is a revolution going on in the farm fields and on the dinner tables of America, a revolution that is transforming the very nature of the food we eat."
If you've seen Food Inc. or been "tuned into" what's in our food supply today, you're no doubt already aware of much of the same information on concerns regarding genetic engineering of our foods, but if you'd like to learn more on this topic, I urge you to watch The Future of Food. You can even watch this documentary online at IMDB.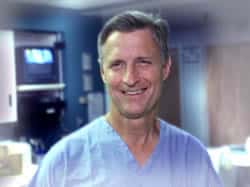 In February, we had the pleasure of hearing Dr. Lawrence Miller, an obstetrician/gynecologist who practices in Richmond Virginia. He has practiced obstetrics/gynecology for many years. More recently, he has focused on a "total wellness" approach—which incorporates functional medicine—with his patients.
Dr. Miller is not just any ob/gyn, he's my own ob/gyn and several of my support group members are his patients. In fact, a number of other women my area also are patients of Dr. Miller's. We travel well over an hour each way to receive his care. One even heard that Dr. Miller was our speaker for the evening and joined us at the last minute. It's not an exaggeration to say that his patients are as devoted to him as he is to them.
Dr. Miller is actually responsible for getting me on the right path to living gluten free. So I can't talk about him without telling a little bit of my own story.
I first met Dr. Miller shortly after I had a hysterectomy in 2001. The pathology done after my hysterectomy showed that the cause of my issues had been undiagnosed endometriosis.
The endometriosis was caused by my gluten intolerance, but it was many months after my hysterectomy before I would be told that. After my hysterectomy, I was placed on typical hormone replacement therapy. Synthetic hormone replacement.
One medication was tried after another. Honestly, all the hormones prescribed made me "crazy." The ob/gyn I was seeing at the time evaluated my reactions to these medications and some of the other symptoms I had and told me that I needed to seek psychological help.
I am not kidding. That was a turning point for me. I knew that my issues were not in my head.
Shocked and angered, I walked out of her office and never returned. Searching online for doctors who prescribed bioidentical hormones, I found Dr. Miller.
He was a godsend in so many ways. I consider him the ideal doctor. When you have an appointment with Dr. Miller, you never feel rushed. He genuinely cares and listens to all you have to say. You truly feel like you are the only patient he has in the world.
In this day of doctors with revolving exam room doors and 8-minute examinations (yes, I've timed some of my other doctors' exams), it's more than refreshing to have such a positive, professional experience. Mr. GFE actually went with me on our first visit, a consultation.
Dr. Miller talked with both of us about what had been going on with me. Again, it was a refreshing change from any previous appointment I'd had with a physician.
During the next several months, Dr. Miller took me off all hormones and after having testing run on my hormone levels and more, he prescribed a low dosage of bioidentical hormones. I felt somewhat better, but not great. Something in the equation was still missing.
Dr. Miller told me that he thought I might have food intolerances and referred me to another doctor who specialized in food intolerances and allergies. Initially, I thought that Dr. Miller, as fantastic as he was, might be "blowing me off" as previous doctors had.
But in fact, he was not. He was putting me on the right path for the rest of my life as the doctor he sent me, too, pegged me with gluten issues right away. I won't share the rest of my own journey here though … let's shift back to Dr. Miller.
When I introduced Dr. Miller to my group, he shared how his training in medical school had been focused on treatment, not prevention. He stated that just about the only exception had been guidance to get patients to exercise to lower cholesterol. Dr. Miller stated that he still practices traditional ob/gyn medicine (delivering babies, ob/gyn surgeries, etc.), but instead of looking at the body in parts and those parts in isolation pretty much, now he looks at the body as a whole, with all of those parts connected.
He talked about how he got to where he is today in his approach where he looks at the body as a whole and considers his treatment of patients a partnership. He stated that he had noticed that one of his colleagues, another ob/gyn, had disappeared from practice. Upon further investigation, he determined that she had stopped practicing as an ob/gyn for a while, but then had resumed treating patients.
However, she was treating them in a completely different area. She was no longer practicing as a traditional doctor. She had attended The Institute for Functional Medicine and had moved on to conducting patient consultations where she was addressing celiac/non-celiac gluten sensitivity and other food intolerances/issues.
Furthermore, she was treating some of Dr. Miller's patients and, much to his surprise, they were getting better and in many cases they were seeing complete resolution of former symptoms/issues. Initially, he was taken aback, but being a doctor who is curious by nature and ultimately wanting to serve his patients the best possible way, he contacted this doctor for more information.
He quickly discovered the prevalence of celiac disease and non-celiac gluten intolerance and gluten sensitivity and how a diagnosis and a gluten-free diet could help many of his patients. He shared with us that the statistics on the percentage of those with non-celiac gluten sensitivity varies from 7% to 12% of the population depending upon which expert (e.g., Dr. Alessio Fasano, Dr Marios Hadjivassiliou) is speaking.
After referring patients to the other doctor who was so knowledgeable on the topic, he decided to attend The Institute for Functional Medicine himself. He subsequently earned his own certificate and began using a functional medicine approach to complement the traditional medicine he already practiced.
At our meeting, Dr. Miller cited one patient's story after another of healing after going gluten free. He stated that traditional medicine says these cases are anecdotal, but the end result is the patient has resolved health issues that she may have been combating for years.
Consider the patient who had suffered three consecutive miscarriages and when further genetic testing (not related to gluten but rather genetic causes of miscarriages) showed no physical reasons, she'd been told by her doctors at the time that it was "just bad luck." She came to Dr. Miller for a second opinion, tested positive for gluten sensitivity, and about five months later she became pregnant, later delivering a full-term healthy baby after a perfectly normal pregnancy.
Dr. Miller stated that, of course, not all symptoms/conditions that he sees and treats can be resolved by a gluten-free diet, but many, many can.
Dr. Miller advocates that his patient get tested via the (often controversial) Enterolab Gluten Sensitivity Stool Test because based on his experience treating patients and his own family's experience (more on that in a moment), he believes that test is the most sensitive and most accurate.
(Shirley's Note: The Enterolab testing remains controversial. I recommend traditional celiac testing. At least initially. The reality is that current celiac testing is only highly accurate when one has extensive or total damage of the small intestine. Otherwise, such testing which looks for damage to the small intestine, is like looking for a needle in a haystack. That's because the small intestine is over 20 feet long and often a limited number of biopsies are taken of it. Therefore, if one gets negative results on that testing, then I urge readers to pursue Enterolob Gluten Sensitivity Testing.)
Dr. Miller addressed the statements by many traditional doctors and experts in the celiac community that "everyone tests positive on the Enterolab stool test." Dr. Miller said that 10% of random people test positive on the Enterolab Gluten Sensitivity Stool Test; however, 90% of his patients test positive for gluten sensitivity.
(Note: In my family, I and my son tested positive, but my husband tested negative. Dr. Kenneth Fine, who developed the test, stated in his conference of November 2011, which I attended, that not only did they run the tests on large groups of "random" people, but they also used the tests on stool (i.e,. manure) from animals to see if there were any false positives; there were not.)
Dr. Miller cited the obstetrical symptoms related to malabsorption caused by gluten issues. They include pregnancy failures (e.g., miscarriages, stillbirth), infertility, and premature labor. He cited the case of a patient who had been married for 7 years.
For 2 years, she tried to conceive. Finally, she sought out a fertility specialist, but still was unable to conceive. By all appearances, she was healthy. She had no GI symptoms. Yet she tested positive for gluten sensitivity, and after going gluten free, was pregnant 2 months later!
Numerous ob/gyn issues are related to gluten and due to hypersensitivity and inflammation in the gut. Dr. Miller cited Hashimoto's (as well as other autoimmune diseases), perimenopause, menopause, painful periods, PCOS, endometriosis as some conditions that were either exacerbated by gluten issues or, as applicable (e.g., endometriosis), caused by gluten sensitivity. When gluten is removed from the diet, the patients with these issues "get better."
Dr. Miller shared the story of a brilliant colleague who had been diagnosed with lupus. He suggested from the start that she might have a gluten issue. She stated that she did not think that was the case. Two years later, she finally decided to get tested for gluten sensitivity. She tested positive, went gluten free, and almost immediately her symptoms completely disappeared.
As you might expect, Dr. Miller shared that other traditional medicine doctors do not often hold his work in high esteem. He's directed his ob/gyn patients with gastrointestinal issues who tested gluten sensitive to go gluten free. Their gastroenterologists do not take kindly to his intervention and totally dismiss the validity of gluten sensitivity and their patients' healing on a gluten-free diet.
One of the most resounding facts from Dr. Miller's presentation is that he personally "practices what he preaches" as he and his entire family personally experienced gluten issues, so he truly "gets it." One of the most compelling cases of gluten sensitivity that he shared with us was his own son's. As a teenager of age 13, his son had suffered from "crushing" abdominal pains for several years. He would often wake in the middle of the night and be up for hours while his parents tried to find something, anything that would make the pain go away.
His son's pediatrician (or often the nurse practitioner as the pediatrician was often not available) could offer no guidance/help any time. The only direction was "let's do an endoscopy/biopsy."
Dr. Miller and his wife were not keen on doing what they considered invasive testing on their son. They instead opted to have their son take the Enterolab Gluten Sensitivity Stool Test and Celiac Gene Test. He tested positive for gluten sensitivity and it was also shown that he had the genes for celiac.
They discussed the situation with their son. He asked, "So if I stop eating gluten I can never develop celiac disease?"
When he was told that the answer was yes, their 13-year old son decided he wanted to go gluten free. He did and his symptoms disappeared so quickly that Dr. Miller stated, "even though he had had the terrible abdominal pain for years, overnight, he got better."
Dr. Miller also briefly shared the story of his wife who had a lifetime of issues, despite being an FBI agent who was super fit. She went off gluten and her symptoms disappeared.
Next Dr. Miller and his teenage daughter both got tested and both were positive for gluten sensitivity. They went gluten free and they experienced optimum health like they never had before; they thrived.
Dr. Miller's whole family has been gluten free for 7 years now. He stated that the positive effects of gluten-free living "blow his mind."
He went on to say that the gut effects of gluten impact about 40% of those with gluten sensitivity. About 15 to 25% have neurological symptoms from gluten. There are also dermatological issues like dermatitis herpetiformis and eczema, as well as issues like menstrual migraines, which are driven by changes in hormones due to gluten.
Dr. Miller shared the story of a stunning model that he had treated. Severe eczema caused her to appear as if she had black lipstick around her mouth. Makeup was used to cover up this manifestation of eczema. After she went gluten free, her eczema symptoms completely disappeared.
Dr. Miller reiterated that not every single person sees complete resolution of symptoms after going gluten free, but that some can and many get so much better with gluten out of their diets.
By far the biggest issues that Dr. Miller states that he sees in his patients are hormonal imbalances. He sees these concerns in patients of all ages—from those entering puberty to the elderly. Dr. Miller even sees some male patients and treats them for both gluten issues and low testosterone. He stated that low testosterone can be indicated by a loss in strength, extra weight around one's midsection, and a loss of sexual desire. He treats low testosterone by prescribing bioidentical testosterone.
One support group member asked how Dr. Miller would treat a patient with a low sperm count. Dr. Miller stated that he would test for gluten sensitivity and do blood testing as well.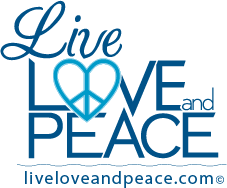 Dr. Miller's wife, Denise, whose health history he had spoken about earlier was also in attendance with him. She sometimes interjected reminders about different cases and their own family history.
Denise is a powerful and positive force in her own right as the co-founder of Live Love and Peace, and organization dedicating to spreading love and peace, or some might say "good will." She passed out Live Love and Peace bracelets at the end of the meeting.
We've had many excellent meetings over my group's 7 ½-year history, but folks were saying our February meeting was one of the best. I have to agree!
Dr. Miller was an outstanding and passionate speaker and shared one gluten-free success story after another. It was inspiring to all of us to see how a traditional doctor has complemented his skills with a functional medicine approach, and most importantly, with an acceptance and understanding of the role gluten plays in so many ob/gyn and other health issues.
One final note on Dr. Miller's presentation: This summary comes from my own notes; I did not get Dr. Miller to review this write-up so any errors or omissions are mine, not Dr. Miller's.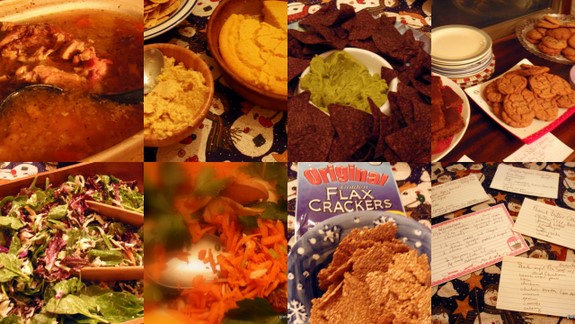 Food: We always enjoy so many wonderful gluten-free foods and dishes at our January and February meetings. Many of our dishes are dairy free, refined sugar free, etc. as well. Members either bring copies of their recipes to have alongside their dish to show its ingredients or they complete index cards indicating the ingredients or simply if the recipe is gluten free, dairy free.
Experienced members, especially those who are gluten free, dairy free, and more free themselves, have no problem identifying the category of their dish. New members feel more comfortable showing all the ingredients and answering questions from those who have very specific concerns due to their own food intolerances.
Our January meeting was a true potluck with no theme. Our menu was Black-Eyed Pea Soup with Ham and Chicken, Great Salad with Brianna's Poppy Seed Dressing, Homemade Hummus, Homemade Cornbread, Guacamole with Tortilla Chips, Salsa with Tortilla Chips, Foods Alive Flax Crackers, Almond Chocolate Chip Cookies, Flourless Peanut Butter Cookies, and Easy Pumpkin Squares.
For our February meeting, our theme was Foods We Love (Or Love to Make for Others) to go with Valentine's Day. Of course, when I set the theme, I didn't realize that our meeting date fell on Mardi Gras/Shrove Tuesday, which is now also known as National Pancake Day. So pretty much any foods and recipes went for this event and you'll be able to see that from our menu below. But "Foods We Love (Or Love to Make for Others)" is a pretty broad category anyway.
Weighing down the table (but only for a brief time!) were Turkey Tenderloins (Savory Roast and Applewood Smoked flavors), Garlic Cheese Grits, Great Salad with my Homemade Creamy Poppy Seed Dressing, Chickpea Salad with Homemade Vinaigrette Dressing (lemon juice, red wine vinegar, olive oil, honey, salt, pepper, and mint), Raw Broccoli and Carrot Salad (with Pecans, Organic Apple Cider Vinegar, Lemon, and Olive Oil), Steamed Cabbage (with Organic Chicken Broth and Organic Butter), Steamed Asparagus (with Organic Butter), Irish Soda Bread (Elana's Pantry recipe), Blue Corn Cornbread, Sea Salt Chips with Red Pepper Hummus, Food Should Taste Good Sweet Potato Chips (Original and Kettle Cooked), Rice Crackers with Sun-Dried Tomato Jalapeno Majestic Garlic Spread, Pumpkin Muffins (made using Pamela's Baking Mix), Sweet Potato Biscuits, Crustless Chocolate Chip Pecan Pie (made using agave nectar, maple syrup, eggs, soy-free Earth Balance, pure vanilla extract, pecans, and Chocolate Dream chocolate chips), Lucy's Chocolate Chip Cookies, a pitcher of Good Earth Sweet and Spicy Tea, a pitcher of Celestial Seasonings Bengal Spice Tea, a bottle of homemade kombucha tea, Simply Limeade, Simply Lemonade, pomegranate-pineapple-orange juice (virgin and non-virgin), and two bottles of wine (Malbec and Riesling).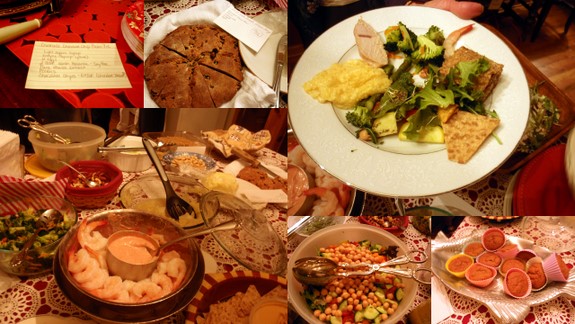 Yep, those were the meals at our last two meetings; don't you wish you could have been there for both the great food and the programs? Well, let's create our own phenomenal meal for our virtual support group, shall we? Let's see you all will contribute to our first GFE VSG meeting, by adding to the discussion and the recipes!
And, last, our Giveaway:
UPDATE: This giveaway is now closed. Congratulations to the winners.
This month's giveaway is for three prizes and there will be three winners, one winner for each prize. This giveaway is open to all. Yes, that means international readers! All that is required to enter the giveaway is a comment. (Additional entries will not be counted.)
~ The Future of Food DVD – donated by Elana (Elana's Pantry)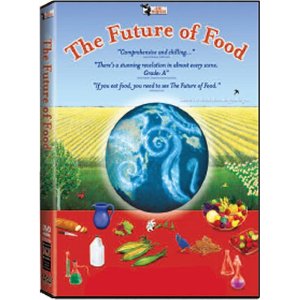 ~ The Gluten-Free Almond Flour Cookbook – by Elana Amsterdam (Elana's Pantry); donated by gfe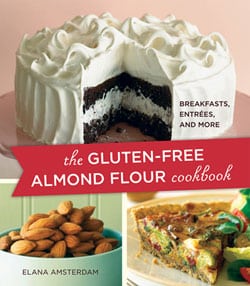 ~ Healthier Without Wheat – donated and signed by the author, Dr. Stephen Wangen of The IBS Treatment Center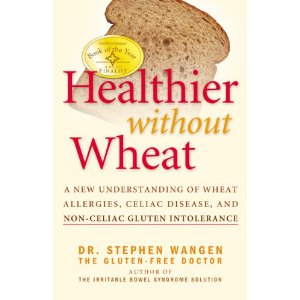 Originally published March 6, 2012 ; updated May 28, 2109.