For affiliate links and as an Amazon Associate I earn from qualifying purchases.
Today I'm sharing Kathi's Great Salad recipe with you. This six-ingredient salad has the perfect mix of crunchiness, chewiness, and sweetness to balance the salad greens. Plus, it's super easy to make. You don't even have to cut any veggies to make it!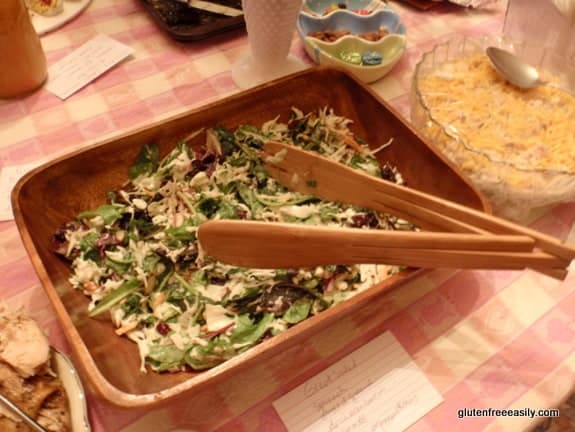 The Back Story on Kathi's Great Salad
I always welcome falling in love with new salads and new vegetables and other ingredients in them. As a child, I was really not exposed to a lot of different foods. Looking back, my mother largely prepared the foods my father liked and, overall, that was a somewhat limited menu. If my sister or I tried something and didn't like it, well, we never had to eat it again…Mom happily fixed us a quick alternative. That seemed like a wonderful thing as a child, but as I grew up I found out there were lots of foods that I'd never eaten at all before and many others that I'd never really given a chance.
When I met my future husband while I was still in college, he introduced me to steamed artichokes. Heaven…pure heaven! (Thank goodness for that one high school sweetheart originally from San Jose who introduced him to artichokes!) When I was pregnant with my son, I wanted to eat healthier, so I tried broccoli again. It soon became my new favorite vegetable.
Just last year, I finally learned to enjoy asparagus. (Grilled asparagus with a little olive oil and seasonings is incredibly good.) I suppose it's somewhat surprising that at my age I am still learning to appreciate new foods, but it also makes sense. When one goes gluten free and takes the easy approach (gfe), you consider all the foods that are naturally gluten free. Fruits and vegetables top that list. As they are so inherently healthy, it just seems like a "win-win" to add more to your menus.
At one of our girlfriend dinners a few months ago, my dear friend, Kathi, volunteered to bring a salad that she promised was great and easy to make. (Someone had made it at a potluck she'd attended and she fell in love with it. Good recipes spread as quickly as bad gossip…or "good" gossip, depending up on which camp you're in on that topic! LOL). She showed up with a grocery bag that contained all the ingredients she'd picked up on the way: romaine, spinach, cole slaw mix, almonds, dried cranberries, and Briannas poppy seed dressing. She mixed it up in a salad bowl–there was no cutting of vegetables or other ingredients involed—and in 5 minutes, it was ready!
Wow—such a great contribution to a dinner or potluck without hours of preparation needed. It was beautiful and it did taste great—a colorful combination of so many of my favorite ingredients producing a variety of flavors and a nice mix of chewiness and crunchiness.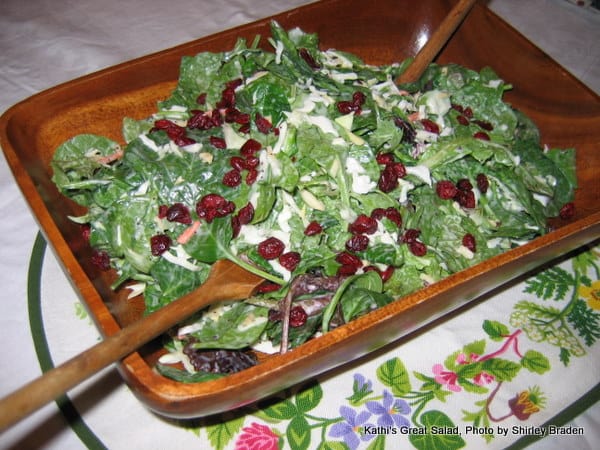 Amazingly, the ingredient that I found myself enjoying the most in the salad was from the cole slaw mix: the shredded cabbage. The pungent flavor and just the little added crunch factor were surprisingly irresistible. I had always thought I hated cabbage. I had even suppressed a frown when Kathi had brought out the bag of cole slaw mix when she first made the recipe for us.
But after eating the salad and enjoying it so much, I found myself adding the remaining cole slaw mix (the recipe only calls for a partial bag) to other salad greens for a quick salad. Sometimes, I topped the cole slaw mix with tuna salad or some sliced chicken. Every raw cabbage-based concoction I came up with was good, quite good.
The three-color cole slaw mix has now become a standard on my grocery list and a staple in my diet. (Of course, you can just purchase cabbage and do your own shredding, too.) Now, I often make my own single serving version of Kathi's Great Salad, usually only adding a few dried cranberries, substituting different nuts for the almonds depending upon what I have on hand, adding different, simple dressings like a little extra virgin olive oil (or Gluten Free Kay's delightful vinaigrette), and topping my salad with a little sliced chicken or salmon from time to time.
This salad recipe is ideal for sharing with folks who are not normally salad fans. They will try it and then surprise themselves by eagerly asking for more. For example, last night I took it to a family potluck (where the salads eaten are typically potato salad and pasta salad LOL), and it won rave reviews. I brought home just enough to enjoy for lunch today. I often prepare it for our celiac/gluten intolerance support group meetings. Group members now call it "our salad." It really is a great salad, no matter exactly how you make it or what you call it. I am so grateful to Kathi for bringing it to our girlfriends' dinner and re-introducing me to the crunch of cabbage!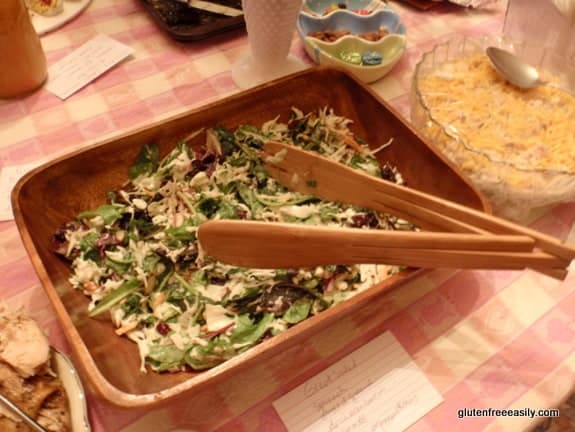 This is the salad that works for every occasion. You can even take all the ingredients to a friend's house and make it on the spot. It's that easy to make! And everyone will want the recipe because it's not only that easy, it's also that good, too! In fact, this salad turns the folks who don't normally like salad into salad lovers (well, lovers of this recipe at least)!
Ingredients
1 bag/small box of Romaine (I used one box of organic, I've also used spring mix, butter lettuce, and other greens when Romaine was not available)
1 bag/small box of spinach (I used 1 box of organic, see note above on using other greens if spinach is not available)
1/2 bag three-color cole slaw mix (shredded green cabbage, red cabbage, and carrots)
1 small package slivered almonds (sliced almonds also work)
1 small package Craisins (original flavor is gluten free per my research) or equivalent amount of dried cranberries
up to 1 bottle Brianna's poppy seed dressing or equivalent amount of homemade poppy seed dressing
Instructions
Mix all together except Craisins/cranberries. Sprinkle those over the salad once mixed (otherwise, they tend to sink to the bottom) and serve.
This salad is best eaten immediately, but it will keep fairly well for up to 48 hours (if there is any left!).
Notes
Brianna's poppy seed dressing is not certified gluten free, but the label says "No Gluten" and I find no ingredients of concern there. It's also listed on Brianna's website as gluten free.
Easy salad recipes are a great way to get kids involved in the kitchen. Usually when they participate in making something, they feel that "pride of ownership" and will excitedly dig in, as well as promote the merits of their dish to everyone else! Even more than one child can help make a salad like this one...one adds the spinach, one adds the Romaine, and so on.