For affiliate links and as an Amazon Associate I earn from qualifying purchases.
When I shared my friend's wonderful salad recipe, Kathi's Great Salad, I raved over the dressing, which was Briannas Poppy Seed Salad Dressing. It was creamy and delicious poppy seed salad dressing, with the perfect yin and yang of sweetness and sourness. At the time, I said that I needed to learn to make my own poppy seed salad dressing, Homemade Briannas Poppy Seed Salad Dressing, especially since my store would often run out of it. (Note: There is no apostrophe in Briannas. I have no idea why they didn't include one. Perhaps because it was simpler to leave it out for labeling purposes.)
Well, that was long ago and I've continued to rely on Briannas. Truth be told, I buy several bottles at once, just to make sure that I don't run out. While I'm not affiliated with the company in any way, I'm a huge fan. And I'm not alone. The following statement on their website is not at all over the top; I agree!
Believers the world over become misty-eyed as they describe their love for this incredibly delicious recipe. Words like "incredible," "terrific" and "addictive" only begin to capture the adoration this dressing enjoys.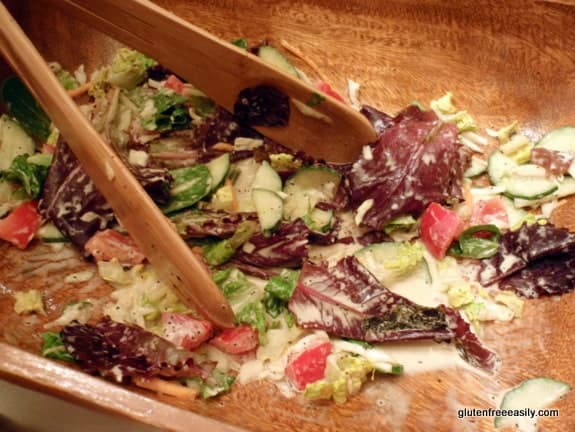 I certainly know that everyone I introduce to this dressing loves it. After all, it has a tangy, sweet and sour vibe going for it, plus Briannas poppy seed salad dressing is gluten free, dairy free, egg free, and soy free. The ingredients are: canola oil, sugar, water, white onions, white vinegar, salt, apple cider vinegar, poppy seeds, mustard flour, xanthan gum, tocopherols (natural antioxidant — vitamin E), and citric acid. (Note that mustard flour is simply one name for ground mustard seed; there is no gluten-full flour or any other type of flour included.) For a "store bought" creamy dressing, having those characteristics of gluten free, dairy free, egg free, and soy free together is a rarity.
Creamy poppy seed dressing is such a gift in the salad department. It's fantastic on green salad, fruit salad (Brianna's especially recommends it for peaches), and even as a standalone cole slaw dressing (Mr. GFE loves it used that way).
So when Linda issued her Create a Salad challenge, which also included dressings, making poppy seed dressing was once again on my mind. There are many recipes online for poppy seed dressing, but most are super vinegary with lots of oil. Those don't come close to Briannas Poppy Seed Dressing and really are not what I'm after. Last night at our support group meeting, with the help of member friends, we made a terrific green salad. I hadn't had time to stop by the grocery store and pick up Brianna's dressing. One can only stock up so much as my grocery store rarely puts out more than four bottles at a time. (They should have it occupying the space of several dressings as it sells like proverbial hot cakes. This kind of stupidity is the reason that businesses suffer financially, but I digress.)
I looked to the ingredients I had on hand: unsweetened almond milk, mayonnaise, vinegar, coconut sugar, and of course, poppy seeds. I'd add a little, blend a little, and then taste. Then I repeated until I was pleased that the results weren't too sweet or too sour. The results were very good. This Homemade Briannas Poppy Seed Salad Dressing is slightly different in taste and texture from Brianna's Poppy Seed dressing but, again, it's very good.
The dressing and the salad (a variation of the Great Salad) got raves from the group. We had a hungry crowd to feed so I was only able to grab a photo of this Homemade Briannas Poppy Seed Salad Dressing on the salad once it was on the table (from a distance) and a close-up when it was almost gone. Clearly, my members liked it!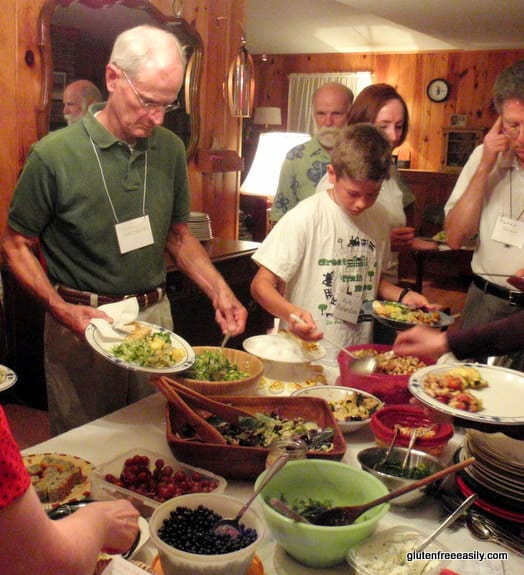 Our theme last night was cold foods so we had lots of fruits, vegetables, and salads, plus some other fare (both cold and hot) like tilapia, deviled eggs, goat cheese, and risotto. Everything was excellent and made suitable fare before our presentation and baking demo by Brooke Parkhurst of Triple Oak Bakery. (Update: Sadly, this bakery is no longer operating.) Brooke brought some free samples and other treats for members to buy (chocolate chip cookies, pecan brownies, and lemon poppy seed cake), but eating her blueberry scones warm out of the oven seemed like pure indulgence and the perfect way to end our meeting. We are a spoiled bunch!
Here's your recipe (below this photo of my plate of goodness). Be sure to check out all the other recipes over at Linda's (Gluten-Free Homemaker) Gluten-Free Wednesday event. You'll find some entries for her Create a Salad event for sure, but many more delicious entries, too … like grain-free chunky monkey muffins, a review of ice pop molds (what says summer more than popsicles?), and strawberry limeade.
More Creamy Gluten-Free Dairy-Free Salad Dressings You May Like
~ 5-Minute Paleo Ranch Dressing
~ Vegan Green Goddess Dressing
Homemade Briannas Poppy Seed Dressing Recipe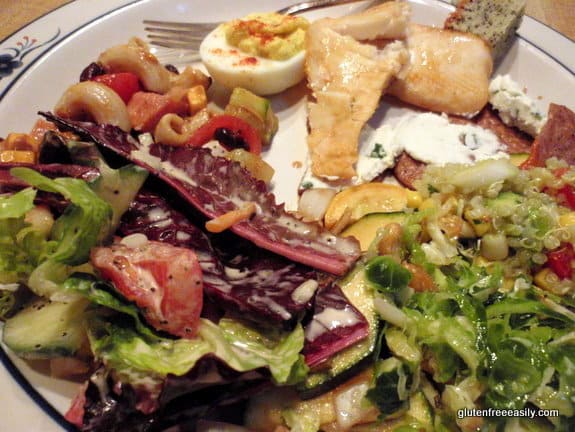 Yield: 2 cups
Homemade Briannas Creamy Poppy Seed Salad Dressing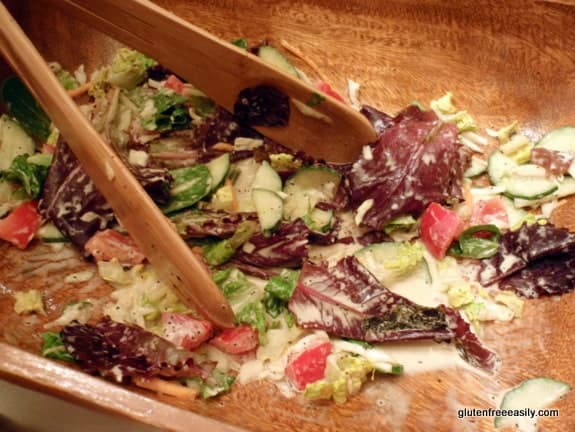 No longer do you have to worry if there will be Briannas Poppy Seed Salad Dressing on the grocery store shelf, you can simply make your own version!

Prep Time 10 minutes

Total Time 10 minutes
Ingredients
½ cup unsweetened almond milk (or dairy milk)
3/4 to 1 cup mayonnaise (more or less depending upon thickness desired; see notes for soy-free, vegan option)
1/3 cup coconut sugar (or granulated sugar); adjust amount to taste
2 tbsp vinegar (either white or apple cider vinegar will work; the latter may be a tad stronger)
about 1 tsp Dijon mustard, optional (I added about one squirt of my Grey Poupon)
1 to 2 tbsp poppy seeds (per your taste)
Instructions
Add ingredients to blender in order shown (to prevent unnecessary sticking of ingredients to bottoms and sides of blender). Blend on high for about 30 seconds or so until fully blended.
Makes about 2 cups. Will keep in refrigerator for several days.
Notes
For an egg-free version, use Soy Free Vegenaise (which is also gluten free and vegan).

Coconut sugar gives this dressing a café au lait coloring versus the usual very white "background" color.

Granulated sugar should produce a dressing that's whiter in color, although almond milk also contributes to the off-white appearance of this dressing.

I buy McCormick 100% organic poppy seeds.

Originally published June 29, 2011; updated January 13, 2022.