For affiliate links and as an Amazon Associate I earn from qualifying purchases.

When gfe reader Cindy Winther recently won a copy of Silvana Nardone's cookbook, Cooking with Isaiah, both the comment she left on the post and her email reply intrigued me. She said that not only was she excited to try Silvana's recipes herself, but she'd also be making them with the preschoolers that she teaches on their "baking days."
I inquired further and Cindy told me that her baking days are another way she is teaching children about diversity and teaching children to support others with food allergies/intolerances. I was truly moved and delighted to hear of Cindy's approach. I asked Cindy to do a guest post on the topic because I think that each of us has opportunities to use this same type of approach with all the children with whom we interact.
Cindy has a degree in Early Childhood Education and has won several teaching awards including the Governor's Quality Care Award and a Diversity Champion Award. Her teaching ideas have been published in several books by Gryphon House. Cindy hopes to write her own books on how to teach children tolerance and understanding. Cindy also teaches workshops on the topic of teaching diversity to young children.
That's just a little about Cindy. She's a very sweet and caring person who is doing an amazing job with her preschool students. I'll let her tell you more about herself and her teaching approach. I'm truly thrilled to have her sharing with us all today!
Teaching Children To Support Others with Food Allergies/Intolerances
I was very honored when Shirley asked me to write a guest post on teaching children to support others with food allergies/intolerances. I am very passionate about teaching tolerance for food issues with the preschoolers I teach.
I would like to share a little background on myself. First and foremost I am a proud mom of three adult children, Scott, Michelle & Megan, and their significant others: Melissa, John & Nate; as well as doting grandma to Kaylin and Kamryn.
I'm a preschool teacher and director of my own business, Sunny Day Preschool in Lake Orion, MI. I have taught preschool for over 25 years and still love to go to work/play each day.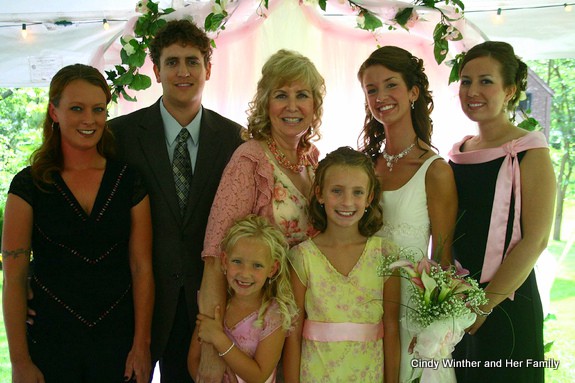 Cindy Winther (center) and her beautiful family on her youngest daughter's wedding day
I have always had an interest in teaching diversity and anti-bias to preschoolers. I really feel teaching tolerance and compassion for others starts when they are young.
With a little careful thought we can all make a difference whether we teach preschool, Sunday school or really any interaction with children. I actually thought I was doing a great job until I took an anti-bias class at Baker College. It opened my eyes and made me realize I wasn't doing enough.
I set a goal for myself to incorporate diversity in every aspect of my curriculum – from art to dress up to books and wall hangings. Part of our school's mission plan is to teach acceptance of others regardless of their race, religion, age gender or culture.
I expanded it to food issues about 15 years ago when there was a HUGE uproar in our small town over the local elementary school deciding to become a peanut-free school because of a child that had enrolled with an airborne peanut allergy. There were protests and angry letters to the editor of our local paper against the school becoming peanut free for one child.
I was shocked to say the least at the reaction of people. I could not understand how they could not put themselves in the child's position.
Would they want to be excluded from a life of friends and the experience of school because of something they had no control over? I think not. Luckily, the school board held fast to their decision despite the uproar and made the school peanut free.
I started to talk about food issues with the children at circle time or when baking. I read stories that deal with anti-bias issues and also keep books on our book shelf for the children to look at that show inclusion of all types.
Your local librarian can be a great asset in finding books on the subject. Some titles you may want to check are: Cillie Yack is Under Attack: A Story about a boy with celiac disease by Caryn Talty and No Nuts for Me by Aaron Zevy.
In the last 10 years I personally have seen a huge increase in the amount of children I have attending that have food allergies–to nuts, eggs, dairy. We bake each week with our four-year olds. If we have an egg allergy we use an egg substitute so that child will not feel excluded. Whatever the food issue–we accommodate it.
I myself was diagnosed with celiac 2 ½ years ago so I now have the unique perspective to really understand how it feels to be excluded. It's not a good feeling.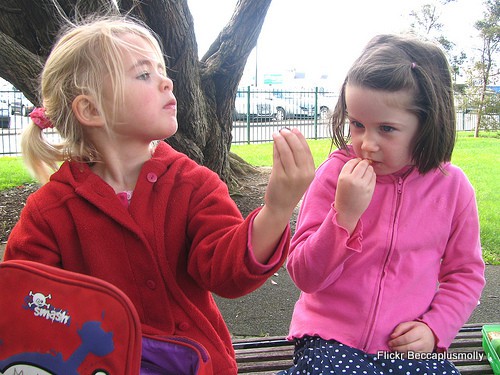 We teach the children to care about their friends with food allergies by having them say before we serve snack "is this food safe for Estevan or does it have peanuts?", for example. We always respond with "thank you for caring about your friend and reminding him to check for nuts".
Our goal with this is two-fold, first to teach caring and compassion of their friends and secondly to help the child with food allergies learn how important it is to check the food content before they eat. Of course now they always say "does this have gluten, Miss Cindy?"
At the Play-doh table when they make me a "muffin" they will say "it's gluten free." I love it!
Last year one of the children drew a picture of a birthday cake at home for me and when she brought it to school her mom said "she wants you to know that it's gluten free." 🙂 Too cute.
My goal with this is to make it second nature to the children so when they are in elementary school and they are sitting next to someone at lunch with a food issue it will be no big deal to them. I know for a fact my approach is working.
This year I have had at least five children ask their parents if they can bring in a gluten-free snack because "I want Miss Cindy to get to eat snack with us. She never gets to eat our snacks." That really touches me.
The biggest lesson I learned in my anti-bias class is to not look the other way when you see bias of any sort. Bring it out in the open.
When you see a child hurting someone with words or by excluding them – use it as a teachable moment. Talk about it. As adults we have the power to make a difference for our future generation and raise them to be tolerant and compassionate of others no matter what their differences are.
Shirley here: Imagine all our children graduating from preschool with these values of tolerance and kindness already instilled, like Cindy's Sunny Day Preschool students. Let's follow Cindy's lead and use any occasion that we're dealing with children (e.g., coaching recreational sports, being the "snack mom") as an opportunity to actively demonstrate the importance of accepting others and their food concerns, ensuring that accommodations are made so that all may eat safely and without exclusion.
Other Personal Stories and Discussions on Living Gluten Free and "More Free"
~ Be Like Annie and Support Your Gluten-Free Friends
~ Five Things I Love About Gluten-Free Expos and One I Don't
~ Stop Eating "Gluten-Free" Cheerios
Originally published June 27, 2011; updated July 10, 2018.