For affiliate links and as an Amazon Associate I earn from qualifying purchases.
Today's Blueberry Banana Foamie, aka Blueberry Banana Smoothie, is my latest attempt to become fond of blueberries. I admit it … I'm still working on my love of blueberries.
Well, I should say that I'm still working on my love of several fruits. Even the beloved strawberry. It's a texture and seed thing you see. Yes, I made a stunning Blueberry Honey Pie with Honey Whipped Cream last year and I—and everyone else—truly enjoyed it.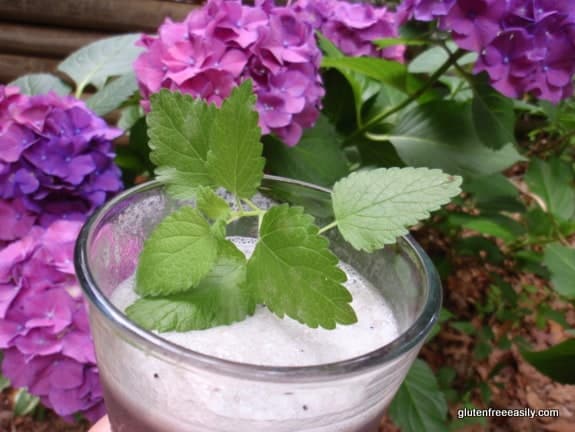 Especially Mr. GFE … who set a new personal record for pieces of pie consumed in one sitting. In the end, I just handed him the pie plate and a fork. This is a man who usually declines dessert day in and day out. But I digress.
Still, I hadn't been compelled to buy more blueberries until a few days ago. I had commented on Debi's lovely Peaceful Purple Ice Cream that blueberries still weren't really my thing. Debi replied: "No blueberries for you? So sad, Shirley! I hope the time comes where you do like them."
Well, I pondered Debi's comment and thought to myself that my chances of learning to love blueberries were pretty slim unless I actually did start eating them. I decided to start with a recipe where texture wouldn't be a concern—a smoothie.
I made my recipe simple as well as naturally gluten free and dairy free. I added some coconut water, almond milk, banana, soaked dates, and blueberries to the blender and blended at high speed for a minute or two.
The resulting beverage was light and foamy; I loved it. And while you could sip some coconut water, drink some almond milk, eat a banana, and snack on some blueberries and even dates, this "foamie" is a much better delivery method for all!
I love that this foamie is such a treat, but so healthy, too. One always feels extremely satisfied when those two requirements come together.
Oh, and if over the course of the day you drink the whole blender full, it's no big deal at all. In fact, it's a good thing.
I've also made a blue-green variation of this Blueberry Banana Foamie using only a super ripe banana, a handful of baby spinach, and doubling the amount of coconut water.
No almond milk or dates were needed. Never be afraid to play around with smoothies or "foamies," but if you need some "one size fits all" type guidance, Nancy (The Sensitive Pantry) has a great little formula for making Simple Summer Smoothies! I also like Kim's (Cook IT Allergy Free) printable 4-Step Smoothie Building Formula. (I printed it out and taped it to the inside of the cabinet above my blender because sometime I get in a smoothie "rut" and forget ingredients that I have on hand that would be ideal smoothie additions.)
Here's my original Blueberry "Foamie" recipe. Enjoy!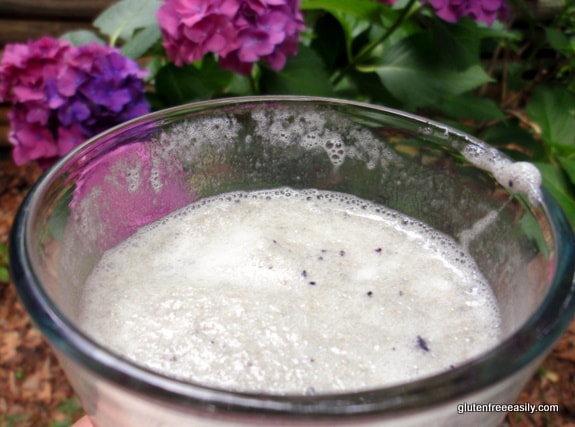 Blueberry Banana Foamie (aka Blueberry Banana Smoothie) Recipe
Yield: Makes about four 8-ounce servings
Blueberry Banana "Foamie"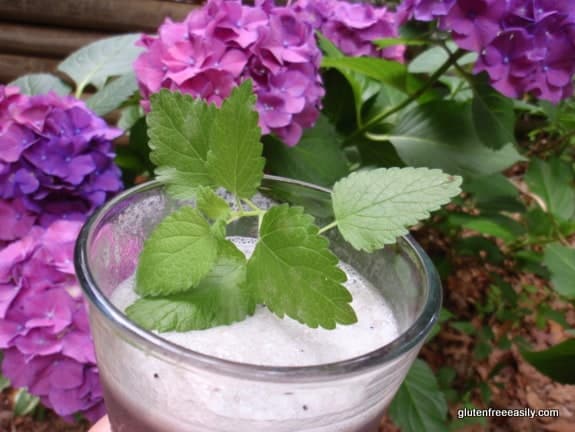 Just a handful of ingredients make this Blueberry Banana Foamie, which is lighter than most smoothies because light and refreshing coconut water is used.
Ingredients
1 cup coconut water
1 cup almond milk
1 frozen banana
2/3 cup blueberries, washed
2 dates, pitted (use soft, fresh dates or soak them for a non-raw version of this recipe; see notes)
Instructions
Add all ingredients to blender. Blend 1 to 2 minutes until ingredients are incorporated enough for your taste. Sip away!
Notes
*Dates that have dried out and hardened some should be soaked in boiling water for 5 minutes or so, drained, and then added to the recipe.
Originally published June 24, 2011; updated July 23, 2018.