For affiliate links and as an Amazon Associate I earn from qualifying purchases.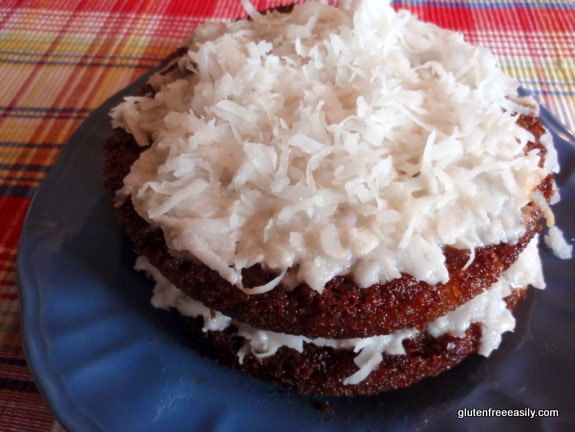 As I pondered what to make my dad for Father's Day, several inspirations and considerations were whirling through my head: Go Ahead Honey, It's Gluten Free for June and Father's Day hosted by Aubree (Living Free); Iris' Birthday Cake Challenge; Kim's delightful Mini Pineapple Upside Down Cakes, Ricki's totally impressive Strawberries and Cream Triple Layer Cake with "White Chocolate" Covered Cookie Crumbs; my Honey Whipped Cream from the Blueberry Honey Pie recipe (by the way, Iris has recreated this pie using stevia—stay tuned), other layered cakes like Kelly's stunning Strawberry Birthday Cake; my chocolate chip variation of Winnie's Coffee Almond Cookies; and even more. In my mind's eye these were multi-colored, high-speed thoughts … going up and down, left and right at disturbing speeds, much like one experiences when taking a ride on Space Mountain. They all seemed to be accelerating and colliding as I got into bed on Saturday night. In fact, it took quite some time to settle down and go to sleep.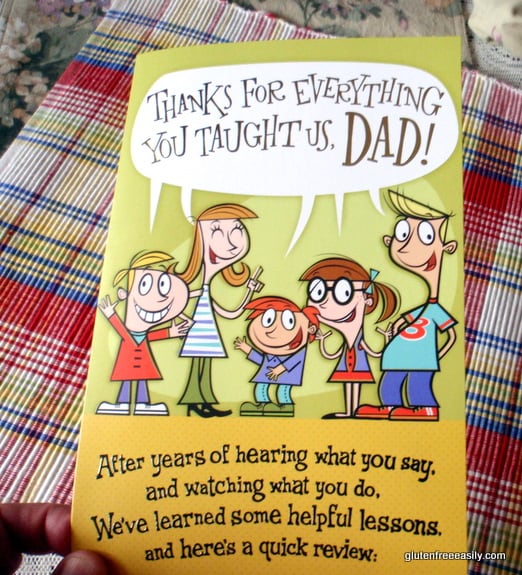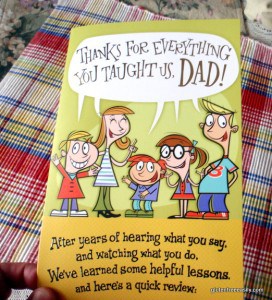 I was hoping the tried and true advice to "sleep on it" would do the trick and it did. Oh, I still waffled a bit on Sunday morning as I was looking for a quick and easy as well as tasty solution, so I queried my gfe Facebook friends that morning. "Should I make a layered version of pineapple upside down cake or a different version of chocolate chip cookies?" Responses were few; after all it was Father's Day. Most voted for pineapple cake. One person voted for the chocolate chip cookies and I briefly thought about going that route. Mr. GFE and I love those cookies, but it was Dad's day, Mr. GFE was away, and I checked the pantry to find only about ¼ cup of chocolate chips. So pineapple cake it was going to be. That was just fine as my sister had reminded me earlier that pineapple upside down cake is one of my father's favorites.
I envisioned a pineapple cake slightly larger than Kim's mini versions … not a full size cake, but not ramekin size either because I also wanted to make my cake a layered one so I could use frosting, specifically coconut frosting. Dad loves all things coconut, too. And with frosting, it wouldn't have to be a true pineapple upside down cake would it? No, that seemed like such a waste of that pretty, glazed, pineapple-laced surface. The whirling thoughts resumed and I suddenly remembered a pineapple cake I'd made years earlier. I'm fairly certain that the original recipe was one that had been posted on the celiac listserv. After a few dead ends in locating the recipe, I found it on our oldest computer. I was very pleased to see that the recipe was naturally dairy free, too. A few thoughts and notes later and I had recreated the recipe to be healthier with almond flour, and tastier by using some brown sugar and maple syrup (thank you for that latter idea, Kim!). I also used Kim's tip on adding coconut oil to my baking dishes and preheating all before adding the batter.
I used my old, but still functional (and highly valued to me) Corning Ware Sidekick dishes, which are 5 inches in diameter. I made two identical pineapple layer cakes and frosted them with Maple Coconut Whipped Cream Frosting. This frosting couldn't be simpler. It's a variation of the Coconut Whipped Cream that Diane created last year for our Oscar Progressive Dinner Party. I've made this whipped cream numerous times with slight variations and it always works perfectly and really it couldn't get any easier for homemade gluten-free, dairy-free topping/frosting. One simply whips the "coconut cream" that forms on the top of a can of coconut milk that has been refrigerated at least overnight and adds sweetener. Honey, agave nectar, confectioner's sugar, and maple syrup all work well. (I've even added spices like cinnamon before to this whipped cream.) This is a very versatile topping that can be used any way whipped cream would be used. I kept with the maple syrup theme following Kim's guidance and used very little of it as I was adding already sweetened coconut flakes. I followed Ricki's lead and only frosted the tops of each cake layer so the lovely golden brown sides of the cake show.
Recipes for both the cake and frosting are shown below. One of these cakes disappeared very quickly at Mom and Dad's house. The reviews?
Dad: "That's some good cake. Thank you!"

Mom: "That is excellent cake."

Sister: "Yummy!! Reminds me of Hummingbird Cake."

Niece: "That's really good!"

Me: "I should have kept one of these cakes for myself!"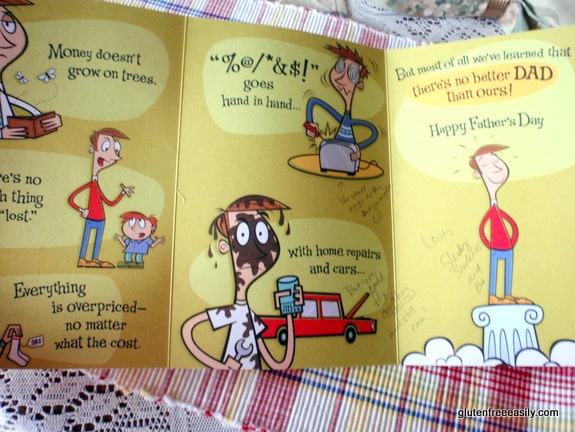 Incidentally, Dad got a really big kick out of the Father's Day card I gave him, moving it into the living room to re-read more than once after we had finished eating. So I thought I'd share that with you, too. Pineapple Layer Cake with Maple Coconut Whipped Cream Frosting and a goofy card–both that Dad loved–made for a sweet and memorable Father's Day! And this cake works for Aubree's Go Ahead Honey June theme of You Love Him, So Spoil Him and Iris' Birthday Cake Challenge … maybe I'll even make this cake again for Dad's birthday. (I'm pretty sure he won't protest.) Orrrr I could make it for my own birthday in a few weeks … now that's an idea!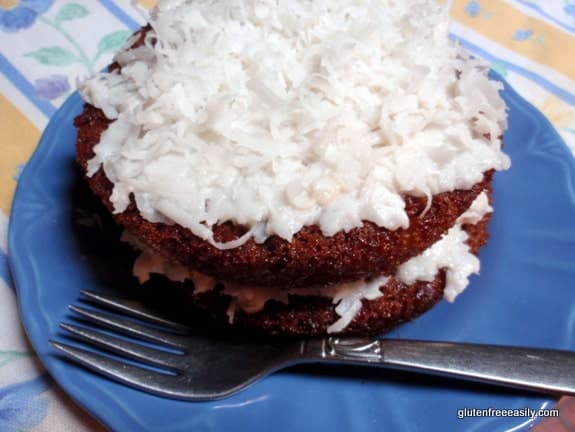 Yield:
Gluten-Free, Dairy-Free Pineapple Layer Cake with Maple Coconut Whipped Cream Frosting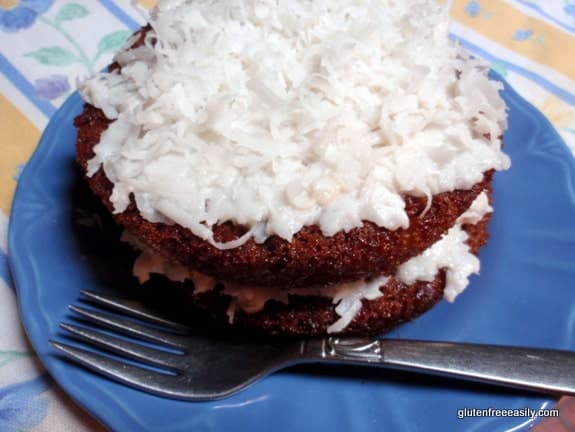 Ingredients
Pineapple Layer Cake Ingredients
1 1/3 cups almond flour
2/3 cup gluten-free all-purpose flour mix*
1 1/3 cup brown sugar
2/3 cup granulated sugar
2 ½ tsp baking soda
2 large eggs
2 tsp maple syrup
20-ounce can crushed unsweetened pineapple, with its own juice
Maple Coconut Whipped Cream Frosting Ingredients
1 cup coconut "cream," from a chilled can of full-fat coconut milk (read more below)
1 ½ to 2 teaspoons maple syrup (adjust to desired sweetness, may need more if using unsweetened coconut flakes)
Handful of coconut flakes (I used sweetened)
Instructions
Cake Instructions
Preheat oven to 350 degrees. If using small baking dishes, add about ½ tsp coconut oil to each turning them carefully in your hands to ensure oil coats sides. If using a 9 x 13 pan, add about a teaspoon of coconut oil and tilt and coat sides of pan the same way. While mixing ingredients, place your baking dish(es) in preheated oven for 5 minutes.
Mix dry ingredients in large bowl. (FYI: A wooden spoon will work fine for all of your mixing.)
Add eggs and mix well.
Add maple syrup and pineapple with juice. Stir the latter just well enough so that ingredients are mixed.
Pour batter into prepared, hot baking dish(es). (Be cautious. It's easy to forget that dishes are already hot and will burn you if you touch them.)
If using smaller baking dishes, bake for about 25 minutes. If using a 9 x 13 pan, bake for about 30 to 35 minutes. (Check at 30 minutes.)
Remove from oven and cool for about 5 minutes. Use a heat-proof spatula to loosen cake layers, remove layers from dish(es) and place on wire rack. Cool completely.
Frosting Instructions
The day before, chill one can of coconut milk, your mixing bowl, and beaters in refrigerator. (I try to keep 2 cans of full-fat coconut milk in the refrigerator at all times for making ice cream and whipped cream. I've made the frosting without having the bowl and beaters chilled, but it works best if they are.) Skim about one cup of the "coconut cream" off the top ... that's what I'm calling the thick, non-liquid substance that forms when you refrigerate full-fat coconut milk for at least 24 hours in the coldest part of your refrigerator. Add the coconut cream to a chilled bowl. Whip coconut cream with chilled beaters until it reaches its whipped cream state. Gradually add maple syrup. Whip again until it turns to whipped cream with at least soft peaks remaining when you stop whipping. Stir in coconut flakes or sprinkle them on top of whipped cream after spreading on each cake layer.
Notes
Ramekins can be used if you want a much smaller layered cake or even several single-layered cakes with frosting. If you'd prefer to use gluten-free all-purpose flour, omit the almond flour and use 2 cups of gluten-free all-purpose flour. If using gluten-free all-purpose flour, you may need to add an additional 5 minutes of baking time. When made with almond flour, the cake (or layers) will be thinner than if made with gluten-free all-purpose flour. They will also be denser and moister. I cheated (as I usually do) and placed my layers in the freezer for a few minutes to expedite cooling. While I've never made this cake egg free, I believe it will work with the usual egg substitutions. I used a new brand of coconut milk, which didn't yield my usual fluffy whipped cream. Your frosting results may look slightly different and hopefully better!* I still can't tolerate many of the healthier, gluten-free flours; e.g., sorghum, buckwheat. Therefore, my gluten-free flour mix is 3 parts Asian white rice flour and 2 parts cornstarch. I gently mix three one-lb bags of the Asian white rice flour and two one-lb boxes of cornstarch in a very large bowl and then store the mix in several airtight containers (like large glass jars). No refrigeration is needed. But feel free to use whichever gluten-free all-purpose flour mix you use most often for your baking.