For affiliate links and as an Amazon Associate I earn from qualifying purchases.
The sun, these Gluten-Free Brown Sugar Chocolate Chip Cookies, Dad. If I had been a contestant on the "Pyramid" game show hosted by Dick Clark, and those were the clues I had been given, I would have called out "Things You Can Depend On!" or maybe "Things You Love!" … either way, I would have been correct.
Dad worked for government civil service before he retired at the U.S. Marine Corps base at Quantico, Virginia. Specifically, his title was "wood craftsman," and he worked in the "Cabinet Shop," and, sometimes, the "Furniture Repair Shop."
He wasn't just building basic cabinets or repairing run-of-the-mill furniture all the time though. His cabinets were display cabinets for the Smithsonian Institute in Washington, D.C. And, the furniture he repaired was Queen Anne tables in the White House.
Dad excels at woodworking and building furniture. In our house, we are fortunate to have a rocking chair and two bookcases he made during those years.
He frowned when I bought a needy Duncan Phyfe dining room table for $50 as a single girl, but he repaired it and refinished it for me and it remains our dining room table.
When we had our house built, I wanted a special kitchen counter built with two levels—counter height and table height (not bar height)—plus an inset bookcase at the end for my cookbooks. He implemented my idea beautifully and with the assistance of Mr. GFE created our wooden kitchen ceiling with beams on either side of the skylight.
Even Son now has some of his grandfather's woodworking in his apartment—Dad's gorgeous 4-foot by 2-foot walnut frame beautifully frames a painting hanging over his mantle.
It's fitting that Dad earned his livelihood at Quantico … a payback of sorts.
Dad was born to a farming family a few years after the Depression began. His family was a rather large one with only boys surviving infancy. When he was 11-years old, his family's farm and the land of all of their neighbors—51,000 acres— were "acquired" by the government for the expansion of the Quantico base.
My dad grew up hunting and fishing. He still hunts on the base property via permit each year. He knows and loves the land so well. Streams, old foundations, the large trees that shaded the yards, flower beds of daffodils and irises, and other landmarks that remain guide his way.
Dad's knowledge and talents extend to just about everything. He is a common-sense fellow. Even today, Mom and Dad rarely need to call a repairman for work at their home; Dad takes care of it instead.
My sister and I chuckle because we have confessed to each other that when our husbands balk at fixing something, we both say, "That's okay. I'll call Dad." But, before you feel too sorry for our husbands, they are often in on the act, too.
Just the other day, our lawnmower died and Mr. GFE said, "I need to talk to your Dad." Even the grandchildren are often heard saying, "I'll go ask PaPa." Our son's coffee table collapsed on one end and Dad just made a replacement part to repair it.
There's just not much that Dad can't fix or help out with.
I'm fortunate that I was the oldest of the two of us. That meant when Dad needed a hand with something and my Mom was occupied with my little sister, I was the one who got to be Daddy's assistant. Frankly, the tasking wasn't always pleasant or fun, but it did give me experience that most girls did not acquire.
Hence, I am more mechanically inclined than some. For example, I've had my own toolbox for years and it's definitely not pink with a few token tools. Thanks to Dad's guidance, it's loaded with screws, nails, pliers, wood putty pencils, etc. I am really quite well equipped.
As you might imagine, Dad shrugs off our praises, but it's clear he takes great pride in his accomplishments. If we mention a problem to him, if there's any chance he can help, he doesn't rest well until he has.
For Father's Day, we took my dad a gift card to Cracker Barrel, his favorite "everyday" restaurant. And, I took him cookies—brown sugar chocolate chip cookies.
These are the cookies I count on to make everyone happy. No matter the occasion, if I ask what I can bring, I'm told, "Please bring your chocolate chip cookies—we all love those cookies." Dad likes all my cookies and baked goods, but especially the brown sugar chocolate chip cookies.
Mr. GFE and I saw my parents today. (Yes, they were here so Dad could help us with a project! LOL) As they were leaving, Dad said he was going home to eat some more of "my cookies." That does a girl good to hear her Dad say that … probably as much good as it does for a Dad to help his daughter.
You're the best, Dad. Thank you always, for everything. I love you.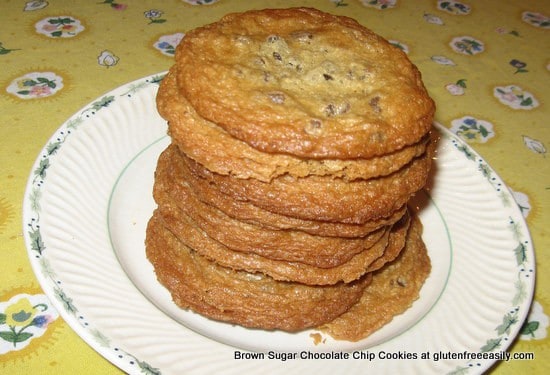 It's no fib that I've been making these cookies that originated from Alexis Stewart (daughter of Martha) for a good 25 years (or more). I think when the recipe was first published, Alexis was only a teenager.
I tried making these cookies after going gluten free with most of the standard gluten-free flour mixes on the market. The results were disastrous and frustrating. Finally, when I heard about the Asian white rice flour and cornstarch mix—which is now my "go-to" Two-Ingredient Best Gluten-Free Flour Mix—I decided to give it a try and was rewarded with cookies that tasted so close to my gluten ones that life was good again.
As wonderful as they are, these cookies can be a tad mercurial, so all batches will not be the same for thickness or doneness, but they will all be outstanding. Do not discard any that don't look good enough. They will all come out very flat. See the photos of both the pretties and misfits—all taste fantastic!
They are butter and brown sugar goodness highlighted with chocolate chips, but they are also a rare cookie combination of crunchy and chewy. They look appealing for sure, but when you pick one up to try you have no idea of the treat that's in store.
I submitted these cookies to a contest of sorts held last July 4th for our local newspaper. No first, seconds, or thirds were given, but they were rated "one of the best"! My final advice—make these for a group and don't obsess with the fat and calorie content.
I've since created a variation, Gluten-Free, Dairy-Free Brown Sugar Chocolate Chip Cookies., made with oil instead of butter. I think they might even be just as good as the original, but are a little bit chewier and less flat.
If you prefer the buttery taste (and really who doesn't?), you can also make these gluten-free Brown Sugar Chocolate Chip Cookies without dairy by using Earth Balance Soy-Free Buttery Spread (pink/red tub) instead of butter.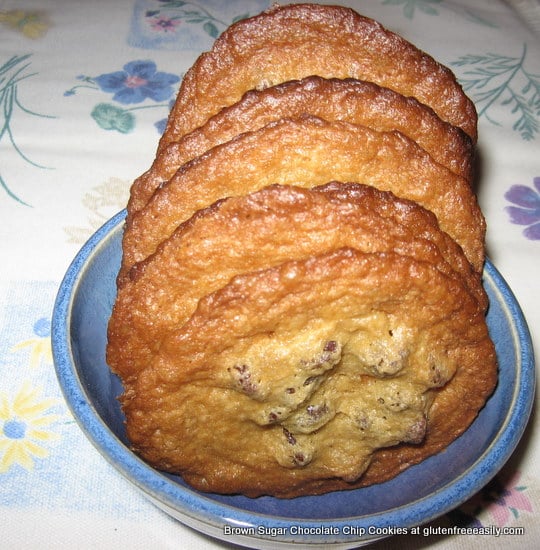 Gluten-Free Brown Sugar Chocolate Chip Cookies Recipe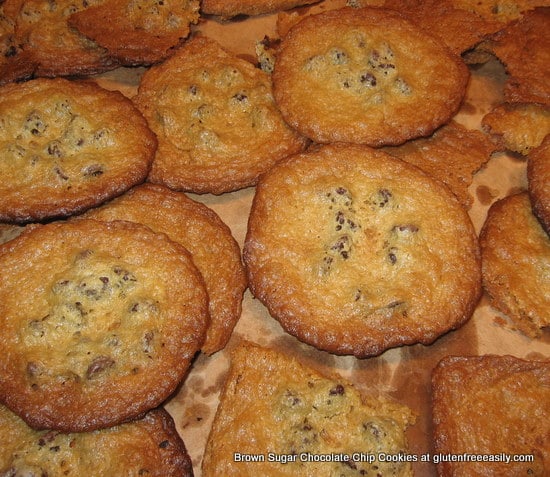 Yield: About 24 cookies
Gluten-Free Brown Sugar Chocolate Chip Cookies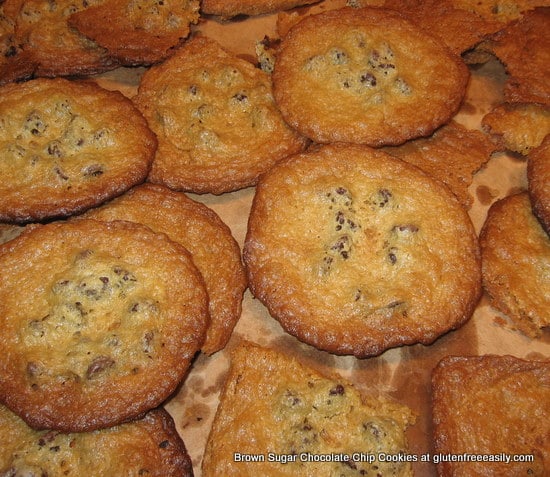 These cookies are the very best chocolate chip cookies--gluten free or gluten full. Seriously, they've won awards!

Prep Time 10 minutes

Cook Time 9 minutes

Inactive Time 20 minutes

Total Time 39 minutes
Instructions
Preheat oven to 375F degrees.
Lightly grease baking sheets or line with parchment paper.
In a large mixing bowl, beat butter until smooth. Stir in brown sugar and granulated sugar until well combined and smooth.
Beat in eggs and vanilla until fluffy.
In a separate bowl or very large measuring cup, sift together flour, cornstarch, and xanthan gum (or gluten-free all-purpose flour mix--see notes); baking soda; and salt.
Stir flour mixture into butter mixture slowly until well combined.
Stir in chocolate chips.
Drop 2 tbsp of batter for each cookie onto baking sheet two inches apart. (You must follow the spacing rule: these cookies spread a lot and as noted are a flat half chewy, half crisp cookie.)
Check cookies after 3 minutes. If they seem to be cooking quickly, reduce temperature to 350F and bake 5 to 6 minutes more. Otherwise, continue baking 5 to 6 minutes more at 375F.
Let set further on baking sheet for maybe a minute or so after removing from oven to firm up if needed.
Remove from baking sheet to cool.
Notes
*Or use my Two-Ingredient Gluten-Free All-Purpose Flour Mix in place of both the white rice flour and the cornstarch. This recipe will NOT work with some other all-purpose gluten-free flour mixes like Bob's Red Mill (bean flour mix) or Bette Hagman's mix. Other flour mixes not mentioned might work, but I can't guarantee that. Finally, it's been my experience that these cookies fall apart if a baking stone is used.

If these cookies get too hard on the baking sheet and can't be removed easily, return to the oven for maybe 30 seconds. You may have to clean spatulas (I alternate between two) and even wipe off baking sheets of crumbs between batches.

I cool on opened brown paper bags to help absorb extra grease.

Adapted from Alexis Stewart (daughter of Martha). This recipe appeared in Family Circle or Woman's Day as "Martha's daughter's favorite cookies" (as I recall). There's another dairy-free version of this recipe here.

Originally published June 24, 2009; updated February 10, 2023.