For affiliate links and as an Amazon Associate I earn from qualifying purchases.
Yes, I'm finally going to share my dairy-free version of my Brown Sugar Chocolate Chip Cookies. Well, I'm going to share two gluten-free, dairy-free versions actually. But first, I'm going to talk about why I haven't written a post in a while.
"The main thing in life is not to be afraid to be human." ~ Pablo Casals
Pablo Casals was one of the greatest cellists of all time. I didn't know that until I looked up this unattributed quote from my daily perpetual calendar. But it seems to me that cellists and any truly great musicians would always embrace being human and display that by the passion of their playing. Casals' quote was displayed on my calendar on January 3, two days after we came home from our wonderful family vacation to Key West and discovered that our home had been burglarized. A side door that would not succumb to the thieves' persistent tampering was instead kicked in. It was a steel door, but in a wooden door frame/jam, and as the saying goes doors and locks are for honest people. The door assembly eventually succumbed. One of our windows was also destroyed. Sadly, the truth is that the bad guys can always get in. Don't think about that too much. Believe me … I know it's disturbing. I'm not trying to be Debbie Downer. Most of the time all is good and we don't have to worry about such occurrences; thank goodness, and I know there are far, far worse things than being robbed. Yes, we lost "stuff" and valuable stuff, but we are all fine and our dog and cat are fine and for that we are grateful. This, too, shall pass.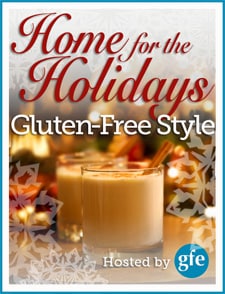 I started my Home for the Holidays event a little late this year, but I had lots to share and planned to somehow throw all these posts together and get them published—reviews, giveaways, recipe roundups, etc.—but as Christmas and our planned vacation closed in, I just wasn't feeling it. I wanted to spend time with my family without worrying about a schedule. And while I could have slapped a few posts together and put them up, you wouldn't want to read those. (Really … you don't want to read posts that I "phone" in.) I figured I'd get back to blogging towards the end of our vacation week. But that time came and went and I was still happy to be with my family without posting on my blog.
I did start checking in on Facebook, Twitter, and Pinterest and kept up with posts on my new gluten-free desserts blog (All Gluten-Free Desserts … All the Time—love this blog where I can share all the best gluten-free desserts recipes of amazing bloggers!) and that was enough. I had come up with a revised plan for picking up where I'd left off and I was satisfied. I figured that once I got home, I'd pick up the blogging pace as well as share some special, end-of-the-year recaps and first-of-the year posts. But, of course, we were faced with the burglary and all that has entailed the moment we came home. And, over time, I've learned that I simply cannot blog when I'm upset about challenges in my personal life. I'm truly one who wears my heart on my sleeve and as talkative as I am here on gfe, I do not want to pour out all of my soul on my blog. There have to be some boundaries, and the boundaries don't come into play just when something bad happens. For example, sometimes I plan on sharing a particular travel adventure or dinner outing here on gfe and then pull back from doing so. I will suddenly feel shy about sharing out special family times and want to hold them close to my heart.  That doesn't mean I won't share such posts in the future. I absolutely plan on sharing many of them—most of them even—but sometimes I feel my world is too "open" and I want to, and sometimes do, pull back.
December 31 marked my 4th anniversary of blogging. I had intended to share some of what I've learned about blogging in a clear and mostly concise, but very celebratory, post and thank you for your readership. Right now, I just can't write that post. I simply don't have that same energy or the same enthusiasm as I did before. I'll write it one day. Please don't get me wrong. I am excited about my four years of blogging and I am extremely grateful to all of you. But for now, I'm just going to acknowledge that life happens and I am human and move on. The Home for the Holidays event is kaput for the year and the subjects of the remaining posts for that event will just morph into other posts as I see fit. Maybe my end of the year re-cap will come midyear. Sort of like some folks who have Christmas birthdays and choose to celebrate them in the summer as "1/2 birthdays" versus compete with all that is Christmas. And who knows a "best gfe recipes of 2012" post might be more appreciated in a few months …. or not … if I decide to do one. We shall see. Right now, I'm going to simply share a recipe, the one for my gluten-free, dairy-free Brown Sugar Chocolate Chip Cookies as I stated in my opening, and I'm okay with that. I hope you are, too.
As I've mentioned before, every holiday or celebration in our family requires my Brown Sugar Chocolate Chip Cookies. My original recipe was not only indulgent, but also contained dairy. I wanted to make a dairy-free version that Son and I would enjoy. Plus, I wanted to reduce the refined sugar some … not a huge amount, but some. I did both very successfully. Son had not been able to enjoy these cookies for several years and he and everyone else in the family (all those gluten-full folks!) have deemed the new and improved recipe the perfect mix of crispiness and chewiness and the right amount of brown sugar chocolate chip goodness. These cookies are still very indulgent as they use a gluten-free all-purpose flour mix (which is white rice flour based) and beaucoup sweetener, so I'll keep working on healthier variations in the future. Until then, I won't mind that we enjoy these cookies several times a year—on Valentine's Day, Easter, Thanksgiving, and Christmas. Plus, I usually make them when we have some folks joining us for a summer camping trip. There's always a small crowd at all of these events, all ready to ensure these indulgent treats are "well distributed, " so no guilt is needed.
I've made this recipe dairy free two ways and both are noted in the recipe below. Each time, I've used some extra virgin olive oil as part of the equation because to me that provides the a rich flavor and mouth feel as pleasing as dairy ingredients, and I can achieve that with an ingredient I always have on hand. Per my gfe approach, I don't rely on a lot of specialty products and I consider non-dairy butter to be a specialty product. I can't get it at my basic grocery store and while it is available at the store in "town," which is 30 minutes away, it's also very expensive. I am very pleased with the non-dairy shortening alternatives I use in this recipe.
Finally, fingers crossed that 2013 will turn around for us Bradens and that this year will bring all of us—you and us—much happiness and prosperity. And I hope you enjoy these cookies!
Yield:
Gluten-Free, Dairy-Free Brown Sugar Chocolate Chip Cookies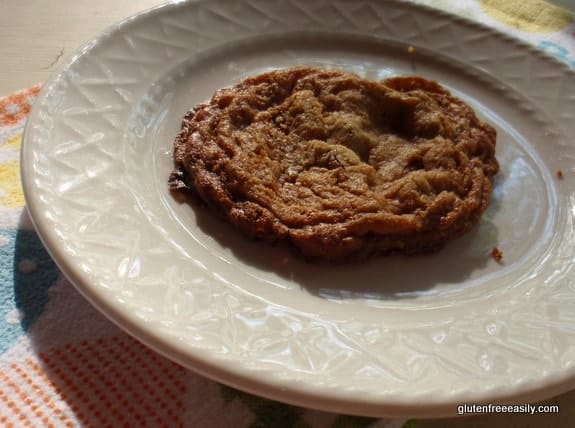 These are chocolate chip cookies that have great chewiness and are heavy on the brown sugary taste!
Ingredients
2 eggs, ideally at room temperature
1 ½ cups firmly packed light brown sugar
½ cup granulated sugar (or coconut palm sugar)
1 tsp vanilla extract
2 cups gluten-free all-purpose flour mix (see notes; some gluten-free flour mixes will NOT work in this recipe; I use my Two-Ingredient Flour Mix)
1 tsp xanthan gum (omit if using gluten-free flour mix* that contains xanthan gum)
1 tsp baking soda
¾ tsp salt (I use this sea salt)
1/3 cup palm shortening] and 1/3 cup [extra virgin olive oil (OR add 1 tbsp extra virgin olive oil to 2/3 cup measure and then fill cup with coconut oil, liquefied)
¾ – 1 ½ cups semi-sweet chocolate chips (I use the larger amount when using palm shortening and extra virgin olive oil and I use whatever chocolate chips I have on hand—regular size (I like these] and [these]), [minis, chunks)
Instructions
Preheat oven to 375 degrees. Lightly grease baking sheets.
Add eggs to large bowl. Beat slightly.
Stir in brown sugar and coconut palm sugar until well combined and smooth. Add vanilla.
In a separate bowl or very large measuring cup, sift together flour mix, xanthan gum, baking soda, and salt.
Stir flour mixture into egg-sugar mixture slowly until well combined.
Add palm shortening and extra virgin olive oil (or coconut oil and extra virgin olive oil); mix well.
Stir in chocolate chips.
Drop about 2 tbsp of batter for each cookie onto baking sheet two inches apart. (You must follow the spacing rule: these cookies spread a lot and as noted are a flat half chewy, half crisp cookie.)
Bake cookies for about 4 minutes. Leaving baking sheets in oven, reduce oven temperature to 350 degrees and bake additional 4 to 6 minutes, for a total of about 8 to 10 minutes until cookies are set.
Leave cookies on baking sheet for maybe a minute or so after removing from oven so they will firm up as they finish baking and release from the baking sheet. Use a spatula to loosen them if needed. If they get too hard on the baking sheet and can't be removed easily, return to the oven for a few seconds until they soften again and repeat the process.
Notes
I use my own gluten-free flour mix. It consists of three parts Asian white rice flour (much more finely ground that typical white rice flour) and two parts cornstarch. I make 5 lbs of this mix at a time. I use three 1-lb bags of Asian white rice flour and two 1-lb boxes of Argo cornstarch. Mix well, but gently in a very large bowl and then transfer to airtight storage containers (like large glass jars). There are many other rice-based gluten-free all-purpose flour mixes on the market that will also work in this recipe, such as Jules All-Purpose Gluten-Free Flour mix. However, this recipe will NOT work with some other all-purpose gf flour mixes like Bob's Red Mill or Bette Hagman's gluten-free all-purpose mix. Other flour mixes that I have not mentioned *might* work, but I can't guarantee that. It's also been my experience that these cookies fall apart if a baking stone is used. If your eggs are not at room temperature, the palm shortening and oil might harden and form little balls. As long as you mix your ingredients well, the cookies will still turn out fine because those little balls will melt while baking, but if your eggs are at room temperature you won't even have that concern. You may have to clean spatulas (I alternate between two) and even wipe off baking sheets of crumbs between batches. I always cool my cookies on opened paper bags to help absorb extra grease.
 This post is linked to Allergy-Free Wednesdays and Gluten-Free Wednesdays.