For affiliate links and as an Amazon Associate I earn from qualifying purchases.
Many dairy-free individuals will tell you that giving up cheese is by far the hardest challenge when transitioning to living dairy free. (If you are living dairy free, you're probably nodding your head right now … or sighing wistfully at the mere memory of cheese and cheese dishes.) Of course, there are many folks who are both gluten free and dairy free, so when the folks at Daiya asked if I wanted to host a review and giveaway of Daiya products, I said "Sure!" I also knew that it would be a great opportunity to showcase some of my favorite recipes using Daiya.
First, the review part … Is Daiya "cheese" just like dairy cheese? Frankly, no, not really … not to me anyway. But in many recipes—the ones that I am going to share today—Daiya cheese works just fine. In conjunction with other ingredients, Daiya cheese provides a great texture and taste, and even melts to some degree. Daiya states that "their products melt, taste and stretch just like dairy-based cheese (seriously!), but are free of cholesterol, as well as many of the common food allergens including dairy (casein, whey and lactose), soy, gluten, eggs, rice, peanuts and tree nuts (except coconut oil). They are also vegan and kosher."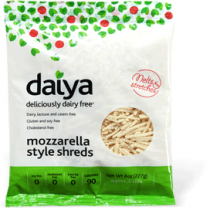 I'm a fan of Daiya's mozzarella-style shreds, cheddar-style shreds, and one of Daiya's recent additions to its product line, Jalapeno Garlic Havarti Style Wedge. I've always been a huge Havarti lover and while I'm not always a girl who likes the spicy side of life, this combination of ingredients works very well for me. The bottom line is that I'm very happy to have Daiya as an occasional option to use for gluten-free, dairy-free recipes!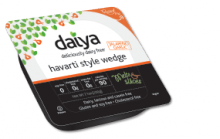 Next, the giveaway …
UPDATE:  This giveaway is now closed. Thanks to all who entered by sharing their favorite recipes and ways to use Daiya! Congratulations to the winner, Johnna of In Johnna's Kitchen! Her comment (selected randomly) is shown below:
"I need to buy stock in Daiya, even more so after your post.  So many delicious recipes to try.  Your pizza muffins are a favorite here."
Daiya is giving one gfe reader seven coupons for FREE products (approximately a $35 value).

~ This giveaway ends Saturday, January 19, at midnight Eastern.

~ To enter the giveaway, take a look at the recipes below and leave a comment telling me which recipe is the most appealing to you or if you have a favorite recipe in which you use Daiya.
Last, the recipes … many thanks to the creators of the following recipes/site owners/bloggers for sharing their photos with us all. Click on the links to get their terrific recipes!
"Clean-Out-the-Fridge" Veggie-Lovers Quiche (Build a Better Quiche) from Gluten Free Easily
Easy Pea-sy Tuna (or Salmon) Casserole from Gluten Free Easily
Pizza Muffins from Gluten Free Easily
French Onion Soup from Go Dairy Free (use gluten-free baguette as noted)
Cheesy Squash Casserole from The Non-Dairy Queen shared over at Go Dairy Free      
Cheesy Roasted Hasselback Tomatoes from Spabettie
Lemon Basil Spinach Cakes and Tomatoes and Havarti Stack from Spabettie
Plant-Based Steak Dinner from Spabettie (This "steak" will surprise you; I love it!)
Zucchini and Sun-Dried Tomato Casserole from Tasty Eats At Home
Vegan Broccoli Cheese Rice Casserole from Tasty Eats At Home
"Bad Day" Rolled Stuffed Chicken from The Whole Gang       
Dairy-Free Cheese Crisps from The Whole Gang
Stuffed Zucchini Chimneys from The Whole Gang
Enjoy!
This post is linked to Gluten-Free Wednesdays and Allergy-Free Wednesdays.