For affiliate links and as an Amazon Associate I earn from qualifying purchases.
Today's gluten-free Crustless Spinach Quiche recipe is absolutely delicious. How delicious? Well, as you can see, it was almost half gone before I managed to get a photo of it.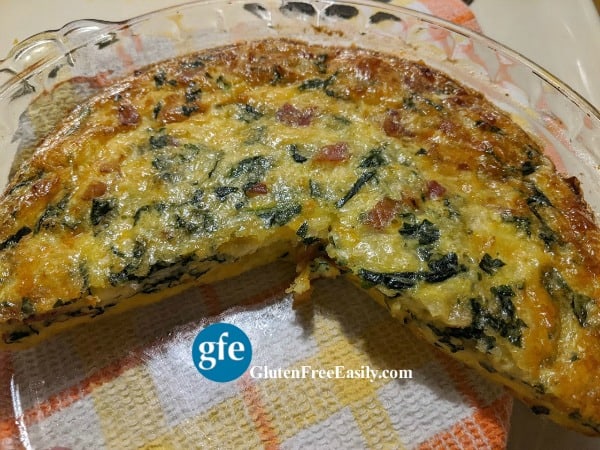 It's a naturally gluten-free recipe, which means that no gluten-free specialty ingredients are required. With naturally gluten-free recipes, you use the same ingredients that you used before going gluten free.
The ingredients that always tasted wonderful to you as well as to the rest of your family. Plus, no extra cost involved when you're using such ingredients.
This quiche is also easy to make. Recipes shared on gfe are always easy, right?
This recipe comes from Trish, a local and longtime friend of mine. While the ingredient that gets top billing in this recipe is spinach, Trish often uses her own fresh garden greens in combination with spinach or instead of spinach.
That's good information as we have our first ever garden in progress (wish us luck!) and we have been receiving produce boxes as well. So, you can sure we will be using whatever greens we have on hand to make this quiche and we'll be making it often.
If you're interested in having produce (and other products) delivered to your door, check out check out Misfits Market but be sure to use code COOKWME-XD6MDE to get a discount on your first box if you decide to place an order.
You may remember that Son eats both gluten free and dairy free. I'm happy to tell my dairy-free readers that I even made dairy-free versions of this quiche and my original crustless quiche recipe using homemade cashew cream (a recipe which I will share in the near future), a dash of nutritional yeast, and a very small amount of Follow Your Heart Parmesan cheese. The resulting quiches were a hit!
When I eventually share my friend's homemade cashew cream recipe, I'll also share that dairy-free version of this quiche recipe.
But let's get back to the original version of this gluten-free Crustless Spinach Quiche. When I asked all of you who follow gfe on Facebook whether you'd like me to share Crustless Spinach Quiche or Zucchini Potato Bake next on gfe, you all overwhelmingly chose the quiche recipe.
Of course, some of you asked for both—smart!!—and a few of you asked for the Zucchini Potato Bake recipe. No worries because I'll definitely share that as my next recipe! (Update: There's the Zucchini Potato Bake recipe!)
One more thing I want to mention about this gluten-free Crustless Spinach Quiche recipe is that it's crustless without the addition of any flours. My earlier Crustless Quiche Lorraine recipe requires a very small amount of gluten-free flour (a gluten-free all-purpose flour mix like my Two-Ingredient Gluten-Free Flour Mix or a single gluten-free flour, such as rice flour, cassava flour, or coconut flour).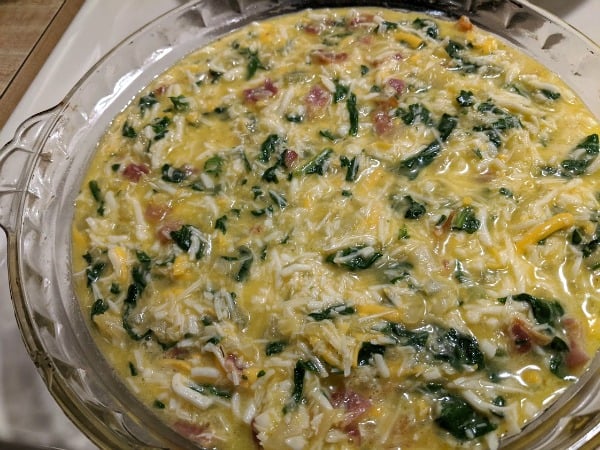 But again, no flour at all is needed for today's quiche recipe and I really like that fact. Fewer ingredients and "simpler" are always better when it comes to gluten-free recipes in my opinion!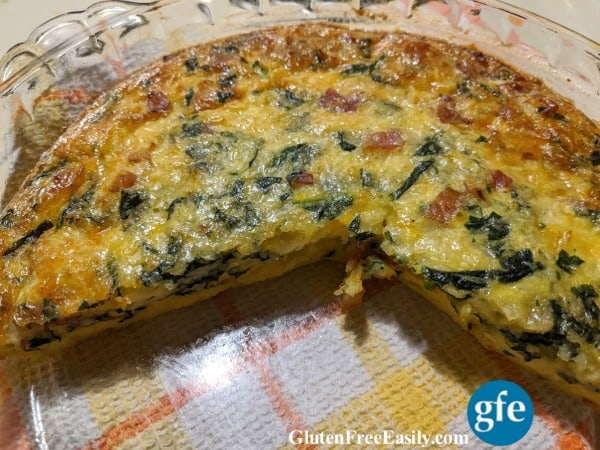 Other Gluten-Free Quiche and Brunch Recipes You Should Check Out
~ Apple Cinnamon Volcano Pancake from gfe ~ gluten free, vegetarian, with dairy-free option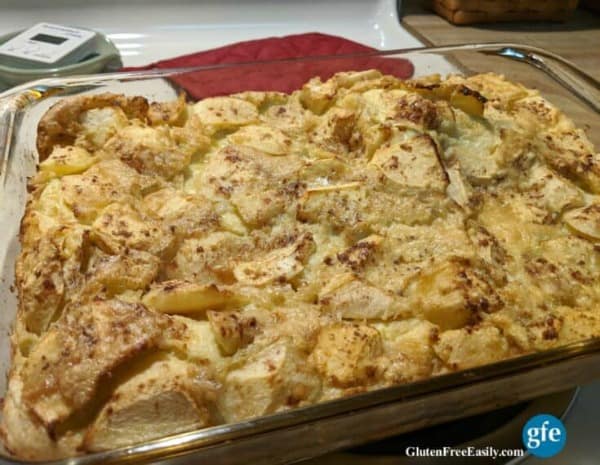 ~ Cheesy Broccoli Bacon Quiche from In Johnna's Kitchen ~ gluten free, dairy free, vegetarian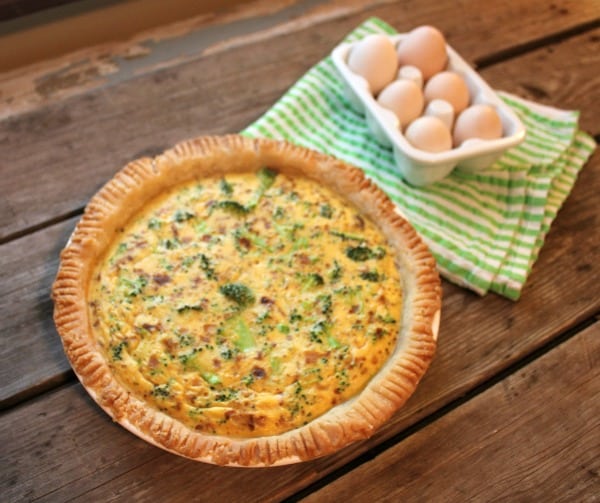 ~ Cinnamon-Sugar Crusted Popovers from gfe ~ gluten free, vegetarian, with dairy-free option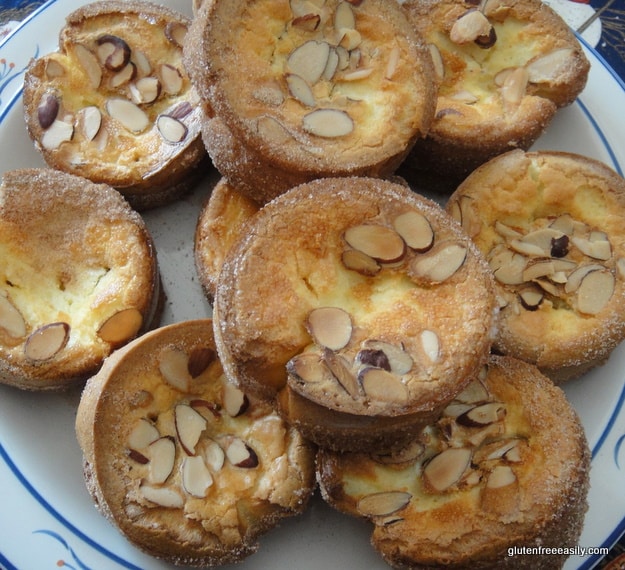 ~ Clean-Out-the-Fridge-Veggie-Lovers'-Quiche (and other ideas to "Build a Better Quiche") from gfe ~ gluten-free, vegetarian, with dairy-free option
~ Crustless Quiche Lorraine from gfe ~ gluten free, vegetarian
~
Paleo Bacon Broccoli Quiche with Sweet Potato Crust
from
Gluten-Free and Paleo Travels
~ gluten free, grain free, dairy free, sugar free, vegetarian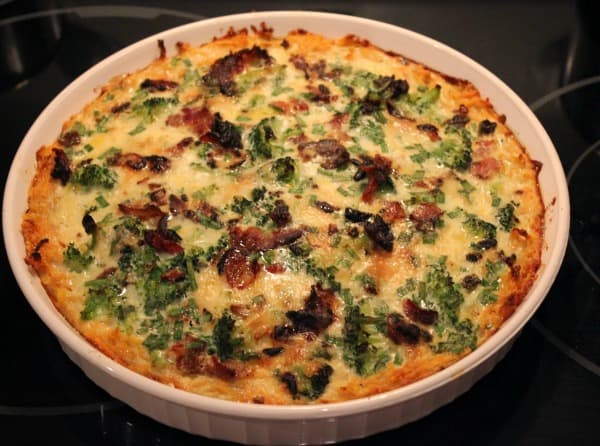 ~ Supreme Paleo Pizza Quiche from Predominantly Paleo ~ gluten free, grain free, primal, with dairy-free, paleo options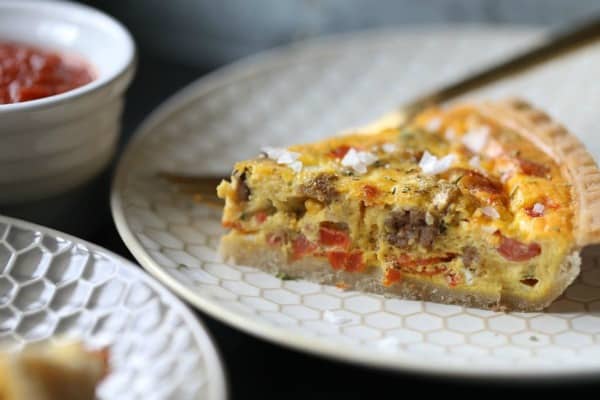 ~ Volcano Pancake ~ gluten free, vegetarian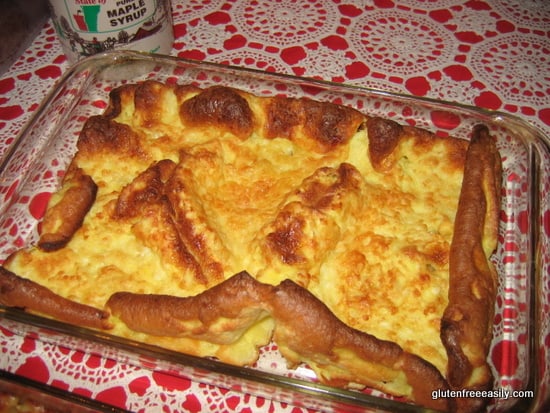 Crustless Spinach Quiche Recipe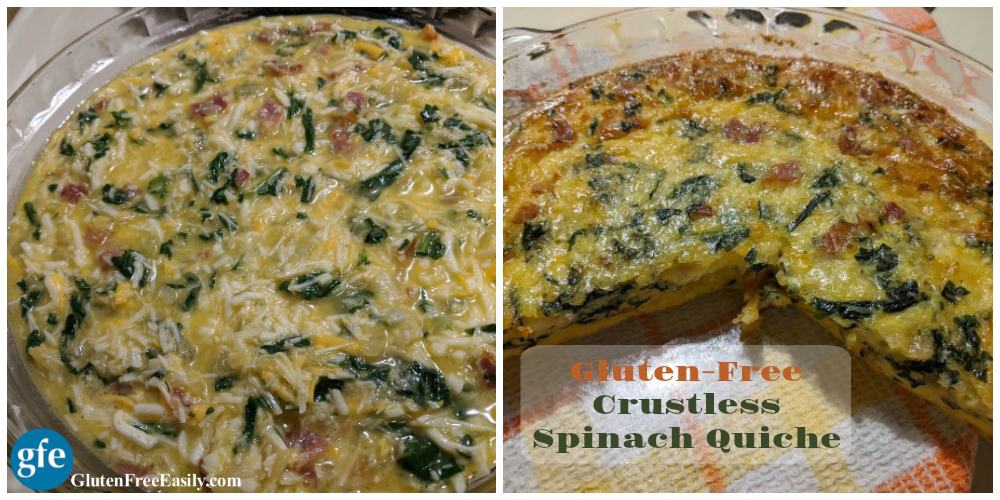 Yield: 8 servings
Crustless Spinach Quiche (Naturally Gluten Free)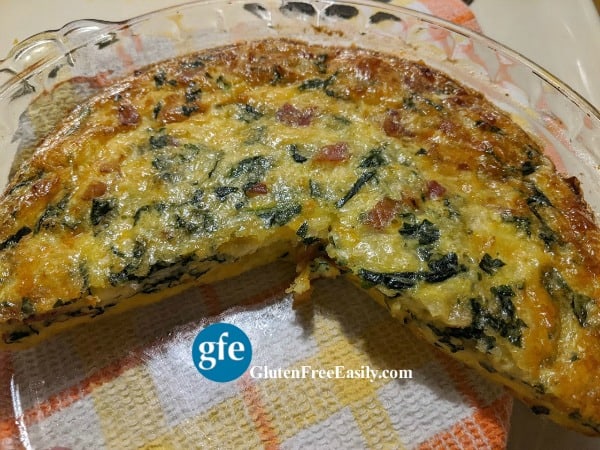 This Crustless Spinach Quiche is so jam-packed with good stuff that it doesn't even need any flour added to make it self-standing. Every slice is a meal and a delicious and filling one at that!

Prep Time 10 minutes

Cook Time 30 minutes

Additional Time 10 minutes

Total Time 50 minutes
Ingredients
1 tbsp vegetable oil (I used extra virgin olive oil)
1 onion, chopped
6 to 10 ounces fresh spinach, chopped (or a combination of suitable greens, like kale, arugula)
6 eggs, well beaten (see notes)
¼ tsp salt
1/8 tsp black pepper
½ tsp garlic powder
2 to 3 cups shredded cheese (Swiss, Feta, Parmesan, cheddar, Mexican cheese, Monterey Jack cheese)
¼ cup Parmesan cheese, shredded
3 strips bacon, already cooked and chopped (optional)
5 to 7 cherry tomatoes, quartered (optional)
Instructions
Preheat oven to 350F degrees. Grease large glass pie plate.
In large skillet, heat oil until medium temperature. Add onions and cook until soft.
Add chopped spinach and bacon and cook until spinach is wilted.
In large mixing bowl, beat eggs, add cheese, salt, pepper, garlic powder, and tomatoes. Combine spinach mix thoroughly with egg mixture in bowl. The mixture will be thick.
Transfer mixture to pie plate and sprinkle with grated Parmesan cheese.
Bake for 30 minutes or until inserted knife comes out clean.
Cool 10 minutes before cutting and serving.


Notes
If you wish to cook your bacon and use the bacon grease in your recipe instead of oil, you can definitely do that. You would cook the bacon in the skillet and set it aside to drain before adding onions and picking up the recipe instructions from there. 

This recipe will work fine with five eggs but I prefer six, particularly if I'm using the greater amount of cheese.

Originally published May 31, 2020; updated November 20, 2021.