For affiliate links and as an Amazon Associate I earn from qualifying purchases.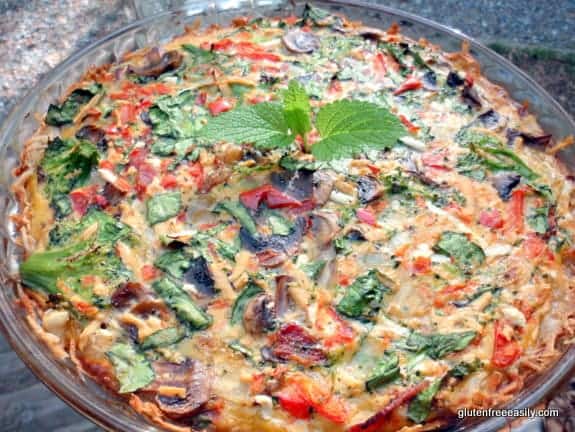 Warning: This post is long, but there are a lot of photos, photos of beautiful quiches, so that should help, right?
When I say quiche, what do you think? Ponder that for a moment. We all have preconceived notions. Thankfully, going gluten free has gotten rid of many of my preconceived notions as many of them were about various foods, and in many cases, foods I'd never even tried, but decided I didn't like. One of the gifts of going gluten free is focusing on real, whole foods and finding out how many more foods I absolutely love. Yes, it's the preconceived notions that can hold us back on so much in life. Even with quiche. Yes, quiche. I bet that when most of you thought about quiche just now, you instantly thought rich, heavy, too much fat, too much work, special occasion, or expensive to make. Perhaps many more labels popped into your head. Most of these labels were probably not positive either. What a shame. Quiches are some of the most versatile and frugal dishes, and despite their reputation, they can be super healthy, too.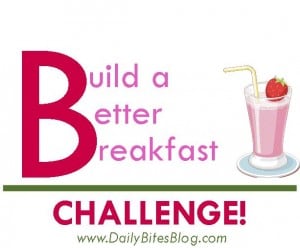 With Hallie's (Daily Bites) Build a Better Breakfast event occurring and Maggie's (She Let Them Eat Cake) theme of Springtime Brunches for this month's Go Ahead Honey It's Gluten Free carnival, it's time to talk about quiches. Quiches are really perfect fare for breakfast, brunch, lunch, or dinner. Let's start out by dispelling a few of the myths about quiches—those preconceived notions—shall we?
First, do you think that a quiche requires a ton of eggs?
Not true. Angel food cakes, sponge cakes, and the like all usually require 8 eggs and more, but not quiche. Typically only 3 to 4 eggs are needed for a quiche. When you consider that a quiche can serve four (or more), that's perfectly reasonable. And an important side note … the poor egg itself, it's been so unfairly maligned. That's actually one food product where the food industry got it right—"the incredible, edible egg." Eggs are a complete source of protein, containing all the vitamins except Vitamin C. I won't get into the unfair press about eggs and cholesterol much except to say that it was when I started eating gluten free, dairy free, and sugar free and using more of a paleo diet approach that my cholesterol levels became "perfect" in the words of my shocked family care physician. My diet was more than about eggs, but I re-embraced eggs. Do the research. Not all eggs are created equal, of course. You want the eggs that come from those happy free–range chickens. Ethics considerations aside (and those are many, too … watch Food, Inc. to find out how chickens are routinely treated in the food industry), the eggs from the free-range chickens are vastly better for you.
Second, do you think all quiches are rich, heavy, and contain too much fat?
That is entirely dependent upon ingredients and you're in control of them. Wonderful quiches can be made that do not contain such ingredients at all (like the quiche I'm featuring today), but even when you're using cheese, milk, and more, the amount per serving is very reasonable with the formula I'm sharing. And there is such a thing as good fat. (That's a topic covered far better by many others. Do the research.)
Third, if you think quiches are "too much work" or are only for "special occasions," that's simply not true.
They are actually super easy to make when you follow today's directions. Crustless quiches are by far the easiest to make, but I give you several options. As far as only being served for "special occasions," I used to think this way, but found that a quiche is a great, "I'm not sure what to make" or "clean-out-the-fridge" meal any time. They are an especially great way to start the day, too. We've been trained that unless we're home and not heading out to school or work each day, that cereal, frozen waffles, and protein bars should be our breakfast choices. However, a newbie to my group shared her approach on making a breakfast casserole on the weekend, so she and her family could enjoy servings for breakfast for a few days. This is an approach, she's always taken and while she was struggling with knowing how to make them gluten free, she had the concept down. Quiche is actually perfect for her approach! Cut a slice and take to work for breakfast there or quickly heat it up at home and enjoy. I'm all about smoothies for breakfast (you'll find several in my recipe index), but having a piece of ready-made quiche is a great option for all. Then we'll all feel special and have a great start to our days!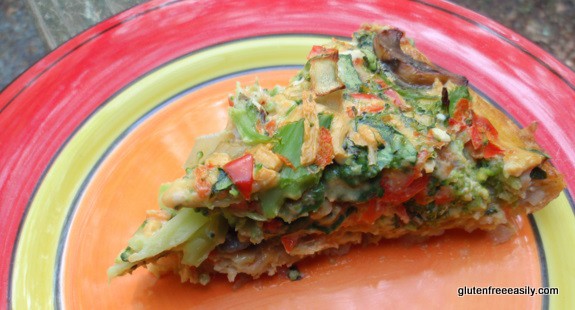 Fourth, quiches are not expensive to make.
They can be one of your most frugal meals, especially if you use ingredients on hand, like the "clean out the fridge" option I mentioned or pulling bits of this and that from the freezer. I've mentioned my "Everything" Soup many times (and many of you have gotten into the habit of making it and enjoying it). But guess what … when you're not in the mood for soup, you can drain off the liquid from your freezer container of bits of meat and veggies and use them in quiche instead. You'll just add ingredients per the Build a Quiche guidelines below and you'll be good to go. It works very well. The freezer can also be the source of your crust material, too, if you decide to use one. Leftover rice can be saved in the freezer to make a rice crust. If you have a bag of frozen hash browns (last I checked Ore-Ida brand was gluten free), you can use them for a potato crust (see directions further below). While traditional pastry crusts are usually not my thing, I love this No-Fail No-Roll Press-In Pie Crust. But if you're a traditional pie crust person, check out these pie crust recipes. And did you know that you can freeze pastry crust scraps? When your container of scraps is full, thaw them out and roll out your crust.
Build a Gluten-Free Quiche Guidelines
Crust or Crustless?
For crustless quiche: Add ¼ cup gluten-free flour to your quiche recipe. (You can use a gluten-free flour mix or a single gluten-free flour–even coconut flour works and will give you a grain-free version.) If you are using another quiche recipe that already calls for flour, substitute gluten-free flour for that amount and add ¼ cup gluten-free flour. (Note: If it's a crustless recipe already, just use gluten-free flour for the amount of flour required.)
For a potato crust: Grate 2 – 3 cups of peeled potatoes and mix with small amount of oil in pie plate, or just grease pie plate well and press grated potatoes into pie plate. Bake for about 15 to 20 minutes at 425 degrees. (While crust is baking, you can prepare your filling.) I actually like my crust really crisp so I either just grease the crust and use less potatoes for a thin layer and quicker pre-baking or I bake the thicker crust mixed with some oil longer. Sometimes I even broil the crust for a minute. If the crust isn't browned and crispy, it can become soggy from the filling. Note that you can use a food processor or grate your potatoes by hand using a simple metal grater. Hand grating is actually pretty quick and I like the process. You can also choose to use ready-to-go frozen hash browns if you'd rather … just be sure to thaw them out ahead of time.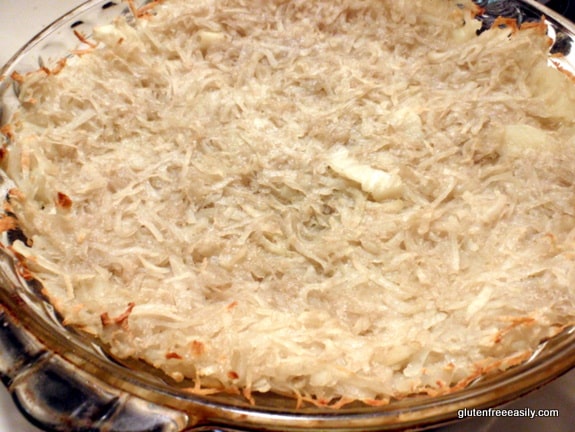 Note the ugly semi-grated potato chunk in the middle. I am sooo not about perfection!
For a rice crust: Mix 2 cups of cooked rice, 1 ½ tbsp of grated cheese or more (dairy or non-dairy), 1 tbsp butter (dairy or non-dairy, optional), and one beaten egg together in medium-sized bowl. You can also add seasonings if you like, and back off on adding much seasoning to quiche filling. Then press mixture into greased pie plate. Bake at 425 degrees for about 15 minutes.
For a more traditional crust: You can use my press-in pie crust or another one of the fabulous gluten-free pie crusts in this gluten-free pie crust recipe roundup.
Additional notes on crusts: Remember that you can make crusts ahead and have them ready to go in your freezer for a quicker meal. However, most of these crusts come together so easily that, personally, I don't think that's necessary.
Filling?
Eggs: Again usually you'll use 3 to 4 eggs. However, when I made the dairy-free recipe I'm sharing with you today, I used 5 eggs. I used that fifth egg to help supply the needed liquid for my recipe because I wasn't using milk of any kind (dairy or otherwise) and my eggs weren't very large. You will really see the difference from using eggs from free-range chickens in a recipe like quiche. Those beautiful, bright yellow-orange yolks not only provide gorgeous coloring, they also supply much more in the way of nutrition. I'm not a nutritionist, so again, please do the research.
Cheese: Usually 1 to 2 cups of cheese will work well. Harder cheeses are preferred, because soft cheese may not allow the quiche to set up. The most inexpensive cheeses to use are Swiss, cheddar, and Monterey Jack (even though a block might seem costly, you can get a lot out of it), but other cheeses like feta (goat feta is nice) can be used. Some of the cheese can also be Parmesan and Romana (or a mix of the two), but that's up to you. For the specific recipe below, I used Daiya cheese and used slightly less than the amount called for because I'm still adapting to the taste of Daiya and I wasn't sure how much liquid, if any, it might add to the recipe.
Liquid: Traditional quiches call for 1 to 2 cups of dairy liquid, like milk, half-and-half, heavy cream, or evaporated milk. Those are all options, and "creamier" dairy products like cottage cheese, sour cream, and yogurt can fulfill part of the liquid measurement. For the dairy free folks, non-dairy versions of those ingredients can be used. Consider your non-dairy products like the various milks, cashew cream, coconut cream, etc. Last, you might even skip adding a dairy liquid or dairy substitute and go with the liquid from your veggies. In the recipe below, I used the liquid created by sautéing mushrooms and onions in olive oil as my liquid, but in a much smaller amount. (Note: This liquid is not nearly as thick as any of options mentioned above; that's why a smaller amount must be used.) Purists might say that makes my dish a frittata rather than a quiche, but all I care is that it tastes good. Quichetata anyone?
Meat/Seafood/Veggies: This part of your quiche filling is where all those bits and pieces in your refrigerator can come into play. Usually 1 to 2 cups is what you want to add, and I tend to use the upper limit and go even higher sometimes, again breaking a few quiche rules. Options include cooked bacon, sausage, seafood (crabmeat, shrimp, lobster, crawfish, tuna), chicken, and ham. I've never been a fan of beef in my quiche, but you might be. Veggies can be just about any steamed or cooked veggies, and sometimes raw veggies as they will be cooked some when the quiche is baked. For any of these ingredients that you'll be adding, make sure to drain and squeeze out ALL liquid unless you do what I did and use that liquid as part of your liquid portion. For my meat and veggies for my last quiche, I totally went with what I had in the refrigerator (see recipe below). And yes, I ate this veggie-lovers quiche for breakfast … well, actually brunch—my individual Springtime Brunch, you might say—as I ate it at my desk at work midmorning. I planned to eat another serving for lunch today, but Son stopped by last night and after he ate two pieces and raved over it, I sent the remainder home with him. That's what moms do, right? He just called to tell me, "Mom, that quiche is great!" as he prepared to heat some up for lunch.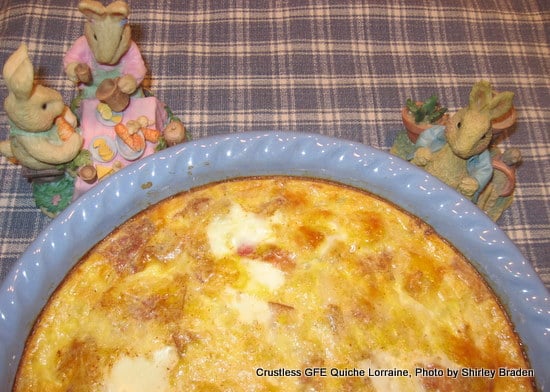 Seasonings: Seasonings will vary according to ingredients and personal preferences. In most quiches, you'll definitely want to add some salt and pepper. In others, like the one above, a touch of cayenne pepper was just right. Old Bay seasoning would be great for a seafood quiche. Dry mustard might be perfect for a ham quiche. Lemon juice might be lovely for a chicken quiche, and so forth. I usually add about 1/2 teaspoon of salt and similar (or smaller) amounts of other ingredients. I'd rather have too little than too much. Also, it's important to note that if you are using meat, seafood, veggies, etc. that you've saved from leftovers, they are already seasoned, so less may be needed.
Directions: Prepare crust if using one. Grate cheese and prepare other ingredients as needed (by dicing, cooking, etc.). Beat eggs, milk (or similar), and seasonings together. Mix meat/seafood/veggies ingredients and pour into crust (or pie plate alone if going crustless). Top these ingredients with your cheese and then pour egg/milk mixture over all but not all at once. At this point you can tell if you don't have enough egg/milk mixture and can add more, or if you have too much. You can hold back on some of the egg milk mixture and save it for another baking recipe, or simply for scrambled eggs or an omelette. (I do this kind of thing all the time; one of the eggs for my latest quiche was salvaged from accidentally getting yolk into an egg white when I was making Lemon Sponge Cake the other day.) Bake for 10 minutes in an oven preheated to 425 degrees. Then turn the oven down to 350 degrees for an additional 30 to 45 minutes. The time period can vary, of course, depending upon if you've used the upper level of the ingredient amounts or not. The quiche will be golden brown when it's done, puffed, and look set. Test with a toothpick or a knife. Remove from oven and let cool a few minutes before cutting and serving.
I'll be making another quiche for Easter dinner. I'm trying to mix Easter dinner up a bit this year as I think that will be a nice way to introduce other family members to some new dishes. My mother has never made quiche. Son is learning to cook actual recipes these days. He's always been great at cooking "meat and potato" type dishes, but now is trying new things and even baking. For example, he just made my Flourless Peanut Butter Cookies using natural peanut butter and coconut sugar. He brought some home for us to sample—delicious! My nephew and his wife, still pretty much newlyweds, are always looking for new recipes. I think I'll make one of these classic Crustless Quiches that are shown above and below. If you take a look at that recipe, you'll see that it follows the Build a Better Quiche proportions shown above.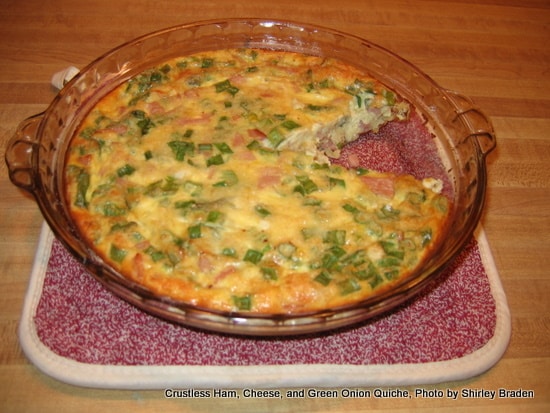 Now you might be thinking, but Shirley, there's such a wide variance between 1 to 2 cups of "this" or "that" in the proportions. True. This is a concept and you'll learn to "eyeball" the mixture to determine if you need to add a little more of "this" or "that" to make your quiche thick enough to set up. You can start out by using existing quiche recipes as your guide. You'll soon become comfortable at throwing together the ingredients to make outstanding, "spur-of-the moment," "clean-out-the-fridge" quiches for family breakfasts, special brunches (like Maggie's springtime brunch), or simply lunch, or dinner. The really cool thing is that because so many have preconceived notions about quiches, they'll think that you really went all out for them and that they are special!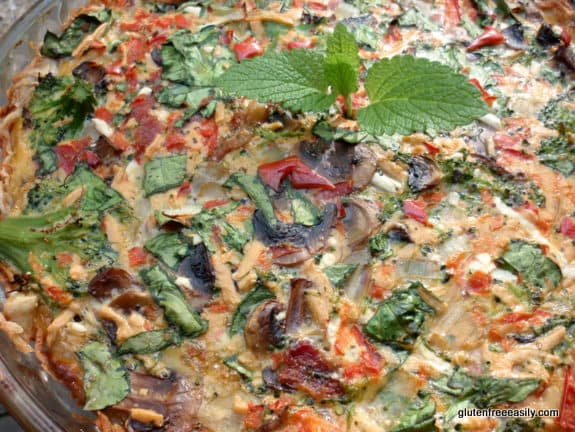 Yield:
Clean-out-the-Fridge Veggie-Lovers Quiche (Gluten Free, Dairy Free, Refined Sugar Free, Soy Free & More)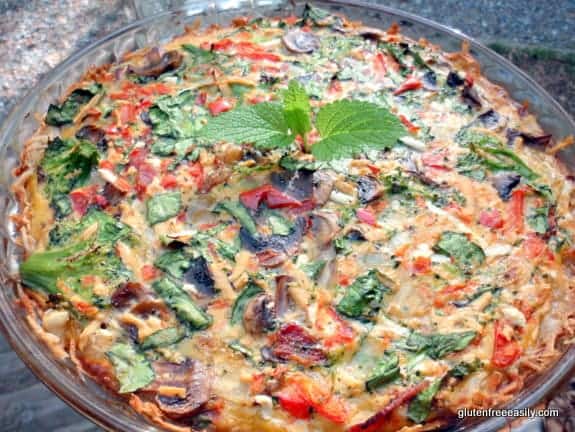 Quiches are an excellent and easy, delicious way to clean out your fridge and have a delicious, economical meal!
Ingredients
1 tbsp olive oil
8 ounces mushrooms, sliced
1 small onion, diced
5 eggs, beaten
2 strips of bacon, cooked and crumbled (optional; omit for vegetarian version)
About 1 cup of steamed broccoli, drained (small pieces work best)
2/3 cup of Daiya "cheese" (or dairy cheese if you eat dairy; I used a mixture of cheddar and mozzarella)
½ red bell pepper, finely diced (raw)
1 packed cup of fresh, raw spinach, stems removed* and cut into strips with kitchen shears
¼ tsp sea salt (add more if you omit the bacon)
¼ tsp fresh ground pepper
¼ tsp basil
¼ tsp oregano
¼ cup gluten-free flour mix (like my Best Two-Ingredient Gluten-Free Flour Mix) if making your quiche crustless (use sifted coconut flour for a grain-free option)
Instructions
If using a potato or other crust, bake crust (see directions above) while preparing filling ingredients.
Saute mushrooms and onion in olive oil in a small skillet over medium heat for a few minutes until mushrooms release their liquid and onions are translucent. Do not discard resulting liquid.
In large bowl, beat eggs. Add all other ingredients. Mix.
Pour into greased pie plate or prepared pie crust. Bake at 425 degrees for about 10 minutes. Then reduce oven temperature to 350 degrees and bake for an additional 25 to 30 minutes. (Mine was done in 35 minutes.) Let stand for a few minutes before cutting and serving to ensure quiche sets up properly.
Notes
*I threw my stems into a green smoothie. (I always use spinach---stems and all---in my smoothies, but thought they'd detract from this quiche. Still, I didn't want to waste them.)Using a deep dish pie plate/pan (or even a casserole dish) is always the safest way to go. There's nothing worse than mixing your ingredients and pouring them in only to find out your pie plate is too small. Go big!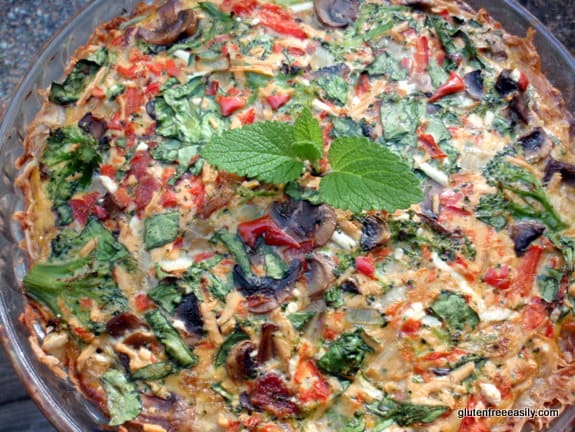 Finally, here are some other crusts and quiche recipes that you might like:
Heidi's Green Eggs and Ham Quiche
Sea's Cheddar Asparagus Red Pepper Quiche
Stephanie's Crockpot Spinach and Feta Quiche
Kelly's Broccoli Quiche
and if you're a fan of Elana's, you'll want to get her Gluten-Free Almond Flour Cookbook, just so you can make her Savory Vegetable Quiche; it's that good!