For affiliate links and as an Amazon Associate I earn from qualifying purchases.
I'm revisiting this post on gluten-free Lemon Ricotta Cake Muffins from my friend Linda Daniels, formerly of Free Range Cookies. While sadly, Linda's site is no longer active, she very graciously gave me permission to share her recipe on gfe.
This recipe was first highlighted via the March Muffin Madness (MMM) event a few years ago. Linda's Lemon Ricotta Cake Muffins offered a little brightness and comfort then and I'm sure they will offer the same now. I don't know about you but I could definitely use both factors in my life at the moment!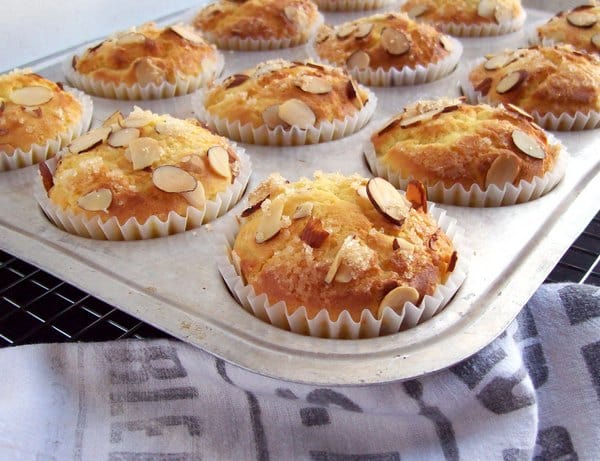 This recipe has one ingredient that is known for its ability to infuse a little "sunshine"—lemon—and another ingredient that makes many swoon at its mere mention—ricotta—because its inclusion always means one is in for an absolutely delicious recipe.
Yes, Lemon + Ricotta in Muffins equals some absolutely magical, portable goodness! I emphasize "portable" because as you probably guessed, Linda's recipe is based on the extremely popular Italian dessert, Lemon Ricotta Cake. Cake slices can be a bit messy when it comes to "grab and go" but not muffins!
However, I am happy to tell you cake lovers that Linda does share in her muffins recipe that you can use the same ingredients with some added adornments if you like and a slightly longer baking time to make your own Lemon Ricotta Cake instead of muffins if you prefer. We all love choices; don't we? Sometimes muffins are exactly the right choice and sometimes cake is the way to go. You get to choose! Here's the gluten-free Italian Lemon Ricotta Cake recipe.
Lemon Ricotta Cake Muffins from Linda Daniels
Linda gives us gluten-free Lemon Ricotta Cake Muffins. I love it when a recipe that is already well known and loved—again, lemon ricotta cake, in this case—is turned into a muffin. Frankly, muffins are just the ideal presentation of anything good in my mind.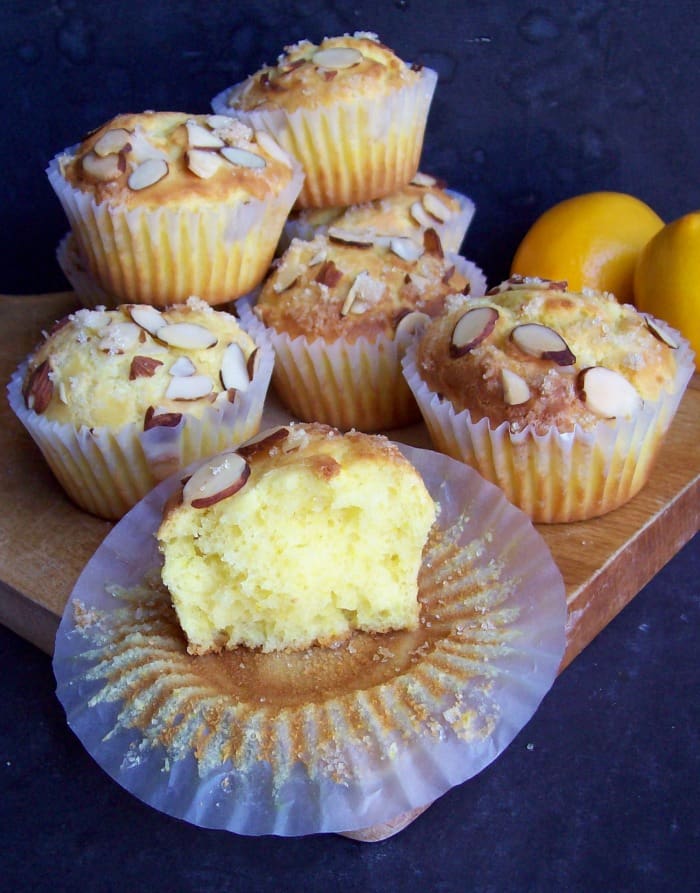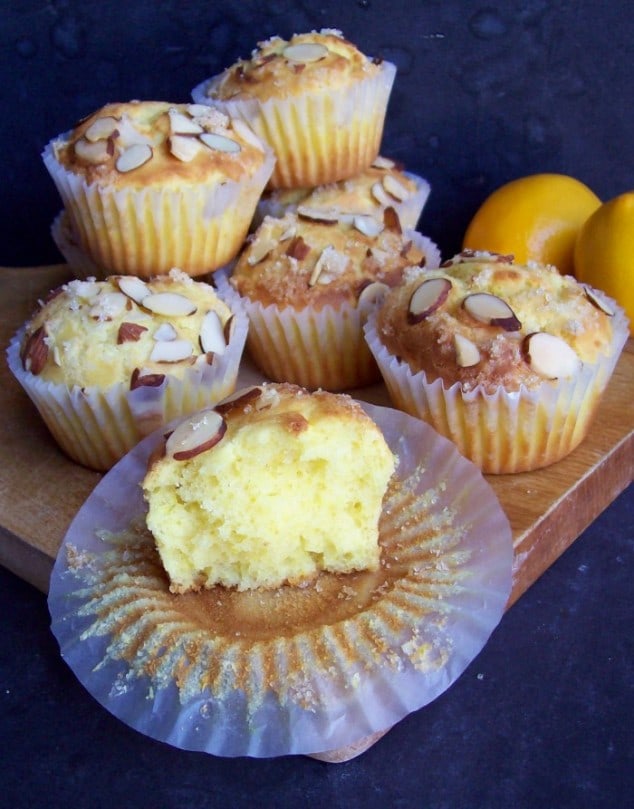 Linda describes these muffins as "Absolutely scrumptious! Super moist with a sponge-cakey texture." I'm pretty sure that right now we all are imagining ourselves biting into one of these muffins. Oh, the joy!
Stop imagining and make these muffins! Or go for the cake option—which is shared in the Notes section of the recipe—if you're a traditionalist and/or you need an impressive gluten-free dessert for dinner.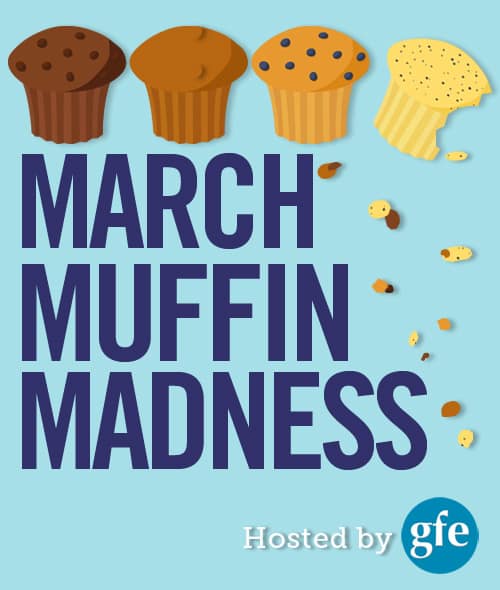 Other Delicious Gluten-Free Muffin Recipes from Linda
Incidentally, Linda has shared other terrific muffin recipes here in previous MMM events. Her Starter Muffins, a basic muffin recipe with easy variations, were her "pretty in pink" contribution. This recipe is a wonderful "how to" for terrific gluten-free muffins. You choose your own adventure according to the mood you're in, the look you want to achieve, and/or simply the ingredients in your pantry at the time. Don't you just love a recipe that always works for you?
And another of her lemon recipes, her gluten-free Lemon Yogurt Muffins, have been popular here on gfe from Day One!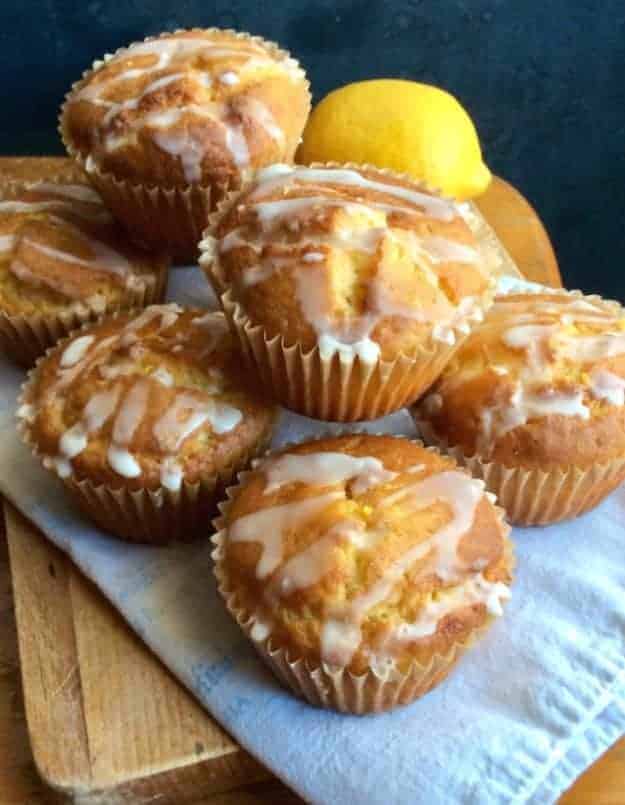 Plus, thanks to Linda, you can make an amazing delicious gluten-free Italian Lemon Ricotta Cake, her re-make of the original version if you prefer.
Gluten-Free Lemon Ricotta Cake Muffins Recipe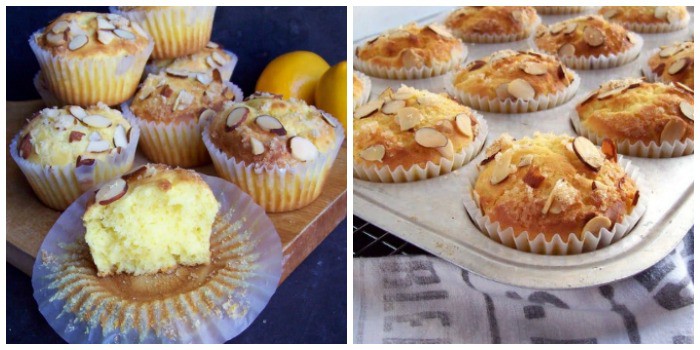 Yield: 12 muffins
Gluten-Free Lemon Ricotta Cake Muffins (or Cake)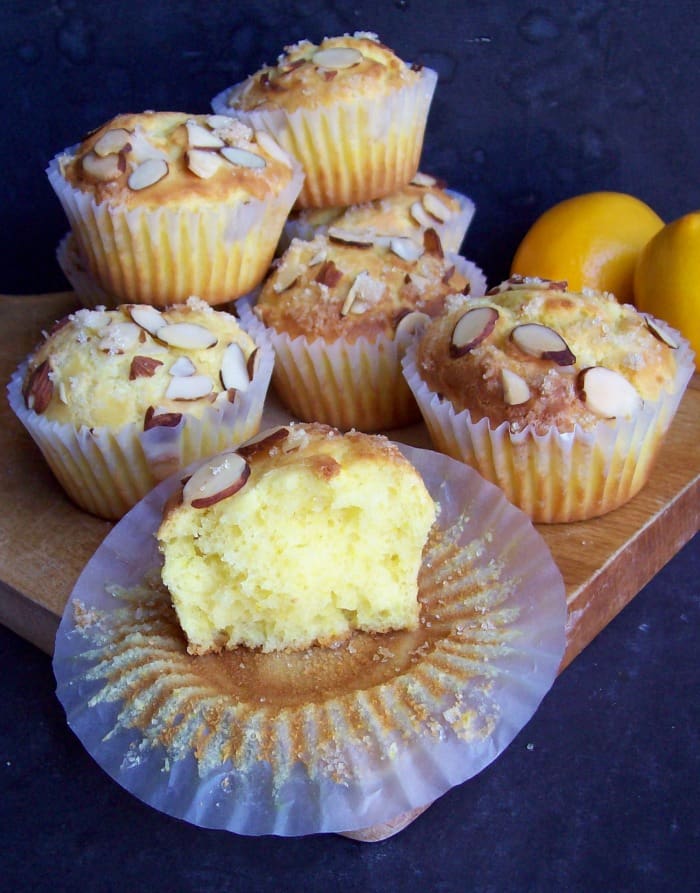 Linda says: "Moist, tender, and so tasty. Perfect for brunch. Or, serve with fruit and whipped cream for dessert. The turmeric is optional; just a pinch will give the muffins a cheery yellow color without affecting the taste."
Ingredients
1 cup gluten-free flour mix (I used Pamela's Artisan Blend)
2/3 cup white granulated sugar
1 1/2 teaspoons baking powder
1/4 tsp salt
2 tsp lemon zest, grated
pinch of turmeric, optional
1 cup ricotta
2 eggs, lightly beaten
1/3 cup olive oil or melted butter
1 tsp vanilla extract
1/2 tsp almond extract
sliced almonds for garnish (optional)
Instructions
Preheat oven to 350F degrees.
Place 12 paper liners in muffin pan.
In a medium-sized bowl, combine gluten-free flour mix, sugar, baking powder, salt, lemon zest, and turmeric.
In a separate bowl, blend ricotta, eggs, oil, vanilla extract, and almond extract. Add liquid ingredients to dry ingredients and stir thoroughly.
Fill paper-lined muffin tin with batter (a number 16 disher scoop works well to scoop batter evenly). Sprinkle tops of muffins with almonds before baking if you like.
Bake for 23 to 24 minutes, until tester inserted remains mostly clean.
Notes
Looking for a gluten-free version of the original Italian Lemon Ricotta Cake? Find Linda's amazing version here.
Today's Daily Giveaway
~ Gluten-Free Wish List: Sweet and Savory Treats You've Missed the Most (2 winners)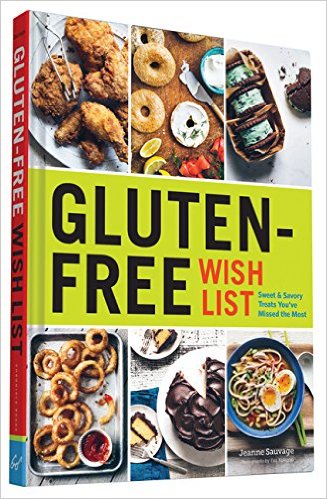 This newest book from Jeanne Sauvage is exactly what the title says and exactly what you think it will be! It delivers recipes that work in creating gluten-free versions of all those old favorites: Croissants, Eclairs, English Muffins, French Crullers, Grissini (the pencil-thin dippable breadsticks), Puff Pastry, Sourdough Baguettes, Wontons … and more. I'm not baking much with grains these days so I have not personally tried these recipes, but all the reviews have been excellent! That doesn't surprise me at all. Jeanne is an outstanding recipe creator and baker, and good friend. Many thanks to her for sponsoring this giveaway! p.s. Be sure to enter the giveaway for Jeanne's first cookbook Gluten-Free Baking for the Holidays here.
a Rafflecopter giveaway
Grand Prize Giveaway (1 winner for each)
Update: All giveaways are now closed.
Be sure to enter the overall/grand prize giveaway at the bottom of this post and come back tomorrow for another terrific gluten-free muffin recipe and another daily giveaway. Remember that commenting on every post during the MMM event gives you additional entries into the grand prize drawing, which includes: 1/2 gallon Hidden Springs Vermont organic maple syrup, USA Bakeware 12-cup muffin pan, Kettle & Fire bone broth (thanks to the folks at Kettle & Fire!), 5-lb bag of Honeyville almond flour, Cuisinart ice cream maker, Paderno World Cuisine vegetable slicer/spiralizer, Crockpot casserole slow cooker, Instant Pot pressure cooker, and—the grand prize, which is sponsored by Blendtec!—a Blendtec Designer 625 with Wildside+ jar and Twister jar.
You can see the up-to-date listing of daily prizes and the complete lineup of bloggers and recipes in the kickoff post here.
a Rafflecopter giveaway
Originally published March 23, 2016; updated November 7, 2022.