For affiliate links and as an Amazon Associate I earn from qualifying purchases.
Linda of Free Range Cookies (while her later site is no longer active, you can still enjoy her original site) is sharing her gluten-free "Starter" Muffins today for our March Muffin Madness event. She says this recipe is very adaptable to your own personal needs and wants. Her gluten-free Starter Muffins are also vegetarian, with an easy dairy-free option. Linda gives you lots of tips to make your gluten-free muffins a success and also offers several lovely ways to make the Pretty Pink Glaze, too. I think she's a terrific "Muffin Coach"!
Enjoy learning more about Linda and her "Starter" Muffins with Pretty Pink Glaze (see the whole line-up of bloggers, blogs, and muffin recipes here).
Linda shares on her blog Free Range Cookies that she's a "cookievore." She defines a cookievore as "Someone who eats primarily cookies to sustain well-being. " Granted, she does admit to eating some other foods. Hehe.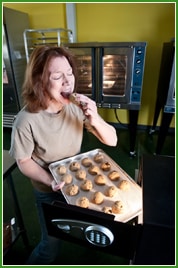 Linda was diagnosed with celiac disease 12 year ago. She formerly owned a dedicated gluten-free bakery, where she sold more gluten-free bread than anything else.
That is absolutely no surprise to me as Gluten-Free Bread recipes are THE most popular posts on gfe. But it was her bakery's donuts that won first place in a national contest.
Actually, neither of those facts surprises me as Linda excels at both and there are many examples on her blog, such as: Overnight Rolls (gluten free, dairy free, egg free, and vegan), How to Make Croutons for Bread Stuffing, Chocolate Cake Donuts, and Baked Pumpkin Spice Donuts.
I asked Linda to tell you some more tidbits about herself and the following is what she shared:
"I like to play with microwaves.

Bananas are my favorite fast food.

I will never stop looking at gumball machine prizes.

If it doesn't involve some fun, I'm not interested."
I've known Linda for less than a year, but this small sampling of info captured what I enjoy about her and her recipes. She's a gifted recipe creator who likes real food—preferably prepared in a quick and easy way—and has a penchant for sweets. Plus, as I'm sure you have already surmised, Linda has a tremendous sense of play and love of life!
~ Gluten-Free Bagels (The Hole Story)

~ Gluten-Free Quinoa Breakfast Cookies

~ Really Great Gluten-Free Chocolate Chip Cookies (with an extra holiday touch if you wish!)

~ Fudgier Gluten-Free Brownies
Here's Linda for March Muffin Madness …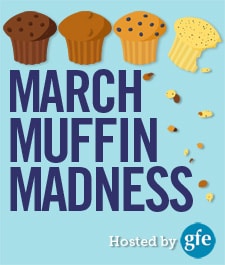 Hi, it's nice to meet you. Sometimes I forget things like that and just start talking only to remember later that saying hello is a good place to start.
Nearly every week, I make gluten-free muffins. Most often, it's blueberry muffins, because they're classic and so very recognizable. See, some of my least favorite questions include:
"Tell me again what I'm eating?

Keen what?

Do you have to put seeds in everything?

Is this another experiment?"

Oh, I could go on.
This muffin always scores big. The recipe is very forgiving and can be altered in numerous ways to please eaters of all persuasions.
If I were a coach, here's how I'd prep a muffin baking team:
Rotate pans halfway during baking.
Leave an empty muffin cup in 2 corners. It's much easier to rotate pans with an empty cup to grasp onto.
For big bakery-style muffins, fill cupcake liners nearly to the top. Sprinkle with coarse or sparkling sugar for extra oomph.
Grease the top of muffin pan, to avoid overfilled muffins from sticking.
Freeze extra muffins to defrost later as needed. Place extra muffins on a cookie sheet and freeze before storing in a container or bag.
If you bake muffins often, prep the dry ingredients and store in an airtight bag or container to use whenever.
Practice makes muffins.
How are your brackets doing? Mine is stuffed with awesome looking recipes. Thank you, Shirley, and friends of Shirley, for making March Madness all about muffins.
Linda's "Starter" Muffins (with Pretty Pink Glaze) Recipe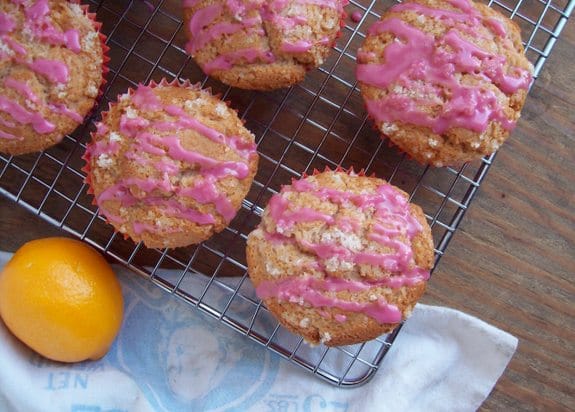 Yield: 14 muffins
Gluten-Free "Starter" Muffins (with Pretty Pink Glaze)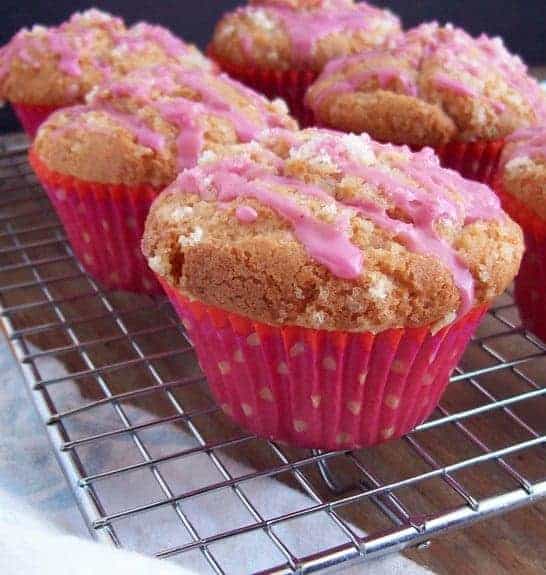 Use this recipe as a template for making muffins that your crew will love. Vary the flavor of yogurt (or the substitute you use) or extracts, add fruit – the possibilities are endless. And absolutely delicious!
Ingredients
Batter
2.5 cups gluten-free flour mix
3/4 cup granulated sugar
1 tablespoon baking powder
1/2 teaspoon guar gum (or xanthan gum)
1/4 teaspoon baking soda
1/4 teaspoon salt
2 eggs, lightly beaten
1/2 cup lemon Greek yogurt (see easy subs in notes)
1/2 cup olive oil
1/2 cup unsweetened applesauce
2 teaspoons pure vanilla extract
1 teaspoon lemon flavor (optional; see notes)
Lemon zest to taste
Glaze
½ cup powdered sugar
1 tablespoon orange juice (use blood orange juice if you want the pretty pink color)
Instructions
Preheat oven to 350F degrees. Place 14 paper liners in muffin pans.
Combine gluten-free flour, sugar, baking powder, guar gum, baking soda, and salt in a large bowl. Blend dry ingredients thoroughly.
In a separate bowl, combine eggs, yogurt, oil, applesauce, extracts, flavor, and zest.
Add liquid ingredients to dry ingredients and stir well.
Fill paper-lined muffins nearly to the top. Bake for 23-24 minutes. Let muffins cool slightly before removing from pan onto a cooling rack.
For glaze, blend orange juice with powdered sugar. Drizzle as needed.
Notes
Use your favorite gluten-free all-purpose blend. I've used a sorghum flour blend and a rice blend with good results. One easy option is Pamela's Artisan Flour Blend, a fantastic cup-for-cup replacement flour. There is guar gum in the Artisan Blend, so there's no need to add any additional binder. Add 3-4 extra tablespoons of liquid to the recipe if you use this blend. King Arthur Flour's gluten-free blend works well, too. It's a rice flour blend without any gums or binders, so you will need to add the guar gum (or xanthan gum) as noted in the recipe. Be sure to blend the guar gum (or xanthan gum, if you use that) thoroughly with dry ingredients.
Substitute non-dairy Greek yogurt if you like. No yogurt? Substitute soured milk. To sour dairy, hemp, or coconut milk, pour 1/2 tablespoon of apple cider vinegar (or 1 tablespoon lemon juice) into a measuring cup and add milk to measure 1/2 cup.
Additions are always a great idea---blueberries (fresh or frozen, unthawed), nuts, chocolate chips---whatever you like. You'll get a bigger muffin yield with more additions.
Not all lemon extracts are the same. Since Simply Organic lemon flavor is oil based, the flavor is more intense (but not harsh) and better dispersed in baked goods than other extracts. If you can't find it, leave it out.
Blood orange juice turns the glaze pink naturally. I love blood oranges, but they're not always available. Beet juice works just as well, if flavor isn't your primary concern. Strawberries, raspberries, and oddly enough, grape juice can add a lovely tint as well. Not muffin related but if you ever want naturally pink lemonade, just add a splash of grape juice!
Originally published March 26, 2014; updated March 21, 2022.