For affiliate links and as an Amazon Associate I earn from qualifying purchases.
Today I'm sharing the recipes for my Flourless Peanut Butter Cookies, which are naturally gluten free. Let me give you a little backup info first though.
One of my standby cookie recipes back in the day (translation: when I was eating gluten) was peanut butter cookies. I always made them for my dear friend, Cindi, for special occasions like her birthday or when she just needed a "pick-me-up. " She would just flip over my peanut butter cookies, so I obliged as often as I could.
After going gluten free, I was anxious to find a worthy replacement. I kept seeing a recipe for Flourless Peanut Butter Cookies on the celiac listserv and on other blogs. It only required peanut butter, an egg, and granulated sugar.
However, I had actually tried this recipe years earlier because I'd been intrigued by the few ingredients. While the cookies turned out okay, they didn't wow me. I don't like making and/or eating "just okay" recipes.
Quite some time later, I saw another recipe for peanut butter cookies on the celiac listserv. That one looked more promising. The ingredients were: peanut butter, brown sugar, an egg, baking soda, and vanilla extract. Plus, you could use smooth or chunky peanut butter and you could add chocolate chips if you liked. Hmmm, make that very promising.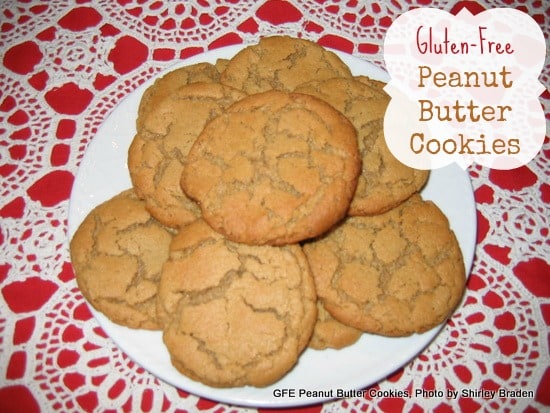 I eagerly made the recipe and these peanut butter cookies were the best—even better than my old, standby recipe! The first dozen times I made them, I used chunky peanut butter and mini chocolate chips. Yum. Delightfully chewy with just the right amount of chocolate.
I've even made them with regular-sized chocolate chips and chocolate chunks (sometimes using store-bought chocolate chunks that come in a bag and sometimes using broken fragments of a good quality dark chocolate bar). As expected, the chocolate merits almost equal billing with the peanut butter in those versions.
Using chocolate chunks actually elevates these cookies to a whole new level. The big semi-sweet chocolate chunks show through the surface, making the cookies very appealing, but better yet, the chunks almost always stay soft and gooey after baking.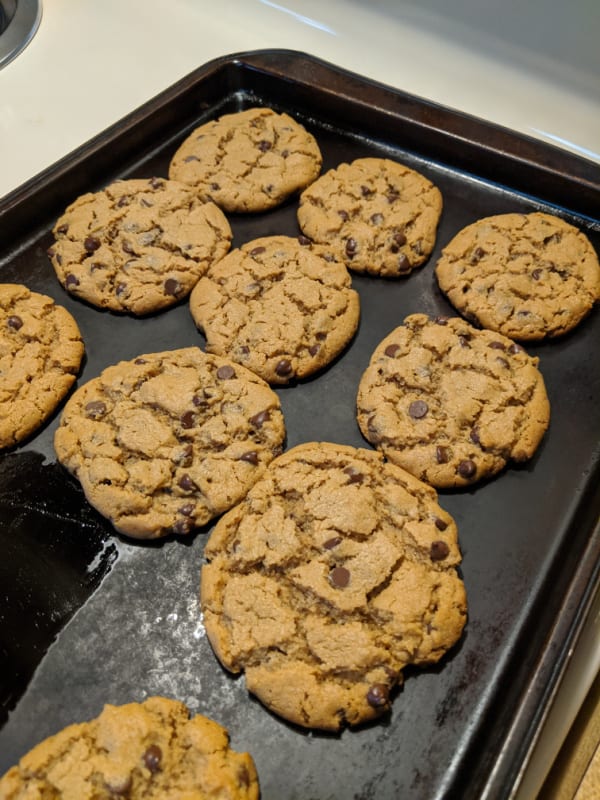 How often does that happen with the cookies you bake? Not often in my experience, but it's certainly wonderful when it does.
Occasionally, I've even dipped these cookies in melted chocolate for a very special holiday gift. They were well received!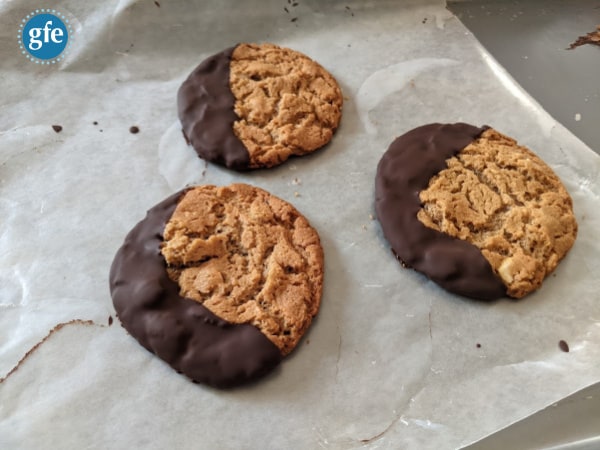 More recently, at a reader's suggestion, I added toffee chips to them (Flourless Peanut Butter Cookies with Toffee Chips). Very Butterfinger-ish and delish.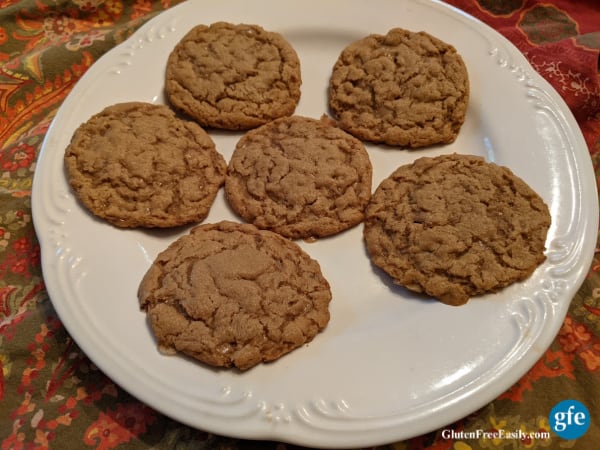 Still, most of the time now I tend to go for the classic version when I make these cookies—using smooth peanut butter (no chocolate chips needed). The results are simply delicious.
Because there's no flour of any kind in all versions of these cookies, the peanut butter flavor really stands out. For a purer peanut butter pleasure, if you will. If you are a peanut butter lover, that's a great thing!
I always make these cookies as one of my sweet treats for parties (like our Valentine's Day party, hence, the picture above). And, this recipe is also the first one I share with those who are newly gluten-free. Everyone is always amazed that they don't contain flour, but yet have just the right cookie consistency and flavor.
What's really neat is that folks can usually go right home and make some for themselves, because the ingredients are ones most of us are likely to have on hand (that is, in homes where family members do not have peanut allergies).
Another nice thing about this recipe is that these cookies can be made quickly. I sometimes make them before going to work when I've promised to bring in a treat. I've also made batches right after work to add to a care package for a friend. Just a little prep time and about two cookie sheets worth of baking and you are done!
It's a great recipe for children to make, as well. It's easy and fun for them to roll the dough into balls, remove the cookies from the cookie sheet, and, of course, taste the results of their efforts.
Try these … if you like peanut butter cookies, you won't be disappointed! I think my friend, Cindi, will definitely approve when I make them for her when she returns to Virginia soon. Or maybe she'll go ahead and give them a test run with the able help of her daughter, Olivia. 🙂
By the way, my aunt absolutely loves these cookies so I have started making them for her birthday every year. Talk about a happy birthday girl!!
Flourless Peanut Butter Cookies (Gluten-Free) Recipe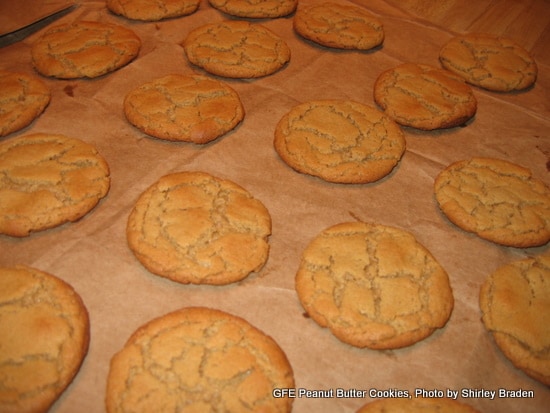 Yield: 24 cookies
Flourless Peanut Butter Cookies (Gluten Free)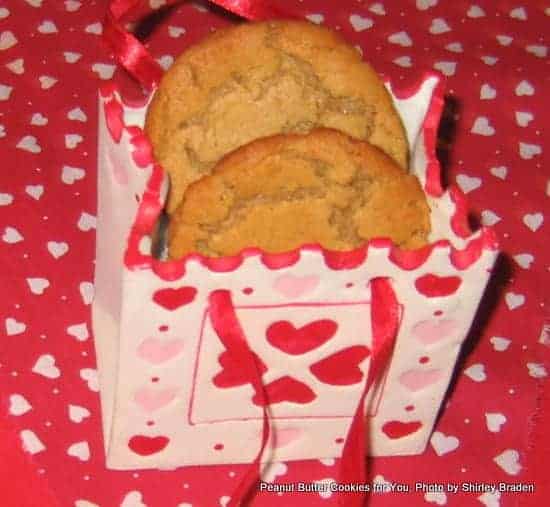 These Flourless Peanut Butter Cookies are naturally gluten free. It's very hard to believe they contain no flour because they have the perfect cookie texture and rich peanut butter flavor. Quick and easy to make, and absolutely delicious.
Instructions
Preheat oven to 350F degrees. Mix all ingredients (except chocolate chips) together well. Last, add chocolate chips (if desired) and mix well.
Grease or moisten hands slightly and form dough into 1-inch balls.
Place balls on ungreased baking sheets. (DO NOT press down as in some traditional recipes. See exception in notes below.)
Bake 8 - 10 minutes or until golden brown and cookies look "set," but not done. Do not overcook.
Then allow cookies to sit on cookie sheet for 5 minutes. (This step is very important, because cookies finish cooking during this time and totally set up.) Remove cookies for cooling.
Makes about 24 cookies.
Notes
Do not use low-fat peanut butter; the cookies will not turn out correctly. I use Jif (all are gluten free at the time of this posting), but it's my understanding that Peter Pan (all), Planters (Creamy and Crunchy), Reeses, and Skippy (Creamy, Crunchy, Super Crunchy, Roasted Honey Nut) are also gluten free.
One reader/tester successfully made these cookies using all natural peanut butter, but advises that you must press them down a bit before baking (with a fork or the bottom of glass will work) for them to spread enough.
You can easily substitute other nut and seed butters in this recipe. We love them made with almond butter. Ensure your vanilla extract and chocolate chips are GF. I make my own vanilla extract, but most are gluten free (e.g., McCormick, Simply Organic).
If you want to turn these cookies into a really decadent treat, get out your jar of Nutella (or other chocolate hazelnut butter/spread) and spread some on the underside of one cookie and then press another cookie on top (top side out). See the resulting Peanut Butter Chocolate Hazelnut Sandwich Cookies here.
Original recipe from the celiac listserv (originator unknown)
Originally published March 22, 2009; updated September 14, 2023.