For affiliate links and as an Amazon Associate I earn from qualifying purchases.
Okay, Flourless Nut Butter Cookies with a Secret Ingredient is not either a super revealing or appealing name for cookies. But these cookies are very appealing, so bear with me as I share how I developed this recipe and reveal the secret ingredient. You might think this is info that you don't need to know, but I think it's guidance that you might find helpful—especially if you want to learn to create your own recipes or adapt for additional food intolerances, or simply adapt for what you have on hand. I'm always doing the latter and have created some of my very best recipes that way.
As most of you who follow gfe know, I adore flourless recipes. As both a gluten-free blogger and gluten-free support group leader, I simply love introducing gluten-free folks to flourless recipes. They make gluten-free baking so darned easy! For one thing, there is no learning curve on the various properties of gluten-free flours when there's no flour required. And one can almost always make the flourless recipes here on gfe with ingredients one has in one's pantry. I mean who wants to run out to the store when you have a craving for homemade cookies? It's just so embarrassing to get caught in one's jammies at the store, right? Okay, I actually haven't gone to the store in my jammies, but I have thought about it. (And if we had a drive-through store for such ingredients, I might even be in my robe and jammies in my car … under my coat, of course.)
Flourless cookies that employ nut butter or sun butter are so easy to make, and so tasty. I call nut butter (or sun butter) a magical ingredient in gluten-free baking. It can provide a rich and nutritious binding/thickening action in everything from brownies and cookies to breads to soups and sauces. With flourless baking recipes, you are tasting the primary ingredients without the distraction of flour. The flourless versions tend to be a bit richer and more satisfying than "floured" versions. However, most flourless recipes rely on eggs to help with leavening, structure, and flavor. That's great for those of us who eat eggs, but what about our friends who are egg intolerant or vegan? We don't want to leave them out when it comes to our delicious treats, right? I've found that I really enjoy egg-free, vegan recipe creation because you don't have to wonder if you have enough eggs on hand and you can taste the mix of ingredients (be it cookie batter, cake batter, or ice cream) and see if any ingredient additions are needed without the health warnings about eating raw eggs playing in your head.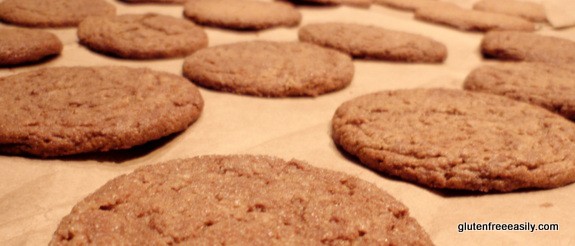 Of course, there are commercial egg replacers and flax "eggs" and chia "eggs" (Lexie calls the latter "gel eggs" in her recent "how to" post.) Unfortunately, those options don't work for everyone either. Some don't get along well with or like flax and others don't tolerate chia (sadly, that would include moi). There are many other substitutes for eggs—like applesauce, mashed bananas, and other standard fruit purees. I've used them all and in some cases, they work great, but it really depends on the recipe. I made an egg-free version of my Flourless Nut Butter Cookies using bananas before, Flourless Banana Nut Butter Chocolate Chip Cookies, and they were quite yummy. But not everyone eats bananas, so I've been pondering a different egg-free version of this cookie. An egg offers some fat in its composition. What staple in my house could I add in that would offer some fat and possibly work egg-free magic? An avocado came to mind. How much avocado could I add without having a cookie that tastes of avocado? I love avocado, but it's not a flavor that I want to taste in cookies.
Well, it took me three attempts to get this recipe right, but it should have only taken two. Allow me to explain. The first time I mentally approximated the volume of an egg and decided 1/3 cup of mashed avocado—which is about half an avocado—would be the right amount. The results were good, but not quite right. Son couldn't taste the avocado, but I could. That amount of avocado didn't result in "objectionable" cookies, but I preferred not to taste avocado at all in my cookies. So the next time around I made the recipe using ¼ cup of mashed avocado. When these came out of the oven, they were the most beautiful cookies. I was sure I had nailed the recipe, but then they fell apart when I tried to remove them from the baking sheet. Sigh. I had to really think about why that happened. I didn't think that the slightly lesser amount of avocado was the cause of the fragility. What else had I done differently? The first batch had been puffy and mound like and while I'd flattened the dough out with a pancake turner the second time around, I didn't think that action alone would have caused them to be quite so fragile. I had added some cocoa powder to half of the second batch and those particular cookies were firmer and quite good in flavor. The peanut butter taste was still present, but not quite as strong, plus the cocoa powder balanced some of the sweetness. Finally, after pondering, I remembered that I'd actually used a cold avocado the first time around. So for the third time, I used cold avocado and I made four different variations—using one batch of cookie dough as my starting point—just to test out all the options. Using cold avocado is key to successful cookies; otherwise, the cookies spread too quickly and are too soft.
In addition to figuring out that cold avocado was key, I also played around with a few other factors. I rolled some of the dough into balls and placed on the ungreased baking sheets "as is. I flattened some of the dough balls with my pancake turner. I rolled some of the dough balls in granulated sugar before flattening and placing on the baking sheet. And, for half the batch, I mixed in cocoa powder. (Note that the slightly darker cookies shown on the right in the photos are the ones to which I added cocoa powder, and the smaller ones are the ones I didn't flatten before baking.) I like every single version of these cookies, but I'd have to say that the ones made with cocoa powder (with or without flattening or sugar on the outside) are my favorites as they are less sweet. They actually don't have a strong chocolate flavor (although you can up that with more cocoa powder and even chocolate chips) … but the simple addition of a little cocoa powder makes the nut butter flavoring less "in your face."


These cookies are a perfect entry for Paleo Parents I Eat Food Healthy Halloween Recipe Roundup and my favorite weekly events: Ricki's Wellness Weekend, and Megan's Whole Foods Friday, Linda's Gluten-Free Wednesdays, and Allergy-Free Wednesdays (which is hosted by several of my and your favorite bloggers). I can't wait to hear what your favorite versions of this recipe are, and what you will call these cookies. If you're family is not squeamish about avocado in their cookies, maybe these will be PB 'Cado Cookies. If they don't want to know or be reminded of the avocado, these might just be "Those New Nut Butter Cookies That Mom Makes"! Oh, I also know that some of you will balk at the amount of coconut/palm sugar (or brown sugar) in this recipe. Feel free to do your own experimenting and report back; I'd love to hear what works for you! I'd like to make these with less sweetener, too, but I really don't want to make any more cookies right now, so I'm turning the recipe testing over to you guys! Last, to ensure that my own taste buds were not prejudiced, I tested these cookies out on Mr. GFE and my co-workers. All approved and had no idea that avocado was an ingredient! Unless you have folks who have avocado intolerances/allergies, you might want to withhold that info, lest it affect folks' taste buds. I am sure that you know what I mean! Enjoy!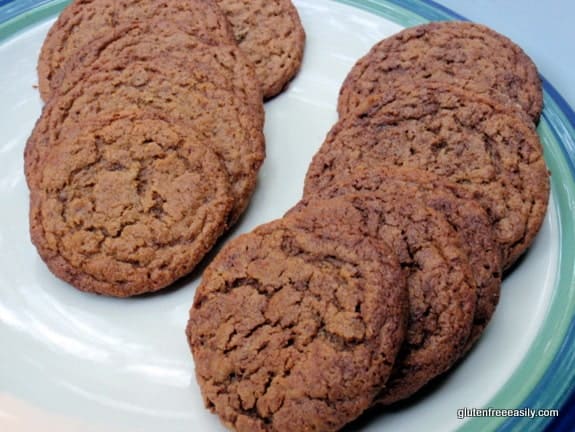 Yield:
Flourless, Egg-Free Nut Butter Cookies with a Secret Ingredient (Gluten Free, Dairy Free, Refined Sugar Free, Vegan)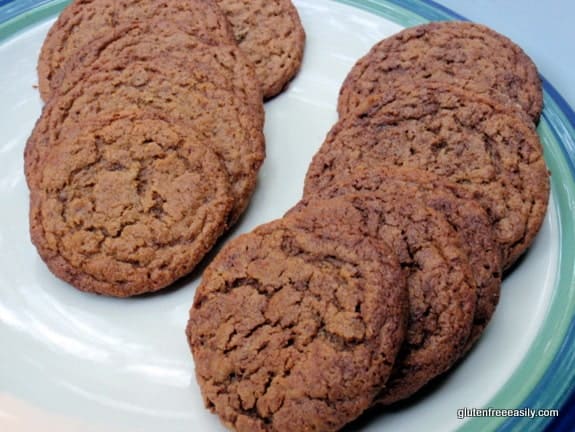 Ingredients
Just less than ¼ cup avocado "puree"; ripe, but firm and COLD (COLD—as in just taken out of the refrigerator)
1 cup peanut butter, nut butter, or sun butter (creamy or crunchy style, I used natural peanut butter)
1 cup coconut sugar (or palm sugar, or brown sugar)
½ tsp vanilla extract
1 tsp baking soda
2 tbsp cocoa powder, or more to taste (optional; see notes)
Coconut sugar, palm sugar, or granulated sugar to roll cookie dough balls in before baking (optional; see notes)
Instructions
Preheat oven to 350 degrees Fahrenheit.
Chop cold avocado and loosely pack into ¼-cup measure, then empty into medium-sized mixing bowl and hand mash until well mashed/"pureed." I use a hand potato masher, using a spatula to scrape all avocado off the masher when I am done. (I measured the resulting avocado "puree" and it was a bit under the ¼ cup measure. There are 4 tablespoons in ¼ cup and the final puree amount may only be about 3 to 3 ½ tablespoons when mashed, but that amount works just fine.)
Add additional ingredients to bowl, including cocoa powder if desired, and mix well. Using a wooden spoon is fine. You don't want over mix the ingredients or "heat up" the avocado puree.
Form dough into balls about 1-inch balls.
Place dough balls on ungreased baking sheets.
At this point, you can roll dough in coconut sugar, palm sugar, or granulated sugar for a slightly prettier version of this cookie that also has a somewhat more crispy outside.
For slightly denser cookies about 2 inches in diameter, do not press down on the dough balls. To get cookies about 2 ½ inches to 3 inches in diameter, slightly press down on dough balls with a pancake turner or fork.
Bake 8 – 10 minutes or until golden brown and cookies look well "set," but not done. Be careful to not overcook.
Then allow cookies to sit on baking sheets for about 10 minutes. (This step is very important, because these cookies finish cooking during that time and totally set up.)
Remove cookies for cooling.
Makes about 24 cookies.
Notes
You can test out all the variations with the one batch of batter if you like: rolling some balls in sugar before placing on baking sheet, pressing some balls down with fork after placing on baking sheet, and adding about half the recommended cocoa powder to half the batch after you've filled with first baking sheet. Feel free to add chocolate chips to the batter (maybe ¼ to 1/3 cup of these allergen-free chocolate chips or these gluten-free, dairy-free chocolate chips), too, if you like.

This recipe is linked to Gluten-Free Wednesdays, Allergy-Free Wednesday, and Paleo Parents I Eat Food Healthy Halloween Roundup.