For affiliate links and as an Amazon Associate I earn from qualifying purchases.
One of the substitutes for eggs in baking is a mashed banana. I've wanted to make an egg-free version of my Flourless Peanut Butter Cookies for some time. But this time substituting a medium ripe banana for the egg and mixing it with creamy almond butter instead of peanut butter, plus adding the little bit of vanilla and baking soda—and a fair amount of Enjoy Life Mini Chocolate Chips—yielded some wonderfully good Flourless Banana Almond Butter Chocolate Chip Cookies.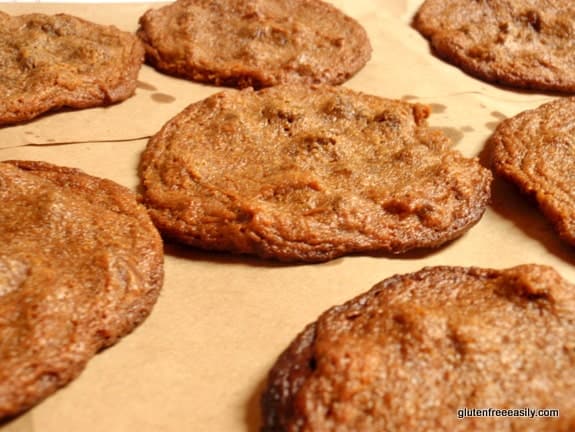 I snapped this photo quickly as the cookies were cooling on a brown paper bag before I headed out to the door to meet up with my good friend, Diane (The Whole Gang), at the Black Bear Bistro in Warrenton. (Note: We had a great time and a great meal. Even though Black Bear Bistro doesn't have a gluten-free menu or many menu items that can be made gluten free, we both enjoyed burgers topped with roasted veggies and a side salad. It was satisfyingly delicious lunch fare for sure.)
This photo is not a prizewinner by any means, but these Flourless Banana Almond Butter Chocolate Chip Cookies sure are. At least in my opinion. Don't let the flat appearance of these cookies fool you; these are not thin crisp discs. They are the perfect type of cookie—that wonderful combination of soft and chewy. Those of you who think that there's nothing better than peanut butter, banana, and chocolate will want to make this recipe using peanut butter as your nut butter. I'll try that next time myself!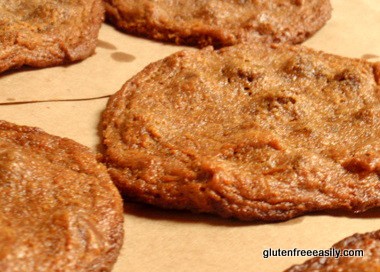 Flourless Banana Almond Butter Chocolate Chip Cookies Recipe
Yield: Makes about 3 dozen
Flourless Banana Almond Butter Chocolate Chip Cookies (Gluten Free and More)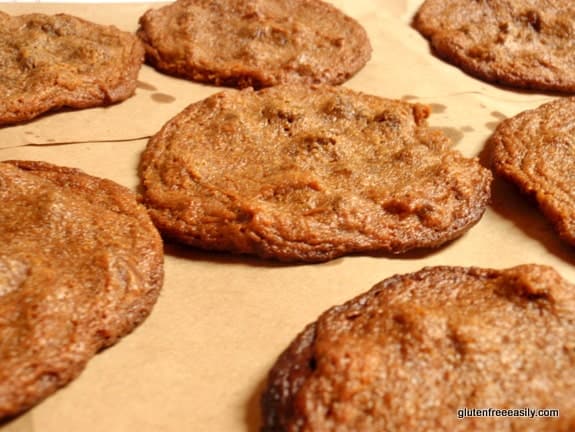 Soft and chewy cookies that have all your favorite flavors and no gluten, grains, dairy, or eggs. In fact, they're naturally vegan as well.

Prep Time 5 minutes

Cook Time 8 minutes

Inactive Time 10 minutes

Total Time 23 minutes
Ingredients
1 mashed banana, of "medium" ripeness (not very ripe and mushy), slightly less than ½ cup
1 cup almond butter (or other nut butter, like peanut butter; or sun butter)
1 cup brown sugar (or coconut palm sugar; see notes)
½ tsp vanilla extract
1 tsp baking soda
½ cup chocolate chips or chunks (more or less, to taste; use Enjoy Life] or [Ghirardelli semi-sweet for dairy free)
Instructions
Preheat oven to 350 degrees Fahrenheit.
In large bowl, mix all ingredients together well.
Drop heaping tablespoonfuls onto ungreased baking sheet. Bake for about 8 to 10 minutes.
Leave cookies on baking sheet for about 10 minutes as they continue to bake/set up. Remove to cool.
Notes
Using a "medium ripe" banana adds more structure to the cookie. Also, be sure not to over mash the banana. You should still have tiny chunks of banana after mashing; it will not be a puree that has an even consistency throughout.

See reader comments on how less sweetener and different sweeteners have been used successfully in this recipe. You will probably want to remove cookies from the oven when the middles look firm but not quite done; otherwise, cookies may overcook slightly on the bottom.

I still get an occasional paper bag at the grocery store, just for cooling cookies. The inside of the paper bag helps absorb some of the extra grease from the nut butter, but paper towels would work, too.

Originally published April 10, 2012; updated August 4, 2020.