For affiliate links and as an Amazon Associate I earn from qualifying purchases.
We all love pizza, right? So when one has success with a "bite-sized" version of pizza, I think Pizza Bomb seems a fitting term. Because these babies are the bomb—Gluten-Free Pizza Bombs!
How Gluten-Free Pizza Bombs Came To Be
A little background … I've been making Kate Chan's (Gluten Free Gobsmacked) Pao de queijo Rolls, aka Brazilian Cheese Bread, aka Chebe rolls, for a few years now. They were part of my inspiration for my Brazilian Un-Cheese Rolls—my beloved vegan biscuits that are a very popular gfe recipe. And when Kate updated her Brazilian Cheese Bread post and said that she'd been using the same dough for pizza crust, well I had to try that, too. I used that method to make pizza when I adopted her for Adopt A Gluten-Free Blogger. Oh, how we loved that pizza crust!
But when it comes to parties, I'm all about finger foods with no utensils and pizza is not often something I'd make for a party. It's not hard to make, but there are a few more steps than I like to make when I'm in party mode, plus there's the need for more room on an already full table for the pan, a pizza cutter, etc. But these Pizza Bombs … now I could do these for any party! Or just for a quick meal for us, such as today's lunch. A scrumptious Saturday treat.
I'll be making these to take our family Super Bowl party tomorrow, too. I'm planning to make several versions … pepperoni, mushroom, green pepper … the possibilities are endless! I also want to play around with this recipe and include some pizza sauce in the filling, top some with pizza sauce and a sprinkle of cheese (as I do for my Pizza Muffins), and, of course, try egg-free and dairy-free versions. I believe they will work, but I just have gotten that far with my testing yet. However, I didn't want to keep this recipe from you guys until then! I want you to make and enjoy these Pizza Bombs and do some of your own experimenting.
One more important note … the flour in this recipe is tapioca flour, also known as tapioca starch. Many have shared that they don't care for the taste of tapioca flour. I, too, used to feel the same way. Then I started using tapioca flour that I purchase at my local international grocery store, Asian brand tapioca flour.
The tapioca flour that I buy at the Asian market never tastes "off" as other brands of tapioca flour often have—especially the most common brand of gluten-free tapioca flour that's usually available. It's important to note that often when tapioca flour does not taste right, it has actually gone bad.
Again, I've never had that issue with Asian tapioca flour. A one-lb bag costs about $1 at my local store. I know that some have expressed concern about cross-contact between products with Asian products … e.g., white rice flour, tapioca flour. I can't speak for all of these products and everyone has to make their own informed decisions about using any "gluten-free" products, but personally, I have never had an issue with (i.e., reaction to) such products. Although I have had many issues with a number of U.S. based, self-certified "gluten-free" products and, in some cases, even certified gluten-free products. That's why I regularly buy and use Asian white rice flour, tapioca flour, and potato starch.
Gluten-Free Pizza Bombs Recipe
Yield: About 15 bombs
Gluten-Free Pizza Bombs (Pao de Queijo "Chebe-Style" Pizza Rolls)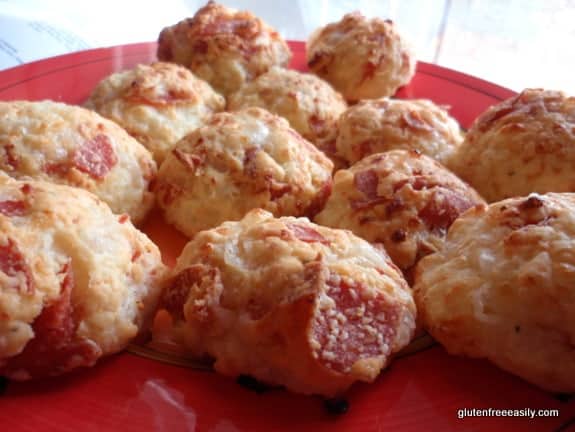 These gluten-free Pizza Bombs are an easy and unbelievably delicious way to get your pizza fix! 
Instructions
Preheat oven to 450 degrees F. Line large baking sheet with parchment paper.
Add eggs to large mixing bowl. Beat slightly. Add other ingredients in the order shown, stirring some after each addition. (Stir gently when adding tapioca flour as it tends to "jump" out of the bowl. Also, be sure to stir immediately or the ingredients will thicken and stirring will be very difficult.) Once all ingredients have been added, stir well until ingredients are fully incorporated. I like to use a wooden spoon (gotta keep up one's hand and arm strength).
With lightly greased hands, form dough into balls about 1 ½ to 2 inches in diameter and place on the baking sheet about 2 inches apart. At this point, you can flatten the dough balls with your hands some if you wish, but I usually just leave mine "as is" to get more of the "bomb" effect (than roll effect). I also think that the centers turn out chewier this way.
Bake for about 8 to 10 minutes until golden brown.
Let cool just a bit and then remove from baking sheet. Add to individual platter or plates and serve with pizza sauce (or sauce of choice) for dipping. Giving each person his/her own small container of dipping sauce will prevent that always present "double dipping" concern.
Makes about 15 "bombs," about 2 ½ to 3 inches in diameter.
Notes
Tapioca flour can bind quickly so it's helpful to have all the ingredients measured out and ready to go before you start mixing your bombs.
I used my kitchen shears to cut cooked pepperoni into smaller pieces before adding to the dough.
I have used dairy butter and dairy cheese to make this recipe, but both I and readers have reported making this recipe successfully using dairy-free "butter" (like soy-free Earth Balance or ghee) and dairy-free cheese like Daiya Mozzarella Style Shreds or Follow Your Heart brand.
Originally published February 3, 2013; updated September 15, 2022.