For affiliate links and as an Amazon Associate I earn from qualifying purchases.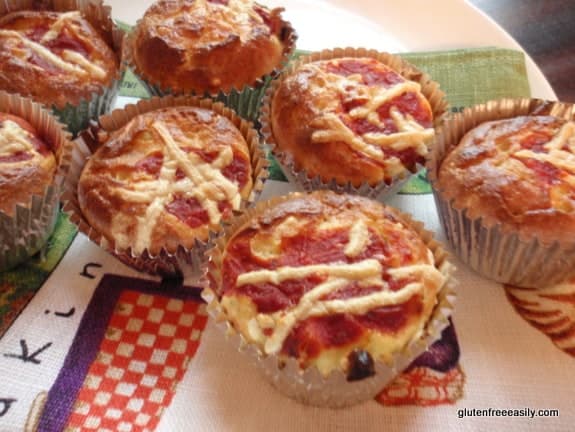 I mentioned that I was baking pizza muffins this morning on my gfe Facebook page and folks perked up quicker than if I'd handed them an authentic Italian double espresso. Almost everyone who responded asked for the recipe "stat"! But first things first … in my posts there, I called these Pizza Muffins grain free as well as gluten free and dairy free. They are the latter for sure (and more), but I did include Daiya cheese, which I now realize contains some xanthan gum. Because xanthan gum may be derived from corn (and are in this case, read on), these muffins are not 100% grain free. Rats! I'll have to see if there's another option that can be used to ensure that they are completely grain free. My apologies!
LATEST UPDATE: Daiya has responded to my query on the corn-free status of the xanthan gum contained in their products. (I have added emphasis to what I consider to be the critical part of Daiya's reply.)
"Hi Shirley,

Thank you for your interest in Daiya and our deliciously dairy free products. We do not claim that our products are free of corn. Our products are free of dairy (casein and lactose), gluten, eggs, rice, peanuts, and tree nuts (except coconut oil). We have two ingredients that are derived from corn: xanthan gum and citric acid.  For a full list of ingredients, please visit our website www.daiyafoods.com.

If you have any questions or inquiries, please let me know.

Warm Regards,

Shnane Liem
Consumer Relations/Sales Coordinator
I appreciate Daiya's prompt, clear response, but I also have to add that this type of situation is why I don't often use processed foods with my gfe approach. When I'm dealing with real, whole foods, no inquiries to the manufacturer are needed. I am grateful that products like Daiya exist for dairy-free consumers, but I would prefer that ALL ingredients be spelled out on the label, whether it's required by the FDA or not.
Back to the muffins … some said that these Pizza Muffins sounded like a really good lunchbox option for their children. I totally agree! With that in mind, one specifically wanted to know how these muffins tasted cold. The answer? Good! And good at room temperature, too. I knew they would because the original recipe for Pizza-Flavored Muffins comes from one of my favorite bloggers, Kalyn of Kalyn's Kitchen, and the caption under her opening photo stated: "These Pizza Flavored Breakfast Muffins are for everyone who likes cold pizza for breakfast!"  That alone would be enough to convince me to adapt Kalyn's muffins, but I also know that Kalyn offers some of the healthiest and tastiest recipes on the web. Many of her recipes are naturally gluten free and several have been made in our house over the last few years. Kalyn's Roasted Mushrooms with Garlic, Thyme, and Balsamic Vinegar recipe just topped our ribeye steaks for dinner—such an easy way to take steak to the next level! But returning to Kalyn's Pizza Muffins, her recipe did contain some whole wheat flour and it also contained dairy. I wanted to make this recipe both gluten free and dairy free. Many of my gfe readers are looking for gluten-free, dairy-free recipes. Pizza—or pizza-themed—recipes that meet both requirements are not that common.
The changes needed were not that difficult to figure out though. I used a combination of more almond flour and some coconut flour to replace the whole wheat flour. I opted for dairy-free yogurt instead of cottage cheese. Instead of Parmesan cheese, I toasted the same amount of almond flour to use in its place. (Some might decide to use nutritional yeast instead.) Mozzarella cheese was easily replaced by Daiya mozzarella shreds. I made a few additional tweaks to Kalyn's recipe just per my personal preferences, like topping the muffins with some pizza sauce and mozzarella shreds. I wanted anyone grabbing one of these muffins to take one look and know that they would be eating a Pizza Muffin. But I also wanted that pizza sauce and mozzarella on top for taste as enough of each ingredient is key to any good pizza dish in my opinion. After making these muffins, I decided that I'd gone too light on the pizza sauce on top. I wanted to get the muffins picture perfect before I posted so at first I simply promised my gfe Facebook readers that I'd post the recipe this week. But then Annie said, "Stop teasing us & post the recipe!!!" Okay, okay, I can't stand to be called a tease, so I won't make you all wait any longer.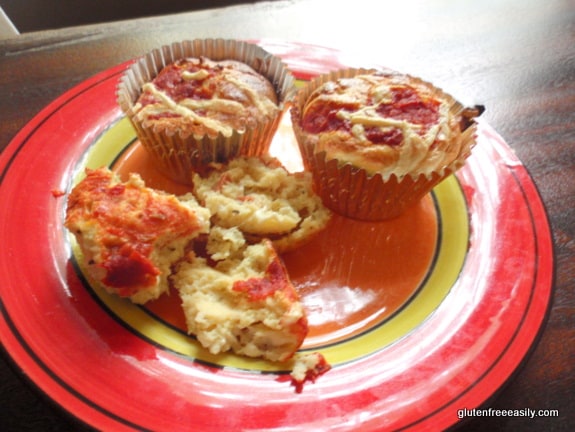 I tested these muffins out on my support group today at our annual picnic and the reviews were all "two thumbs up." After folks sampled these muffins, the individuals who were both gluten free and dairy free asked, "these are dairy free? Really?" When it's hard to believe that recipes are made from alternative ingredients—or without standard ones—that's the very best indicator! So I think—and hope— that these Pizza Muffins are ready enough for you and yours. Finally, I love them every way I've sampled them … warm out of the oven, cold out of the refrigerator, or reheated slightly in the microwave!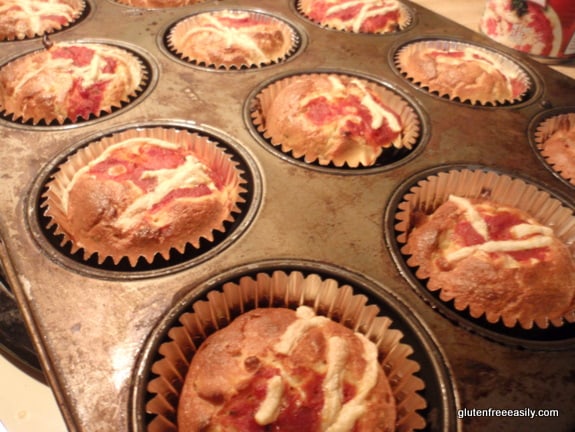 Ingredients
4 large eggs
½ cup So Delicious Dairy-Free Unsweetened Cultured Coconut Milk] "yogurt" (or [So Delicious Vanilla Cultured Coconut Milk, if you prefer; see notes)
1/3 cup toasted almond flour (see instructions)
1 cup almond flour
1 tbsp coconut flour
1 heaping tsp baking powder
¼ tsp sea salt
1 to 2 tsp pizza seasoning (or equivalent combined amount of herbs/seasonings such as onion powder, garlic powder, oregano, basil, and parsley)
about ½ cup dairy-free pepperoni slices or pieces (optional; precooked and cut into smaller pieces with kitchen shears (see instructions); see notes for vegetarian alternatives)
¾ cup vegan mozzarella shreds (I used Daiya mozzarella style cheese shreds)
About ¾ cup pizza sauce in total (amount as desired to top each muffin)
About 1/3 cup of additional vegan mozzarella shreds (amount as desired to top each muffin: I used Daiya)
Instructions
Turn on broiler. Spread 1/3 cup almond flour on ungreased baking sheet. Broil for about a minute and a half, stirring twice, until most of the almond flour is lightly browned. (Do not walk away from the broiler during this time as the almond flour can get scorched pretty quickly.) Remove baking sheet from oven and set aside momentarily to cool.
Spread pepperoni slices on microwave-safe plate lined with two paper towels and topped with a paper towel. Microwave on HI about 30 to 45 seconds. Remove from microwave and use top paper towel to blot grease from pepperoni slices. Use kitchen shears to cut into smaller pieces; irregular pieces are fine. Set aside.
Reduce oven temperature to 400 degrees Fahrenheit.
Grease 12 muffin cups well or line with cupcake liners, spraying each lightly with non-stick spray or oil.
Add eggs to a medium-sized bowl; whisk.
Add in So Delicious Dairy-Free Unsweetened Cultured Coconut Milk. Whisk.
Add in almond flour (toasted and "untoasted"), coconut flour, baking powder, sea salt, pizza seasoning, vegan cheese, and pepperoni. Whisk all to mix.
Scoop batter into muffin tins until about ¾ full. (I use an ice cream scoop.)
Spoon about a tablespoon of pizza sauce on top of the batter in each muffin cup. Sprinkle a few mozzarella shreds on top of the pizza sauce in each muffin cup.
Bake about 22 minutes. Check with a toothpick for doneness.
Serve. Store any remaining muffins covered in refrigerator.
Notes
I always use Honeyville Almond Flour. This recipe is also soy free and even refined sugar free if you use a refined sugar-free pizza sauce or substitute tomato sauce for the pizza sauce. (Blot tomato sauce with paper towel to remove extra liquid.) If you normally enjoy a pizza crust with a little sweetness in the crust, you might want to use So Delicious Vanilla Cultured Coconut Milk as your "yogurt" in this recipe.For a vegetarian option, pepperoni may be omitted or replaced with another ingredient like spinach or zucchini. Be sure to wring out all excess liquid before adding to batter. Really you could add just about any ingredient that you enjoy on any pizza!Recipe adapted from Kalyn's Kitchen.