For affiliate links and as an Amazon Associate I earn from qualifying purchases.
With the "big game" coming up on Sunday, I thought it was time to remind you about one of my favorite recipes for festive gatherings, this naturally gluten-free Pizza Dip. I like to remind folks to look beyond the gluten-free label when it comes to recipes. This naturally gluten-free Pizza Dip is a perfect example.
It's a recipe that's been around "forever" on the party/celebration circuit. If you do an online search, you'll find many variations. (I'm not sure the original source can be determined.)
Yes, this pizza dip is gluten free, but of the thousands of times that it's shared online on various recipes sites and blogs, with subtle variations, only a very, very few times is it labeled "gluten free."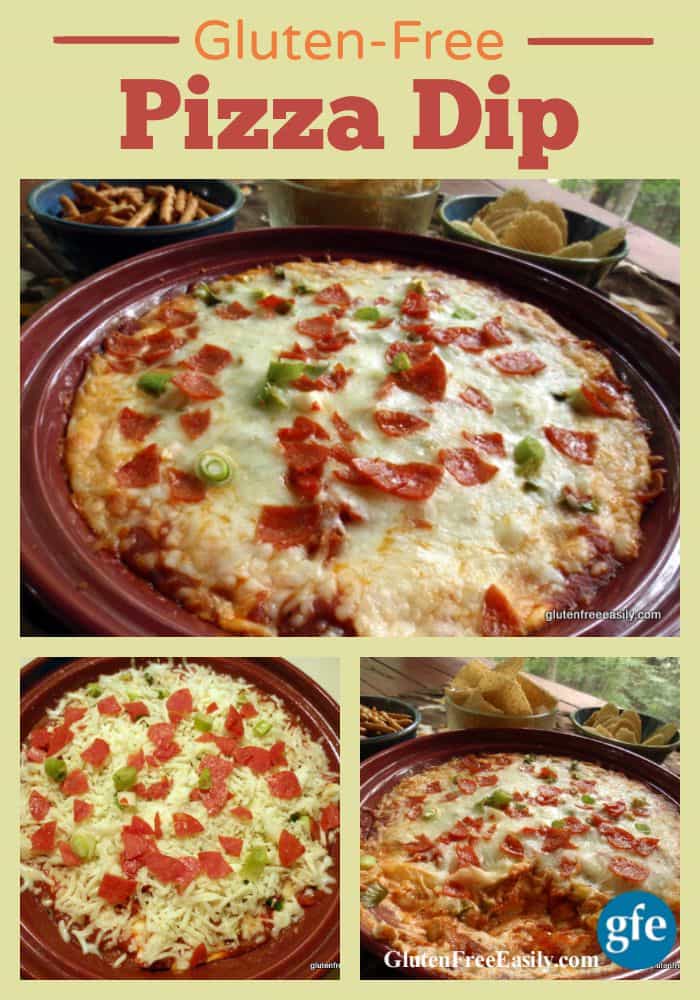 So if you're looking for a particular recipe, don't just look that recipe using the "gluten free" label. Search for the recipe in general—e.g., pizza dip–and then review the ingredients to ensure they are safe or that any gluten-full ones can be replaced with a gluten-free ingredient.
Other than a suggestion to serve pizza dip with breadsticks, personally, I've never seen a gluten factor in the many variations of this particular recipe. Even then, naturally gluten-free recipes are the way to go whenever possible in my opinion. They are the main premise of the gluten free easily (gfe) approach.
The benefits of naturally gluten-free recipes are that you experience the same flavors, textures, and costs as the gluten-full person eating the recipe. And of course, you don't have to go to a special store or even a special section of the store to find the ingredients.
With pizza, we are mostly going for that amazing combination of cheese and tomato … and texture … that ooey, gooey mouth feel of the cheeses with the tomato. Plus what the other ingredients add to the mix … pepperoni, green onions, and the like.
Everyone is surprised when they find that the Flourless Pizza recipe here on gfe tastes like real pizza. Yes, without a traditional crust. Much like all the flourless cookies and flourless pies here on gfe don't disappoint. The focus is on the primary ingredients, not the "flour-y outer shell" so to speak.
While I do thoroughly enjoy crusted pizzas, like my Popover Pizza; Kate's Brazilian Cheese Crust; Debbie's Grain-Free, Nut-Free Pizza Crust; and even my Pizza Muffins, this Pizza Dip also easily satisfies one's need for a pizza "fix". (See even more gluten-free pizza options—traditional and non-traditional.)
This recipe is very good. Mr. GFE's assessment is to the point. He says one word—"delicious."
That description may get used too often, but I certainly never get tired of hearing it. And, hey, dips are festive. Dips are fun. Finger food. No need for dishes.
Parties and celebrations are the obvious settings for serving dips. But make this Pizza Dip for dinner—or perhaps to enjoy during the weekly sports event viewed from the comfort of your home—and you'll put the whole family in a mood to cheer!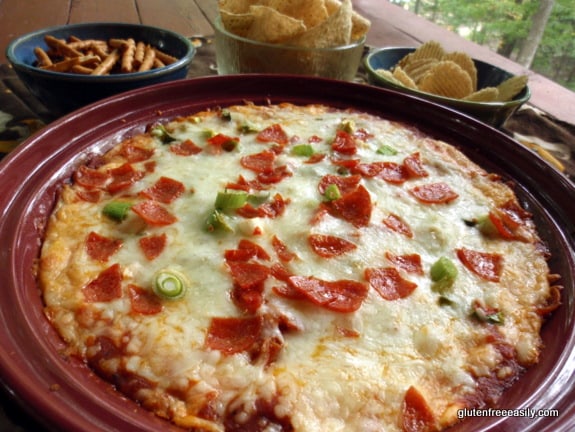 Dairy-Free Options for This Gluten-Free Pizza Dip
This recipe is the original that I'd noted on a recipe card long ago. It contains dairy in a big way—cream cheese and sour cream and mozzarella cheese. For a dairy-free version, if you can eat soy, you can substitute a product such as Tofutti Better Than Cream Cheese for the cream cheese and Tofutti Better Than Sour Cream Sour Supreme for the sour cream.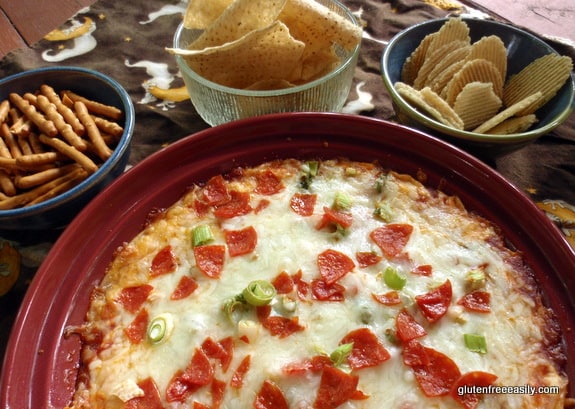 You can, of course, use dairy-free Daiya Mozzarella Style Shreds instead of dairy mozzarella. There are several other terrific dairy-free brands of cheese now as well. We really like Follow Your Heart products and Spero sunflower seed-based cream cheese is simply amazing. We like the original flavor cream cheese the best.
If you haven't looked in the dairy-free section of your grocery store in a while, be sure to do so. I think you'll be pleasantly surprised—especially when you taste some of them! Readers have even told me about store-brand dairy-free cheese products (e.g., Kroger) that are their favorites! (See notes for additional information on adjustments to baking time for the dairy-free version.)
Finally, one of the reasons that I don't always like cooking with some commercial dairy-free products is their inherent softness, their lack of "structure" so to speak. But in this dip, the soft nature of these ingredients really has little effect on the recipe. After all, it's a dip … softness is a positive as it ensures "dippability"!
Naturally Gluten-Free Pizza Dip Recipe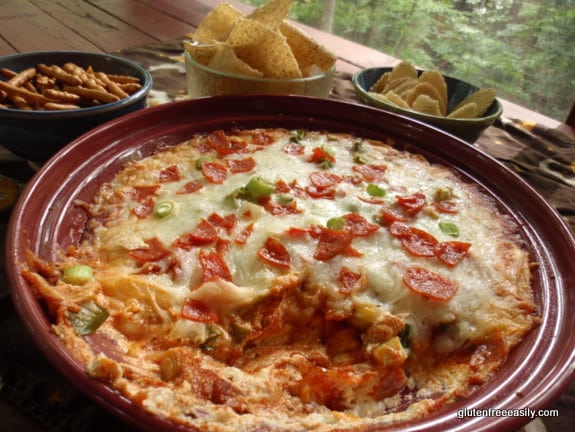 Yield:
Naturally Gluten-Free Pizza Dip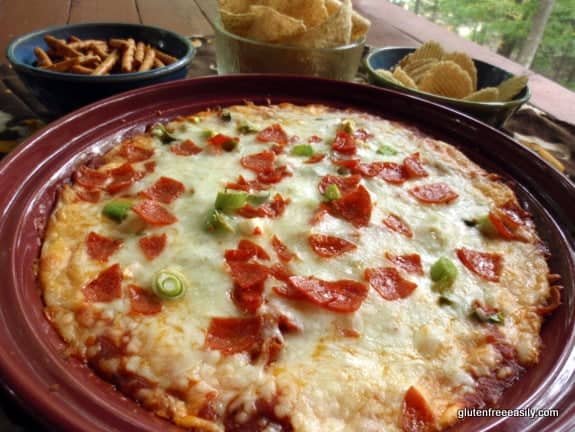 Ingredients
8 ounces cream cheese, softened
½ cup sour cream
1 tsp pizza seasoning (or 1 tsp in total of a combination of your favorites seasonings for pizza; see notes)
¾ cup pizza sauce (see notes)
About ½ cup chopped pepperoni 
Additional ingredients of choice---about ½ to 1 cup total of chopped green onion; chopped mushrooms; chopped or sliced olives; chopped tomatoes, chopped and fully drained artichoke hearts, chopped and fully drained spinach—whatever you enjoy on your pizza
1 cup of shredded mozzarella
Gluten-free tortilla chips (or other chips), crackers, pretzels, bread sticks, cut veggies, etc. for dipping
Instructions
Preheat oven to 350F degrees. Grease 9-inch pie pan.
Add cream cheese, sour cream, and seasonings to a large bowl. Mix well with hand mixer.
Spread mixture into the bottom of the pie pan. Bake for 10 minutes.
Spoon pizza sauce over baked mixture.
Add most of the pepperoni pieces plus most of the other additional ingredients. Reserve a few of the ingredients to garnish the dip later.
Sprinkle mozzarella over surface of the dip. Top with reserved ingredients.
Bake about 10 minutes longer.
Serve with gluten-free tortilla chips (or other chips), crackers, bread sticks, pretzels, cut veggies, etc. Leftovers may be reheated in the oven or microwave.
Notes
Instead of ready-made pizza seasoning you can use one teaspoon in total of your favorite individual pizza seasonings; e.g., dried oregano, garlic powder, Italian seasoning, ground red pepper, red pepper flakes
I used 30 pepperoni slices.
I don't care for turkey pepperoni as many do, so I precook my pepperoni in the microwave on paper towels about 45 seconds to help remove a lot of the fat and make it crispy before I add it to the recipe.
If you use dairy-free ingredients, bake cream cheese/sour cream/seasonings mixture for about 13 minutes. Top as directed per instructions and bake about 7 minutes longer. You want to ensure that the mozzarella-type shreds just melt slightly.
Originally published October 10, 2011; updated March 5, 2022.