For affiliate links and as an Amazon Associate I earn from qualifying purchases.
This Easy Crustless Gluten-Free Caramel Apple Pie doesn't require caramel sauce—either ready-made or homemade. It is so very easy and delicious that you won't believe it. I still don't quite believe it myself.
Even though the chemistry of the specific baking ingredients in combination as well as the actual pie results both say that it's true!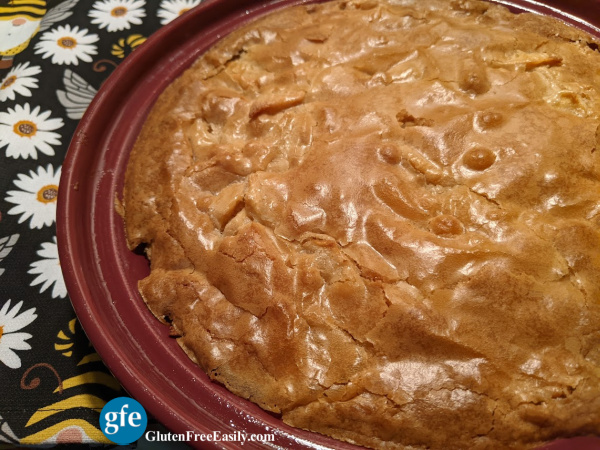 How This Easy Crustless Gluten-Free Caramel Apple Pie Came About
I shared my Easy Gluten-Free Caramel Apple Pie recipe that does include homemade or store-bought caramel sauce on Facebook recently. As I was sharing it, I thought to myself, I wish I could offer a recipe that does not require actual caramel sauce or wrapped caramels.
So nobody has to make a run to the store or have to make another recipe first. Such as with my Gluten-Free Caramel Squares recipe. No homemade or ready-made caramel sauce is required for those beloved treats.
Then a light bulb came on. What if the batter for the Caramel Squares could actually be used as the pour-over batter for my Easy Gluten-Free Apple Pie ("Crustless") recipe? That would create an Easy Crustless Caramel Apple Pie recipe.
So, I took a look at the ingredients in the Caramel Squares and compared them to the ingredients in my original apple pie recipe. The differences? The Caramel Squares were made using light brown sugar instead of granulated white sugar and they contained ¼ cup less melted butter.
Those were the only differences. I wasn't really worried about the little bit of extra butter used in the pie version. More butter for better batter "spreadability" in the pie recipe made sense to me. But could I simply sub in light brown sugar in the original apple pie recipe to create a caramel version?
I did and it worked beautifully! The resulting pie had a glorious caramel-colored crust and the caramel taste was perfect.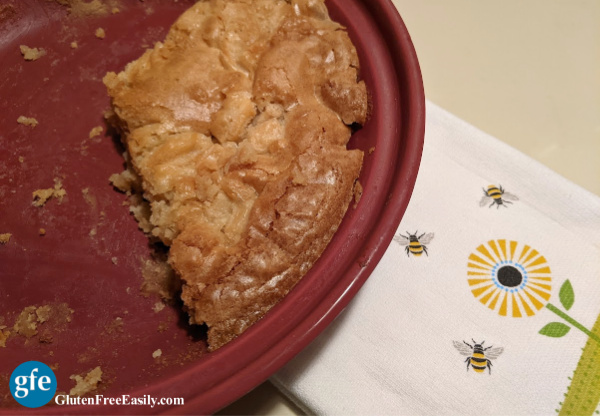 Some of you who have been waiting for this recipe since the moment I shared the photo on Facebook might be skeptical. "That's it?" you may say. "That's all you have to do to create the caramel version? That's the secret?"
Hey, I get it. How can a delicious apple pie be this easy? Specifically, can a change that simple really create a completely different, caramel version? Well, yes. The answer is emphatically yes!
As I said, I'm still in a bit of disbelief myself but it does make sense as butter and brown sugar caramelize so easily. And setting aside my surprise, I am very, very happy about this Easy Caramel Apple Pie!
At which temperature does this pie taste best? Warm out of the oven. Room temperature. And cold out of the fridge. Honestly, it's divine at every temperature!
What time of year and on what occasions should you serve this Easy Caramel Apple Pie? Fall. Thanksgiving. Spring Easter. Mother's Day. The weekend. Monday.
There is no wrong time or occasion on which to serve this Caramel Apple Pie!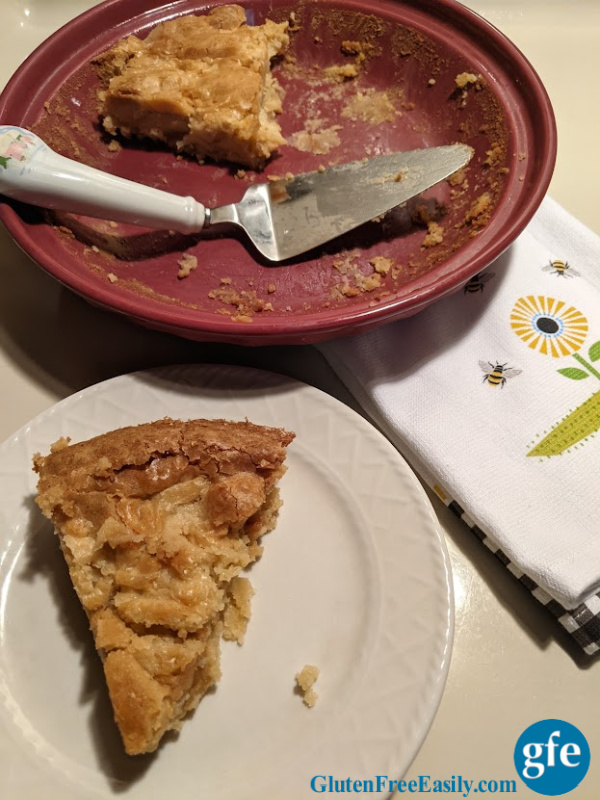 One thing I noted about using light brown sugar to make this apple pie instead of granulated white sugar is that the crust is just a tad softer. Therefore, I recommend cutting the apple slices a little smaller to ensure you get "cleaner" edges when you cut your slices.
I also used slightly fewer sliced apples in this pie than the original, non-caramel version because I wanted the pour-over batter to fully "encase the apples" and ensure plenty of caramel flavor. I also omitted the ground cinnamon because I didn't feel it would contribute to the caramel taste.
That's it. Those are all my thoughts and tips. Now go bake this lovely and delicious Easy Crustless Gluten-Free Caramel Apple Pie because you probably have all the ingredients already. If you like to keep fresh apples on hand as I do, that is. I just bought half a peck of fresh apples today. I am ready to make my next Caramel Apple Pie!
More Gluten-Free Caramel and Apple Recipes You Must See
~ Apple Cinnamon Volcano Pancake
~ Grain-Free Apple Cinnamon Cake
~ Pumpkin Spice Apple Cider Cake
~ Salted Caramel Apple Muffins
~ Salted Caramel Shortbread Brownies
~ Your Favorite Gluten-Free Apple Desserts—Top 175 Recipes!
Easy Crustless Gluten-Free Caramel Apple Pie Recipe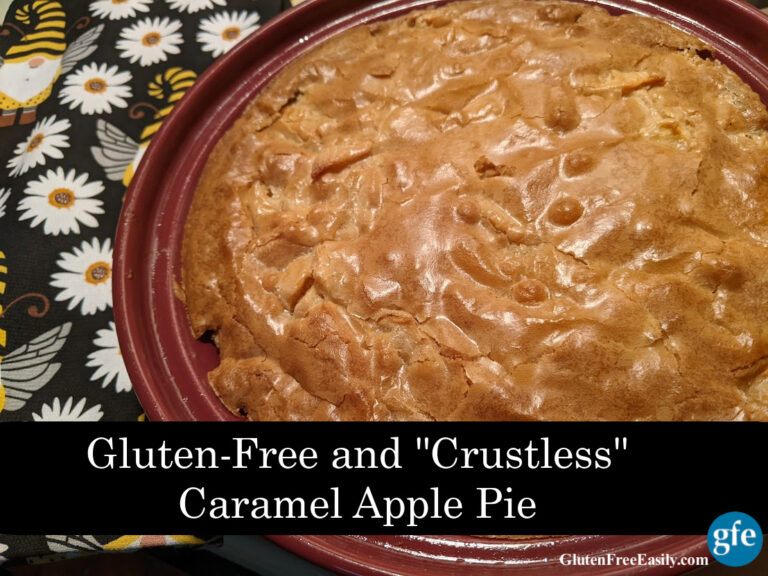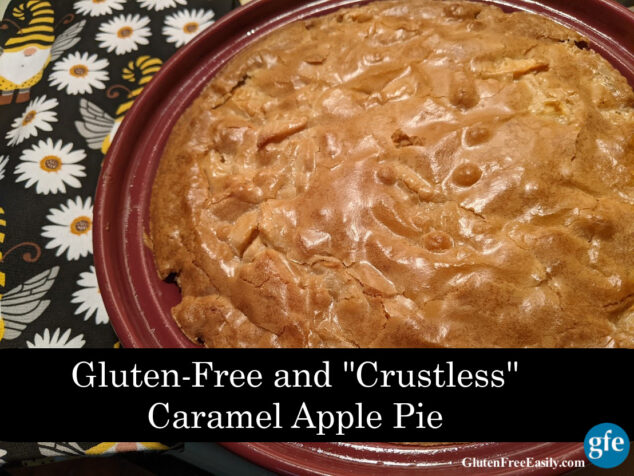 Yield: 8 servings
Easy Crustless Gluten-Free Caramel Apple Pie (No Caramel Sauce Needed)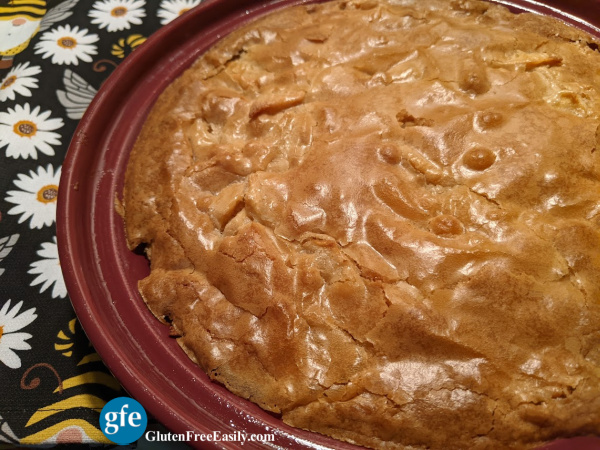 You don't need either homemade or purchased caramel sauce to make this Caramel Apple Pie and you don't have to roll out a crust. The pour-over batter made of basic ingredients gives you both a top and bottom crust and glorious caramel flavor!

Prep Time 15 minutes

Cook Time 40 minutes

Additional Time 15 minutes

Total Time 1 hour 10 minutes
Ingredients
4 cups peeled, sliced, and cut-up apples (about 4 large apples)
1 tbsp granulated white sugar (or vanilla sugar)
¾ cup butter, melted (dairy or non-dairy substitute, like Earth Balance--please see notes)
1 cup light brown sugar
½ tsp xanthan gum (optional, and omit if using a flour mix that already contains xanthan gum)
1 large egg
pinch of salt
Instructions
Preheat oven to 350F degrees.
Put apples in a greased deep-dish pie plate and sprinkle with granulated sugar.
In a bowl, mix melted butter, light brown sugar, gluten-free flour mix, and xanthan gum (if used). Blend in unbeaten egg and a pinch of salt. Mix well and pour over apples. (This mixture will be thick, so you might have to spread it with a spatula to cover all the apples.)
Bake for about 40 minutes.
For ideal results, cool completely before slicing. (Although I completely understand if you just have to have a slice while it's still warm!)
Notes
If you're using Earth Balance instead of butter, I strongly recommend the soy-free version in the pink/red tub. Spoon into a glass measuring cup and melt, adding more if needed to get to the 3/4 cup measurement. If you're using Earth Balance sticks, measure the same way. Disregard the cup measurements on the sticks.

If you who don't use gums, I've made my crustless apple pies without xanthan gum successfully as well.

Originally published October 8, 2022; updated October 29, 2022.