For affiliate links and as an Amazon Associate I earn from qualifying purchases.
I'm excited to be partnering with Walkers Shortbread today to tell you about their new gluten-free shortbread cookies and my rich and indulgent recipe for gluten-free Salted Caramel Shortbread Brownies, which I created using their cookies.
Gluten-Free. Salted Caramel. Shortbread. Brownies. Yes, that's what I said and they're good as they sound.
My mom ate one of these gluten-free Salted Caramel Shortbread Brownies and proclaimed them "excellent!" But let's get to Walker's Gluten-Free Shortbread Cookies, first, shall we?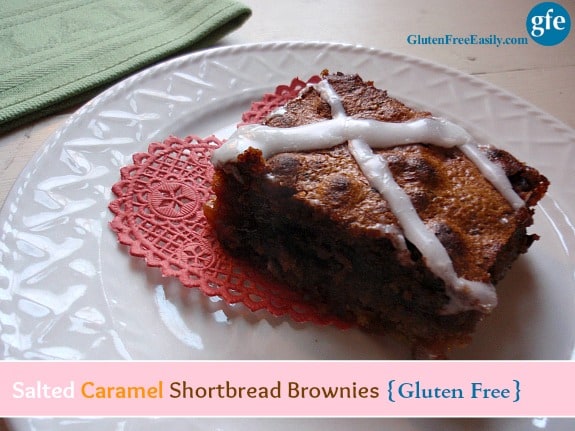 If you follow gfe, you know that I really don't do that many product reviews, but some products I must have and try immediately—if they fit my requirements, of course. I absolutely adore shortbread and have really missed being able to pick up a package of delicious shortbread since going gluten free so I was excited when I was contacted about partnering with Walkers in checking out and using their Walkers Gluten-Free Shortbread.
First, I wanted to know about the ingredients though. I learned that Walkers Gluten-Free Shortbread Cookies contain rice flour, corn flour, and potato starch, and keep the same butter and sugar content as their traditional shortbread cookies. (See all ingredients on the label below.)
Then I asked if their products were certified gluten free. Their gluten-free line is certified gluten free by the UK Celiac Society, with every single batch of their cookies tested to ensure that they truly are gluten free to less than 20 ppm.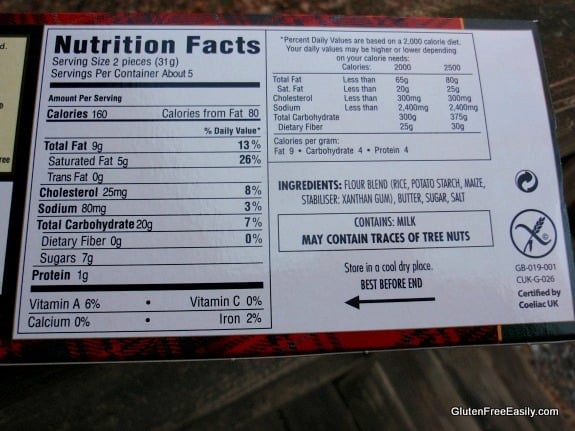 Walkers Shortbread stated that they "launched a gluten-free option to allow everyone the opportunity to enjoy this delicious traditional treat without compromising on taste." Their promise is:  "all the pure-butter taste, aroma, and texture you love, but without the gluten."
I have to say that in my opinion they really do deliver, especially with their Pure Butter Gluten-Free Shortbread Cookies. The classic shortbread cookie has always been my favorite and Walkers new gluten-free version is a perfect substitute.
When I am shopping and see this product, I will buy it. Every time.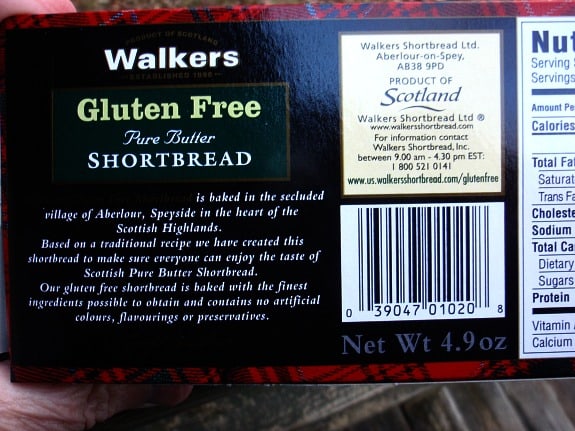 Their two other flavors of shortbread cookies are Ginger & Lemon and Chocolate Chip. I thought their Ginger & Lemon Shortbread Cookies were really lovely with their light lemon flavor and bits of ginger throughout, especially with a cup of tea. Their Chocolate Chip Shortbread Cookies made quite a tasty chocolate chip cookie, too.
Again, I would eagerly purchase and enjoy these cookies any time.
A nice little bonus is that Walkers new gluten-free shortbread cookies don't cost much more than their gluten-full "ancestors." There are nine cookies in each package and they tend to, uh, evaporate quickly.
I received quite a few packages of these shortbread cookies to sample and use in my recipe development and one single package is left. I made the "mistake" of promising to let my Mom and my gluten-free aunt sample these cookies, so I dare not even open the box until I'm in their presence!
I have not yet found these cookies locally, but you can order them online via Walkers Shortbread, Amazon, and other sources.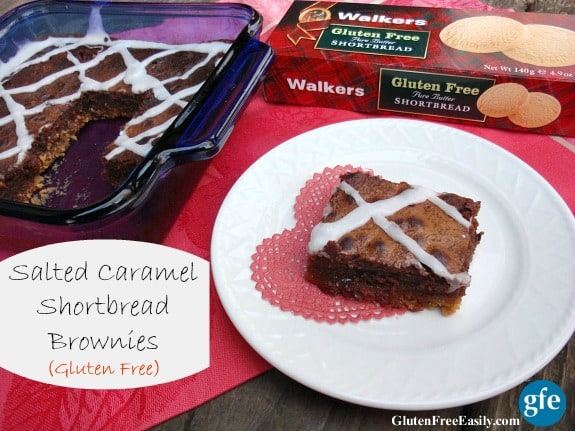 Gluten-Free Salted Caramel Shortbread Brownies Recipe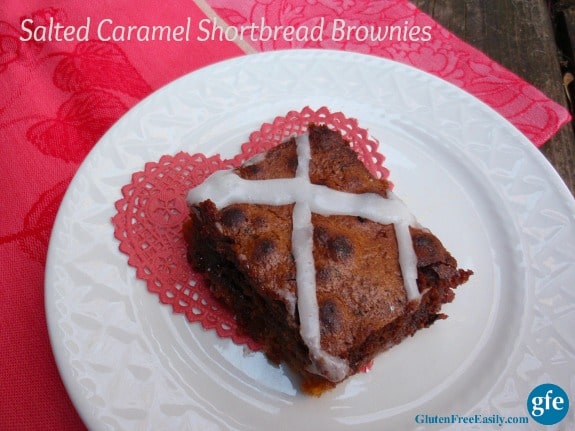 Yield:
Gluten-Free Salted Caramel Shortbread Brownies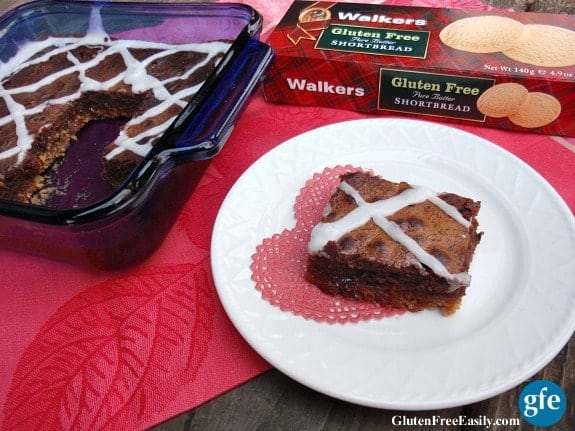 Three of the most loved foods in the world---salted caramel, shortbread, and brownies---come together in these gluten-free Salted Caramel Shortbread Brownies. Walkers Gluten-Free Shortbread Cookies make a lovely buttery and crunchy crust.
Ingredients
Shortbread Crust Layer
Salted Caramel Sauce Layer
Brownie Layer
Instructions
Preheat oven to 350 degrees F. Grease 8 x 8 baking dish.
For Shortbread Crust Layer:
Mix crushed shortbread cookies and melted butter in a medium-sized mixing bowl.
Once mixed, transfer the shortbread mixture to the baking dish spreading evenly with a spatula and, if needed, pressing it down with clean hands to form the crust/bottom layer.
Bake for 8 to 10 minutes until a light golden brown. Remove from oven and set aside to cool.
For Caramel Sauce Layer:
Mix coconut milk, honey, and butter in heavy sauce pan over medium-high heat. Bring to a low boil stirring constantly for about 2 minutes. Reduce heat to medium low and stir almost constantly for about 15 minutes or until sauce thickens to a true caramel thickness. Reduce heat further if mixture continues boiling. (I have an electric stove and found that if I reduced the heat a bit lower, the sauce would continue to simmer, but I didn't have to stir it nonstop. I stayed nearby in the kitchen and stirred it frequently, but did not have to stir nonstop. If you've cooked your caramel for the entire length of time and it's not quite caramel consistency, use the "cheat" that I shared in Notes.)
Pour caramel sauce over shortbread crust layer. Use your spatula to remove all of the caramel sauce from the pan and spread the caramel to almost the sides of the baking dish. (The brownie layer will push the caramel sauce out further so it's just right.)
Set pan aside.
For Brownie layer:
Using the double boiler method, melt butter and chocolate chips in medium-sized pan. Alternately, you can use a medium-sized bowl and melt your butter and chocolate chips in the microwave. If you do use the microwave, remember that chocolate chips will hold their shape until you stir them so don't overcook your mixture.
Once butter and chocolate chips are melted, stir well and remove pan from heat, placing it on a potholder. Add in honey; mix well. Add in eggs and vanilla stirring well. Finally, add in flour and salt. Mix until combined.
Pour brownie batter over the caramel layer.
Bake for about 30 to 40 minutes. Test with a toothpick for doneness, but don't push down toothpick too far or you'll hit the caramel layer and perhaps think the brownies are not yet done when they are.
Cool completely (if you can wait!) before cutting into squares and serving. If you wish, you may make a drizzle using powdered sugar and water or milk (I used coconut milk) to drizzle a pattern on the top of your brownies.
Store loosely covered at room temperature.
Notes
I placed the shortbread cookies in a Ziploc bag, sealed it letting the air out as I did, and then used a rolling pin on top of the bag to crush the cookies so that all the crumbs were fine and powdery. This only takes about a minute to go because the cookies are made from such finely ground ingredients and are so light. Some might prefer to use their food processor for this task and you can certainly do that, but if you do be careful that you don't over process the ingredients and turn the cookies into a butter consistency.If you really like the salt factor in your Salted Caramel recipes, you might even sprinkle just a little sea salt evenly on top of your brownie batter before baking.If you don't have a heavy saucepan to use to make your caramel sauce, you can use a cast iron skillet. I believe that you will have to stir your ingredients fairly constantly though because the liquid is spread out over a greater surface area and could burn more easily.Some of you will ask if you can substitute a ready-made caramel sauce. I don't see why not as long as it's caramel sauce---with the thickness that entails---versus caramel syrup that one might use on ice cream.I have little patience so I always "cheat" when it comes to cooling and thickening ingredients for recipes. I got impatient with the thickening of the caramel sauce at the very end of cooking it and just made a spot in my freezer for it. I placed it on a huge, thick potholder uncovered for about 3 to 5 minutes and it thickened very nicely.
Giveaway of Walkers Gluten-Free Shortbread Cookies Package
UPDATE:   This giveaway is now closed.
This post is sponsored by Walkers Shortbread, but the opinions expressed here are my own.
Originally published December 3, 2015; updated June 22, 2018.