For affiliate links and as an Amazon Associate I earn from qualifying purchases.
Mr. GFE and I both enjoy a good casserole, tortilla chips, cheese, and Mexican themed dishes. So when I saw a Mexican casserole made with beans and tortilla chips in a listing on All Free Casseroles Recipes, I had to take a look.
The original recipe was actually called My Mom's Mexican Casserole. Aren't Mom's recipes usually the best?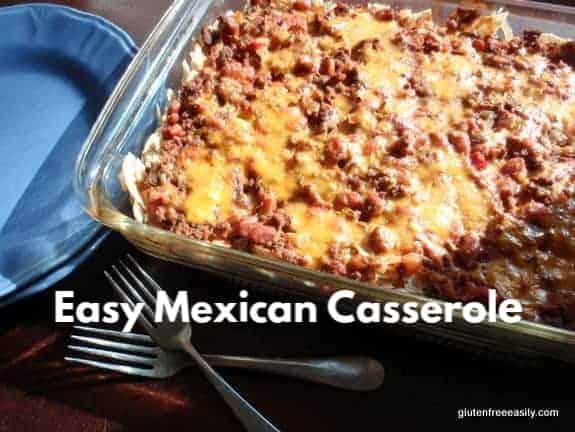 I decided to give the recipe a go, creating my own simpler version—a gfe version made with simple pantry ingredients.
So I skipped the canned Ranch style beans and opted for plain pinto beans. I omitted the cream of chicken soup. (Although Pacific Foods makes gluten-free cream of chicken soup and there are lots of homemade gluten-free versions of "cream of" soups, again, I wanted to keep things simple and use what I already had in my pantry.)
I omitted the packaged taco seasoning mix (although there are plenty of gluten-free options, like this one) and I decided that I would use salsa as my liquid, binder, and main flavoring in the recipe instead of as an optional ingredient. Therefore, I knew that taco seasoning would not be needed. I knew the salsa would do the job I wanted, because my Enchilada Casserole includes salsa for the very same reason and it's delicious. (By the way, when I do need taco seasoning, I rely on this Four-Ingredient On-the-Spot Taco Seasoning.)
This Easy Mexican Casserole made with beans and tortilla chips (which are pantry staples here) is a perfect one-pot meal—my personal fave! My aunt and I enjoyed it for lunch when she was visiting. Mr. GFE and I enjoyed it for dinner two nights in a row.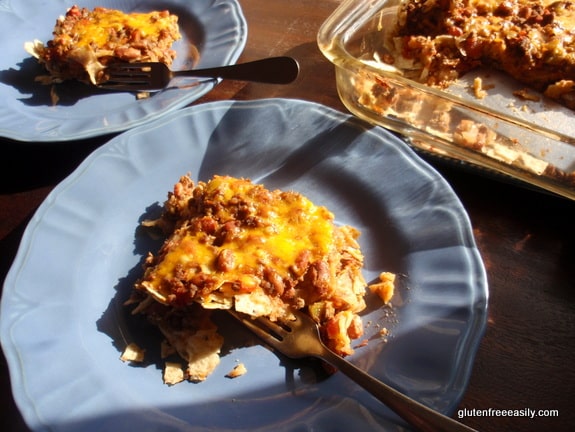 I even ate some for breakfast and/or lunch a few days. It was good every single time! Enjoy!
Other Gluten-Free Mexican Casserole Recipes For You
~ Cheesy Low-Carb Taco Casserole from Kayln's Kitchen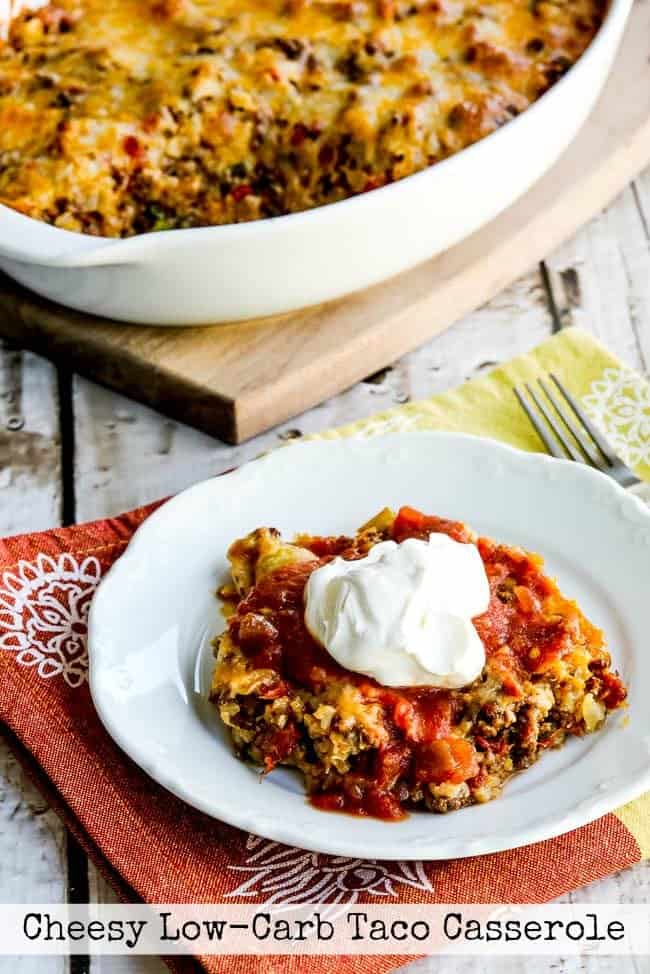 ~ Chicken Enchilada Casserole here on gfe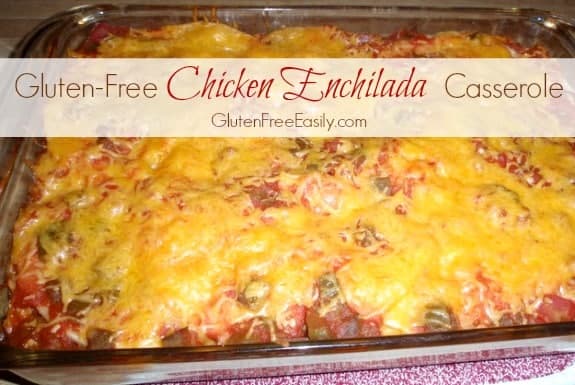 ~ Freezer Burrito Casserole (use gluten-free options) from Lynn's Kitchen Adventures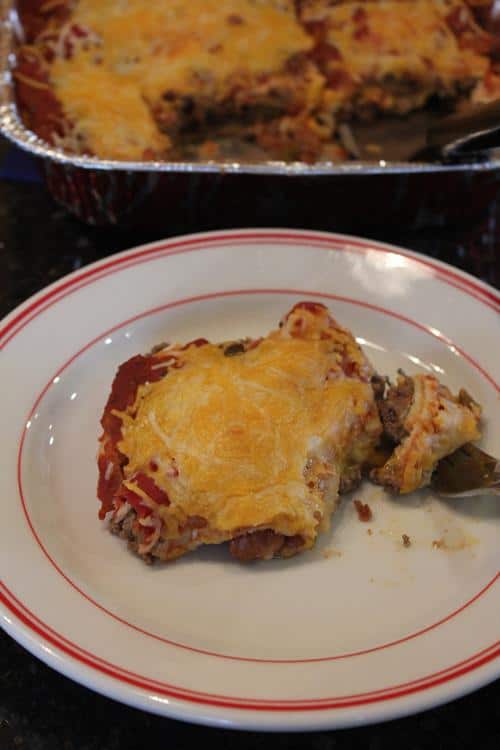 ~ Green Chile Chicken Casserole here on gfe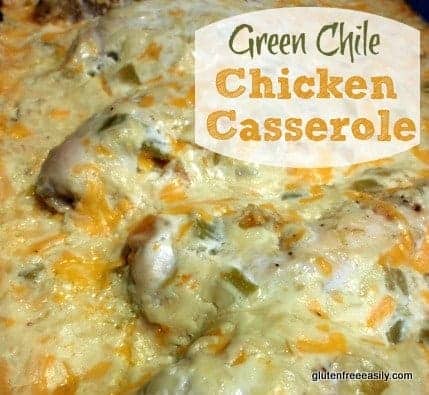 ~ Low-Carb Southwestern Egg Casserole from Kalyn's Kitchen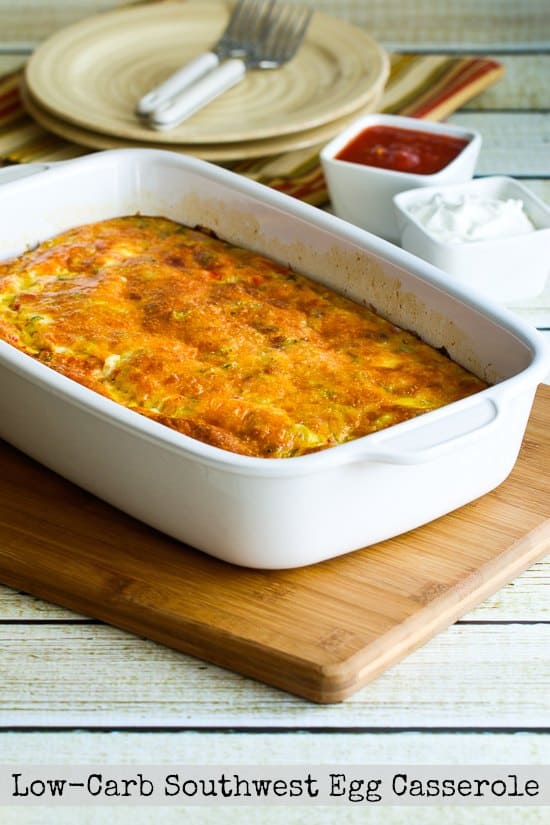 ~ Mexican Casserole with Cornbread from Gluten-Free Homemaker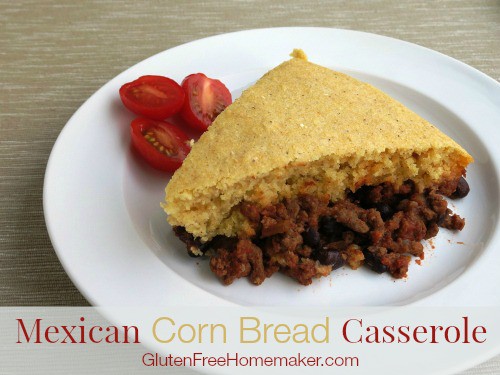 Easy Mexican Casserole Recipe
Yield: 9 to 12 servings
Easy Mexican Casserole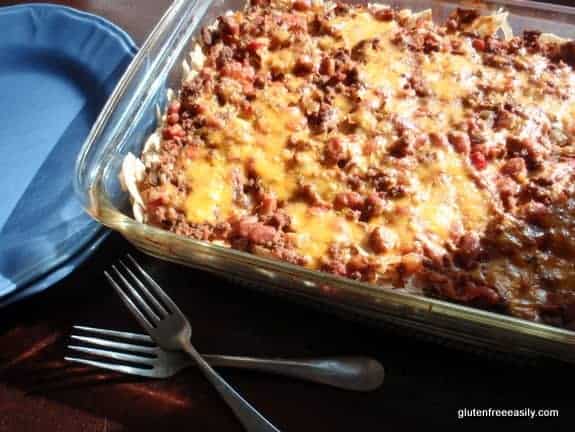 We love this simple Mexican casserole. Great comfort food, and naturally gluten free.
Instructions
Preheat oven to 325 degrees Fahrenheit.
In a large skillet, brown meat with onions and drain off fat.
Stir in beans, tomatoes, and salsa.
Simmer over medium-low (or heat on medium heat stirring constantly) until everything is well combined and heated through. There will be some extra liquid; do not drain/discard. (The extra liquid will be absorbed by the tortilla chips and will soften them nicely.)
Grease a 9×13 casserole dish.
Put down a layer of crushed tortilla chips, followed by a layer of the meat/bean mixture (use half of the amount), then a layer of cheddar cheese (use half of the amount). Add one more layer of remaining ingredients.
Cover with foil and bake for 20-30 minutes, or until bubbly.
Let sit for 5-10 minutes before serving.
Top with sour cream and/or guacamole, if desired. Enjoy!
Notes
For the crushed tortilla chips, I just grabbed a mostly full, already opened bag of tortilla chips that was clipped shut and used my hands to crush the chips (most of them anyway) while they were still in the bag. That was an easy way to do it. You want a mixture of larger pieces and smaller pieces, so don't go too crazy with your crushing. You really don't want them pulverized. When you add the meat/bean mixture over the tortilla chip layer, be sure to cover the chips all the way to the edges if you want them soft rather than crispy. Either
When you add the meat/bean mixture over the tortilla chip layer, be sure to cover the chips all the way to the edges if you want them soft rather than crispy. Either way will work fine, but I preferred the softer version, although the crispier version is shown here.
Originally published December 7, 2013; updated January 31, 2020.