For affiliate links and as an Amazon Associate I earn from qualifying purchases.
Today I'm giving you a peek into my gluten-free pantry. And by pantry, I mean any place where food is stored–whether it is the traditional pantry (my own is shown later in this post), kitchen cabinets, refrigerator, freezer (the one that's part of your refrigerator and/or a separate one), spice rack/cabinet, wine rack, or even baskets. We'll collectively refer to wherever you keep food on hand as your pantry.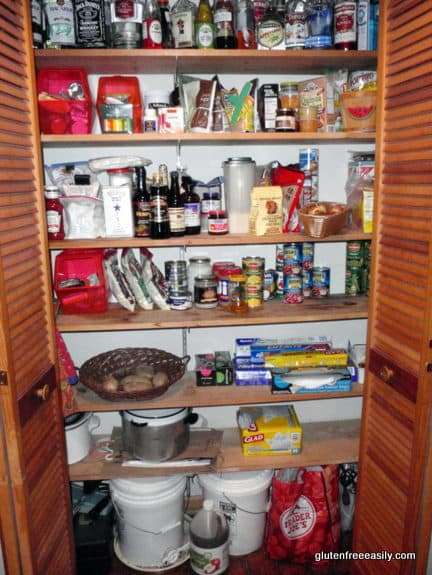 Your pantry doesn't even have to be in the kitchen. If you have a small kitchen space, your pantry might be that closet in the hall or a corner cabinet. Whatever works is fine.
The important thing is that you have at least a stockpile of food items that you can "call upon" for meals. Good cooks have been praising the merits of a well-stocked pantry for centuries, back when it was called a "larder" (which incidentally is derived from lord, not lard). Remember living gluten free easily (gfe), not just gf, is about focusing on eating real foods with some mainstream foods in the mix, but few gluten-free specialty items needed.
Today I'm happy to take part in 30 Days to Easy Gluten-Free Living. Led by real-food-and-living-easy-gluten-free advocate Diane Eblin (The WHOLE Gang), over 30 bloggers are giving you tips to live gluten free easily.
Our goal is to kick those repeated assertions that living gluten free is difficult to the curb once and for all. Once we shift our perspectives and approaches, living gluten free really can become second nature and easy.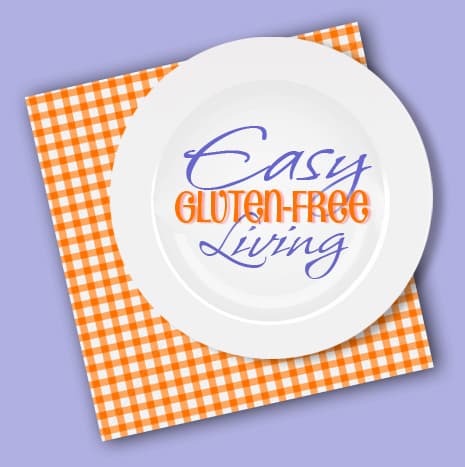 So how does one's pantry play a role in easy gluten-free living? Well, once you figure out the key components to your family's favorite gluten-free meals and have them on hand by keeping your pantry stocked, well, meals can come together in "short order."
In my gfe printable tip sheets, you'll find The gfe pantry (pdf). It's a handy reference sheet that may help you decide what needs to go into your own pantry. (You can even create your own sheet and use it for meal planning and grocery shopping.)
Here's a counterclockwise tour around my own kitchen right now. But first let me emphasize a very important point … I'm not sharing any of this information because the contents of my pantry are special, but rather because the contents really are not special or unique.
These are basic foods and some "every day" food items that meet my family's basic needs and allow me to prepare a variety of simple, safe, and tasty gluten-free meals that fit the gfe approach. Again, you'll want to come up with items that work for your collective pantry.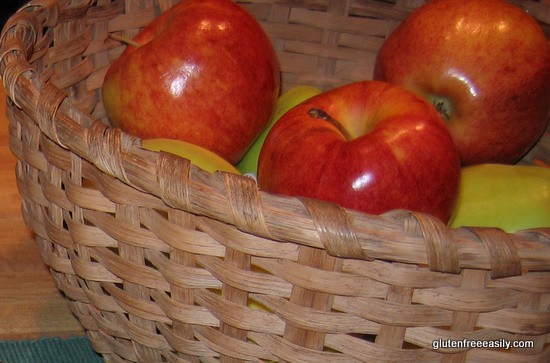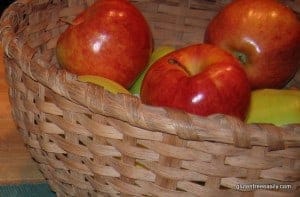 Fruit basket on counter – Mine is always full of apples (I keep one at work, too. I usually fill these baskets about once every 2 weeks.) There are different varieties of apples in my basket and sometimes other fruit makes it in, but apples are my standby fruit.
Apples are great snacks by themselves, make wonderful sweetener for smoothies, have a starring role in certain baked goods (like Easy Crustless Gluten-Free Apple Pie), and can be used in savory dishes, too. Our bananas usually just sit on the counter, ready to be made into Pina "Greena" Coladas or Banana Chocolate Chip Cookies.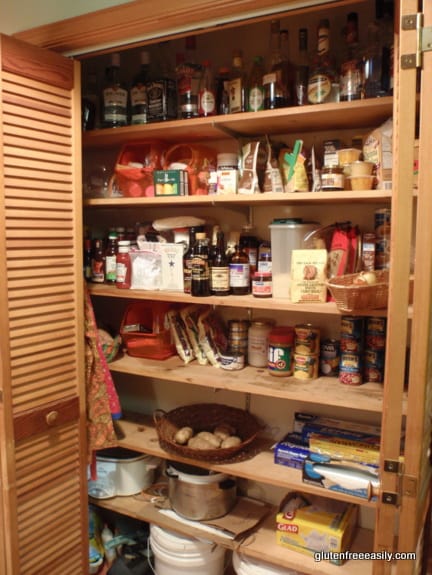 My traditional pantry
Top shelf: Alcohol and mixers including the usual spirits, cooking wine, sherry, lime juice, grenadine, etc. While I love a good cocktail (it will soon be time for Crab Claws!), I often like using a tiny bit of alcohol to add special panache when creating recipes. The following recipes demonstrate that very nicely.
~ Mint Chocolate Chip Ice Cream
~ Honey Cinnamon Grand Marnier Ice Cream
Second shelf: Candy lovers may recognize the large red bins that I have given new purpose to. These hold not only cupcake liners, toothpicks, and assorted sprinkles, but also special memories from a special grandfather. And you can see some other baking helpers and sweeteners. There's granulated sugar, brown sugar, palm sugar, date sugar, yacon syrup, stevia, citrus oils, applesauce, gelatin, pudding, and quinoa flakes. I'm currently out of certified gluten-free purity protocol oats (the only kind I recommend and use, as in these cookies), but I store those here, too.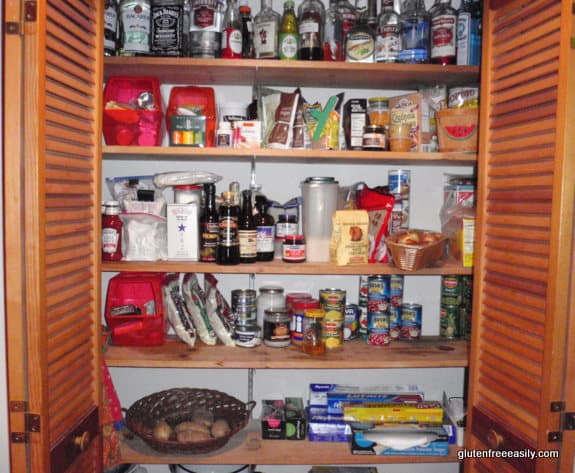 Third shelf: There you'll see some of my special flours and starches, most of which I purchase at my local international grocery store. There's my standard gluten-free flour mix, Two-Ingredient Gluten-Free Flour Mix (already mixed and in a storage container). There's tapioca starch/flour, sweet rice flour, tapioca pearls, and cornmeal. There's also unopened coconut flour. (The opened bag is in the refrigerator along with my almond flour.) There are a variety of oils, including olive, grapeseed, hemp, and avocado (the latter two being freebies and not ones I'd typically have on hand). There's rice (a few kinds) and confectioner's sugar. There are Asian rice sticks (which equate to quick and easy gluten-free noodles) and Tinkyada pasta. There's evaporated milk, taco shells, and onions. There are several staples: Worcestershire, barbecue, and chili sauces (ensure that all are gluten free), and balsamic vinegar. There's yeast that a support group member gave me because they expect me to do some bread baking. Hmmm. I actually prefer non-yeast breads or quick breads (like pumpkin, classic zucchini, and chocolate zucchini). The yeast is still good, but I've had it a while now. Plus my basket full of yellow onions is on this shelf at the moment.
Fourth shelf: A basket on the left contains some sweet potatoes. Another re-purposed bin houses chocolate chips and unsweetened chocolate. I have walnuts, pecans, tuna, water chestnuts, coconut oil, peanut butter, crushed pineapple, coconut milk, diced tomatoes, canned beans, and even some canned peas (yep, shocking, but I grew up with them and like them, but we also use fresh and frozen peas, too).
Bottom shelf and floor: There's my basket of russet potatoes far away from the onions (remember that onions and potatoes are not supposed to be stored together). There's apple cider vinegar (a must for many dishes including savory and sweet). The big white food-grade buckets house our bees' honey. The Trader Joe's bag is full of packages of Asian white rice flour, tapioca starch, and potato starch. This supply is a "backup" for me, but I also give support group members some of each to get them started baking gluten free. Last, as you can see, there are also non-food items like parchment paper, freezer wrap, plastic wrap, etc. in my pantry.
My spice cabinet — It mostly speaks for itself, but I keep my homemade vanilla extract, baking powder, baking soda, xanthan gum, spices, and seasonings here. All play a critical role in so much of my cooking and baking.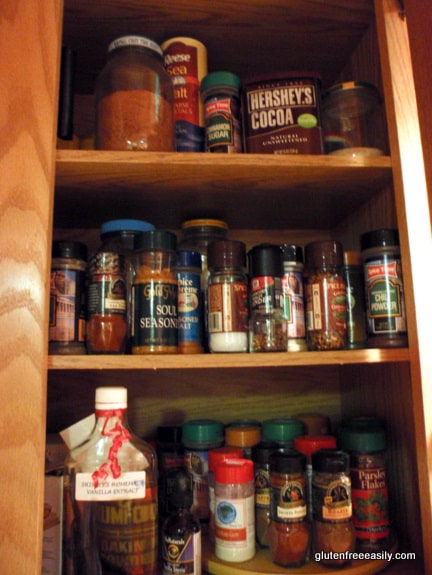 My refrigerator – Oh, this spot is the "mother lode" at our house and the contents change frequently. What seems to take up the most room there at the moment is greens and other fresh fruits and veggies; e.g., spinach, romaine, mixed greens, cabbage, cole slaw greens mix, artichokes, cucumbers, cilantro, lemons, limes, and Iceberg for Mr. GFE's sandwiches. I have a door full of condiments and small jars like most everyone else. There's bouillon, pickle relish, green tomato relish, hot sauce, bottled garlic, gluten-free soy sauce (La Choy), maple syrup, mustard (several kinds), mayo, and wine. Mr. GFE has dairy milk and I have almond milk. The refrigerator drawers house butter, hard cheese, cream cheese, assorted sliced cheese, corn tortillas, coconut, dried cranberries, and carrots. We also keep a supply of V-8 and coconut water, plus Mr. GFE's (gluten-full) beer. Oh, and of course, I always have plenty of eggs … preferably from my friends' chickens for so many baked goods and the basis of whole meals via assorted frittatas and quiches.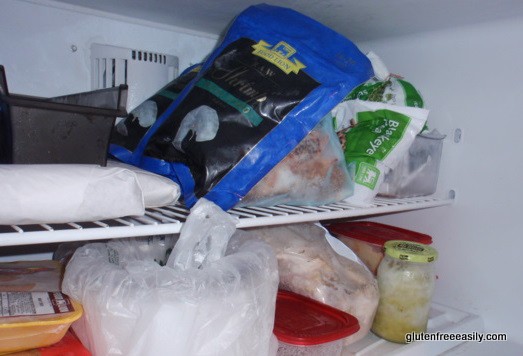 Freezer above refrigerator – I always store my leftover bits of chicken, beef, and such in my Everything Soup container. Another container stockpiles leftover bits of meatballs, taco meat, meat sauce for spaghetti, and the like for chili later. Packages of meats and seafood (like BOGO shrimp) that I plan to use in the near future also get stored here. There are bags of frozen veggies and leftover bounty from last summer like shredded zucchini. Next to the black-eyed peas is the ham bone from Easter dinner (soon to become a version of this soup). And the large wrapped container is the tub for my Cuisinart ice cream maker. Chicken livers and catfish (we trade our friend Jack venison for catfish) can be seen in the door.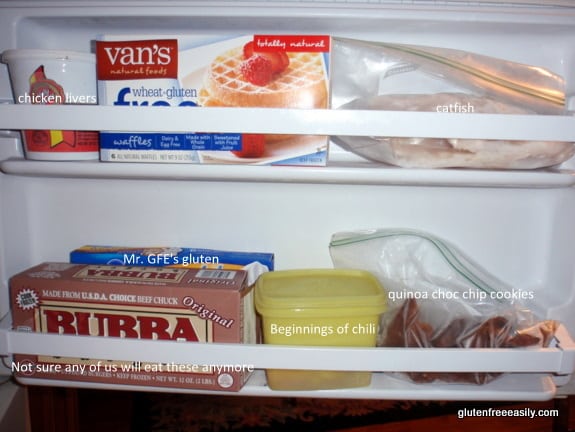 Upright freezer – Lots of meat and seafood—venison, chicken, goat (a gift), shrimp, catfish, and other "overflow" frozen foods—are stored here. This freezer is almost always full.
Snack basket — This spot is Mr. GFE's favorite! Here you'll find tortilla chips, potato chips, and pretzels … when we have them in the house. I do like it when we've indulged in potato chips and get to the bottom of the bag because that's usually when I make these chicken nuggets.
I really like to think of my pantry as my own personal food bank. On any given day, I can almost always pull just a few ingredients from my collective pantry and come up with wonderful recipes and meals.
Also under the gfe printables heading you'll find 50+ meals that are gfe and 50 gfe sweet treats. Both will give you ideas to get started with easy gluten-free living. As I said, with a well-stocked pantry, I can make almost any of these meals or treats any time! Okay, here's a confession … I'm not a meal planner, unlike many of my lovely gluten-free friends (e.g., Heather (Celiac Family), but having a well-stocked pantry allows me to survive and thrive for easy gluten-free living. 🙂
Soon, I'll share two meals that I make with no planning at all, just from a few ingredients in my pantry … so stay tuned! Don't forget to check out all the other bloggers and their posts; you can see a complete listing here. Yesterday, Wendy (Celiacs in the House) shared Fast Food for Gluten Free Teens. Tomorrow, Nancy (The Sensitive Pantry) shares BBQ and Picnic Tips (as well as a recipe). Thursday, Heidi (Adventures of a Gluten-Free Mom) shares Tips for Getting Kids to Eat Healthy, Real-Food Snacks! Friday, Silvana (Silvana's Kitchen) shares Everything I've Learned So Far about Gluten-Free (plus a recipe!). This truly helpful event goes on until the end of the month and I know you won't want to miss a post!
Originally published May 17, 2011; updated June 4, 2019.