This post may contain affiliate links. If you purchase through them, your cost will stay the same, but gfe will receive a few cents for every dollar spent. Thanks for supporting gfe!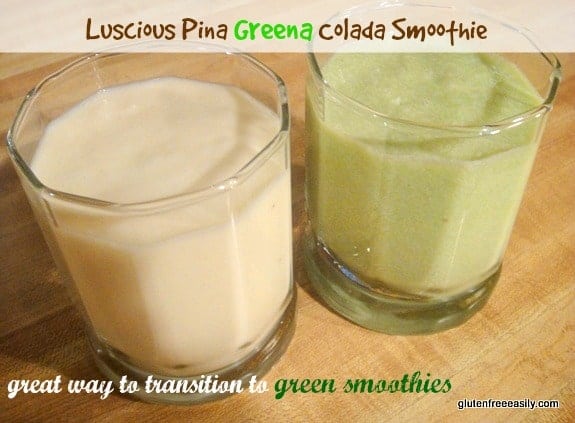 Some of you haven't yet tried green smoothies. Other readers might have tried them and were not impressed. In the least. Still others, like I, took a giant leap of faith some time ago, made a green smoothie, and have not turned back. But, in today's post, which is part of Nicola's (GFree Mom) (update: this blog is no longer available) D-Tox January event, I'm going to appeal to the first two groups.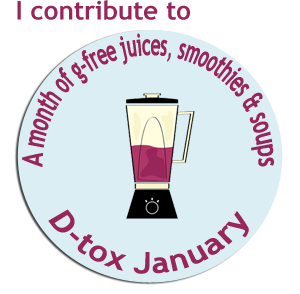 Why should you even be remotely interested in green smoothies? Well, as Nicola—a beautiful and vivacious breast cancer survivor—shared in her kickoff post, eating 27 fruits and vegetables each week can keep cancer away. Now if at the mention of all those fruits and veggies, your mouth dropped open, your eyes rolled, and your head snapped back, please don't click away. (Oh, wait … those are my typical disbelieving behaviors, but I digress.) It's true that 27 fruits and vegetables may seem like an awful lot, especially if you are one who feels downright sanctimonious when you get in an apple a day. But, it can be done and much like other healthy lifestyle changes, it gets easier and easier once one takes one action and then another.
Nicola's D-Tox January event rounds up a variety of the best bloggers with their favorite detox recipes … recipes for juice, smoothies, and soup. These are the recipes where one can get in the most fruit and veggies. For example, I made my tortilla soup the other night. Now this soup has a number of fruits and vegetables in its most basic form. But this time I used a friend's homemade salsa. Her salsa is much sought after and raved over—by me and others—but in the soup, it was quite potent. So in addition to the tomatoes, onions, and green chilies in her salsa, I ended up adding vegetable broth (leftover from numerous vegetables in a freezer container), corn, peas, lima beans, black beans, sweet potatoes, garlic, and some coconut milk to both tone down the spice and to make a soup full of flavors and textures. While this soup didn't qualify as a detox soup, my version was a good example of how one can get in a lot of veggies in soup. Similarly, making juices and smoothies can allow one to get in lots of fruits and veggies at once … very pleasantly so, I might add, with little effort other than some chopping and juicing or blending. Usually one can get in more fruits and veggies in juice and smoothies because what you make will be consumed in one or two servings. I don't have a nutritional background, so I can't tell you about all the vitamins, minerals, and antioxidants that you'll be getting in your detox concoctions, but I can emphatically tell you that eating and drinking them makes you feel sensational—just like everyone says. I crave them and feel decidedly unergetic and blah when I don't get to drink one each day.
So let's start with a drink that most people like, a nice refreshing pina colada, using this gfe Luscious Pina Colada recipe as our starting point. Since this is intended to be a detox drink, we'll make ours virgin, of course. And with the alcohol left out and a banana included, chances are you won't need to add any sweetener. But, if you'd like, you can add a little stevia, agave, or honey, to taste.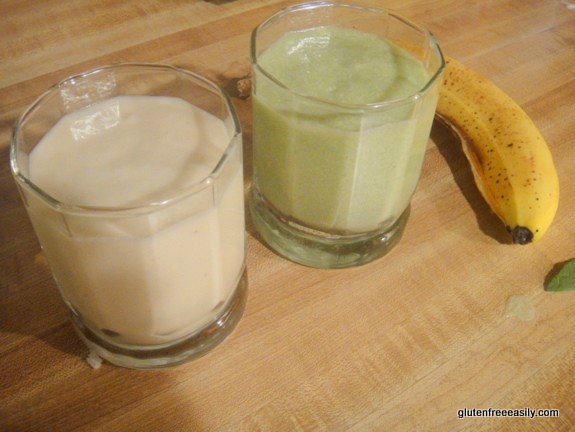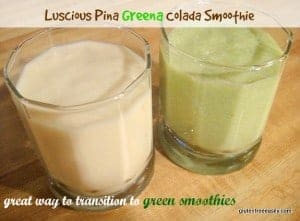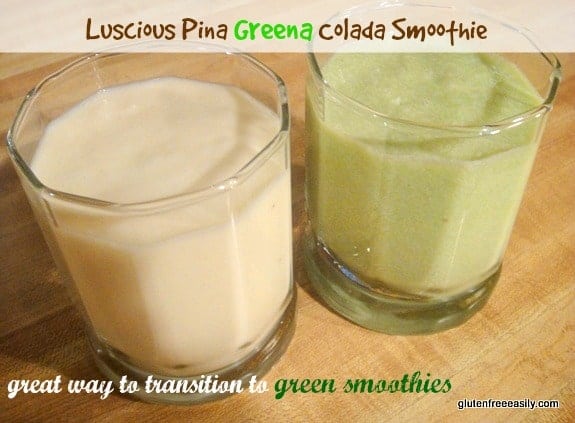 Print
Luscious Pina Greena Colada Smoothie
Ingredients
1 can full-fat coconut milk
2 cups pineapple juice (or crushed pineapple or pineapple chunks)
1 banana (sliced and then frozen is ideal, but not necessary)
1/2 cup shredded coconut/coconut flakes
several ice cubes
handful of baby spinach leaves (about 1/2 cup, packed)
Instructions
Blend first five ingredients together until smooth. Pour yourself a glass. Take a sip.
Does it taste exactly like a luscious pina colada should? Terrific!
Now, here's where the faith comes into play … add your last ingredient---a handful of baby spinach leaves---to your blender/Vitamix/Blendtec container. Blend a bit more on high until spinach is incorporated.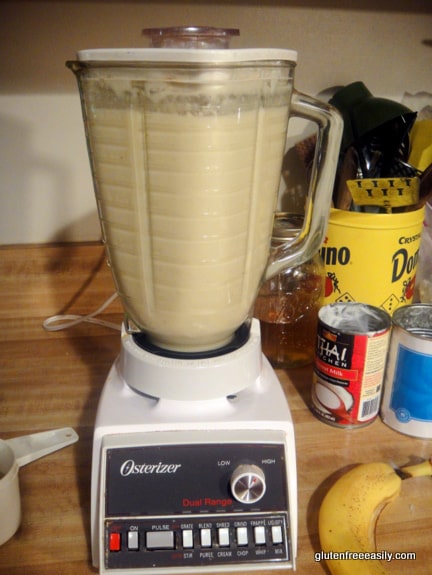 What was once your luscious pina colada is now a pale green smoothie—Greena Colada. Go ahead … take a sip of your new beverage now. It still tastes great, doesn't it? You may think it tastes even better. I know I do. Greena coladas taste brighter and more vibrant than pina coladas and, of course, they are healthier. So pat yourself on the back! You've just successfully made your first green smoothie,and most importantly, one that you enjoyed drinking.
You can drink the whole batch at once by sharing with family members or you can drink half in the morning and save half for your mid-afternoon snack time (that time where you often think you will chew off the handle to the refrigerator if you don't find something to consume immediately).
After a few times making this Pina Greena Colada, if you're ready and perhaps just a tad brave, you can switch it up and add in a few more spinach leaves, cut back on any sweetener you added, and/or add in a little something else to make your smoothie more nutrient-dense—maybe a little almond flour, chia seeds, or hemp seeds. The following week, sub in kale for the spinach or replace part of the spinach with kale, romaine, or cabbage. Take baby steps. And, if you stick with your original Greena Colada smoothie, that's okay, too, as Greena Coladas supply several fruit and vegetable servings—a great and tasty start to your 27 fruits and veggies for the week! Incidentally, I believe Wendy and her family (Celiacs in the House) employed soup, smoothies, and juice to help them get in a very impressive number of fruit and vegetables a few months ago.
Check in with Maggie (She Let Them Eat Cake) tomorrow for her D-Tox January contribution. (Update: Maggie starts out by telling you what green smoothies are not, and she's so "right on"! See her recipe here.) Previous recipes shared for this event are as follows (info taken from Nicola's blog; links go specifically to D-Tox January posts):
Saturday, January 1st,  our host, Nicola @ GFree Mom, with a berry/vanilla smoothie
Sunday, January 2nd,    Wendy @ Celiacs in the House has posted a satisfying kale cranberry smoothie
Monday, January 3rd,    Ali @ The Whole Life Nutrition Kitchen has linked her spring green smoothie (Shirley here: a slight variation of this recipe—the one in Ali and Tom's cookbook—is what got me hooked on green smoothies!)
Tuesday, January 4th,    Diane @ The W.H.O.L.E. Gang has featured a great looking cherry smoothie with a twist
Wednesday, January 5th,    Deanna @ The Mommy Bowl lets us in on how to make a hot cider smoothie
Thursday, January 6th,    Heidi @ Adventures of a Gluten Free Mom enlightens us on how smoothies = self-love and shares 2 great recipes
Friday, January 7th,    Cheryl Harris @ Gluten Free Goodness focuses on fighting and preventing cancer through nutrition with some clear and easy-to- follow steps and some great links
Saturday, January 8th,    Elizabeth @ Saffron Lane has posted a lovely cleansing kiwi + jasmine green tea smoothie
Sunday, January 9th,    Christian @ Christian Bates shares his simple raw chocolate hazel nut mylk smoothie
Monday, January 10th,    Hallie @ Daily Bites posts her delicious green "creamsicle" smoothie
Tuesday, January 11th,    Kim @ Cook It Allergy Free shared her recipe and tips for making kid- (and husband-) friendly smoothies

Here are a few other detox recipes and posts from some of my favorite bloggers:
Karina's (Gluten-Free Goddess) with Detox Green Soup Recipe with Broccoli, Spinach, and Ginger
Kristina's (spabettie) with Juiced Salad 
Stephanie (Gluten Free By Nature),  shared a post last year on the overall topic of detoxification. The common sense wisdom she shared then still is pertinent today.
Finally, Melissa (Gluten Free for Good) does have the nutritional background plus a degree in exercise science and she advises us daily on limiting the  bad stuff that goes into our bodies, but also clearing it out periodically with healthy detox protocols. She'll be the first to tell you that she's not perfect either, so periodic detox is a must. Melissa shared a three-part detox series quite some time ago, but the topic and her guidance are right for today or any time as a body "recalibration." Check out Part 1, Part 2, and Part 3.
Now grab your blender and take this green smoothie challenge! Don't forget to visit Diane's new Thursday carnvial, Real Food Weekly. She explains the basics on this great new event in her kick-off post here.
Update:  Even though I'd read my dear friends', Elana's (Elana's Pantry) and Karen's (Cook4Seasons), greena colada posts, here and here, respectively, and commented on them last year, I didn't remember that when doing this write-up. Aaaargh. My sincere apologies to two of my very favorite people! Oh, how the subconscious mind works (or doesn't) … sometimes it helps one out and other times it lets one down. All that to say that, clearly, I am not the only one who thinks that tranforming a luscious colada into a green smoothie is a good idea! Elana even had other inspiration, Megan Telpner. While all of our recipes vary quite a bit, the concepts are the same, so if mine is not your cup of smoothie, do check theirs out!