For affiliate links and as an Amazon Associate I earn from qualifying purchases.
Today's recipe is this Luscious Pina Greena Colada. Or a green colada smoothie, if you will. Let's talk about green smoothies for a moment. Some of you haven't yet tried green smoothies yet. Other readers might have tried them and were not impressed. In the least. Still others, like I, took a giant leap of faith some time ago, made a green smoothie, and have not turned back.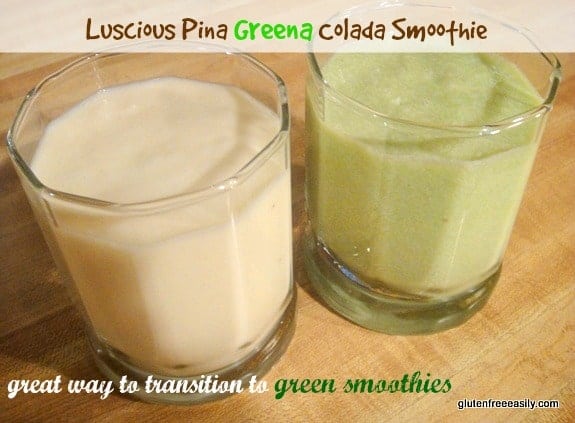 But, in today's post, which is part of Nicola's (GFree Mom) (update: this blog is no longer available) D-Tox January event, I'm going to appeal to the first two groups.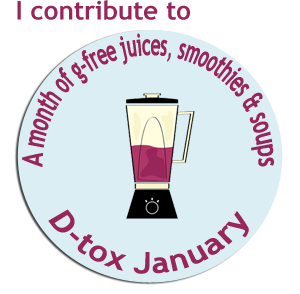 Why should you even be remotely interested in green smoothies? Well, as Nicola—a beautiful and vivacious breast cancer survivor—shared in her kickoff post, eating 27 fruits and vegetables each week may help keep cancer away. Now if at the mention of all those fruits and veggies, your mouth dropped open, your eyes rolled, and your head snapped back, please don't click away. Oh, wait … those are my typical disbelieving behaviors, but I digress.
It's true that 27 fruits and vegetables may seem like an awful lot, especially if you are one who feels downright sanctimonious when you get in an apple a day. But, it can be done, and much like other healthy lifestyle changes, it gets easier and easier once one takes one action and then follows that action up with another. And then another.
Nicola's D-Tox January event rounds up a variety of the best bloggers with their favorite detox recipes … recipes for juice, smoothies, and soup. These are the recipes where one can get in the most fruit and veggies. For example, I made my tortilla soup the other night. Now this soup has a number of fruits and vegetables in its most basic form. But this time I used a friend's homemade salsa. Her salsa is much sought after and raved over—by me and others—but in the soup, it was quite potent. So in addition to the tomatoes, onions, and green chilies in her salsa, I ended up adding vegetable broth (leftover from numerous vegetables in a freezer container), corn, peas, lima beans, black beans, sweet potatoes, garlic, and some coconut milk to both tone down the spice and to make a soup full of flavors and textures.
While this soup didn't qualify as a detox soup, my version was a good example of how one can get in a lot of veggies in soup. Similarly, making juices and smoothies can allow one to get in lots of fruits and veggies at once. Very pleasantly so, I might add—with little effort other than some chopping and juicing or blending.
Usually one can get in more fruits and veggies in juice and smoothies because what you make will be consumed in one or two servings. I don't have a nutritional background, so I can't tell you about all the vitamins, minerals, and antioxidants that you'll be getting in your detox concoctions, but I can emphatically tell you that eating and drinking them makes you feel sensational—just like everyone says. I crave them and feel decidedly unenergetic and blah when I don't get to drink one each day.
So let's start with a drink that most people like, a nice refreshing pina colada, using this gfe Luscious Pina Colada recipe as our starting point. Since this is intended to be a detox drink, we'll make ours virgin, of course. And with the alcohol left out and a banana included, chances are you won't need to add any sweetener. But, if you'd like, you can add a little stevia, agave, or local honey, to taste.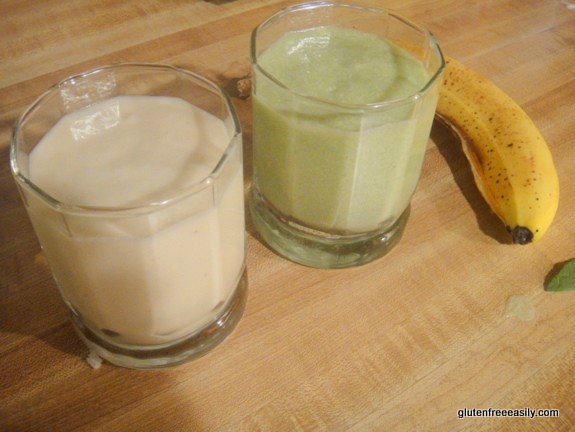 Now add in a handful of baby spinach. Blend. What was once your luscious pina colada is now a pale green smoothie—Greena Colada. Go ahead … take a sip of your new beverage now. It still tastes great, doesn't it? You may think it tastes even better. I know I do. Greena coladas taste brighter and more vibrant than pina coladas and, of course, they are healthier. So pat yourself on the back! You've just successfully made your first green smoothie, and most importantly, one that you enjoyed drinking.
You can drink the whole batch at once by sharing with family members or you can drink half in the morning and save half for your mid-afternoon snack time (that time where you often think you will chew off the handle to the refrigerator if you don't find something to consume immediately).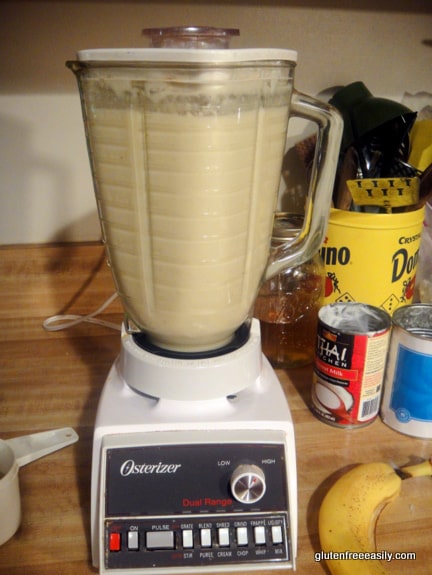 After a few times making this Pina Greena Colada, if you're ready and perhaps just a tad brave, you can switch it up and add in a few more spinach leaves, cut back on any sweetener you added, and/or add in a little something else to make your smoothie more nutrient-dense—maybe a little almond flour, chia seeds, or hemp seeds.
The following week, sub in kale for the spinach or replace part of the spinach with kale, romaine, or cabbage. Take baby steps. And, if you stick with your original green colada smoothie, that's okay, too, as Greena Coladas supply several servings of fruits and vegetables—a great and tasty start to your 27 fruits and veggies for the week!
Last, if you enjoy the smoothies but avoid making them but hate cleaning your blender afterward, I can help you with that as well! Here's the kitchen pro tip, aka "hack," you need right now: How to Clean Your Blender in 2 Minutes or Less. Really!
More Smoothies for Your Sipping Pleasure
~ Carrot Colada from gfe
~ Chocolate Coconut Chia "Pet" Smoothie from gfe
~ Fruity Green Smoothie (aka Medicine Chest Green Smoothie) from Nourishing Meals
~ The Green Smoothie That's Not Actually Green from Against All Grain
~ Greena Pina Colada from Elana's Pantry
~ Shamrock Shake from gfe
~ Super Orange Smoothiefrom gfe
Luscious Pina Greena Colada Smoothie Recipe
Yield: One pitcher (about 4 to 6 servings)
Luscious Pina Greena Colada Smoothie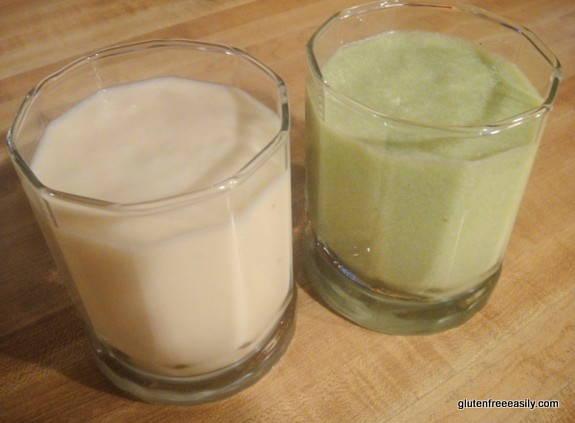 A mild "beginner" smoothie. Your first step in transitioning to healthy green smoothies!
Instructions
Blend first five ingredients together until smooth. Pour yourself a glass. Take a sip.
Does it taste exactly like a luscious pina colada should? Terrific!
Now, here's where the faith comes into play … add your last ingredient---a handful of baby spinach leaves---to your blender/Vitamix/Blendtec container. Blend a bit more on high until spinach is incorporated.
Enjoy!
Originally published January 12, 2011; updated September 29, 2021.