For affiliate links and as an Amazon Associate I earn from qualifying purchases.
I hope you're much more excited about these Gluten-Free Homemade Red Lobster Garlic Cheese Biscuits than Mr. GFE initially was. You should be. I promise.
As heard in the gfe kitchen earlier this evening …
Mr. GFE: What are you making? (with interest and hunger … third visit to kitchen in 15 minutes)
Me: Biscuits! (brightly, and with a smile)
Mr. GFE: Oh … biscuits. (flatly)
Me: Most people would get very excited when they heard that homemade biscuits were coming up. (with a combination of a teeny tiny bit of irritation, but mostly amusement)
Mr. GFE: Well, I've never been a biscuit man. (matter of factly)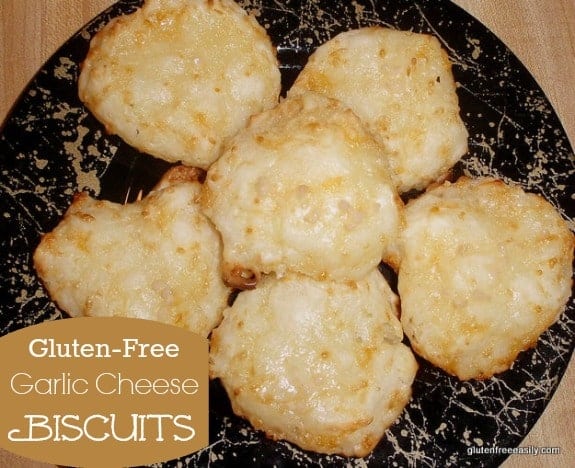 Twenty minutes later, Mr. GFE heads off with his dinner. One bowl of homemade chicken vegetable soup (in a creamy tomato base) and two garlic cheese biscuits. He was watching a sci-fi movie and I was viewing yet another sappy (but enjoyable) Christmas movie.
Conversation resumes about 20 minutes later …
Mr. GFE: The soup was good, but I LOVED the biscuits! (enthusiastically, but just a bit sheepishly)
Me: I thought you didn't like biscuits. (with a slight "I told you so" tone)
Mr. GFE: Those biscuits were almost perfect. They could have been just a tad fluffier, and not as dense. (perfectly serious, food critic voice)
Me: Oh, really? (laughing)
All's well that ends well, right? Especially when there are biscuits. Gluten-free homemade Red Lobster Garlic Cheese Biscuits!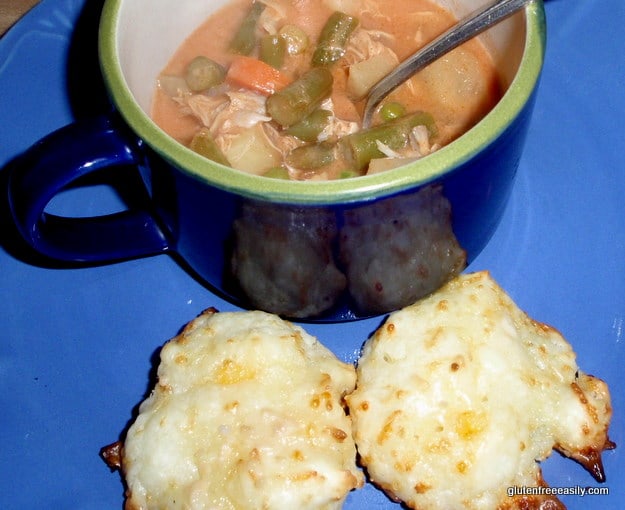 Gluten-Free Homemade Red Lobster Garlic Cheese Biscuits
The "back" story: I attended a soup luncheon hosted by a friend as a charity fundraiser recently. She always makes one soup that I can safely enjoy and I always contribute a naturally gluten-free dessert (coconut meringues this time). One of her co-workers made "knock-off" Red Lobster garlic cheese biscuits. Of course, the biscuits she made contained gluten, so I couldn't eat them. (And, to be honest, I have only eaten at Red Lobster once in my lifetime and I didn't have any of their cheese biscuits at the time.) But, she had copies of the recipe (from allrecipes.com) that she handed out to anyone interested. Of course, I had to take one.
Today, when I decided on soup for dinner, I converted the biscuit recipe to gluten free and in no time at all the heavenly aroma of fresh biscuits was filling the kitchen.
These biscuits are wonderful. They are drop biscuits, so they are quite easy to make.
The toughest part is cutting the butter into the flour mix, which I don't find difficult … it's actually rather therapeutic, but Melissa's tip on freezing butter and then grating it is excellent. Unfortunately, I didn't remember that trick until after I was actually doing my fork and butter knife routine. I'll have to try it next time.
I used my Two-Ingredient Gluten-Free Flour Mix for this gluten-free version, but feel free to use your favorite gluten-free flour mix in this recipe.
Make some soup so you will have a good excuse to make these biscuits. They are the perfect accompaniment to soup. Of course, I can't imagine what they wouldn't go well with. Oh my gosh, I can use two biscuits like a sandwich and make bacon egg cheese biscuits for breakfast tomorrow! Sunday morning is looking fine.
Gluten-Free Homemade Garlic Cheese Biscuits Recipe
Yield: 16 biscuits
Gluten-Free Garlic Cheese Biscuits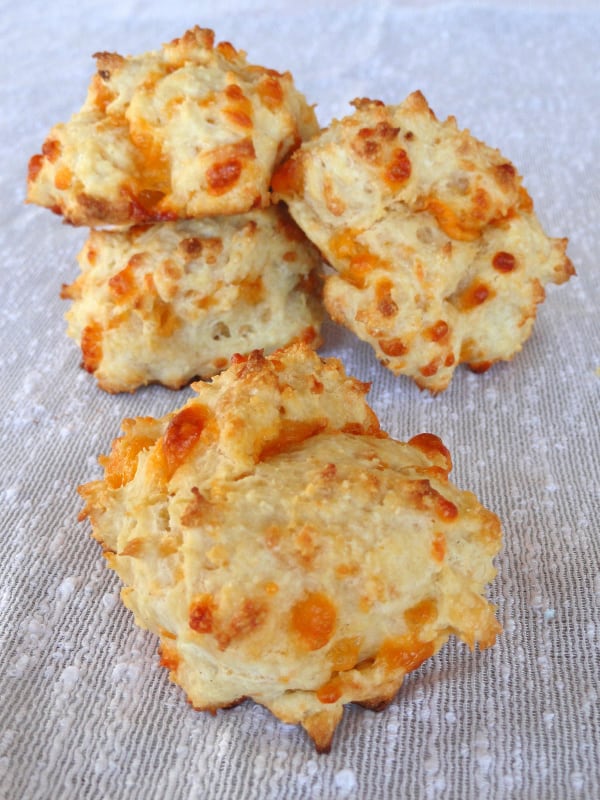 Hot out of the oven, these biscuits are fabulous! One reader even uses the recipe to make pizza crust! You don't need to buy Red Lobster's mix to make your own delicious gf version.

Prep Time 10 minutes

Cook Time 12 minutes

Total Time 22 minutes
Ingredients
Biscuit Ingredients
1 ¾ cups gluten-free flour mix (I used my Two-Ingredient Flour Mix)
1 tsp xanthan gum
½ tsp salt (I use this salt)
½ tsp baking powder
1 cup milk (see notes for dairy-free option)
1 cup shredded cheddar cheese (Or shredded cheese of choice. I used a Mexican cheese blend that I already had open for the biscuits shown here. See notes for dairy-free option.)
Topping Ingredients
2 tbsp butter, melted (see notes for dairy-free option)
1 clove garlic, minced
Instructions
Preheat oven to 450 degrees Fahrenheit.
In a large mixing bowl, sift together flour, salt, baking powder, and xanthan gum. Cut in butter until mixture has pea-sized flour-coated butter pieces throughout.
Make a well in the center of the mixture. Add the milk and cheese to the well and stir to combine.
Drop batter by spoonfuls onto a greased baking sheet or a baking sheet lined with parchment paper.
Bake in preheated oven for 12 to 15 minutes until lightly browned. Keep an eye on them though. Mine were cooking pretty quickly. I actually turned the oven down to 350 degrees the last couple of minutes, but that change could be just necessary for my "fast" oven.
While biscuits are baking, melt butter and mix with minced garlic. Spoon in equal portions onto the biscuits.
Makes about 16 biscuits (about 2 inches in diameter).
Notes
Adapted from allrecipes.com.

Reader Jack said: "I did add one tablespoon of butter milk powder to the recipe along with the minced garlic in place of the butter garlic topping. I also baked at 425 for 10 minutes and at 350 the last 5 minutes. I only made 12 biscuits as I do with the Red Lobster box mix and yours were actually larger, so another bonus."

Reader Mary makes these biscuits dairy free and soy-free as well, due to intolerances in her family. (Soy is not present in my original recipe, but it is often contained in dairy-free products.) She states that she uses Earth's Balance soy-free, dairy-free margarine and cheddar-style Daiya cheese. She's used both rice milk and coconut milk with good success.

Reader Cassandra told me that she often rolls the dough out and uses a biscuit cutter so she can get perfect biscuits for biscuit sandwiches.

The following are some general notes on the ways I've made these biscuits:

The original directions called for brushing the butter and garlic mix on the biscuits, but that's a bit of a pain to me and I don't want anything else to wash. Spooning the butter-garlic mixture over the hot biscuits worked just fine. Actually, next time I will probably just skip that step and add some minced garlic right to the biscuit mixture. The biscuits are plenty buttery on their own.

Another reader uses this recipe to make two very thin 12-inch pizza crusts. She uses half Parmesan, half cheddar in her recipe. She bakes the crust until it's done before adding her pizza toppings.

Originally published December 13, 2009; updated August 14, 2023.