For affiliate links and as an Amazon Associate I earn from qualifying purchases.
These gluten-free Banana Maple-Nut Muffins. They could have been the perfect breakfast solution for the little girl in this story, had she and her parents only known.
She waited for the bus.
One … two … three … four
… she held her breath and counted in her head—
slowly, very slowly
. They will pass she told herself—even as she gritted her teeth and was careful to hold perfectly still. She just had to hold on until they were gone.
"They" were cramps, sharp piercing cramps … pains that cut into her stomach and made her wonder what could possibly be wrong with her. But she wouldn't let herself think about that long and, if she just held on, she knew they would go away.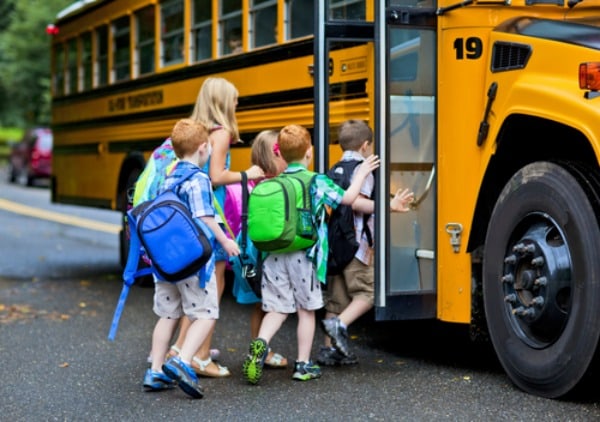 Only minutes earlier, she had finished her bowl of cereal at the kitchen table. She LOVED cereal. It was her daily breakfast before school and she loved to eat it any time. If they were out of cereal on school mornings, her mom would fix another of her favorites, cinnamon toast.
Some 30 years later on the drive home from the doctor's office, her mind was like a computer frenetically flashing backwards and forward in time—piecing together the clues of her personal history with the information the doctor had shared. The morning ritual while waiting on the school bus was just one of many episodes in her lifetime where she'd held on … waiting for some symptom to pass.
When the doctor gave her a diagnosis of gluten intolerance and stated all her lifelong issues had been caused by gluten, she couldn't believe it. She was stunned. She had literally been going to doctors for years and years in search of answers.
Could this doctor's conclusion really be the cause of all her issues when the possibility of a gluten issue had never come up before? It seemed too much to hope. She had been acting as her own medical/food detective for years trying to find the answer, having already eliminated caffeine and limited dairy intake in search of relief. But, GLUTEN?
Wheat, rye, barley, and oats and other foods through cross-contact the doctor had said. Gluten was in her beloved cereal, in her tasty toast, in her favorite pizza and spaghetti … in fact, as her mind continued racing and processing the words "gluten intolerance," she realized gluten was the primary ingredient of EVERY meal she consumed.
I was that young girl who grew up to be the woman who received the diagnosis of gluten intolerance in 2003 (later confirmed to have celiac genes, so I and my doctors consider myself celiac). I had suffered from "stomach problems" as far back as I could remember. The school bus scenario played out day in and day out until I went off to college where a whole new series of issues began. Going gluten free brought relief from a lifetime of symptoms and illnesses (printable). My transformation was a miracle and I will forever refer to the doctor who diagnosed me as "miracle doc."
Living gluten free is really so easy, compared to suffering daily with health issues. However, I love baking and for a long time after going gluten free, I did NO baking. I have always been a person who enjoyed "baking from scratch" and until I figured out how to do that safely and on my own terms, I simply abstained from baking. I was sad about that.
Thankfully, I found my way back to baking (in large part due to this flour mix) and I forged my own path for living gluten free easily (gfe). My way of being gfe is what I'll be sharing with you here at gfe–gluten free easily.
My breakfasts these days tend to be very simple-often all or mostly protein, like some scrambled eggs; or part of a leftover chicken breast, perhaps with vegetables; or sometimes simply fruit and a few nuts. I feel better eating this way, and consuming fewer carbs.
But, occasionally, I like to make breakfasts that are special treats. This gluten-free Banana Maple-Nut Muffins recipe is a crowd pleaser and a personal favorite of mine. As you can imagine, they are also excellent with chocolate chips added.
I always make these Banana Maple-Nut Muffins when we have overnight visitors. If you have holiday guests and a few browning bananas on the counter, now might be the perfect time to try this recipe! Because of my annual
March Muffin Madness
event, you'll find many more
fabulous gluten-free muffin recipes
on
gfe
.
Gluten-Free Banana Maple-Nut Muffins, the Best Muffins?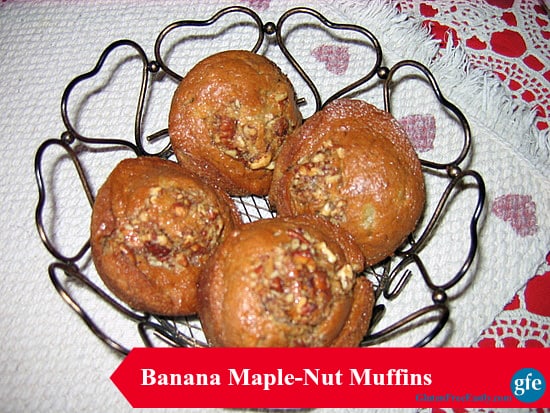 A gluten-free friend says these are the moistest gluten-free muffins out there. Another friend who eats gluten without issue says these Banana Maple-Nut Muffins are the best muffins she's EVER eaten.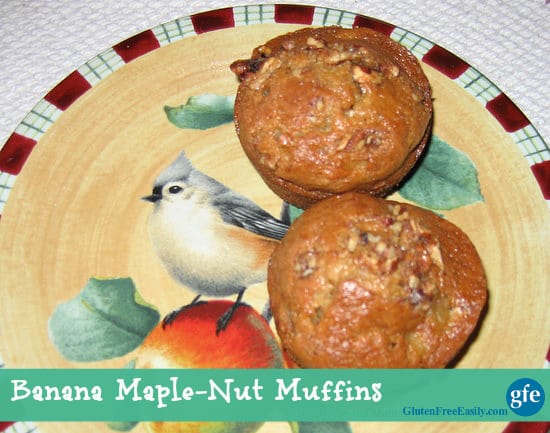 Shown below is a photo submitted by gfe reader/friend Michelle Key. She sent me an email to tell me all about her experience with this recipe.
Michelle: "Your maple banana nut recipe is AMAZING! Just thought I'd share!"
Me: "Those look fabulous, Michelle! I do love that recipe! I'll share it if you don't mind. How did you change the recipe to make it without dairy?"
Michelle: "I used almond flour in place of the buttermilk powder. I've made these several times but today I didn't have pecans or walnuts so I used the thin sliced almonds and a few gf oats." (Did you catch that? She simply substituted almond flour for the buttermilk powder!)
Me: "That is incredibly awesome, Michelle!! Thanks so much for sharing!! Big hugs to you, dear! "
UPDATE: On April 4, 2023, Gluten-Free Watchdog issued a new statement, Gluten-Free Watchdog Cannot Recommend Any Brand of Gluten-Free Oats. Read the full statement here. This statement was followed by details on recent testing results of gluten-free products that contain oats., which showed 30% of the labeled gluten-free oat products tested contained quantifiable gluten.

This statement was followed by details on recent testing results of gluten-free products that contain oats, which showed 30% of the labeled gluten-free oat products tested contained quantifiable gluten. I'm not eating any oats and I urge all of my readers who eat gluten free for medical reasons to also abstain.
Don't take my word—or Michelle's—on this recipe though. You be the judge!
Update: Another gfe reader/friend Ginny (who you can read more from here and here) made this version:
"Yummy banana maple walnut muffins. Thanks to Shirley ❤👍 for a simple, delish breakfast treat. (Note: I subbed in walnuts because I didn't have enough pecans and cassava flour for the buttermilk powder. So, if you're dairy free, you can make these, too!)"
Gluten-Free Banana Maple-Nut Muffins Recipe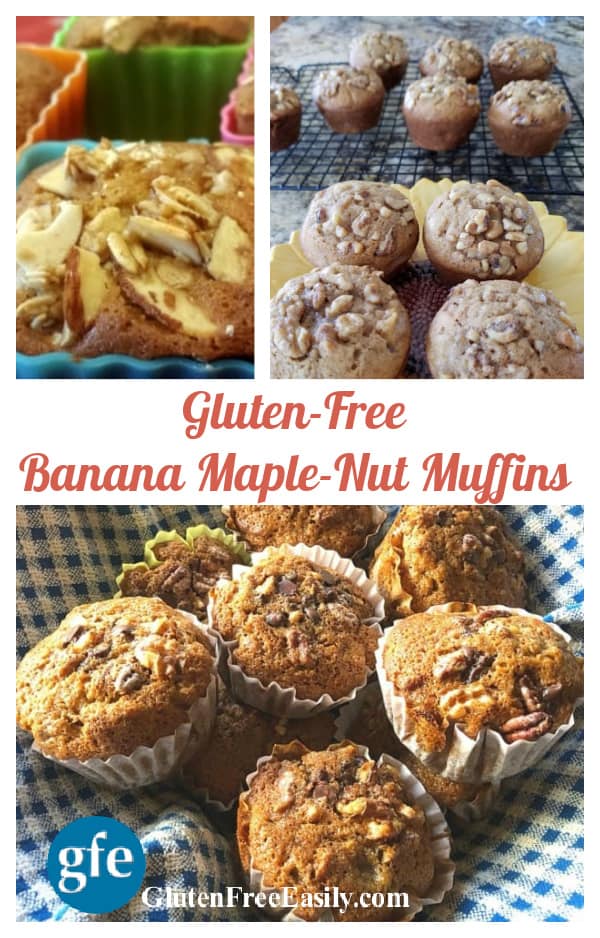 Yield: 15 muffins
Gluten-Free Banana Maple-Nut Muffins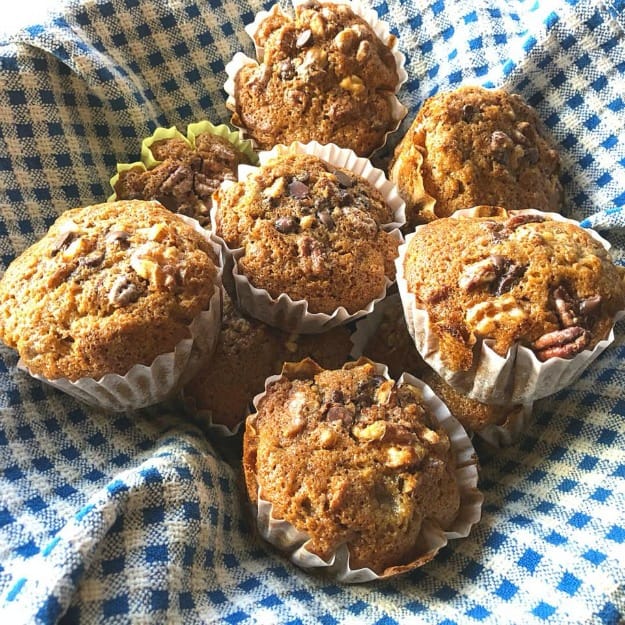 Rated "THE BEST" muffins by both gluten-free and gluten-full friends!
Ingredients
Filling Ingredients:
3 ripe bananas, mashed (about 1 cup)
1/3 cup maple syrup
½ cup pecans, chopped
Topping Ingredients:
Muffins Ingredients:
Instructions
Filling:
Mix ingredients in medium-sized bowl and set aside.
Topping:
Mix ingredients in small bowl until you get a crumbly texture.
Muffins:
Preheat oven to 375F degrees.
Combine all dry ingredients in large bowl. Make a well in the center; pour in wet ingredients. Stir with a wooden spoon until combined.
Gently fold in filling mixture. Spoon into muffin cups until they are 2/3 full. Spoon some topping mixture onto each.
Bake for about 20 minutes. Test for doneness. Makes 15 to 20 muffins depending upon muffin size.
Notes
Adapted from recipe posted on the celiac listserve several years ago
Originally published December 30, 2008; updated April 17, 2023.