For affiliate links and as an Amazon Associate I earn from qualifying purchases.
Today it's all about World's Easiest and Best Pulled Pork. Which I think you'll see is an ugly duckling kind of story.
I can't say I am superstitious. I am known to exit via a different door than I entered, I love black cats, and so forth, but I do think you go for good luck whenever possible.
That, and the fact that I do love good pork had me cooking this recipe for the World's Easiest and Best Pulled Pork using a Boston Butt in my crock pot yesterday. To properly help usher in the New Year.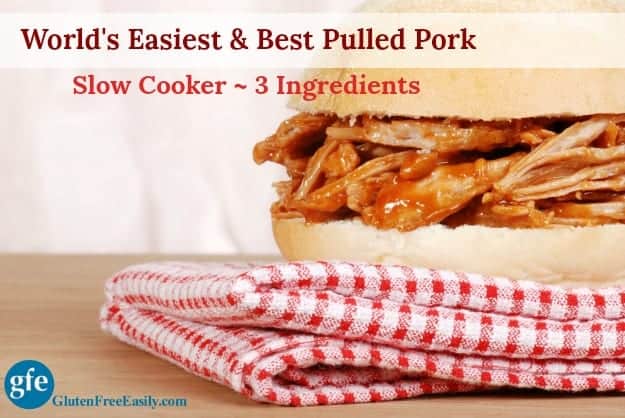 A Google search led me to this explanation for eating pork for the New Year. (Of course, there are all numbers of explanations on why we eat pork … cabbage, black-eyed peas, and such.) This version regarding pork said the tradition is a Pennsylvania Dutch one.
"One eats pork on New Years Day because it's a time to look forward and pigs cannot look back. Therefore, pork is for good luck. Also, a side note, that supposedly a Pennsylvania Dutchman would never eat chicken on New Year's Day because they can scratch backward."
Whether it's true or not, it's amusing. Especially the part about the chickens.
The pork butt recipe I use came from the newspaper many years ago. I have no idea who the originator was or what the recipe was originally called.
I dubbed it the World's Easiest and Best Pulled Pork simply because it is! I have found numerous variations online, but not the exact recipe I use.
Most are more complicated than this beloved standby recipe. It has only three ingredients and it is fabulous!
Yes, you read that right … THREE.
You don't even have to measure anything. Trust me, you will be very happy with the smells coming from your crock pot all day and later when you are standing beside it, eating the delicious pulled pork with a fork (or, gasp, your fingers) straight out of the crockpot.
I am certain that you will find yourself agreeing that it really is the World's Easiest and Best Pulled Pork!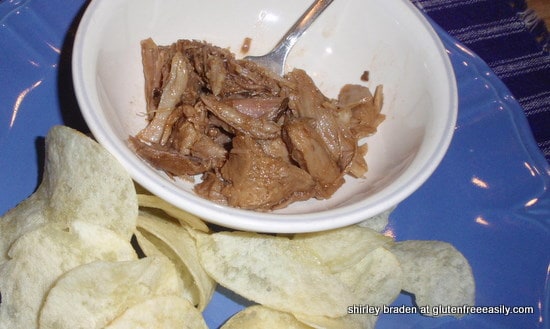 While I often eat my pulled pork by itself or with potato chips as shown, sometimes I make one of these homemade roll recipes.
This pulled pork is a gorgeous light brown and delicate and succulent. Make it yourself. I am pretty certain you will feel incredible gratitude and good luck will follow!
Happy New Year to all!
World's Easiest and Best Pulled Pork Recipe
Yield: 24 servings
World's Easiest & Best Pulled Pork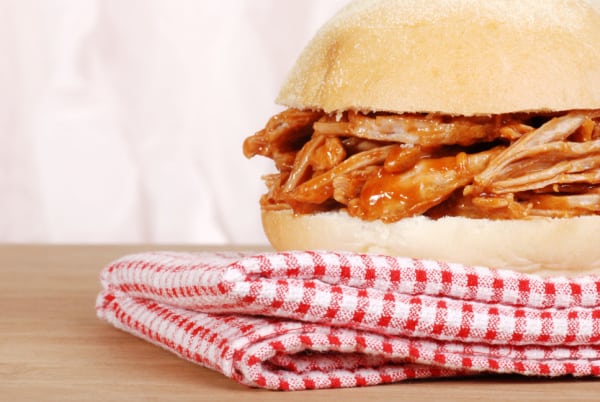 This three-ingredient recipe--the pork butt and two more ingredients--also goes by its nickname, Fabulous Pork Butt, at our house! It's naturally gluten free and loved by all.
Total Time
16 hours
10 minutes
Ingredients
one Boston (pork) butt (see notes)
light brown sugar 
Worcestershire sauce (Lea & Perrins is the best to use--it's gluten free in the U.S.)
Instructions
Place pork in crock pot.
With fingers, smoosh brown sugar all over exposed surface. ("Smooshing" means you are just patting some brown sugar onto the surface.)
Then shake Worcestershire sauce (from the bottle) over the brown-sugared surface until all is fairly well covered. (You won't be using huge amounts, maybe two tablespoon or so if you want to measure and spoon over the surface. The shaking out part is fun though and you can't go wrong with any amount.) I like to use enough Worcestershire sauce to moisten as much as possible of the brown sugar.
Cook for 8 - 10 hours on low until pork falls apart or pulls out easily when you test it with a fork. If you get impatient or want to jumpstart the recipe, turn up the crock pot to high for a bit. A general rule of thumb is that one hour of cooking on high equals two hours on low. If I am going to use high mode, I normally do that at the beginning and then turn the crock pot down to low for slow cooking for the latter part. )
Voila! Your ugly pork butt has just transformed itself into the most beautiful pulled pork! But, more importantly, it's yummmmmmmmmmmmyyyyyyyy ... the yumminess factor is like Pi--nobody knows how far "out" it really goes. LOL
Extract meat from crock pot and serve with your favorite sauce (see sauce recipe below this one) on gluten-free rolls, with a green salad, chips, cole slaw, or whatever. I just eat mine in a bowl with some potato chips on the side usually. Last night, I just ate the pulled pork in a bowl. Fabulous. Once again, it earned its name. We'll be having it for lunch and dinner today for sure and we'll be very happy to be eating these "leftovers."
Notes
A pork shoulder or pork roast will work, also, but Boston Butts often go on sale for as little as $.99 per lb and they are usually huge ... plus, there is almost no waste, just the bone and fat that falls away.
If you are avoiding high fructose corn syrup (HFCS), as many of us are these days just to ensure better health, both the Worcestershire sauce and ketchup mentioned here contain HFCS. (Update: There are more HFCS-free options available since I wrote this post.)
This recipe makes a lot. That means you can serve a big family or a huge gathering of guests, freeze some for future delectable and easy meals, make some equally fabulous pork fried rice, put a good bit aside to take to a friend who just had a baby ... you get the picture. )
Tasty Sauce Recipe
If you need additional spiciness, you can make the following multipurpose sauce that the famous household guru Heloise shared years ago. It works great for pulled pork, steaks, or anything that needs just a little bit more zestiness or some tang. (Prepared barbecue sauces can work fine, too. Just ensure they are gluten free, if needed.)
Again though, most of the time, I don't even use any sauce on my pulled pork. By itself, it is just fine. It's that tasty!
Yield: 2 cups
Tasty Sauce
This tasty two-ingredient multipurpose sauce comes from the famous household guru Heloise.

Prep Time 5 minutes

Total Time 5 minutes
Ingredients
1 cup ketchup (Heinz is gluten free)
1 cup Worcestershire sauce (Lea and Perrins is gluten free in the U.S., plus French's was last time I checked--be sure to check again)
Instructions
In a small bowl, mix ingredients together well.
Originally published January 1, 2009; updated June 9, 2021.