For affiliate links and as an Amazon Associate I earn from qualifying purchases.
I shared a photo of these gluten-free Chocolate Bombs—grain free, too—on my personal Facebook page a few weeks ago and everyone just about pleaded for the recipe even though I had said up front that I would not be sharing the recipe until my Suite of Sweets for Sweethearts event. So here we are.
Believe it or not, this recipe is based on the same recipe that the Pizza Bombs are … the "Chebe-style" Pao de Queijo rolls. All I did was omit the savory ingredients and substitute dairy-free chocolate chips for the cheese (in a slightly lesser amount).
Hot out of the oven, these babies are definitely what one might expect with the name Chocolate Bombs. The hot gooey chocolate contrasted to the chewy—but not very sweet—roll is quite nice.
Think more of a scone versus a chocolate chip cookie though. And when cooled, these Chocolate Bombs taste more like a cruller with chocolate filling. I like them served both hot and at room temperature.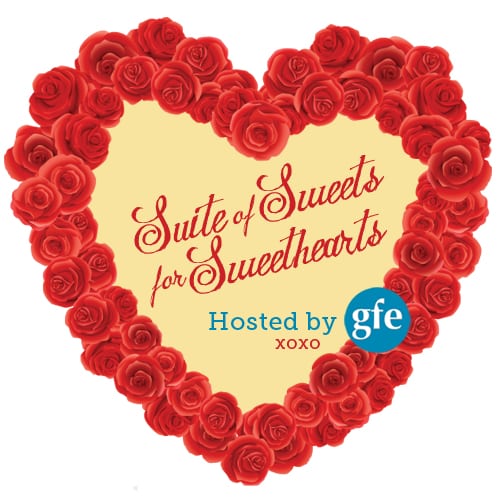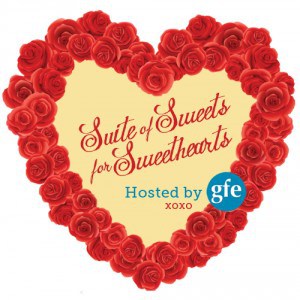 In the second version, I decided to add some cream cheese to see what that would contribute to the texture and taste. I loved the combination of creaminess and chewiness, but the Chocolate Bombs are less sweet when cream cheese is included and are a bit firmer when cooled.
I'm sure that some sugar could be added to the recipe for either version but, again, I enjoy them less sweet. Either way, they are great with a nice hot beverage.
Get the kids to help make these treats and they will want to eat them even if these Chocolate Bombs might be less sweet than their usual treats. (You can find the gluten-free, grain-free—with dairy-free option—recipe at the bottom of the post.)
Now for today's kid-focused offers and the giveaway …
UPDATE: All giveaways are now closed.
~ Adam's Gluten-Free Surprise ~ The Kindle edition is free HERE only and only on Valentine's Day, February 14! (Note: You don't need a Kindle to use the Kindle edition. It works on PC, iPad, or Smartphone.) Written and illustrated by Debbie Simpson, its goal is to educate all in the gluten-free world on how to support and keep a gluten-free child safe and happy. It is helpful to the gluten-free child as well.
Debbie shares this feedback from the mom of one child after reading her book: "My 8-year-old daughter was diagnosed with Celiac in July. I tried to buy her a copy of Adam's Gluten Free Surprise for Christmas, but I couldn't get a copy in our local bookstores, so I bought her a Kindle and the first book we downloaded was this one. She immediately read the whole book to me and we were shocked at how much her past 5 months mirrored Adam's.
She has not yet met another Celiac child and it made her feel so good to read this and know she isn't alone in this journey. Many times, she feels like she is the only child dealing with this and it was heart-warming to hear her read Adam's story and know that other children are experiencing the same issues and feel the same as she does. Unfortunately, I think she is now hoping that on Valentine's Day she will experience Hailey's Gluten Free Surprise! Thank you for such an awesome book for children coping with Celiac. I can't wait to get my hands on a hard copy for her to share at school. Every school should have a copy of this book!"
Two gfe readers will win a copy of this book, graciously provided by Debbie.
~ Bagels, Buddy, and Me ~ This book that talks about celiac and gluten sensitivity—and offers an element of surprise—was written and illustrated by Melanie Krumrey. From my earlier review: "This is a terrific book that offers an easy-to-read introduction to celiac and gluten intolerance. Both written and illustrated by Melanie, it offers her family's personal story. While geared towards children, this book is also helpful for adults who don't necessarily want to read about statistics or studies but want a simple understanding of celiac and gluten intolerance. As you can see from the cover, it's a very appealing book."
Two gfe readers will win copies of Bagels, Buddy, and Me, graciously donated by Melanie.
~ Barrett's Unusual Ice Cream Party ~ This book was written and illustrated by Michelle King, a former kindergarten teacher and mom of four children. She and all her children are gluten intolerant.
Her book is a delightful tale that tells the story of a 6-year old with celiac disease and in addition, some food allergies. Michelle shared with me why she wrote her book: "As my children have grown I have watched them go through some very heart-wrenching situations because of their food intolerance. I looked for books or tools to help them cope emotionally and to help others understand them, but didn't find much. I took matters into my own hands and wrote a children's book and included some of their experiences (and those of other similar children) to help not only kids with allergies, but the children around them understand what they are going through."
Barrett goes through the usual challenges, but there is a happy ending when he finds he is not alone in eating differently after all. Two gluten-free recipes are even included in this book, Mom's Homemade Vanilla Coconut Ice Cream and Mom's Delicious Banana Muffins.
Three readers will win a copy of this book, generously provided by Michelle.
~ Cilie Yack Is Under Attack! ~ Written and illustrated by Caryn Talty, this book is a "chapter book" of 141 pages that tells the story of Cilie Yack, a 9-year old boy who lives on a dairy farm in County Clare, Ireland. His name Cilie Yack is, of course, a clever play on the pronunciation of celiac.
It's a cute story, chronicling Cilie's adventures before and after his celiac diagnosis, including learning that he can cook gluten-free versions of his favorite treats … and well. There's even a recipe in the book for Cilie's Famous Carrot Cake. Caryn believes that teaching kids with food intolerances and allergies empower them.
The foreword is written by Dr. Michelle Sullivan, who not only praises the book but also addresses how celiac disease presents in children. Dr. Sullivan, her husband, and two of their four children all have celiac disease so their whole family lives gluten free. Dr. Sullivan is a family physician who obviously knows this topic extremely well.
Two gfe readers will win a copy of Caryn Talty's book.
~ Eat Like A Dinosaur: Recipe and Guidebook for Gluten-Free Kids ~ Stacy Toth and Matt McCarry's (of Real Everything, previously known as Paleo Parents) book is one of my favorites. Here's the "takeaway" that I shared in my post: "This book is simply wonderful … it has everything!"
From a Foreword written by my good friend Elana (Elana's Pantry, Gluten-Free Almond Flour Cookbook, Gluten-Free Cupcakes, and Paleo Cooking from Elana's Pantry), to the family's personal story (with appealing cartoon-style depictions); to information on their ingredients and tools; to symbols that quickly convey their meaning (e.g., a hand symbol beside a recipe indicates that a child may help with the step, a crab symbol highlighted on the right side of a recipe alerts you that the recipe includes shellfish); to recipes that cover all the required areas; to on-page "post-it notes" for you to add your notes (e.g., "Try with peanut butter vs almond butter next time") to a section on packing lunches; to a food projects section (for those recipes that don't always contain the same ingredients or fit into a pretty recipe card format); to info on U-Pick Farms, Farmers Markets, and gardening; Eat Like a Dinosaur really is one super packed, wonderful book!"
Two gfe readers will get a copy of Eat Like a Dinosaur, courtesy of Paleo Parents.
~ Mommy, What Is Celiac Disease? ~ Katie Chalmers is the author and illustrator of this book. I'll reiterate what I shared in my first review. "Katie's book is beautifully written and illustrated. Written for children who have been diagnosed with celiac, it focuses on the disease in simple terms as well as all the wonderful real food that those who are gluten free can eat. Of course, I don't need to tell you that I love that approach. That's the gluten free easily—gfe—way, and it works. Along with the text, Katie has created some truly captivating illustrations. I've never seen any others exactly like them before."
Two readers will win copies of Mommy, What Is Celiac Disease? thanks to Katie.
~ Willie Vilie Meets Casey Kramps in Sprueville ~ I met the author of this book, Elena Torsiello, at a gluten-free conference last fall. Along with the illustrator, Eileen Rothsteen, Elena has created an entertaining tale of a child with celiac who meets someone from a gluten-free planet and has an extraordinary adventure that allows him to learn more about and enjoy living gluten free. Elena has been gluten free and dairy free since her celiac diagnosis a number of years ago. She's a long-time teacher who has embraced her new way of living and the new foods/recipes and experiences it has brought into her life. That positive attitude shines through in her entertaining children's book.
Two readers will win copies of Willie Vilie Meets Casey Kramps in Sprueville, thanks to Elena.
Gluten-Free Chocolate Bombs Recipe
Yield:
Gluten-Free Chocolate Bombs (Grain Free)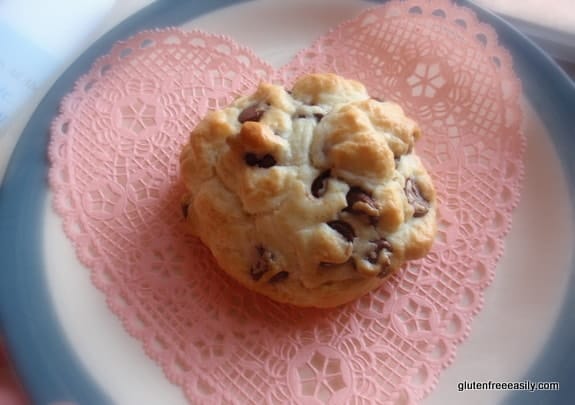 There are two versions of these chewy and delicious gluten-free Chocolate Bombs--original and cream cheese. The original version is easily made dairy free if you wish, simply by using dairy-free chocolate chips and a dairy-free butter equivalent.
Ingredients
For Original Chocolate Bombs (with dairy-free options):
2 large eggs
1 ¼ cup tapioca flour/starch
1 tsp baking powder
1 ½ cups semi-sweet chocolate chips (dairy or non-dairy; I use these] or [these)
¼ cup melted butter (dairy or non-dairy)
For Cream Cheese Chocolate Bombs:
4 ounces cream cheese, softened
2 large eggs
1 ¼ cup tapioca flour/starch
1 tsp baking powder
1 ½ cups semi-sweet chocolate chips (dairy or non-dairy; I use these] or [these)
¼ cup melted butter (dairy or non-dairy)
Instructions
Preheat oven to 450 degrees F. Line large baking sheet with parchment paper.
Add eggs to large bowl. Beat slightly. Add other ingredients in order shown, stirring some after each addition. (Stir gently when adding tapioca flour as it tends to "jump"—explode?---out of the bowl.) Once all ingredients have been added, stir well until ingredients are fully incorporated. I like to use a wooden spoon (gotta keep up one's hand and arm strength).
With lightly greased hand, form dough into balls about 1 ½ to 2 inches in diameter and place on the baking sheet about 2 inches apart. At this point, you can flatten the dough balls with your hands some if you wish, but I usually just leave mine "as is" to get more of the "bomb" effect (than roll effect). I also think that the centers turn out chewier this way.
Bake for about 8 to 10 minutes until golden brown.
Let cool just a bit and then remove from baking sheet.
Notes
Makes about 15 "bombs," about 2 ½ to 3 inches in diameter.
Originally published February 14, 2013; updated February 1, 2023.