For affiliate links and as an Amazon Associate I earn from qualifying purchases.
Today it's all about Crustless Grain-Free Apple Pie, which is a riff on one of the most popular recipes on gfe, my Easy Crustless Gluten-Free Apple Pie. The "Crustless" description refers to the lack of a traditional crust as this pie has a "pour over" crust that forms a bottom and top crust.
It's a stellar recipe. Honestly, I never even liked apple pie before making that recipe. But some of you readers who eat "more-free" than just gluten free, quickly click away when you see that this pie contains grains, dairy, refined sugar, and an egg.
You no longer need to do that. For Suite of Sweets for Sweethearts, I've re-created my Easy Crustless Apple Pie as "New and Improved" Crustless Grain-Free Apple Pie.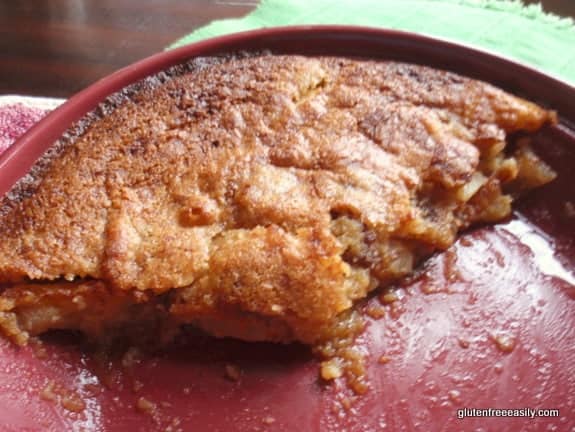 This recipe is not only grain free, but it's also dairy free and refined sugar free—if you wish—with an egg-free/vegan option. And it's just as easy as ever to make because really you're just making some simple substitutions in the original recipe—another type of conversion, if you will.
Son eats gluten free and dairy free on a daily basis, and refined sugar free and egg free as much as possible for a single 25-year old with a demanding job. I wanted to make this recipe safe for him to eat.
I knew that a new version would be appreciated by my readers, too. I've been thinking about making a "new and improved" version of this pie ever since my friend Elana (Elana's Pantry) told me that she makes my pie all the time for my family using almond flour.
That surprised me! Not that Elana used almond flour … after all, Elana has proven that she is the queen of almond flour time and time again, but I hadn't thought that almond flour would work in this recipe.
Hearing that it did work well enough to please Elana and her family made me so happy! However, I never quizzed Elana on the rest of the ingredients she used. I just went with what made sense to me and had worked for "free" versions in the past and, voila, success!
I'll say that this version doesn't form a crust quite as nicely as the original for cutting into a pretty piece, but the pie is so good that you really won't care. These were the only photos I got of this pie. We were too busy eating it to take many photos! You'll find the recipe at the bottom of this post, but let's get to today's giveaway, shall we?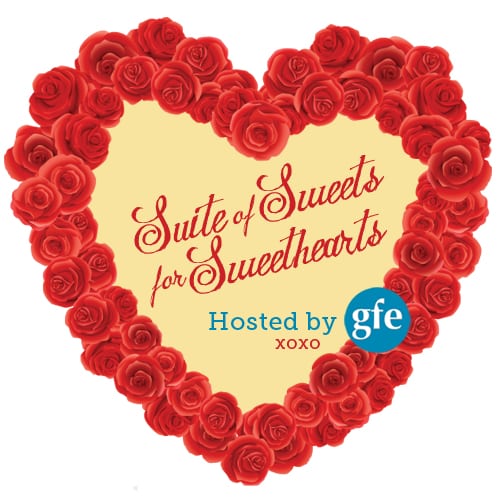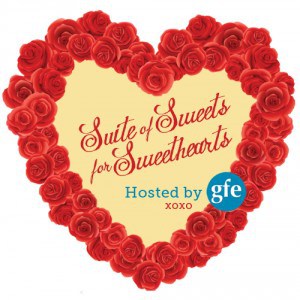 Update: This giveaway is now over. Congrats to all the winners and thanks to all who participated!
The first three prizes of today's giveaway are generously sponsored by Kelly Brozyna of The Spunky Coconut. I've written about Kelly many times on gfe.
She's one of my favorite bloggers and recipe developers. She gives so much to our community with her gluten-free, dairy-free, and much "more-free" recipes, as well as her willingness to share her family's story and path to healing. There will be three winners, one for each of Kelly's cookbooks published to date:
The Spunky Coconut Cookbook, Second Edition: Gluten-Free, Dairy-Free, Sugar-Free (in which you'll find our favorite Spinach and Artichoke Quiche, Chicken Meatballs, and Flourless Brownies)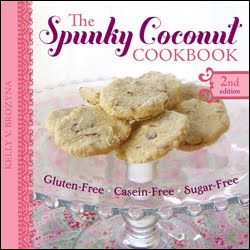 The Spunky Coconut Grain-Free Baked Goods and Desserts: Gluten-Free, Casein-Free, and Often Egg-Free (where you'll find Kelly's genius Vanilla Bean Cake and many more healthier and surprising treat recipes)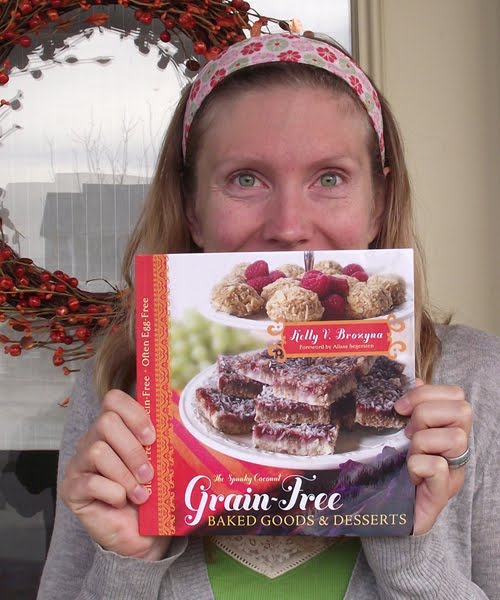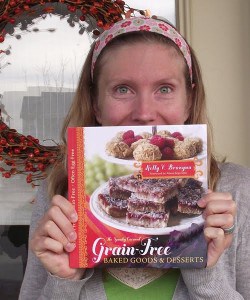 and The Spunky Coconut Ice Cream Cookbook: Soy-Free, Sugar-Free, Vegan (worth getting for the Butter Pecan Ice Cream recipe alone).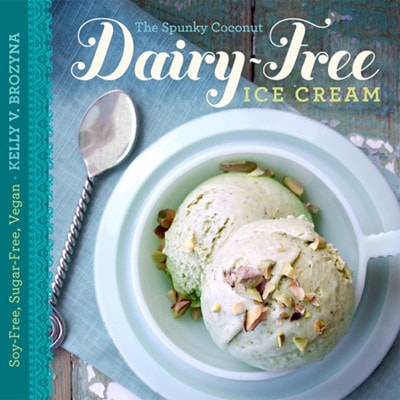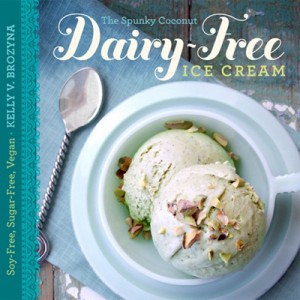 And check out her newest cookbook: The Paleo Chocolate Lovers Cookbook 75 Gluten-Free Treats for Breakfast and Dessert!
~ The fourth, fifth, and sixth prizes of today's giveaway are sponsored by gfe. After all to make this pie, you'll need some supplies, right?
One reader will win 5 lbs of Blanched Honeyville Almond Flour.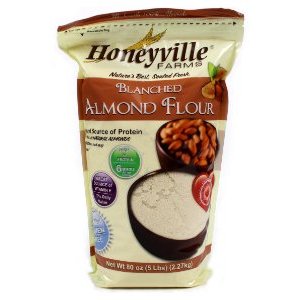 Two readers will each win a 2-pack of Navitas Naturals Coconut Palm Sugar.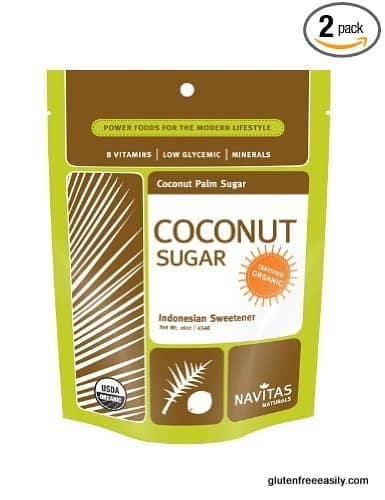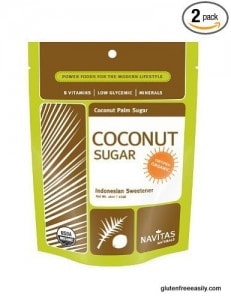 Did you catch yesterday's SSS recipe—Coconut Chocolate Chip Oaties—and giveaway package—Super Healthy Cookies cookbook and Go Dairy Free guidebook/cookbook? Be sure to check it all out here.
Crustless Grain-Free Apple Pie Recipe
Yield: One pie, 8 servings
Crustless Grain-Free Apple Pie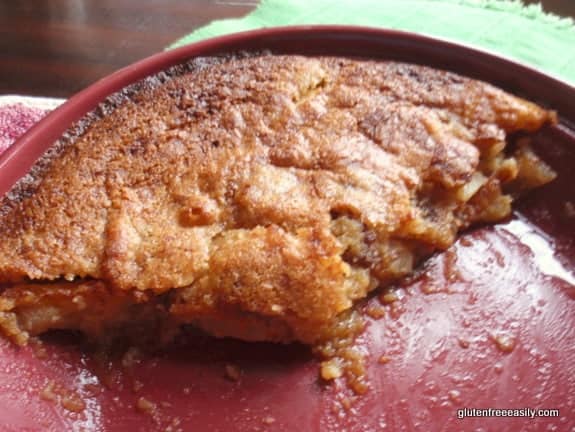 Crustless Grain-Free Apple Pie! Yes, my much-loved Crustless Apple Pie has gone grain free! With dairy-free, refined sugar-free, and egg-free, vegan options. And this version is also winning raves!

Prep Time 10 minutes

Cook Time 40 minutes

Total Time 50 minutes
Ingredients
4 ½ to 5 cups of apples (about 5 to 6 apples, your choice)
1 tsp cinnamon
1 tbsp coconut sugar
2/3 cup healthy oil (I used 1/3 cup liquefied coconut oil and 1/3 cup extra virgin olive oil, but you can use all coconut oil or non-dairy butter, like soy-free Earth Balance or butter if you eat dairy; see notes)
1 cup blanched almond flour
1 cup coconut sugar/coconut palm sugar
1 egg (an extra large egg works best; or flax gel egg, plus dairy-free milk if needed; see notes)
Instructions
Grease 9-inch deep dish pie plate.
Put apples in greased pie plate and sprinkle with cinnamon and one tablespoon of coconut sugar.
In a bowl, mix one cup of coconut sugar, almond flour, and oil. Blend in unbeaten egg and pinch of salt. Mix well and pour over apples. This mixture will be thick, so you'll have to spread it with a spatula to cover all the apples. (If using a flax gel egg, the mixture might be even thicker and might require thinning. See notes.)
Sprinkle more cinnamon over top. (I confess … I forget this final step often and the pie still turns out great.)
Bake at 350F degrees for about 40 to 45 minutes. The pie will be done when it's a golden brown color.
Notes
Some readers have used non-dairy butter or margarine but a lesser amount, about ½ cup.

For the egg-free version, you can use two flax gel eggs. If your batter mixture for the crust is too thick to pour over/spread on top of the filling, add dairy-free milk in small amounts until the mixture is spreadable. You don't want more liquid than necessary so start with ¼ cup of dairy-free milk, but add up to ½ cup if needed.

Originally published February 12, 2013; updated December 16, 2021.