For affiliate links and as an Amazon Associate I earn from qualifying purchases.
Today's recipe for Suite of Sweets for Sweethearts is Coconut Chocolate Chip Oatie Cookies—or Coconut Chocolate Chip Raisin Oatie Cookies if you have a raisin-lovin' family member like I do, Mr. GFE. This recipe is reader inspired, and these cookies are gluten free and dairy free like my recent version of Brown Sugar Chocolate Chip Cookies.
In a comment on that post, gfe reader Ada commented that she'd made them and declared them "the best chocolate chip cookies either of us have ever eaten." Oh, that made my day!
Then she noted that she had "added a little shredded coconut with the chocolate chip measurement." I decided right then and there that I would be adding shredded coconut the next time I made chocolate chip cookies.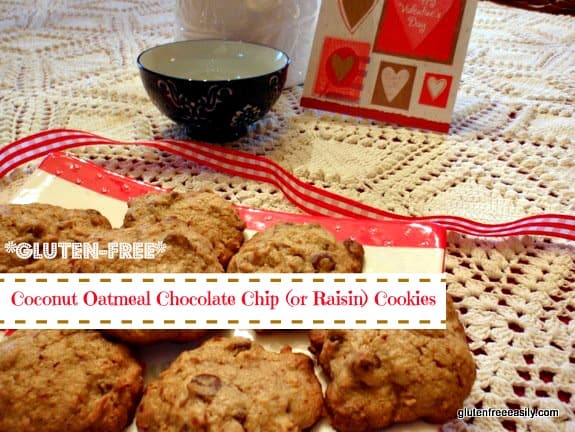 The next time the mood struck me to make chocolate chip cookies, I didn't have any gluten-free all-purpose flour on hand. That was fine because I wanted to make a more nutrient-dense cookie. I decided to use oat flour as Mr. GFE is a big oatmeal raisin cookie fan.
Admittedly, I decided to add much more in the way of chocolate chips than raisins, and truth be told, I only added raisins to the last bit of the batter to make Coconut Chocolate Chip Oatie Cookies that included raisins for him. Yes, I am the baker and I can exercise that control. Hehe.
Honestly, Mr. GFE doesn't eat too many sweets so it would not make sense for me to add raisins to all the cookies and then have to pick them out later. But no matter what your personal preference, these are hearty and delicious cookies!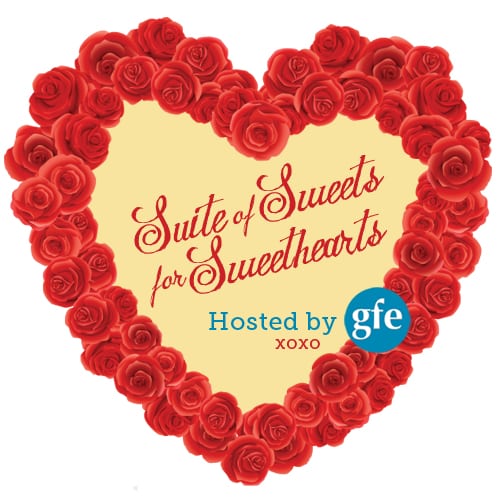 The following giveaway is now closed. Congratulations to all the winners and thanks to all who participated!
You'll find the recipe at the bottom of this post, but I also have some sweet giveaways and offers to share with you today!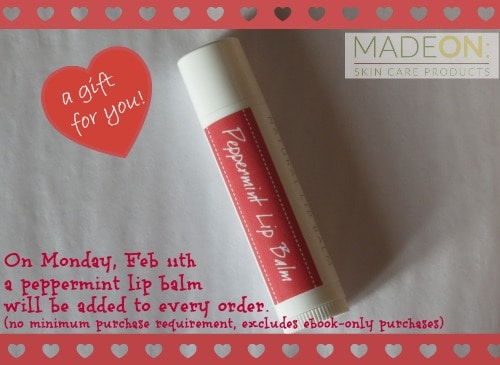 Renee at MadeOn Skin Care Products is giving away a free lip balm with any order today, February 11, only. I absolutely love Renee's products and have written about them before (here and here). They've been getting my lips, elbows, hands, and feet through the dry winter for sure! If you've been delaying ordering, now might be the perfect time!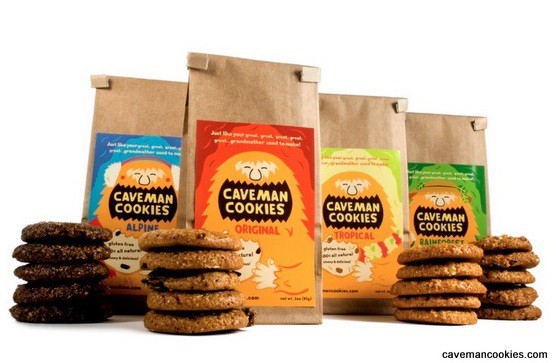 Caveman Cookies are another favorite product of mine. (Unfortunately, this product is no longer available.) It almost seems unfair to call them a "product" as they are simple, but delicious cookies made of fruit, nuts, and honey only. I've written about them before as well (here and here). I like to purchase them before road trips and have picked up some when I've seen them on travel before. Cavemen Cookies is offering 20% off for Valentine's Day through February 14. That's a stock-up price! Enter the code Valentine over at Caveman Cookies to get the discount.
Of the wonderful items left over from the holidays that I still need to give away, the one that complements today's SSS recipe best is Hallie Klecker's new cookbook, Super Healthy Cookies: 50 Gluten-Free, Dairy-Free Recipes for Delicious and Nutritious Treats. Hallie blogs over at Daily Bites and is also the author of The Pure Kitchen (which I reviewed here; Thick and Chewy Peanut Butter Cookie recipe included) and the new e-book on Kindle, Dairy-Free & Gluten-Free: A Whole Food Starter Guide and Cookbook (this book is no longer available), which she co-authored with Alisa Fleming. You may well already know Alisa, too. Alisa is the founder of the "go-to" site, Go Dairy Free and author of the resource book/cookbook by the same name, and her newer cookbook, Eat Dairy Free.
Let's talk about Hallie's cookies. As I said, it was a healthy cookie recipe that I made from Hallie's first book and she has shared many wonderful and super healthy cookies on her blog. So the topic and success of her latest cookbook shouldn't come as any surprise to any of her readers.
I confess that I have not yet made any of the 50 cookie recipes from Hallie's cookbook, but I'm eyeing two recipes first and foremost … the Peanut Butter Freezer Fudge Cups and Two-Bite Baklava Cookies. There are lots of whole grain recipes in this cookbook, but 23 recipes in this cookbook are grain free. All are dairy free and refined sugar free, and you will find a good number of vegan options, too.
Here are a few other reviews of Super Healthy Cookies from other folks whose opinions we trust.
Adventures of a Gluten-Free Mom (includes Hallie's recipe for grain-free, paleo/primal friendly Almond Pecan Cookies)
Go Dairy Free (includes photos of recipes from the book)
~ But I'm not content to just offer this cookbook as the giveaway. I have more catching up to do than that! The second part of this giveaway is Alisa's Go Dairy Free resource book/cookbook. This is a book that shares so much eye-opening info and gives folks the "tools" and recipes to go dairy free joyfully. I shared a review of Alisa's book here. But here's a listing of the chapters:
* Understanding Dairy & Dairy-Free From a Health Perspective
* Eating Away From Home
* Grocery Shopping & Preparing Your Kitchen
* All You Ever Wanted to Know About Dairy Substitutes
* Time to Eat! – Recipes & Recommendations
* More Recommended Resources
My favorite recipe from this book? Orange Cheesy Sauce … that cheesy taste is something one really, really misses when going dairy free and this sauce can be used in many of those recipes that call for cheese, like mac 'n cheese.
Note that this book is not strictly gluten free, but it's easy to skip over the few baking recipes that do contain gluten or substitute gluten-free flours. And Alisa does note gluten-free options many times. Over the last several years Alisa has become a gluten-free guru as well. Hooray! That leads me to the last part of the giveaway …
~ The third part of this giveaway is Dairy-Free & Gluten-Free: A Whole Food Starter Guide and Cookbook. (Update: This book is no longer available.) This ebook (which you can read on Kindle or on your computer), co-written by Hallie and Alisa, is really an amazing starter guide for living gluten free and dairy free using whole foods, just like it says. Now that's a big topic to cover so one would think that a veritable tome would be required versus a concise e-book, but no, Alisa and Hallie manage to pack all this info with recipes and meal plans to boot into an easy-to-read (and "quick read") and extremely helpful ebook. This book will benefit many!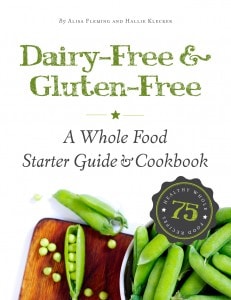 Here's a quick look at what you'll find inside:
Essential definitions of dairy and gluten
A guide to "raiding" and "reloading" your kitchen with wholesome foods
Lists of dairy and gluten ingredients for quick reference
Shopping lists for healthy pantry items, proteins, produce, and more
An in-depth ingredient primer
Tips for dining out while living a dairy-free, gluten-free lifestyle
5 seven-day meal plans (including grain-free and vegetarian/vegan plans)
75 healthy dairy-free, gluten-free recipes
Coconut Chocolate Chip Oatie Cookies Recipe
Yield: 24 cookies (2 1/2 inches in diameter)
Gluten-Free Coconut Chocolate Chip Oatie Cookies (Raisins Optional)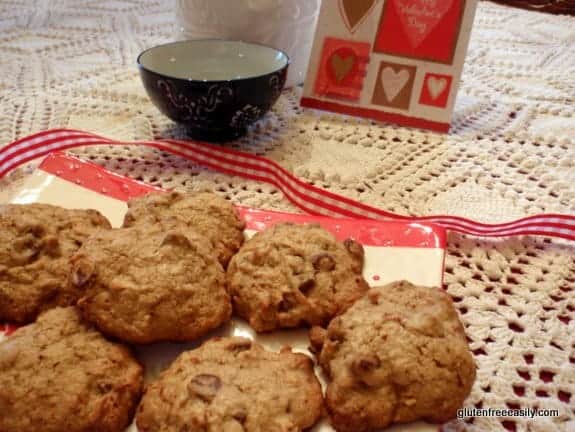 Adding coconut and oat flour to chocolate chip cookies results in hearty and delicious Coconut Chocolate Chip Oatie Cookies! If you have a raisin lover in your family, you can even add raisins to the mix if you like.

Prep Time 5 minutes

Cook Time 10 minutes

Inactive Time 5 minutes

Total Time 5 minutes
Ingredients
2 eggs (see notes for egg substitution ideas)
½ cup light brown sugar
½ cup coconut sugar (or granulated white sugar or more brown sugar)
½ cup sweetened coconut
1 tsp vanilla extract (I use my homemade vanilla extract)
2 1/3 cups oat flour (certified gluten free purity protocol)
½ cup extra virgin olive oil
1 cup chocolate chips
¼ cup raisins (optional)
Instructions
Preheat oven to 350F degrees. Lightly grease baking sheets.
In large bowl, add eggs and beat slightly.
Add sugars, sweetened coconut, and vanilla extract. Mix.
Stir in oat flour. Then stir in oil and mix well.
Add chocolate chips and raisins (if used). Stir until evenly distributed.
Let batter sit for a few minutes until oil is absorbed some.
Drop by heaping tablespoonfuls onto baking sheet.
Bake cookies for about 10 minutes until they look mostly done on top.
Let cookies stand on the baking sheet until they release and then remove for cooling.
Notes
Typical egg substitutions (e.g., flax gel eggs, chia gel eggs, commercial egg replacer) *should* work, but I haven't yet tried them.

These cookies do not really spread, so you do not have to leave much space between them when you drop them onto baking sheets. You might be able to use different vegetable oil, but I love these cookies when made with rich extra virgin olive oil.

If you use unsweetened coconut, you will probably need to add a tad more oil and perhaps even more sweetener.

Full disclosure: These books were provided for my review free of charge but the opinions expressed are strictly my own.
Originally published February 11, 2013; updated September 5, 2022.