For affiliate links and as an Amazon Associate I earn from qualifying purchases.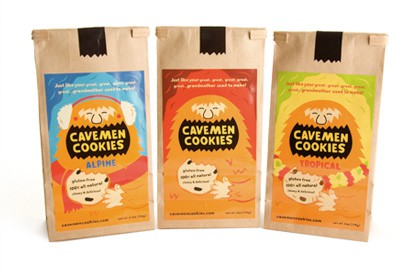 all images courtesy of Cavemen Cookies (unless noted otherwise)
Disclaimer: I originally received a free package of Cavemen Cookies via both a giveaway and as a contribution to my support group. I later purchased two packages. All opinions expressed within this post are my own.
This post is linked to Gluten-Free Wednesdays.
Update: This giveaway is now closed. Congratulations to Gina (Moneywise Moms)! Thanks to all who entered, but don't be dismayed if you are not Gina. 😉 Cavemen Cookies is offering a 10% discount to all gfe readers through July 21. Just enter the code "gfe" when ordering!
"Avoid food products containing ingredients that are a) unfamiliar b) unpronounceable, c) more than five in number, or d) that include high fructose corn syrup." That's one of the rules that Michael Pollan shared in his outstanding book, In Defense of Food. In Defense of Food completely changed how I looked at food. Some of the guidance validated my own feelings about what I should and was already eating using my gfe approach, but much of the content on what is allowed in our food and what constitutes a food product today was an eye opener. And, as you probably know, Pollan shares this advice and similar data again in his latest book, Food Rules.
This direction sounds simple enough, but when you actually attempt to put this wisdom into practice, you'll find out what you are really dealing with when it comes to processed foods. Or perhaps the mystery will remain as you see ingredients that are indeed unfamiliar and unpronounceable. Other than eating whole foods, like meat, seafood, fruit, and veggies (foods you can wash as my good friend, Melissa, always reminds us), finding food products that meet Pollan's guidance can be challenging. But, today, I'm sharing a naturally gluten-free product that has five "basic" ingredients (in some cases less), all of which you can pronounce and recognize. And, even better, the product tastes great!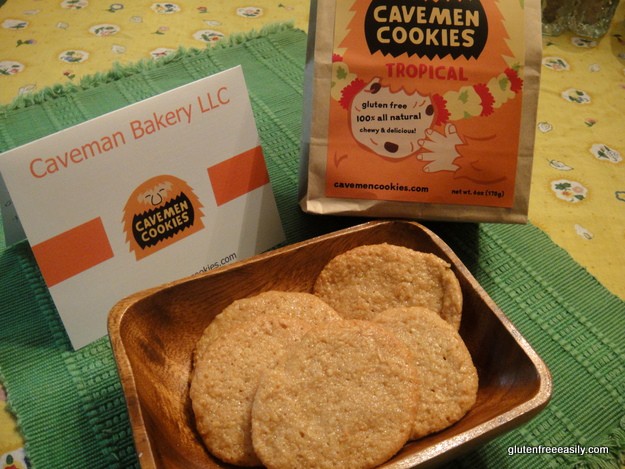 First, here's a little background info. A few months back I won a giveaway of a package of Cavemen Cookies over at April's blog, Gluten-Free Food Rocks. (April leads a support group in Pennsylvania. Her main page is here.) Now, you might be wondering why on earth I even entered such a giveaway since I've often explained that eating gfe means naturally gluten-free foods, real/whole food, and few gluten-free specialty items. Here's why. When April did her giveaway post I checked out the info on Cavemen Cookies. The cookies are called Caveman Cookies because they contain ingredients that, in theory, would have been available to a caveman. That makes them paleo diet friendly, which also means they are grain free and gluten free. I checked out Cavemen Cookies' site and read the ingredients; I was very pleased. The Original flavor contains honey, almond flour, walnuts, raisins, ginger, nutmeg, and cinnamon. (Yes, that's more than five ingredients, but they are all real and healthy ones, and I kind lump spices and seasonings together as one, when they are real food.) The Tropical flavor contains honey, almond flour, coconut, macadamia nuts, and ginger. Real food ingredients with no additives of any kind—I loved that! I entered the giveaway and selected the Tropical flavor as my prize when I won. I sampled one, and then another, as soon as they arrived. Total yum! Delightful textures and flavors. The remaining cookies ended up with us on a road trip and were much appreciated.
Here are a few more facts:
Cavemen Cookies are…

Made with nuts, honey and berries!

Just 65-75 calories per cookie (depending
on the variety)

Produced in small batches

Consistent with the principles of the Paleolithic Diet (aka the "Caveman Diet").  Check out our FAQs page for more info! 

Satisfying due to the protein, dietary fiber, and good fats that they contain!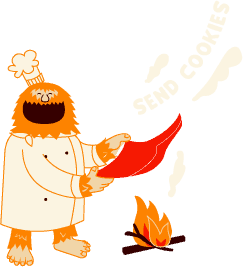 Once Stephanie Lester of Cavemen Cookies found out that I lead a support group, she generously sent two large bags of their Original and Tropical cookies for my group's gluten-free tea event in May. I set the package to the side under my sideboard. Then that very evening, Mr. GFE and Son were looking for something sweet. In fact, Son was throwing open cupboards, looking in the freezer, etc. For once, I had nothing made, so they both pleaded with me to open the package of cookies. I succumbed, knowing I'd have to immediately place an order to get more cookies for our tea event. We each consumed two or three cookies. Both flavors were enjoyed, but tropical was by far our favorite. I suspect the original flavor will probably appeal to those with less of a sweet tooth.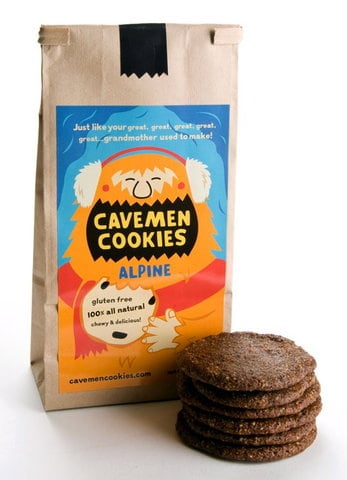 I placed an order the next day and in just two days I was set for the tea again. At the tea event, everyone really liked the cookies with their few, wholesome ingredients and appealing taste, but again the tropical flavor won out. Since then Cavemen Cookies has added a new flavor to their lineup, Alpine. The Alpine cookies contain honey, hazelnut flour, almond flour, and toasted ground carob. That's four ingredients that we all know, and most of us love. I can't wait to try this flavor!
Admittedly, these cookies are not inexpensive. A large bag containing 12 cookies costs $9.95. (FYI–The cookies are about 3 inches in diameter.) Cavemen Cookies also offers a small bag  (6 cookies) at $5.45 and a jumbo bag (24 cookies) at $17.95. And, you'll pay for shipping and handling if there's no supplier near you. Currently, the only vendors are in New York City (check their site for locations), but Stephanie Lester said that a lot of interest was shown by different stores/vendors at the recent Fancy Food show, so you may see Cavemen Cookies showing up at your favorite grocer or specialty store soon. Even if you have to order them and pay shipping, I still think they're worth it. I've paid as much or more for gluten-free specialty products in the past that did not even come close to meeting Pollan's food rules and, frankly, did not even taste particularly good. Cavemen Cookies contain high quality ingredients and are a great gluten-free choice when one needs a cookie fix. And, unlike the overworked cavemen, you don't have to grind your own almond meal, shred your own coconut, dry your own grapes, build your own "oven," etc. Because I make most of our treats, I admit that I won't buy these cookies often, but I will definitely buy them again. And, if they end up being carried at a store nearby, I'm sure I will not be able to resist buying them on a regular basis.
The giveaway part: Cavemen Cookies is graciously offering up a free large bag of their cookies (your choice of flavor) to one of my readers. The ways to enter the giveaway are the same as usual, plus I added one on following Cavemen Cookies on Twitter. Of course, only one comment is required to enter, but there are several options for those who want multiple entries! Oh, and the giveaway will be open through Monday, July 5, at midnight, Eastern (update: extended through full holiday period).
See specifics below, but note that all entries will be tracked by the individual comments, so you must enter a separate comment to get an additional entry; e.g., "I tweeted!" and another comment, "I posted on Facebook. Here's the link: …" If you leave one comment showing you did all these things, unfortunately it will only be counted as one entry, so please remember to note each by separate entries.
1. Leave a comment below.
2. "Like" my Facebook page and leave a comment.
3. Subscribe to my feed either via RSS or e-mail, and leave a comment.
4. Follow me on Twitter and leave a comment.
5. Become a friend on Facebook and leave a comment.
6. Tweet about the giveaway sharing the link and leave a comment saying that you did.
7. Post a message on your Facebook page about the giveaway and leave a comment saying that you did.
8. Post about the giveaway on your blog and leave a comment saying that you did, with your link.
9. Follow Cavemen Cookies on Twitter and leave a comment.
Best of luck to all!
Shirley
Not just gf, but gfe!